Jessica Lefkow is, indeed, "fire and air" in Brave Spirits Theatre's brilliant, bold production of Antony and Cleopatra. She is riveting every moment she is on stage, evincing the kind of charisma that the fabled Egyptian queen used to enthrall two great Roman generals. One was Julius Caesar, who died in the eponymous play. The other is Mark Antony, played with passion by Joe Carlson. His spirit draws Cleopatra so powerfully to him, and his spirit also draws him away from her arms to deal with the politics of Rome.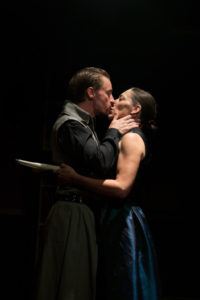 In the wake of Caesar's death, Rome is governed by a triumvirate: Caesar's right-hand-man Antony, his adopted son Octavius Caesar, and Lepidus, the weak man of the triumvirate. When the three meet for the first time in the play, Director Charlene V. Smith expertly stages it with Caesar and Antony facing each other on a strong axis, and Lepidus (Darren Marquardt) off to the side, trying to get a word in edgewise. His tiny frame is dwarfed by the tall, youthful Brendan McMahon as Caesar, his powerful voice and presence hinting at the man who would one day be Emperor Augustus. Smith is also Brave Spirits Theatre's Artistic Director, and she makes wonderful use of the Lab at Convergence. She's staged the show in the round, with two crossed axes, along which she stages a series of powerful stage pictures. The famous finale, perching Antony and Cleopatra on a throne of bodies as they join each other in death, is unforgettable.
The Triumvirate has met to face Sextus Pompey, played with tremendous intensity by Madeline Burrows. (Burrows also plays a soothsayer, with a much more internalized but no less potent intensity.) Caesar and Antony must ally, and resolve an uneasy truce by marrying Caesar's sister Octavia (Micaela Mannix) to Antony. This cannot sit well with Cleopatra, who has been living in dissolution with Antony for years. Her love for him is sincere, and Lefkow delivers an amazing emotional rollercoaster when she's told the news. Cleopatra is almost continually surrounded by her maids, Iras and Charmian (Hilary Kelly and Micaela Mannix). Kelly and Mannix don't get to speak much in these roles, but they are truly and fully present at every moment; they make a tremendous emotional team with Lefkow. Kelly also plays Menas, a member of Pompey's party. She and John Stange, as Enobarbus, have a memorable scene together, one charged with a potent sexual energy. Brave Spirits Theatre often likes to cast women in roles originally written for men, and find evocative new ways to view the scene through those eyes.
Brave Spirits Theatre promises "verse and violence", and the violence in this show is both beautiful and potent. Staged by Carlson, Antony's defeat in the second battle, dragged down by silk ribbons pulled tighter and tighter, is surreally beautiful. Even more beautiful is Carlson's staging of the naval Battle of Actium, an intricate dance in that intimate space, of spinning flags evoking the sails of ships. Multitalented Seth Rosenke is ubiquitous in the play, perhaps most memorably as the Clown who brings Cleopatra the slithering instrument of her suicide. Anika Harden also appears in many guises, including Agrippa, the Roman admiral, but ably plays a great many other roles, and like Mannix and Kelly bring life to scenes by being fully involved in them. Kelly appears yet again as Eros, a Roman soldier who kills himself rather than see Antony die, followed by Carlson's gripping portrayal of Antony's suicide.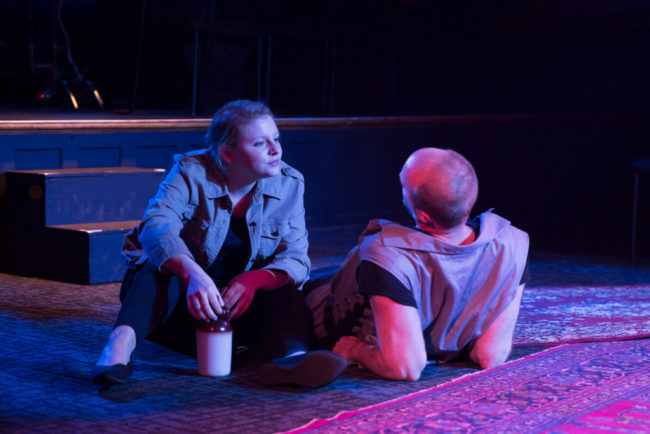 Burrows and Music Director Zach Roberts, have created a percussion soundtrack to the show: the initial blackout is accompanied by a pounding beat that sets the tone of the show from its very first moments. Director Smith sets a compelling pace, and the show flies by. Costumer Melissa Huggins has clad the Egyptians in black with highlights of blue satin. Antony, torn between Rome and Egypt, swaps between a blue jacket and the long coats (with detachable sleeves) of the Roman leadership. Huggins has invented two worlds here, rich and rewarding; Cleopatra's half-skirt and jacket are especially compelling, highlighting both her movement and her perfect stillness.
Smith, Lefkow, Carlson, and the cast stage a surreal, ecstatic drawing up of Antony's body to Cleopatra's monument. It's a magnificent use of the space, the kind of spectacle one might expect in an enormous theater, staged in the intimacy of a tiny room with the audience drawn close to the action. Brave Spirits Theatre has crafted an inspiring, amazing production. It is insightful and entertaining, not just for fans of Shakespeare but for anybody who wants to see powerful human emotions, lifelike and larger-than-life.
Running Time: 2 hours and 30 minutes with one intermission
Antony and Cleopatra plays through October 1, 2016 with Brave Spirits Theatre at The Lab at Convergence— 1819 N. Quaker Lane in Alexandria, VA. Tickets may be purchased at the door or in advance online.