Fuck.
It's a verb. It's a noun. It's an expletive. But is it offensive? And is it that the word itself is offensive or is it the context in which it is used that offends? Will Stillpointe Theatre offend anyone if they perform the area premiere of Seth Freeman's new work Verb (A Play on Words)? Only one way to find out. Directed by Ryan Haase, this evocative play on words begs the question of where do we— as individuals, as a community, as society— draw the line between when a word becomes offensive to the point of provoking action against the speaker. Remarkably sharp in its construction and development, with a well-read cast lending their talented voices to the polished stage-reading presentation, this production makes you think and will engage you directly with the notion of offensive words.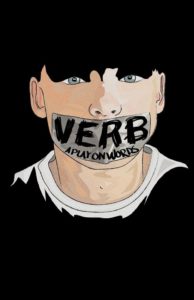 Though presented as a staged reading at the tail-end of the Baltimore Playwright's Festival, Director Ryan Haase brings a unique staging element to the production. Infusing local musician Bob Shade into the show's run, Haase creates a pulsating heartbeat, provided via percussion, into the play that assists in the delivery and the drive of the show's core plotline. Shade, who is a thoroughly articulate percussionist, finds a uniquely passionate rhythm with which he approaches each of the shifts from scene to scene. Using militant cadences prior to each courtroom entrance is diligent given there is no official setting to speak of, and is one of the better uses of the percussive influence. The use of percussion at the end of scenes to drive an audible heartbeat to the naturally surmounting tension, however, smacks slightly of overkill and due to the volume makes it difficult for some of the lines to be heard.
Playwright Seth Freeman has a striking authenticity with which he flawlessly folds wordplay and play on words into natural flowing dialogue. Tensions between the Molly and Cliff character are established early on and serve as a driving undertow for the play's main plot. Freeman has a firm handle on argumentative dialogue, whether it be between the aforementioned characters or the way he presents the legal attack from DA Brandon Biscoff. His aptitude for eloquence, particularly when finding ways to make words have deeper and often double meanings is quite appropriate for not only the title but the overall nature of the play. Everything has a tight fit to it in Freeman's play, with the exception of the final line, which does ring through in a somewhat trite fashion; this is ultimately disappointing as everything else leading up to that point reads free of artifice and feels organic.
Freeman delivers well-developed characters and uses strong imagery to illustrate his point. This is most prevalently featured in Willy, the blind vendor just outside of the courtroom. Though the characterization and hilarity therein rests solely on the shoulders of Darius McKeiver, the way in which this character is constructed gives the actor a great deal to work with. McKeiver, who also plays Geoffrey Martin— a witness called to the stand— delivers an uproariously affected characterization that has the audience all but bursting with laughter. Worth noting for equal moments of comedic outburst, though penned with far less frequency is Donna Fox in her portrayal of Judge Johnson. These become little bits during the court proceedings particularly once "the list" becomes acknowledged.
The character of Defense Attorney Brandon Biscoff is an actor's dream the way Freeman has penned his dialogue. Actor Rex Anderson delivers silver-tongued razzle-dazzle defensive charm that would hypnotize even the most stubborn of snakes. Oily, unctuous, and downright seductive in that way that only seedy lawyers can be, Anderson draws the attention of all eyes and ears when he's on the defensive prowl for his case, and when he's out attempting to interact with Molly (Danielle Robinette.) Giving a bristly and lively edge to the character of Molly, Robinette holds her own against this serpentine prince of the courtroom, and makes their interactions most intriguing.
In addition to giving Anderson a run for his money, Robinette is well matched against Cliff (Tyler Groton.) Playing the leading attorney figure who is dead-set on defending young Nathaniel (Alex Shade), the boy with the inappropriate sign, Groton is heavy and almost punchy when it comes to the verbosity of his character. Spoken like a man with true drive, he carries the current of the show's developing plot with ease. Alex Shade, as the misunderstood youth, is quite convivial. His moving rendition of the Santa Claus confession monologue strikes a nerve in the core of the audience's heart.  
A remarkably impressive play on words that truly does ask tough questions, augmented by Haase's visionary decision to immerse the audience in the play's world prior to its start by inviting them to write words that they find offensive on the walls, Verb (A Play on Words) is a stroke of genius both in its construction and in its execution at Stillpointe Theatre.  
Running Time: Approximately 1 hour and 45 minutes with one intermission
Verb (A Play on Words) plays through August 28 2016 (with one additional bonus performance on September 8, 2016) at Stillpointe Theatre— 1825 N. Charles Street in the Station North Arts District of Baltimore, MD. Tickets can be purchase at the door— cash or card $20.