Hatred will not have the last word in Lockerbie. For hatred is simply love that has been injured, so if there is hatred in your heart then there is love there too. And the love flowing out of The Milburn Stone Theater Elkton Station production of The Women of Lockerbie is strikingly profound. A harrowing and yet emotionally inspiring play based on true events from the 1988 Pan Am Flight 103 tragedy, this evocative and moving piece of theatre takes the audience through a cleansing journey that will not soon be forgotten. Directed by Marshall B. Garrett, this 90-minute drama will touch your soul with grief, but more importantly with hope and with love.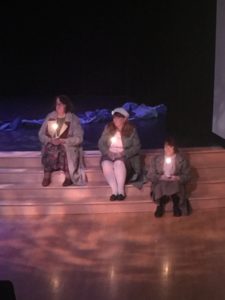 With a minimalist approach to the set, Director Marshall B. Garrett and Lighting Designer Bevin Hensley come together to string an overarching symbolic through line the theatre's atmosphere, drawing the audience even further into the churning emotional tempest that is brewing in the hearts of the characters. Articles of clothing are hung from the ceiling across the space, scattered overhead as if falling fresh from the sky when the plane was torn asunder above them. Garrett and Hensley take the symbolism a step further by fabricating the river of the Scottish Lowlands out of dozens of pairs of denim trousers. This sort of overt symbolic representation generally smacks of overkill, but in this production— because of the ending— it speaks with striking profundity.
The only place that the show finds itself lacking is in it sound design, or in this case in the lack thereof. While Garrett's focus on the characters' emotional development and expression is not only intense but jarringly accurate, there is something left niggling in the back of the mind, yearning for more. Particularly as the end unwinds— with real poems and dedications of the victims' families being read aloud offstage— the lack of sound is painfully noted, and although the intention may be to create that reverent moment of silence, there is as awkward disconnect that surfaces in its place. Garrett crafts such a heart-stopping moment at the end, which could be a moment of silence once all the actors are on the stage with their backs facing he audience, and this could be enhanced tremendously if leading up to that point during the river ritual there had been even just a hint of low music or the underscore of a babbling brook.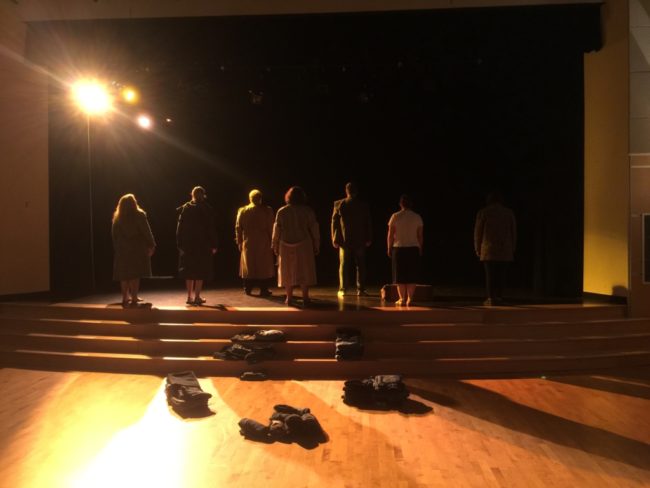 That missed opportunity aside, Garrett's direction is astonishing and works exceptionally well under Hensley's blue-contrast lighting. Costume Designer Linsey Ellis rounds out the play's aesthetic with appropriately themed Scottish stereotypes to imbue the titular women with a thickness and a toughness to their persona. This notion is carried through not only in the show's sartorial selection but in the way that Garrett encourages these performers to stand strong and deliver each moment fully and in earnest. Coaxing the audience to fully embrace the experience, Garrett has included candles for each member in the house, which are lit by the women during the performance; this is a remarkably symbolic and meaningful gesture as a great many find comfort in a lit candle.
Though only credited as Woman #1 (Connie Regan) and Woman #2 (Nina Krauss), both of these characters deliver paralyzing descriptions from the depths of their heart when it comes to recounting the events of the crash. Regan and Krauss both adopt firm Scotch brogues, which sound authentic but are not muddled. This allows the audience to hear what is being said while still feeling that it comes from a genuine place from the play's setting. Accents across the board are strong, not only with the two women but with Hattie (Lisa Lutwyche) and Olive (Debra McGuire) as well.
The four aforementioned women each represent a beacon of hope in their own right, a compass for the last, the stars in the darkness. Lutwyche and McGuire do have little moments of zest that create breathes of humor— a necessity in a play that is so fully mired in an emotional bog of sorrow. Both of their bristly and stubborn personalities— especially when going up against George Jones (Charlie Johnson)— are greatly appreciated as comedic buffers for such a heavy piece. These four women are the sentinels that guide the story forward, not only in their telling but in their eyes and their hearts.
McGuire, as the steadfast and almost stalwart matron that's leading the brigade, shows unwavering strength right until the tide of grief brings forth a tsunami beyond her control and wipes her out of her element. Captivating the entire audience, McGuire delivers the most harrowing moment of the show when she brutally exposes her own raw experience and the truth of what she and the women of Lockerbie endured. Driven from a blazing conflagration of furious sorrow and unimaginable grief, McGuire does not leave a dry eye in the house.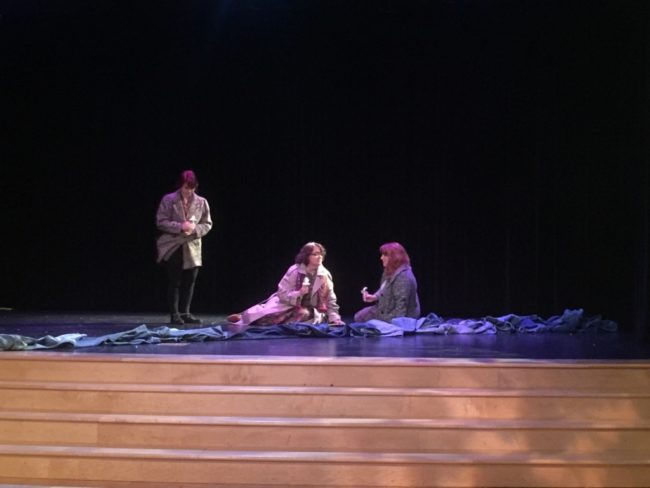 This emotional moment comes to a head because of Madeleine Livingston (Karen Decker) and her husband Bill (Paul Hoffman) who lost a son in the tragedy and have returned some seven years later attempting to find closure. Decker delivers a character that is stricken and split from her senses by an unbearable grief. There is an earnest heartache present when she attempts to unload this emotional burden, often shouting at the women, her husband, and the hills, or whoever in the universe will listen. Decker is emotionally present, much like McGuire, and keeps the audience hinged at the edge of their seats feeling each burst of cathartic release that she feels.
Truly profound, deeply moving, and exceptionally well performed by the women, there are fewer more striking live theatrical experiences to be had. There is a healing to be had in this production, even if you know nothing of Lockerbie, or nothing of the grief these women and these people experienced and still experience. Anyone who has ever suffered loss will find something moving to be touched by in this performance.
Running Time: Approximately 90 minutes no intermission
The Women of Lockerbie plays through August 21, 2016 at The Milburn Stone Theater:  Elkton Station— 107 Railroad Avenue, in Elkton, MD. For tickets call the box office at (410) 287-1037 or purchase them online.