Mirror, mirror, on the wall, who's the fairest of them all? Would that be The Heritage Players because they're currently presenting a family-family production of Snow White? Dramatized by J. Michael Straczynski and Directed by Kathy McCrory, the well-loved fairytale is the perfect end-of-summer treat for young audiences and audiences' young at heart. With just one over a dozen performers featured in the classic story, the show is all but perfect, save for that pesky intermission…perhaps the Evil Queen has a potion that can be used to do away with it!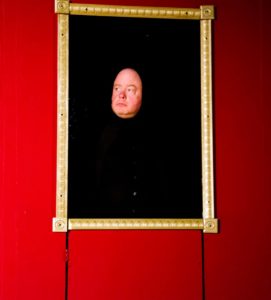 While the show's Lighting and Sound Design (crafted by Brad Ranno) aren't up to the usual par of Heritage Players' works, don't let them in the least detract from the fairytale experience as you follow Snow White through her perilous journey of fleeing the Evil Queen and encountering the Seven Dwarves in their cottage in the woods. (The cicada-laden soundscape every time there's a venture into the woods is almost charming considering how very local it sounds.) Ranno does have a solid handle on how to light The Mirror inside his magic encasement, which is pretty impressive all things considered.
Be not dismayed for the whimsy and magic of this 'happily ever after show' is well represented in the shows threads, compliments of Costume Designer Robin Trenner, and in the show's set— designed by Brian Douglas and artistically conceived by Andrea Bush. With cartoonish trees out in front of the stage and carefully squiggled bricks inside the palace walls, the simple scenery is like tumbling right into the storybook, perfect for the little tale that's about to unfold. Trenner's costumes are equally befitting the experience, with regal velvets on the royalty. But it's her approach to the dwarves that really mines the wardrobe department and turns up gold— each one a different shade of the rainbow, and naturally brown for Grumpy.
When the Evil Queen (Andrea Bush) goes into her many disguises, first the Young Princess (Emily Lambert) and later the Old Peasant Woman and Witch (Rachael Kelly), it's an astonishing transformation that's revealed with a clever spin of place between the three actresses. Lambert and Kelly both give Bush a run for her money when channeling her malevolent spirit into their text. Kelly is particularly poised of vocal affectation and really knows how to lay on the scheming charm quite thick when it comes time to trick Snow White.
Bush, as the maniacally Evil Queen, has the hideous cackle down to a fine science. In addition to her nefarious laugh, there is a haughty confidence in the way she sweeps across the stage and barks out her orders at the much abused spirit of The Mirror (John Sheldon.) With vividly animated facial features, Bush makes the Evil Queen a lively and spirited villainous sort, perfectly balancing her humors against her ill-temper so as to not be too scary for the younger members of the audience.
Sheldon, who plays the trapped spirit of The Mirror, does an excellent job of narrating and explaining everything that is happening in the story. With precise detail that keeps the audience engaged but not overloaded, he serves as a guiding beacon through scenic shifts as well as character introductions. It's Sheldon's in-scene play, both with the Evil Queen and then with The Prince (Zachary Roth) that really gets the audience giggling, especially when he turns on the sarcasm.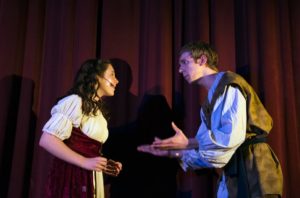 Roth, who is indeed a lovely prince, does a fine job of bumbling and stumbling his way through the Evil Queen's castle. With excitable facial expressions and a heart pure as gold, his encounters with every character he meets are delightfully humorous— especially when he's jotting down the Evil Queen's every order in his little notebook. This is especially true of his encounters with Snow White (Samantha Sheldon.) Miss Sheldon, who is the epitome of a kind-hearted gooey-eyed princess, is sweet and sunny in the titular role. Letting her meager meekness play to its fullest potential in the scenes with the Evil Queen and her various shape-shifting counterparts, Sheldon delivers a convincingly gullible Snow White who simply wants to trust everyone even when she knows she ought not to.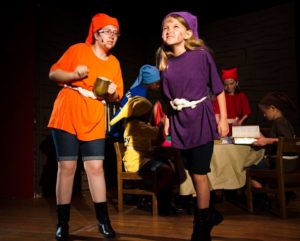 Snow White's tale would not be complete without the seven dwarves! There's Doc (Maggie Walker) who simply has a handle on everything when it comes to the gold mine, getting the dwarves off to work, and pretty much anything else you can think of whenever they're on stage. Then there's Happy (Molly Ross) who is as giggly as her namesake. Bashful (Amenah Kitchens) and Sneezy (Veronica King) both find little moments to make uniquely their own, as does Sleepy (Rose Ocone) who even gets to save the day when it comes to the Evil Queen's sleeping spell! Dopey (Ruby McKerrow) is too cute for words when it comes to the silly things that happen to her character. McKerrow has a surprising handle on comic timing for such a young performer. The same is true of London Leyda, playing Grumpy. Leyda, who is precious and quite the pop of zesty panache in the role, really steals the scene when they're debating about whether or not to let Snow White stay in their cottage.
A delightfully entertaining little theatrical endeavor, Snow White is the perfect end-of-summer family adventure that should be enjoyed thoroughly. Just don't take any apples from anyone offering!
Running Time: Approximately 70 minutes with one intermission
Snow White plays through August 21, 2016 Heritage Players in the Rice Auditorium of the Spring Grove Hospital Campus— 55 Wade Avenue in Catonsville, MD. Tickets can be purchased at the door or in advance online.