Shot through the heart and you're to blame! Well, not exactly, at least the shot through the heart part— but you could be to blame at Do or Die Productions' latest whodunit incident, Murder Rocks, appearing now at The Sunset Restaurant for the month of August. In true DoDP fashion the show, written by Ceej Crowe, is ripe with wild parody humor, a few puns, and a great evening of comic audience-interactive murder mystery! Welcome to Studio 3.14— the hottest new musical venue in town. It's completely clean, no drugs, no alcohol, and totally on the round, dig? As an exclusive guest to Studio 3.14 you'll be witnessing the comeback performance of the rock-and-roll bad girl Mamie Roadhouse fresh out of recovery and on the path to coasting clean! You're in for an evening of hilarity, mayhem, and of course murder, as tensions between the characters build and all things that rock don't always roll.
Crowe's script, which relies heavily on the closely cable-knit bond of her troupe's exceptional improvisational abilities, is wildly witty and quite clever when it comes to characters, overall development of plot, and the ultimate execution of twists, red herrings, and all the things that make a murder mystery delightfully delectable. With parodied names like 'Justin Lumberjack', 'Maime Roadhouse', 'Cara Failin', and even 'Colin Feral'— a parody and a pun— there's no stopping the sheer hilarity that's about to ensue over the course of the evening.
The Usual Suspects
Like all good murder mysteries, there's no telling who you will encounter, or even who's going to end up murdered until the show is fully swinging in the thick of it. With a great deal of audience interaction presented both during the show as it unfolds and during special segments where the characters wander freely from table to table to discuss their lives with those in attendance, there is an abundant opportunity for anyone and everyone who wishes to be more readily involved in the mystery-solving process. Centered around the world of music and the dog-eat-dog nonsense that happens there in, Crowe and the DoDP players lay down a beat that can't be beat with this show.
Mamie Roadhouse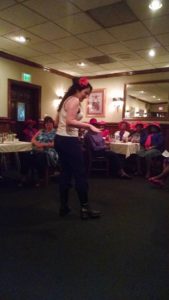 Played by the superbly talented Erin Tarpley, Mamie Roadhouse is not only the owner of Studio 3.14 but she's the evening's headlining entertainment. Supposedly rehabilitated, clean and clear of substance abuse of all kinds after her stay in Miss Cara Failin's miracle facility, Mamie Roadhouse is here to get her groove back and perform an evening's show that you'll never forget. Thick of the Jersey trash accent and full of robust drunken bodily swagger, Tarpley does the character a great justice, particularly once she gets into one of her moods— the result of which is the silent treatment for— well, everyone. Keep an eye on that magical cup of 'fruit juice' because it just might clue you into what's really happening with Miss Roadhouse and Studio 3.14
Justin Lumberjack
If you're going to have a washed-up pop star attempting to resurge his career and popularity all in one fell swoop, stick the character in the hands of John Kelso and you're in good shape. A real crowd pleaser with his hilarious falsetto sing-song cries of randomness, a la the real Justin Timberlake and subsequent mockeries thereof, Kelso really can't stop the feeling of this prince of pop and won't apologize for any of his nonsense. A bit green when it comes to the ladies, Kelso's portrayal of Justin Lumberjack is a crowd pleaser because of his willingness to engage, and particularly antagonize the audience. These shenanigans alone might be worthy of a guilty accusation when it comes time to discuss whodunit.
Cara Failin
Whackadoodle would be a polite term for the character Ceej Crowe has concocted in this substance abuse counselor. Loosely based on— read practically SNL channeling but in a much stronger and funnier sense— Sarah Palin, Crowe goes hog wild with the character and her accent, general speech patterns, and overall blatant sense of intelligence disguised as idiocy. A true power punch to the show, Crowe's performance is what stirs up a great deal of commotion among audience members, so much so that one might consider renaming her spoon. She's a real maverick, that one, so best watch out for her. (Personal note— do not take the altoids! You'll just end up being accused of murder and minty breath is not an alibi!)
Reese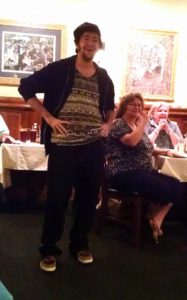 If you're looking for an extremely unpleasant white boy wannabe rapper, you've found it in Reese. The Justin Bieber mockup is played to perfection by Anders Tighe and the results are highly entertaining. Really grooving with the audience when it comes to flirtation, Tighe knows the score. His mannerisms as the unsavory though dreadfully flavorful Reese are the epitome of everything we hate about those Justin Bieber-types in today's modern musician. Full of cocksure strength that carries through his voice, his physicality, and his readiness to improvise both with fellow cast mates and audience members, Tighe really brings the character to life and has nothing for which he will apologize.
Colin Feral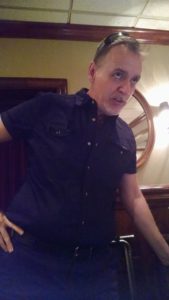 A surly, delicious bit of silvery eye-candy, played with verve by Charles Boyington, this zesty actor is shady, has a past, and is ready to boil everyone's blood. Seemingly ill-placed among the music icons and politician-turned-recovery-clinician, Boyington makes Feral fit right in with the madcap maladies that are unfolding at Studio 3.14. His icy demeanor toes the line between casually cool and cleverly cryptic, which makes those plot twists and turns extra exciting when they start exposing themselves. Don't be fooled by his delicious appearance, however, he's just as guilty as everyone else— and in a Do or Die Productions performance? Everyone is guilty until proven not-guilty!
Detective Pat Down
With a name like Detective Pat Down, how could you not be in for a good time? Though Pat McPartlin, who plays the stumble-bum-gumshoe, doesn't arrive until the very end of the show (thus negating any real reason to suspect him of anything other than poor sleuthing skills) his presence is fondly memorable as he conducts the investigation by inquiring of the audience whodunit. Once a list of names has been generated, McPartlin guides the audience through the interrogation segment of the show— taking live questions from the audience of the accused (and it can literally be anyone— I found myself being accused…and so what if I spent a little time in Cara Failin's clinic with Mamie? What happens in Alaska stays in Alaska…) until the murder is solved!
Conclusion
Like all shows that come to an end, so too does Murder Rocks! But in order to learn whodunit, you'll simply have to attend and figure it out for yourself!
Dinner starts at 6:30pm with a show following immediately during and the evening will conclude— hopefully with a conviction and conclusion— approximately around 9:00pm.
Murder Rocks plays its second Monday evening showing on August 15, 2016  at The Sunset Restaurant and Lounge— 625 Greenway Road SE in Glen Burnie, MD, where Do or Die Mysteries are currently in residence. Reservations are required and tickets are available for purchase by calling (443) 442- 3810 or by purchasing them online.
Be sure to catch the September show— One of the Gang, a roaring 1920's whodunit— on Monday September 12 and September 19, 2016. Tickets are available here.