Color me stoked, Heathers The Musical has turned up on the stage at Red Branch Theatre Company this summer. The second show in their season entitled "Paint it Red" and makings its area debut and regional premiere, Heathers is based on the iconic 80's cult film by Daniel Waters. With Book, Music, and Lyrics by Kevin Murphy & Laurence O'Keefe, this biting dark comedy will worm its way into your heart— if not your funny bone— before the ending, which might just blow some folks away. Directed by Amelia Acosta Powell with Musical Direction by John C. Henderson, this musical will slap your face off.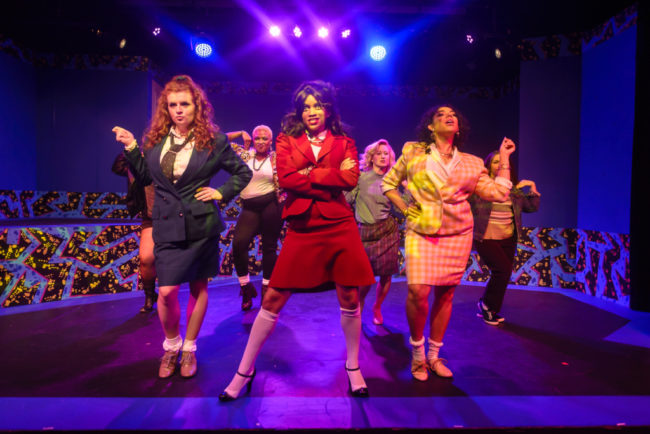 The 80's is screaming straight off the very blue set. Scenic Designer Clifford Hannon is all but channeling Saved by the Bell when it comes to the inspiration for the base layer of patterning and coloring of the stage. With skinny-ass lockers that couldn't hold even the twiggiest of queen bees slammed right into the wall of the set, Hannon is all about creating pockets of authenticity in the otherwise minimalist approach set. This is a jarring yet functional feature of his overall scenic layout; an enormous explosion of an 80's patterned fountain pen smeared over the stage with a locker here or a bed there to delineate scenic shift when the cast goes from the high school to a bedroom. Overall the look is quite appropriate for the show, both in its garishly bold appearance and in its sparsity. Hannon's use of leveled tiers is a bonus for the clever blocking in such an quaint stage space.
Blue on blue may have worked in the 80's but it does very little for the production's aesthetic as a whole when Lighting Designer Lynn Joslin hits the blue-bathed stage with blue lighting. This excessive vibrancy creates strange moments of washout on certain performers and also creates odd colors and shadows on some of the costume choices. Joslin keeps the lighting plots, outside of the overuse of blue, very basic, which on the whole fits the bill for the show's creative designs. There is a rather striking effect happening in Veronica's closet toward the show's conclusion, that will simply be mentioned as such for fear of spoiling what happens in case you haven't seen the movie, and that should be commended for looking as eerie as it does.
Finding frippery of the 80's fashion is Costume Designer Cierra Coan's specialty and she does so in a great many flavors. The ensemble costumes— each of which defines these nameless characters blended into the high school crowd— are Coan's finest work as they create individuality for these performers, in addition to rounding out the full scope of 80's clothing, reminding us all how utterly atrocious a period in fashion history the 80's truly were. Coan captures the mean-girl spirit in the costumes of the trio of Heathers, and although the preppy queen bee-bitches never really change their outfits, this makes them standout even more so among the others.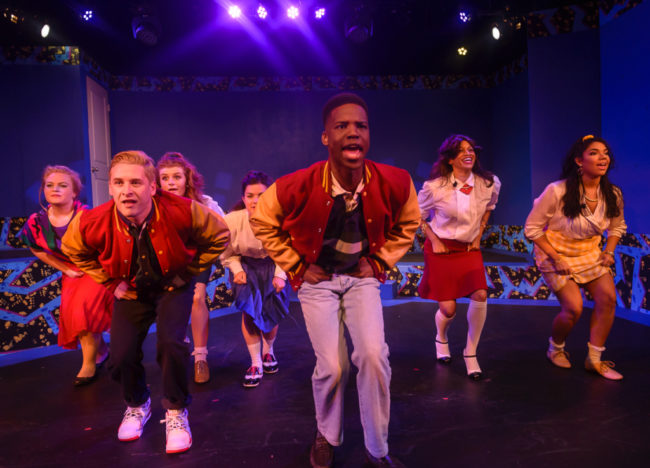 Hands down the undisputed praiseworthy portion of the performance comes from the intensive choreography crafted by Choreographer Brandon Glass. Though having the ensemble dance in the aisles of the house (a recurring hallmark of productions at Red Branch Theatre Company) feels a bit out of place with this musical, the routines themselves are to die for and delivered with a sharp sense of excellence in mind. "Candy Store" has some of the most impressive choreography featured in the production— but someone needs to remind Mr. Glass that the Heathers would never shift to the back of a dance line just so other dancers could be featured— and is ultimately one of the best performed numbers. There is a wild fusion of modernity woven into the 80's influenced moves that find their way into Glass' routines, particularly during the uproariously hilarious "Shine a Light."
The show's primary drawback is vocal inconsistencies and lack of vocal power. Whether it was lack of amplification due to microphone issues or just an underwhelming ability to produce the proper level of volume on the performers parts, is difficult to say, but consistently throughout larger numbers like "Candy Store" smaller solo features— in this number the Heathers in particular— struggle to be heard, not for a lack of balance coming from the bit, but simply a lack of vocal prowess. Several performers, including JD and the Heathers were vocally straining to hit their marks when it came to sustains and belts and although this was infrequent, it was enough to be noticed and disruptive to the overall enjoyment of the production.
Director Amelia Acosta Powell had some staging and blocking issues with the performance as well. There are moments when the active energy that is so readily created by Glass and Musical Director John C. Henderson seems to dissipate as the characters' flow into their moments of acting. The movement and momentum dies and the scenes drag their toes a bit, often because of the straight-forward blocking with actors simply facing the audience. This languid pacing and stiffness that permeates the entire cast aside, Powell has coaxed some very convincing attitudes out of the performers, especially in regards to how they deliver those sardonic dead-pan one-liners for which the movie has gained infamy. Powell also deserves a heavy hand of praise for her perfectly executed slow-motion fight scene during the arrival of JD; it is both hilarious and flawlessly timed.
An effervescent burst of energy who defies the rigidity of the cast's overall acting comes from Ms. Fleming (Amanda Spellman.) Too chipper for her own good, Spellman provides excellent comic relief as the peppy and upbeat grief-councilor figure. Vocally full during her segment of "The Me Inside of Me", Spellman showcases that she is of the rare few with vocally sound delivery during her moments spent in song. Charged with campy energy for "Shine a Light", Spellman rolls this number through a serious of ridiculous verses, pushing her peppy personality into the audiences' faces in the most hysterical manner possible.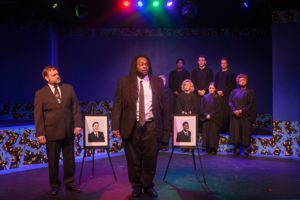 Keith Richards and Wil Lewis III also aid in the show's comic campiness, though Lewis far less so simply because of the track he plays. Owning "My Dead Gay Son" with vocal panache, Lewis brings that duet between he and Richards to glorious and hilarious heights. Richards, whose comic success comes in the form of his character 'Big Bud Dean' takes every opportunity there is to make this stereotype of a redneck into a true caricature, milking all of his awkwardly ridiculous moments for every laugh they can get, which furthers the distress in JD's characterization. The pair play well off one another and find little moments to make each of their tracks pop and standout.
Ram Sweeney (Tendo Nsubuga) and Kurt Kelly (Taylor Witt) are by no stretch of the imagination strong singers, but what they lack in vocal integrity they make up for in their character presentation. With body language strong enough to bowl over the leaning tower of Pisa in "Blue", both Witt and Nsubuga go unapologetically into the overt sexual nature of the number and come up swinging. Once the pair enters he second half of the show, their presence alongside Heather Chandler is something quite amusing, but that's all that can be said in case the show's plot isn't well known.
With a surprisingly striking sound, Martha Dunnstock (Amy Williamson) is a contender for singer of the show. Williamson only has one solo number late in the second act, but it is enough to get noticed. Her rendition of "Kindergarten Boyfriend" starts out innocently enough but the emotional rawness and exposure that carries through the verses as the song moves along is harrowing and showcases Williamson's ability to connect thoroughly to the character. Playing Martha with a meek and meager outlook, her performance is moving, and really stirs the heartstrings when it comes to how she has to interact with Veronica once The Heathers slide into the scene.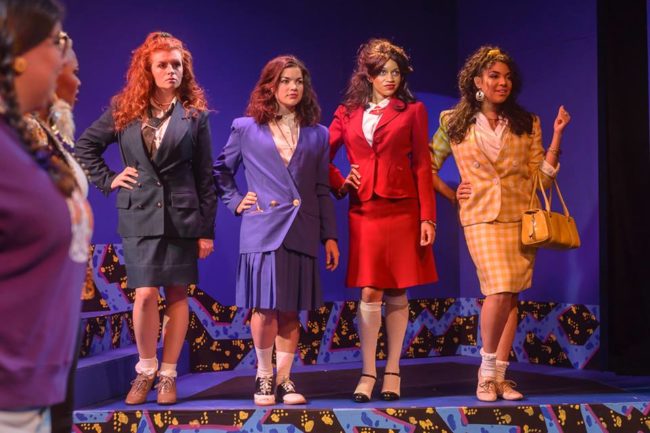 The title of the show— shared across three characters— falls on the shoulders of Geocel Batista, Megan Bunn, and Tiara Whaley, with Batista playing the follower Heather McNamara, Bunn playing the wannabe Heather Duke, and Whaley ruling the roost as their leader, Heather Chandler. They move as one when all three of them are featured together and cut an impressive figure as the little clique of popular girls, Whaley is the only one whose able to hold her own on a vocal scale. Both Batista and Bunn fail to deliver the vocal panache expected of them— particularly during "Candy Store" when they attempt to steal the solo from Heather Chandler. Both women give strong acting performances, particularly Bunn with a serious case of resting bitch face. Batista unearths a softer side of Heather McNamara early on and witnessing this transition is both curious and pleasing.
Whaley, as Queen Bee Heather Chandler, owns the attitude of the character, even more so after "The Me Inside of Me." This number is where her voice truly shines. Her saucy and snappy command of the Heathers, Veronica, and essentially the entire world that rotates around her is screaming 'bitch' at the top of its lungs, making the character every bit as revolting and disgusting as the audience desperately needs Heather Chandler to be. Once she struts around the stage in her bathrobe— from "The Me Inside of Me" on forward— there is no stopping the way her body language transforms her sass, taking it up to an exponentially high level for all to see.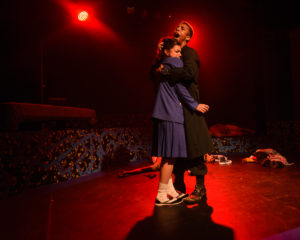 JD (Hasani Allen) is the Baudelaire-quoting badass that arrives on the scene to stir up the chaos that is high school in the late 80's. Allen, despite his vocal inconsistencies— because there are moments where he really nails his sustains and carries and others where his voice cracks and he shies away— is solid in his character delivery and emotionally unbalances the audience when it comes to his character. Imbuing JD with strange notes of empathy and humanity, Allen makes it indecisively impossible to determine whether or not we should be pulling for JD to be successful or scared stiff of what he's capable of. "Our Love is God" and "Seventeen", both duets shared with Veronica (Vivian Cook), is a true marriage of vocal sensationalism. Pouring their souls out at one another during "Seventeen", Cook and Allen blend their angst flawlessly into one another and grip the song with fearless emotional tenacity.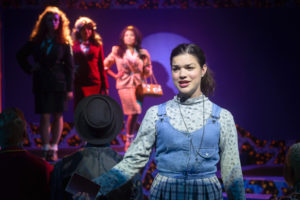 Cook, as the main character, is a force to be reckoned with when it comes to her singing and acting. The epitome of frigidity with a permanent deadpan chip on both shoulders, Cook slays as Veronica Sawyer. Bringing multiple dimensions to the potentially static character, Cook unearths rich emotional layers through discovery, particularly in scenes with JD, and ropes the audience into her tale as if we were personally her diary. Vocally phenomenal, Cook is a modern day beltress with all of the panache and technique to support these tremendous blasts of sound heard in "Dead Girl Walking." Without question, Cook shines in the role of Veronica and keeps the audience deeply invested in not only her story but the show as a whole.   
Let's motor— even if your name isn't Heather— on over to Red Branch Theatre Company and check out this show. Because, seriously, if not? What's your damage?
Running Time: 2 hours and 10 minutes with one intermission
Heathers The Musical plays through August 27, 2016 at Red Branch Theatre Company at the Drama Learning Center— 9130 Red Branch Road in Columbia, MD. For tickets call the box office at (410) 997-9352 or purchase them online.