Come on, you Von Tussle's, go and shake your fanny muscles! Yes they can, yes they can! And they can't stop the beat as Part 3 of the TheatreBloom interview series "You Can't Stop the Beat" rolls along to meet Heather Marie Beck and Gabriella DeLuca, playing Velma and Amber Von Tussle.
Thank you, ladies, for having a sit with us! If you'll give us a quick introduction and background, we'll get going!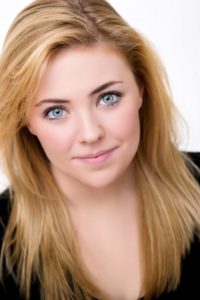 Gabriella DeLuca: I'm Gabi Deluca, I'm playing Amber in Hairspray, and the last show I did was right back here at Toby's Dinner Theatre, I was in the ensemble of Ragtime in the fall. And last summer I was in The Producers at Olney Theatre.
Heather Marie Beck: I am Heather Beck and the last show that I did here was Peter Pan. And I'm playing Velma Von Tussle.
Now you've each done Hairspray before?
Gabi: No, this is actually my first time in Hairspray.
Heather: I have. This is my second time. I've played Velma both times.
What is it coming into a brand new show, Gabi, that you've never done before? And for you, Heather, what is it like getting to reprise this role?
Heather: I'm excited to do it again! I'm excited to do it with a different Amber. It's going to be new! Last time my Amber was Jamie Eacker, now she's Jamie Jennings, and funny story— her husband, David, played Link in that production back in 2010.
Gabi: I'm so happy to be in this show. This is just one of those shows that I've just been dying to get my hands on since I heard about it. I saw it on Broadway when it first came out years ago and it's just so much fun, I couldn't be happier to be in it!
Hairspray deals with the concept of body image. Do you think that is still impacting your line of work the way it's portrayed in the show?
Heather: In this business? We are totally still dealing with body image! This is the only business— well one of the only business— where you can focus on what a person looks like and that be basis for whether or not you get the job.
Gabi: For sure. I think if anything, the standard has only gotten stricter and more intense as time has gone on. I personally think that even in general our beauty standards are getting crazier and crazier, so in a field like musical theatre or really any kind of performing arts, it's an extreme example of that.
Heather, I know we spoke briefly about how you wanted to "get back into shape" for the role.
Heather: I thought it was important to do that. Velma has lines about being a certain size so I wanted to live up to that.
Gabi: It definitely makes you want to look your absolute best. Even for personal reasons, you just feel better, more comfortable and more confident when you are presenting yourself in the best possible light by the industry's standards. Add on top of that a show where you're constantly discussing weight and body image and oh man, it really makes you want to be on top of your game.
Hairspray also deals with civil injustice. How do you think is still relevant and speaking to today's audiences?
Gabi: I think it has become overdone and cliché to say "Oh look, it's still relevant today." Because it's so much deeper than that and time and time again it's proving to be true.
Heather: It' always going to be relevant.
Gabi: We were just in Ragtime together where it was the same exact thing, racial tensions that felt just as relevant today as when the show was taking place. I think that can be said for this show too.
Heather: Absolutely.
What are the challenges of taking on these nasty girls? Amber and Velma aren't really nice people…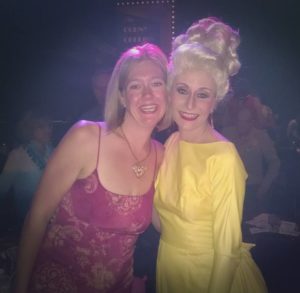 Heather: They're not but it's so funny because in the end they don't necessarily redeem themselves, in fact they definitely do not, but they have to find this place where they come out of their shell and become accepted by all of these people. So they have to come across as people who aren't totally hated and I find that really challenging because we can't be too mean.
Gabi: Definitely. I think there's a point where if you take it too far you'll lose the audience. They will just completely lose any interest and care in your character.
Heather: You have to find a way to still be likeable.
Gabi: It's weird because to me it's counter intuitive to be a villain in a show and still worry about being likeable, but we absolutely do. Even our director, Mark, (Choreographer and Director Mark Minnick) is constantly saying "Be careful, don't get too mean, we can't hate you." At the end of the day we need to keep some humanity in it all. So they still have their evils but they're not evil people.
Heather: We have our evil characteristics.
Gabi: For sure.
This is a dance-intensive musical. What has that experience been like for you two?
Heather: Sadly I do not get to dance. I get to stand there in some heels, which is sad because I enjoy dancing.
Gabi: We actually do quite a bit of pouting. But as a "Nicest Kid" I get to participate in a bunch of numbers.
Heather: Yeah, Amber totally dances.
Gabi: It's only "You Can't Stop the Beat" where we have to pout.
Heather: You know, the big ending finale number where everyone is singing and dancing and having the time of their lives and we're just standing there.
Gabi: Pouting. But this show has been a wakeup call. It's pretty amazing trying to dance and sing at the same time. Even after a short amount of time you get so winded. I really have learned that I need to start running while singing.
Heather: On the treadmill at home.
Gabi: I've been running down the street, which is pretty empty usually, but I peek over my shoulder to make sure no one's around and then I start singing because you just have to get your body used to it. Because there are no breaks.
What is your favorite moment in the show?
Gabi: Hmm. I need to think about that because I haven't thought about that. Favorite moment?
Heather: Umm…I want to find it. I want to wait and find it.
Gabi: That is kind of a tough one. Since we are the villain characters our moments are some of the lower moments in the show. We don't have any great warm and fuzzy feeling moments.
Heather: It might end up being really nasty for me to pick a favorite moment— although I do love dodgeball. And I'm not even on stage for dodgeball but I love watching it. I love Coby (actress Coby Kay Callahan, playing the Gym Teacher in that scene) coming out with her dodgeballs.
Gabi: Yeah, she's pretty hysterical. I don't know, it's tough to pick one because all the big moments are evil. Velma's big moment is her hatching her evil plan. And Amber's big moment is along those same lines. So I guess if I had to pick a moment it would be at the finale.
Heather: At the end of the finale where we dance.
Gabi: When we finally come around and everyone is together and we're singing that song that everyone is in love with, because how can you resist that number? That's the moment.
What is it that gets your morning going? What starts your morning?
Heather: In real life? I totally love waking up and hearing the birds. In fact, I was just talking to my parents about this the other day because we were talking about adopting my son Mathis, who is deaf and cannot hear. And I said that I love waking up and opening my eyes with the sun coming through the windows and I can hear the birds. I just love listening to their chirping with all that sun shining through the windows and I get to wake up slowly and that's my morning and everything happens and it's like "Good morning! Morning is here! Yaaay!" I love waking up to that. I was trying to think of what will be as visually stimulating so that Mathis can partake in that morning joy that I have.
Gabi: Birds start way too early. And they're loud.
Heather: I'm thinking sparkly glitter and some painted birds in the nursery or maybe stained glass birds on a mobile that will catch the sunlight from the window!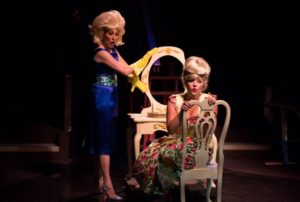 Gabi: Mine is a little bit specific to this time that I'm in now because I live in New York but I grew up here. So I came back to stay with my dad and my sister while I'm doing this show. So for me, waking up these past few months during the rehearsal process and the run, the thing I really look forward to is my sister and I being reunited again. I love being able to wake up and have silly time with my little sister again, whether we're watching TV or goofing around on the internet, it's been this homecoming. I'm getting to enjoy living together again.
What is your favorite comfort food and is it different from your character's favorite food?
Heather: My favorite comfort food has totally changed recently. It's not kale chips. It's going to be a little odd. It's eel. I have discovered eel. I have discovered H-Mart, actually, and I'm totally in love with it. I know, I've lived here all my life and am just now discovering it, but I'm totally in love with it. I went in there and figured I would try these random fish— and I found eel. And it's so good! And the ladies in there are like "try this one, or try this one" and they just throw it at you. I took some home and cooked it in sesame oil, or sometimes in ginger and lemon. I cut it up and I put it in tinfoil and I take it everywhere with me! I eat it as snacks like four times a day. I love it. And then I run out of it and freak out and I have to rush and buy more. Right now I'm out of eel and I asked Shawn (Heather Beck's husband, Shawn Kettering) to run to the H-Mart for me and get me some more and he won't do it and now I'm out of eel and I'm stressing! Now, it's eel. I'm pretty sure Velma doesn't eat eel. I hadn't really thought about what Velma would eat, actually. I don't think Velma eats very much.
Gabi: I don't think they indulge.
Heather: I just haven't ever given it any thought! I'll think about it. I'll think about it right now while Gabi's talking!
Gabi: I think the Von Tussle's live a very strict lifestyle at home.
Heather: Ooh. I bet Velma probably licks salt off of her fingers. Out from under her nails.
Gabi: Ooh that's a good one. I imagine that Velma keeps Amber on a very strict diet at home.
Heather: Amber probably keeps food under her bed.
Gabi: Yeah.
Heather: Amber! Do I hear you eating those chips?
Gabi: Haha! I feel like comfort food doesn't even go in the same sentence as The Von Tussle's. But if I was going to pick comfort food? I would probably pick baked macaroni and cheese. My family has a special recipe passed on from my grandma from my mom to me that I love to make. It's actually really easy but there's something about homemade that just tastes so much better. I mean how can you beat mac and cheese?
Heather: By being eel.
Gabi: I haven't had eel.
Heather: Actually it's second to tofu I would say. I love tofu. Five-spice tofu is very good.
Being from Maryland, are you fans of the steamed crab?
Heather: Oh yeah. Yes. We must go to crab feasts. I'm a crab girl.
Gabi: I'm going to get in trouble for this. I have been harassed about this all my life. I do not like crabs.
Heather: We must fix you.
Gabi: I've eaten them! And my dad says that I used to have cream of crab soup all the time when I was little, so he always says "What happened?" I grew up being a pretty picky eater. And I hate that I'm from Maryland and don't like them.
Heather: We'll fix that by the end of the run.
Gabi: Yeah. I knew I shouldn't have admitted it.
Circle, circle, dot, dot, have you had your cootie shot?
Gabi: I guess I have. I hope I have. I'm the one who's singing about it and going on about it. I should have, right? I hope I have!
Heather, what about you?
Heather: Um, definitely. Yes. Is that even a question? Absolutely. Totally allergic.
What does the phrase "You Can't Stop the Beat" mean to you personally?
Gabi: Ooh! I like that question. I think you can't stop the beat is really applicable to this show because there's such incredible music that no one can resist as I said earlier, but I think its referring to— and it's hard to put a name on it— but it's that inner pulse or hunger that we have towards music and the joy that it can bring to us and the emotion that it can bring out of someone in general, regardless of what's going on in our day to day life. There's always going to be that undercurrent that we can bring out with music. There's always something in that underlying beat that everyone can connect with. People from all different walks of life are brought together by music.
Heather: I think it means you can't stop what's coming. There are things in life that are a force to be reckoned with and you can't stop it. Like Tracy and her mom, they are a force to be reckoned with, and you can't stop them. I like the music thing Gabi just mentioned. And it's definitely music and dancing, you can't stop that beat either. But it's all about unstoppable forces.  
What's your favorite musical number in the show?
Heather: I definitely like "Cooties." I think "Cootie" is really cool. And "You Can't Stop the Beat." I really want to perform in "You Can't Stop the Beat." I do enjoy "Crabs." It's fun and it rolls. But I really love "Cooties." And they're all good numbers— and then of course all the dancing that I don't get to do, I love watching that. The Madison swings along, it's not a swing number but you know what I mean. They're all so much fun! "Nicest Kids" is fun too! See my problem is I want to dance to them all, so I'm just grooving back stage every time I hear them.
Gabi: I'm going to say "Mama, I'm a Big Girl Now" because that is the song that really sticks in my memory from when the show came out on Broadway and I got the recording. I was playing it in the car and that was the song that 13-year-old me just loved to sing out with the fake microphone and just belt it out, pretending to be that girl defying mama. Now, years later, getting to do this show finally, that's one of the songs where I'm like "Oh man! I finally get to do this!" And I'm actually doing it on a stage. And it's hard because it's a love-hate relationship that I have with that song, it's slightly vocally difficult for me. But once I get past that, I really like it.
Heather: "Good Morning, Baltimore!" is also awesome.
Gabi: You've named half the songs in the show.
Heather: I know! But that's such a fun opening number! And they're all fun!
What has being a part of Hairspray taught you about yourself?
Heather: It' going to be easier and become more clear as the show goes on, but it's taught me some things about will power as I've been able to get myself into shape. I've been able to do some things physically that I wasn't sure I was capable of doing. I had a lot of help from the theatrical powers that be when it comes to that. But there are some other things that will become more clear as the run happens and the show gets going.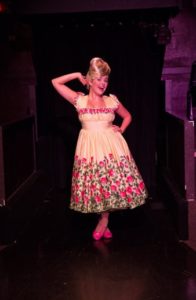 Gabi: I have learned— and this is kind of similar to what Heather said— but I've learned how much what is in our heads can really hold us back. These songs are really hard for me, we're really sitting at the top of my range basically for the entire show. I can't really remember the last time I was in a show where I was expected to sing notes that were the highest notes I had and sing them consistently. When I got the role, a month before rehearsals started I thought, "Oh man, I'm really going to have to start practicing and change some things so that I can sing this." I realized during the rehearsal process— and it wasn't that I did this complete overhaul of how I prepared for my performing— but I realized, "Oh, I can do this. This is fine and I'm not losing my mind over it and I don't have to be on strict vocal rest whenever I'm not at the theatre." It made me think "Hmm, could I have done this all along?" I've had some vocal issues in the past two years and it made me think "Have I been fooling myself in thinking I couldn't when I actually could?" It took this show, which was basically "okay— sing this. Now." And there wasn't a chance to be scared or worried and I just did it, I didn't have the time to doubt it and I just went for it; it took that to get me outside of my head.
What has it been like working with Director Mark Minnick?
Heather: Oh, yeah, we probably say something about how awesome our director is.
Gabi: Yeah, we haven't talked about Mark really, so I definitely want to say this is my first time working with him and that's been really special because I didn't know him at all. I have just been so amazed with how he's able to manipulate this fine balance of being fun and cracking me up— I feel like I'm always laughing a little bit too much at everything he says— but it is definitely not a playground in there. He is pushing us! I definitely come to rehearsal with, I'm going to say a healthy amount of fear. I better know everything I'm supposed to know, are all my lines memorized? Do I know exactly what comes after each scene? And he definitely makes you work hard for him while at the same time not putting you down or breaking your spirits. It's a joy to come in and try to give him your best work. I feel like that is so special in a director and you don't get that from every director. That is not a given. I feel very lucky to work with him.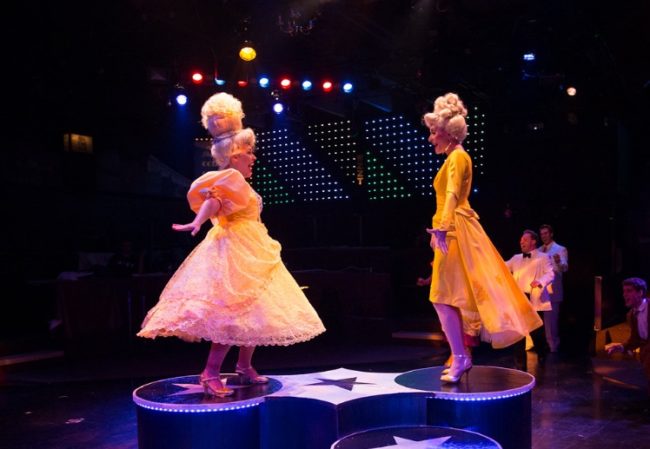 Heather: I've done more shows than I can count with Mark. He's one of the most special people I have ever had the opportunity of working with. He is honest. And that is what's the coolest thing about him. He is able to tell you exactly what he means. That's something that not everybody is able to do. Therefore, you know exactly what is happening and not everybody can do that— not everybody can tell you exactly what they mean. I know me for sure when I'm trying to tell somebody exactly what I mean— nothing comes out the way I mean to say it. But with Mark because he can do that you then know exactly what you need to change and how you need to change it. And if what he's saying, you're not understanding and you ask for a different way to get it so that you understand what he's getting at— he gives it to you! He just gives it to you in a way that's so clear. He's just so helpful and you don't always get that from a director when you need it. That is one of the things I am so grateful for when it comes to working with him.
Why do you want people to come and see Hairspray?
Heather: Because this is the most fun you will have in an evening! It's so fun! It'll make you smile all night long!  
Gabi: It really is a feel good musical. Beyond the songs and the dances being so infectious and so fun, there is something about this story and our main character Tracy and the spirit that that character brings that just genuinely makes people feel good. It makes people happy and it talks about good people working hard for what they deserve.
Heather: There's some shock value in there too. There are some things said in there that will make you gasp. And then you'll laugh it off. There are some race issues and some fat jokes.
Gabi: It' not all white bread.
Heather: Some things are taboo. I mean it's a PG-13 show. It's adorable and exciting.
Gabi: It's a great show.
Hairspray plays through September 4, 2016 at Toby's the Dinner Theatre of Columbia— 5900 Symphony Woods Road in Columbia, MD. For tickets please call (301) 596-6161 or purchase them online
To read the TheatreBloom review of Hairspray, click here.
To read Part 1 of the You Can't Stop the Beat interview series featuring Coby Kay Callahan and Darren McDonnell, click here.
To read Part 2 of the You Can't Stop the Beat interview series featuring Samantha McEwen Deininger and Renata Hammond, click here.