May your days be merry and bright! And may all your Christmases— in July— be white! Unthinkable! Unheard of! Until now, of course. Ever wanted to feel the crisp chill of winter air blustering through a muggy hot Maryland summer day? Or wash your hair in the snow as you set off for the 4th of July picnic? Howard County Summer Theatre is giving you that exact opportunity with their sensational, albeit off-seasonal, production of Irving Berlin's White Christmas. Directed by Tom Sankey with Vocal Direction by Christopher Hettenbach and Orchestral Direction by Kevin George, this time-honored Christmas classic inspired by the Paramount Pictures film, marks the 42nd annual production by HCST and it's bringing all the cheerful holiday spirit right smack in the middle of Maryland's sweltering summer heat!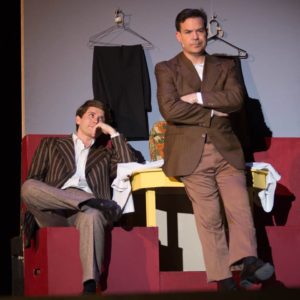 The name of the game is simplicity when it comes to Joe Blasko's set design. Keeping the set free of clutter and relying on beautifully painted backdrops for the bigger scenes, like the barn and the inn at Pine Tree, Vermont, allows Director Tom Sankey better access for blocking the robustly populated cast. Keeping in true tradition of family-aimed community theatre, Sankey really has a handle on how to stage this production so that the balance of principals to ensemble comes across clearly without feeling jumbled or crowded. The basic furnishings provided in Blasko's vision also allows for Lighting Designer Caralyn Anderson to illuminate her talents when it comes to brightening up various scenes. Surprise pink, purple footlights, and blue skies, are just a few of the fantastical effects Anderson achieves across the blank scrim that runs the length of the stage, making the Christmas magic that much more intriguing for the show.
Christmas comes early with Santa Claus-Laural Seivold Clark and her team of a half-dozen Costume Design elves working to flawlessly outfit the cast of well over 50. Clark and her crew craft astonishing and gorgeous couture that really captures the essence of Christmas, in addition to fitting the period of the 1950's. The most stellar and praise worthy are the color-coordinated A-frame-fit dresses from "Happy Holidays/Let Yourself Go" where the women of the ensemble wear one of six main colored dresses, festooned with complimentary colored pearls and matching underskirt crinoline. Other fashionable features include the stellar jumpsuits on the female tappers during "I Love a Piano" (look at how they match!) and of course the iconic Christmas-furred features for the finale. Clark and her helpers deliver stockings full of glorious dresses, army uniforms, and top hats by the dozens to truly outfit this production with holiday cheer.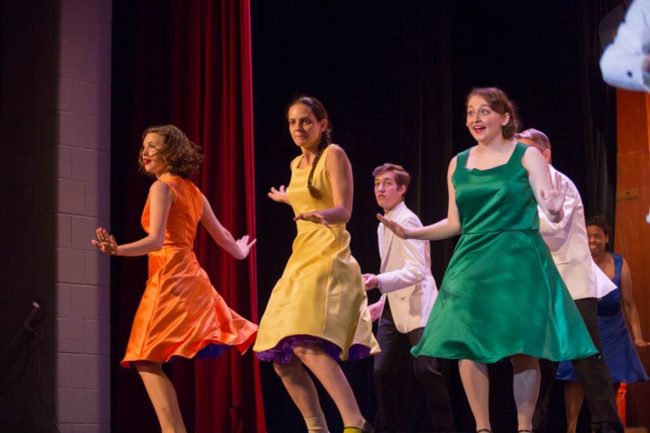 If there's one person who deserves praise above the costumer construction crew in this production, it's Choreographer Amanda Slatin. Creating praiseworthy choreography is a complex enough task when it comes to a show like White Christmas as all too often people will compare what they witness on the stage to the iconic performances given by Danny Kaye and company in the film. Not only does Slatin make entertaining choreographic choices, that are executed with enthusiastic energy by the entire ensemble, but she choreographs the show across multiple talent levels with the upwards of 40 people in some of her routines. Slatin's finest hour comes during "I Love a Piano", otherwise noted as the extremely intense tap number where spirits are soaring, wings are flapping, and toes are indeed tapping all across the stage in a number that earns the performers a thunderous ovation of cheers and hollers from the audience.
It is astonishing how impressive the ensemble on the whole sounds throughout the performance. Each of the group numbers is delivered with a rich and hearty sound, and impressively blended with strong harmonies and a dutiful sense of being in tune and on pitch. Stand-out performances among the ensemble include Mr. & Mrs. Snoring Man (Joe & Marla Blasko) who have a sprightly solo featuring during "Snow." Another bold blast of talent comes soaring out of young Susan Waverly (at this performance Ally Kolp), who has enough moxie to launch her barn-started career straight to Broadway. Kolp, who is a smashing personality and powerful set of pipes all in one, really owns the snappy and precocious character of Susan from beginning to end, especially during her breakout number, "Let Me Sing and I'm Happy (Reprise.)"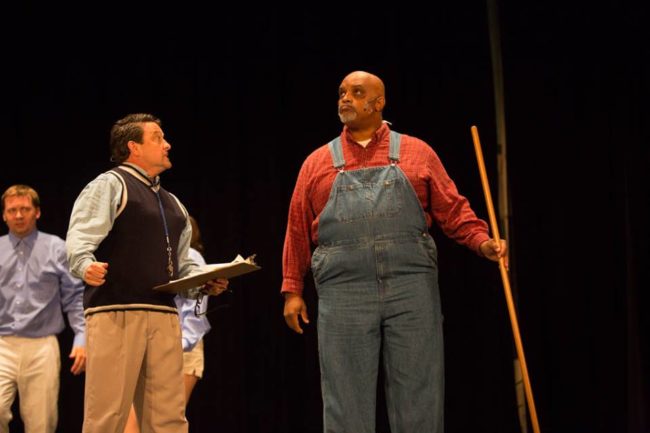 While Kolp may hold the monopoly on panache-powered performance in the young-actor's department, Todd Hochkeppel, as the spastic stage manager Mike Nulty, is certainly giving every adult a run for their money with his wildly flamboyant and over-the-top melotheatric performance. With arms frantically waving in the air, Hochkeppel is making tempests in teapots enough to blow down the entire barn and it's absolutely hysterical watching him flip out over the slightest of moments. This is a perfect contrast to Ezekiel Foster (Chuck Bagley) who moseys on through in his own little Ezekiel-focused bubble. Bagley is a comic cad in his own right, particularly when he gets that one moment alone and gets to showcase his own version of "I Love a Piano."
General Henry Waverly (Matt Scheer) is his own breed of tougher than nails and it takes a spitfire woman like Martha Watson (Robyn Bloom) to keep him in line. Scheer has the right personality, bark, and gravel to play the general and fits the role just fine. Bloom is all but bursting at the seams to breakout into song and dance as Martha and when she finally gets to strut her stuff in "Let Me Sing and I'm Happy" it's sensational. Bloom's characterization of Martha is a nod to old-school comedic women that surfaced just after the death of Vaudeville, along the lines of Lucille Ball. Her cheeky personality and overall presentation of the character is thoroughly enjoyable and when she leads the trio "Falling Out of Love Can Be Fun" with the Haynes sisters, it's a downright hoot.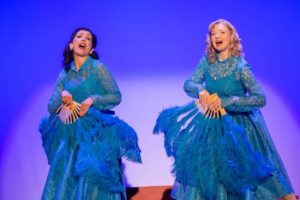 The show is a spectacular success not only because of everything already mentioned but because of the talented quartet of individuals featured as the four principal players. Betty (Marloe Lippert) and Judy (at this performance Libby Burgess) Haynes are a real sister set that just can't be kept down when it comes to performing or men. Lippert and Burgess have a palpable sororal connection to one another, as easily witnessed in "Sisters" at the top of the show, and again later when they join in with Martha for "Falling Out of Love Can Be Fun." Both women have a strong handle on the movements and sounds of the 1950's as well.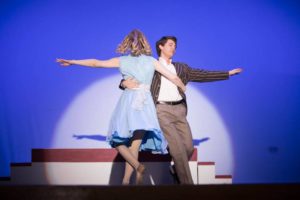 Burgess is lively and convivial and falls quickly for the equally light-hearted and youthful Phil Davis (at this performance Justin Moe.) The pair are a quick match made in heaven, even if the Private's flirtatious ways are a bit much for poor Judy to tolerate. When they take off into their ballet routine during "The Best Things Happen When You're Dancing" the crowd goes nuts over how fluidly their bodies flow together. This is another example of how Lighting Designer Caralyn Anderson's work enhances the production as the pair are able to switch dancing styles and tempos in accordance with light changes, creating a whole new atmosphere with a simple lighting cue. But the masterful moment between the young lovebirds comes during "I Love a Piano," the show's biggest tap routine. They start it off with convivial love and adoration over the piano, their voices blending smoothly, and it's a wonder to watch as they sail through the song.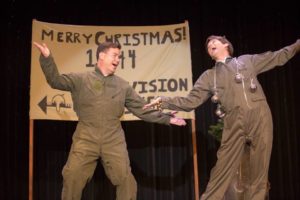 Moe shares a similar bond with Bob Wallace (David Bittner), though more fraternal and they yuck it up quite fully. From the opening bit "Happy Holidays" the pair is like an old Vaudeville duo, playing off one another and just enjoying themselves. This is exemplified ten-fold when they perform "Sisters (Reprise)" in the barn and have a smashing good time goofing off with the number. Their voices work together to capture the epitome of the old crooner tunes from the late 1940's and early 1950's, really making them a swell team, especially when taking on portions of the finale together.
Bittner, who is rather standoffish and his sarcasm lends a strong sense of dry humor to the piece, has a glorious voice that cannot be topped in this production when it comes to emulating the feel of a Bing Crosby Christmas. Though not as deep in register as Bing, Bittner delivers a striking sound for both "White Christmas" and "Blue Skies", a sound which really harkens back to the olden days of headstrong crooners who knew how to sing and for just whom they were singing. His acting is as strong as his singing and the chemistry he strikes up with Betty Haynes (Marloe Lippert), which starts off volatile and caustic, is quite impressive.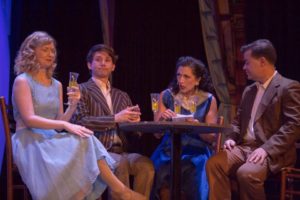 Lippert and Bittner have voices that were made for each other as witnessed in their non-interactive duet, "Love and the Weather" and the echo calls of "Count Your Blessings Instead of Sheep." The pair make watching the ever-shifting dynamics of Bob and Betty a fun holiday-themed roller coaster ride to attend. Lippert has her own vocal strengths, witnessed in her solo performance at the Regency Room when she sings "Love, You Didn't Do Right by Me." This is underscored with Bittner's complimenting rendition of "How Deep is the Ocean?" and the sounds blend together with Christmas divinity, even though the songs are about heartache and heartbreak.
What a wonderful way to celebrate the cherished and beloved sentiment of Christmas right at the top of July when people are relaxing on vacation and have a chance to actually sit down and enjoy the show. Most folks will put this show off until Christmas, when everyone is running around in the madness of the holiday season, but why wait when HCST has a stupendous production right here in Ellicott City right now? Merry Christmas! (in July!)  
Running Time: Approximately 2 hours and 35 minutes with one intermission
Irving Berlin's White Christmas plays through July 9, 2016 at the Howard County Summer Theatre in the auditorium of the Mt. Hebron High School— 9440 Old Frederick Road in Ellicott City, MD. Tickets may be purchased at the door or in advance online.