All shall know the wonder of purple summer who are lucky enough to have attended the ArtsCentric Summer Institute's production of Spring Awakening. Presented as a final showcasing of the Summer Institute's hard-working students under the Direction of Artistic Director Kevin McAllister and Musical Director Cedric D. Lyles, this stellar production of young performers brings their radiant vocal talents to light in a show that rings true for adolescents of today despite being set in a time long ago. Vocally striking, the production was an impressive display of all the students had learned over the course of the program.
Consulting with real world professionals— like Lighting Designer Lynn Joslin and Set Designer S. Lee Lewis— for design elements of the production gave the students the opportunity to experience realistic production values and perform in a professionally cultivated environment. This is true of the seasoned expertise that Director Kevin McAllister, Choreographer Shalyce Hemby, and Musical Director Cedric D. Lyles bring to the program as well.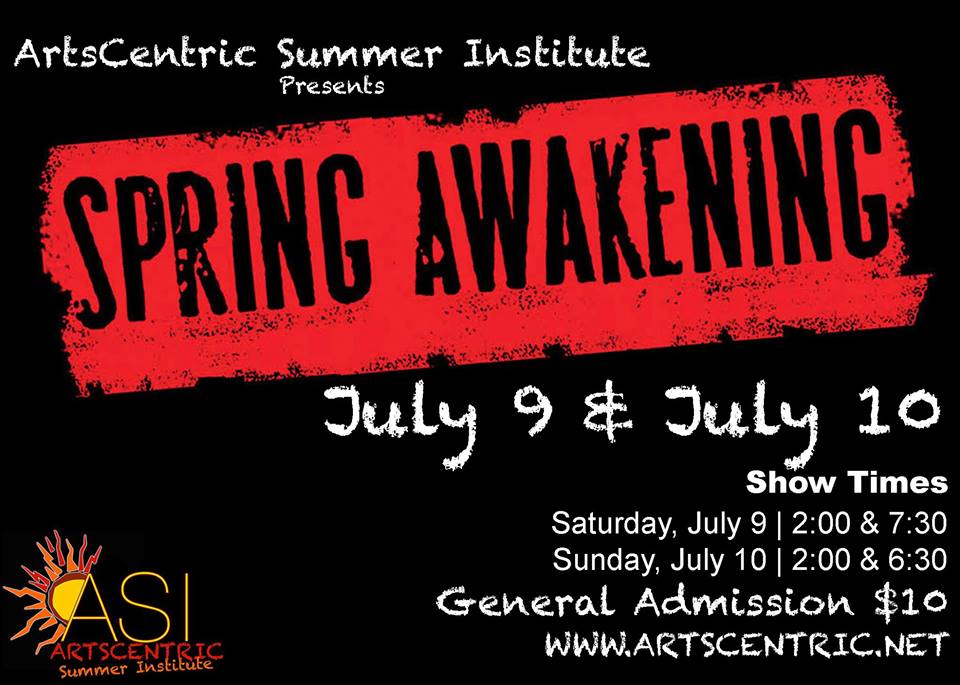 Hemby's intense choreography brings vision to the show. Aligned against McAllister's blocking of the show on the whole, the dance elements wend their way through the storyline seamlessly, showcasing what the students have learned in addition to their musical theatre training throughout the course of the Summer Institute program. In particular, dancers Kelli Lyles and Candace Foreman, who are featured in "The Dark I Know Well" showcase a series of powerful interpretive routines, which are baked up against the stellar and smooth voices of Martha (at this performance Faith Oliver) and Ilse (Emily Small.) This portrait of symbolic movement underscores the dark thematic overtone of that number, enhancing the experience of Oliver and Small's soulful and emotionally charged voices.
Lyles conducts the orchestra with verve and gusto, keeping the tempo on top of the performers will simultaneously balancing out the exposed sound to keep from overplaying them. McAllister focuses on the notion of narrative when it comes to Spring Awakening, allowing the stories of the characters to be revealed with emotional fortitude for his directorial approach to the performances. Carefully situating each student in roles that will challenge their talents and abilities so as to maximize their program experience, McAllister delivers an exceptional production that lives up to the level of a professional theatrical experience.
In addition to allowing the students of the program to work with professional designers and creative production team members, McAllister has brought in professional adult actors to fill the roles of Adult Women and Adult Men (Esther Covington and David Bosley-Reynolds.) Both Covington and Bosley-Reynolds bring years of veteran stage experience to the show and a nice pop of character work to the various mothers, fathers, and school authority figures— particularly when they get to dancing during "Totally Fucked."
Standout performances, in addition to those mentioned, include (at this performance) Chris Weaver as Hanschen, Jordan Sledd as Ernst, Darrin Scott as Georg, and Jack Owen as Otto. These four astoundingly dedicated young men find ways to make their voices and characterizations of their portrayals stand out in ways that are worthy of praise, Weaver and Sledd in particularly doing a striking rendition of "The World of Your Body (Reprise#2)."
Mortiz (Patrick Atilano) and Melchior (at this performance Ivan Carlo) channel the frustrations of being an adolescent male raised in ignorance and shame into each of their musical encounters. Carlo, though somewhat vocally mild, finds the emotional connections for this duets with Wendla (Allison Bradbury) and makes them resonate— "The World of Your Body" coming to mind. Atilano is a striking blast of rage, frustration and overall emotional connectivity when it comes to punching out his fury in song. "Bitch of Living" has this sentiment mastered entirely. It's his duet, "Don't Do Sadness" (which starts as a solo and later includes Emily Small as Isle singing her half of "Blue Wind") that stirs the heartstrings.
Allison Bradbury as Wendla is a singing sensation with an exceptional presence of mind when she's on stage. With a rich, well-toned sound that carries through numbers like "Mama Who Bore Me" and the haunting echoes that she delivers during "Whispers", there is no doubt that Bradbury will go places in her musical theatre career. A resplendent addition to the cast, Bradbury interacts as Wendla on a level that is personable and relatable to the other characters in the show, making the dated character accessible to modern audiences without throwing her out of the show's natural setting.
Running Time: Approximately 2 hours and 10 minutes with one intermission
Spring Awakening plays a total of four performances on July 9th & 10th 2016 with ArtsCentric Summer Institute at Sudbrook Magnet Middle School Theatre— 4300 Bedford Road in Pikesville, MD.
Be sure to get your tickets for ArtsCentric's upcoming performance of Dreamgirls, which opens on July 22, 2016 at The Motorhouse in the Station North Arts District of Baltimore.