Space. The final frontier. Boldly going where no man has gone before. That was before Lucas Gerace and Liz Christmas got abducted by aliens, returned to Area51 impregnated with alien technology, and dropped upside their heads in the throng of Baltimore's Artscape 2016. In a brand spanking new magical show called Spaced Out Magic with Lucas & Liz, L. G. Gerace Most Marvelous and his new magical assistant, Liz Christmas, will take on the terrestrial-extraneous, mold the minds of Martians, and truly illustrate the illusions of magic. In space.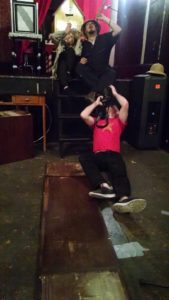 As the long-standing House Magician of The Yellow Sign Theatre and Baltimore Rock Opera Society, L. G. Gerace, Most Marvelous found himself in want of a magical assistant for his upcoming show. "He'd been looking for a pipsqueak performer to serve as his assistant," said Liz Christmas when asked about how she and the magician formed a partnership in an impromptu interview one night at Club Charles. "We met during 6-Pack (a summer feature performed by the Baltimore Rock Opera Society in 2015) and he actually took me to "Best of Baltimore" and I got to rub elbows with the elite who actually belonged there," she said. The pair has continued to work together since their meeting, though this will be their first main-stage magic show together.
Having previously performed at MagFest in February of 2016 at the Gaylord National Hotel, wherein the pair was conscripted to a teaching workshop with Gerace teaching the basics of sleight-of-hand and card-trick magic and Christmas teaching circus ground skills, which includes things like hoops, juggling, and Equilibristics (strength and balancing), the duo found themselves working once more together just last month for "Taste of 3 Cities" a food truck festival sponsored by The Gathering Project and coordinated by Chastity Sollmer, who works with the Artists Compound, a Baltimore-based Arts Collective.
"It was just after that show that we decided we wanted to do more magic together," said Gerace in the same impromptu interview. "We'll be debuting new tricks and a brand new illusion— not sleight of hand or basic magic stuff, but an actual illusion." Gerace was hesitant to comment further on what was coming for fear of ruining the surprise.
"Magic is very much like a cologne, a super-secret recipe," said Christmas when hearing Gerace pause about the big-illusion they will be unveiling as the conclusion to the show, entitled Spaced Out Magic with Lucas & Liz. "If you're lucky enough to procure one from a mentor, then you've made it in the old boys' club. It's very expensive." While the two were quite eager to share other details of the show— including the overall plot-focus of where they're going inside the space-exploration theme, and the guest appearance by Yellow Sign Theatre's Artistic Director, Craig Coletta, both were air-tight on just what the grande finale illusion would entail.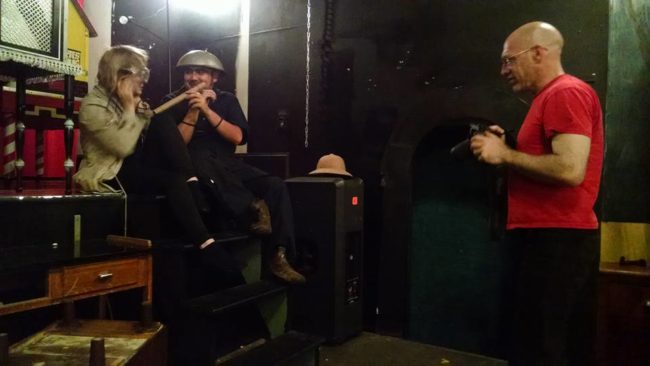 "You'll just have to come to the show to see what it's all about," said Gerace, with Christmas echoing his sentiments tremendously and enthusiastically. The show will have a throwback nod to The Animaniacs in addition to drifting about in Artscape's predetermined 'space' theme. With Gerace and Christmas acting a bit like the loony-toon Warner Brothers and Sister, attempting to escape Area51 rather than the Water Tower of the studio lot, the show is certain to be entertaining in addition to 'far-out' as they say along the Milky Way.  
Spaced Out Magic with Lucas & Liz will run a total of 5 performances over the weekend of Baltimore's Artscape 2016 at The Yellow Sign Theatre— 1726 N. Charles Street in the Station North Arts District of Baltimore, MD. Performance Dates & Times are as follows:
Friday July 15, 2016— 9:00pm, with doors opening at 8:30pm
Saturday July 16, 2016— 2:00pm & 4:00pm, with doors opening at 1:30pm and 3:30pm
Sunday July 17, 2016— 2:00pm & 4:00pm, with doors opening at 1:30pm and 3:30pm
For more information on the event, click here.