Now playing at the gorgeous Harry and Jeanette Weinberg Auditorium, Disney's The Little Mermaid, with music by Alan Menken, lyrics by Howard Ashman and Glenn Slater, and a book by Doug Wright is sailing into port with Charm City Players through July 17! This musical, filled with exciting songs and dances and a cast of memorable characters, closes out CCP's season with flair. Perfect for families and little ones, this show offers reprieve from the hot summer sun with some great performances at a decent price!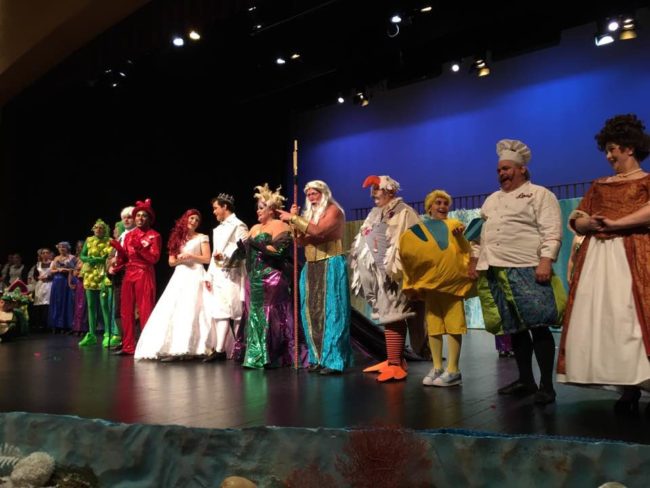 To start, let me say that Disney musicals are notoriously huge undertakings, often hard to stage and keep interesting, and should be approached with caution. Given these considerations, the Charm City Players do a commendable job, working hard to deliver a good production. While they certainly experienced some flaws on opening night, they provided an enjoyable night of theatre nonetheless. 
In terms of direction (taken on here by Stephen Napp), the concept was clearly thought-through but not always well-executed and blocking was rather lackluster overall. This may have been less noticeable with more going on set-wise: many times the stage was left rather bare, and when actors stand on an empty stage, all that one can focus on is scene-work. Luckily there wasn't much material in this show not accompanied in some way by music. The underscores, songs, and dances kept the story flowing when the other action onstage did not. Music Direction by Kathryn Weaver was well-done, some beautifully blended numbers including "She's in Love" and the terrific "If Only (Quartet)." Choreography by Jason M. Kimmell was impressive especially considering the amount of people involved in this production. Standout dances included a vibrant and energetic "Under the Sea" and the fun and peppy seagull tap-dance to "Positoovity."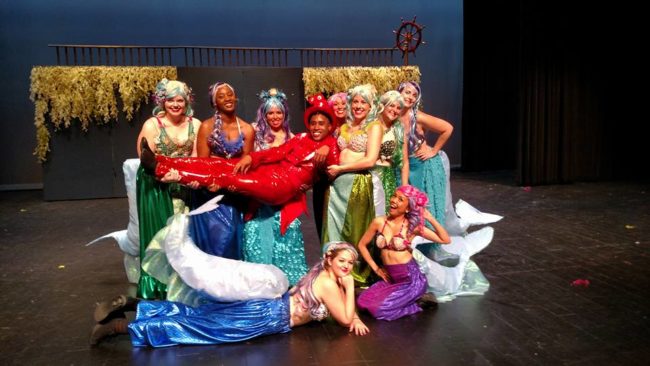 Many technical elements of this production felt under-rehearsed, though considering the fact that it was opening night, that could've been the problem exactly. Curtain operators seemed unsure of their marks; the underwater lighting effect—which cast a beautiful blue shimmer across the stage floor— was at one time mistakenly used while characters were on land for an entire scene and sometimes not while they were underwater; and the sound was overall a huge detriment to the show. Ursula's microphone was out for an entire number, the orchestra's amplification made them sound muffled and distorted, and balance issues led to lead singers being completely drowned out (no pun intended) by the ensemble during group numbers. Hopefully with a few more runs, these issues will be resolved, as they hinder the production and its flow considerably, and unfortunately affect the overall rating of the show.
Costumes in this production, designed by Lynn Kellner, Jenifer Grundy Hollet, Mary Hoover, and Sandy Rybcyznski, display an impressive effort with the team having to outfit over 50 individuals, many in two and three different outfits a piece. While most of these creations dazzle and delight, others seem to fall short of their original concept. I think the main issue is that a few major parts of the wardrobe vision (and honestly overall vision of the show) seem to be directly lifted from the original Broadway production. It is a huge risk to try and emulate a production that utilized a 15-million-dollar budget and unsurprisingly certain elements simply don't measure up—one of the most perplexing being the stiff droopy mer-tails which hung behind the mermaids, blended a bit too much with their skirts, and made their bottom halves appear enormous, creating movement that was not the least bit graceful and fluid.  Certainly the most faulty "borrowed" concept is the use of Heelies to create the illusion of fluidity when characters are under the water. More often than not, unfortunately, the effect is more of a "push-glide-skid-thump," negating the purpose and detracting significantly from many moments in the show. 
Even with some costume faux pas, there were a great many standout pieces that impressed. It is no easy feat to costume so many individuals, and every undersea character was decked out in bright and vibrant garb, while the people of dry land wore appropriate and elegant fairytale attire. Some of my favorites of the night included Prince Eric's regal wardrobe, Sebastian's sparkling red suit and top hat, Flotsam and Jetsam's light-up green and yellow bodysuits, and Ursula's dark and glittering tentacle-laden gown. Huge kudos to the costume team and an A+ for effort with such a complex and costume-heavy production. 
Many issues that occurred amidst the technical realm of the show were made up for in performances—there were quite a few standouts in this very large cast. The Mersisters (Lizzy Fleischmann, Hannah Gutin-Creech, JacQuan Knox, Christina Napp, Rozelle Polido, Karli Shirk, Leland Strott) as a group provided a welcome pop of fun and fishy glamour throughout the evening, especially in their bright rendition of "She's in Love." Chef Louis, played with a daft goofiness by B. Thomas Rinaldi, delighted the audience, especially with his fun and spirited "Les Poissons." As King Triton, Joe Mannherz displayed a powerful yet warm bass speaking voice well-suited for the strong but emotional King of the Sea. John Gurtshaw and Charles D. Willett II, in the roles of Flotsam and Jetsam respectively, displayed a great amount of movement- and character- work to bring to life the slimy, nefarious eels who serve as Ursula's little helpers. I particularly enjoyed Gurtshaw's raspy and sibilant character voice, a nod to the characters in the film, and only wish that Willett had followed suit.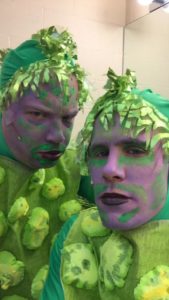 Ursula the Sea-Witch, performed with a fearsome and fabulous charm by Jenifer Grundy Hollet, shone brightly even in her times of most evil cunning. Her haughty saunter, tentacles trailing behind, was perfectly reminiscent of the Divine-inspired cartoon villain and helped to showcase her desire to regain power and status under the sea. Her "Poor Unfortunate Souls" was compelling and brought back all the thrills and chills I remember feeling when watching the movie as a child. In a lighter and more lovable role, James Gilbert takes the stage as the wacky and slightly mixed-up seagull, Scuttle. Serving as Ariel's informative "encyclopoodia," Gilbert is all done-up with dizzying dance moves and a spot-on accent modeled after role's creator, Buddy Hackett. His upbeat song-and-dance number "Positoovity" was definitely one of the show's highlights and had me humming the tune well after leaving the theater!
In an evening filled with many great performances, two of the most delightful and well-played characters came in the form of a sensitive fingerling in puppy-love and a neurotic but sparkly crab constantly trailing the whereabouts of a flighty princess. Flounder, played with sass and sweetness by Logan Dubel, had me laughing from the get-go and was one of the only people in the show who used the ill-favored Heelies to create any semblance of fluid "underwater" motion. His reactions were priceless and his movement work was some of the best in this production. In addition, his solo singing moments in "She's in Love" revealed this young man's impressive set of pipes and made me wish his character had more to sing! Watch out for this kid— he's surely going places. As Ariel's other sidekick Sebastian, Brandon Shaw created a fully-formed character with wit, wisdom, and panache. His character walk— a crab-like shuffle—was adorable and perfectly suited the crustacean. Bar none the strongest and most thrilling singer in the show, Shaw allowed his dazzling and colorfully high tenor to take control in "Under the Sea" and smoothed things out in the mellow and romantic "Kiss the Girl" to fabulous effect.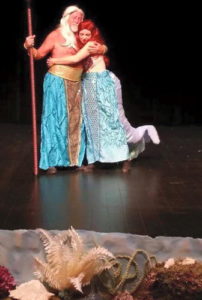 Prince Eric, played with regal finesse by Chris Fotis, has a soft and beautiful tenor voice best showcased in his gorgeous rendition of "One Step Closer" in Act Two. He impressed from his first moments in the show, explaining his princely plight to his caretaker Grimsby (played humorously by Bob Singer) and carried his character arc masterfully from beginning to end. Certainly a brilliant performance and one not to be missed! And last, but certainly not least, Coreen Ayr Hamilton in the role of Ariel does a laudable job as the young, love-stricken mermaid. Her voice is far from cookie-cutter Disney princess but still does justice to the character's musical moments, particularly in "Part of Your World." A stellar actress, Hamilton glides through Ariel's adventure with bravura, embracing and showcasing the character's heart and making the audience glad they showed up for this magical musical.
Running Time: Approximately 2 hours and 15 minutes with one intermission
The Little Mermaid plays through July 17, 2016 at Charm City Players now in residence at Mercy High School in the Harry and Jeanette Weinberg Auditorium— 1300 E. Northern Parkway in Baltimore, MD. To purchase tickets, call the box office at (410) 472-4737 or purchase them online.
To read Part 1 of Under the Sea with CCP: B. Thomas Rinaldi as Chef Louis, click here.
To read Part 2 of Under the Sea with CCP: Logan Dubel as Flounder, click here.
To read Part 3 of Under the Sea with CCP: Joseph Mannherz as King Triton, click here.