You can't hang up on someone via a letter. In today's much too fast-paced world where everything is tweeted and texted or shouted through smart phones, the intimacy between two lovers is lost, the warmth and heartfelt feeling that can only be felt when personally putting a pen to paper has all but faded from the memories of mankind. Evoking a spark of true tenderness from this art form of letter-writing, Love Letters— as a part of the CareFirst Hippodrome Broadway Series — arrives to Baltimore's Hippodrome Theatre after following a successful and critically acclaimed run on Broadway. The tour, Directed by Gregory Mosher, makes Charm City its ninth stop and reminds the town, which is currently entering the summer season, that love can be most potent when shared through the years via paper and pen.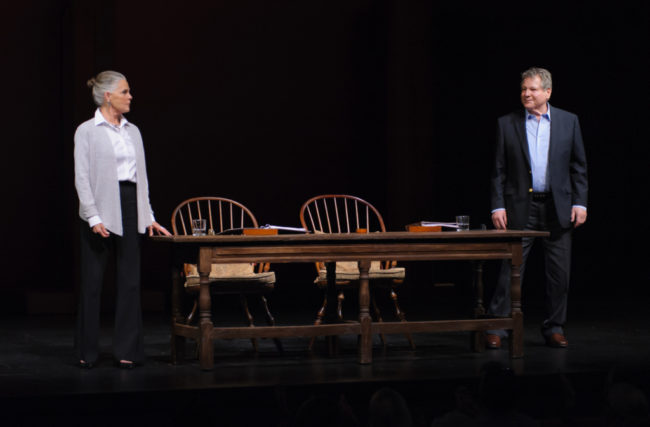 A. R. Gurney's play is a heartwarming chronicle of the lives of two individuals told through time from the moment they meet in the second grade right through the golden years of their lives. Witty and poignant, his stylized writing poetically captures the essence of two hearts that beat for one another through love and gladness, sorrow, hatred, and a world of other feelings that are threaded intricately into the lives of lovers over the course of 50 years. Delivered in their essence without artifice or spectacle, the show speaks directly to the heart and souls of the audience.
Two actors sitting on stage reading letters to one another doesn't sound terribly thrilling. But Director Gregory Mosher makes the performance mesmerizing. It becomes about the exacting nuance of how the letters are not only delivered but received and reacted to. There is no room for grandiose gestures or enormous emotional responses; everything occurs within the intimate breath of a smile or the personalized shrug of a shoulder. These little moments that pass so swiftly they could be missed in the blink of an eye take pages of letters and transform them into a captivating journey, a treasured trail of endearing sentiment and flourishing nostalgia.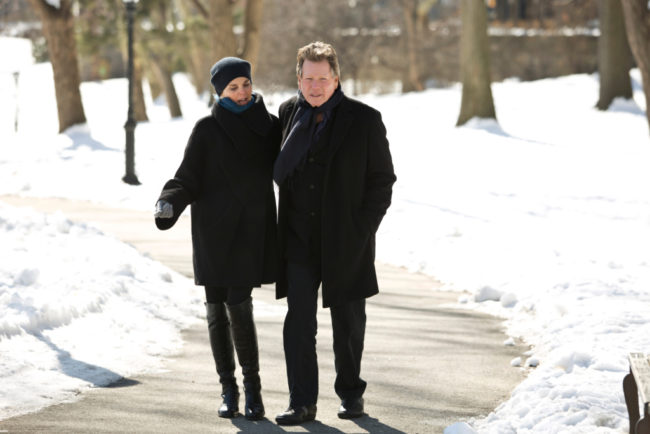 Mosher draws the pair of performers together in earnest. The staging is simple, just a desk, basic lighting and their binders. The delicate detailing of their responses sweeps the emotions along in waves out to the audience. One striking bond between the pair comes to mind, captured in an identical gesture but used to express too completely different feelings at two different moments in the show. As Ryan O'Neal sits listening to Ali MacGraw rant and grow flustered over being trapped at boarding school he leans his head on his hand, his cheek resting ever so carefully against his knuckles, the ghost of a sweet smile gracing his lips almost as if he's sighing contentedly to hear her troubles. That same gesture is repeated by MacGraw later in the performance as O'Neal's character reads in rote the 'family Christmas letter' only her lips are pursed with a sigh of infuriated boredom. Exceptional moments like these two are what bring the honesty and conviviality of the play to the audience's immediate attention.
O'Neal and MacGraw share a deeply invested chemistry between them, which is apparent from the moment he escorts her onto the stage, tucking her graciously into her chair like a true gentleman to start the evening. The carefully crafted pauses and breaths shared between them escalate this chemistry to extraordinary heights over the course of 90 minutes and the love that blossoms— in all of its varying stages— transforms into a tangential, palpable entity that permeates their performance quite profoundly. MacGraw and O'Neal each have their moments, with far too many to pick just one to define their performance, but it can best be summarized that they live actively and candidly with each breath. Every letter, every sentence, arrives to the ear direct from their tongues as if it were the first time they were speaking the words.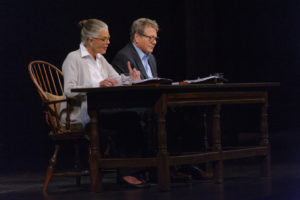 The letters span a great range of not only life but human emotions, everything from giddy joy, silliness, sorrows, and other deeply moving feelings that inspire laughter, gasps of surprise, tears in the eyes, and so much more over the course of the evening. When things are rough and rocky, both MacGraw and O'Neal retreat from their open and intimate nature with one another, each having their own unique approach to doing so— MacGraw's involving a little internal gesture of drawing her sweater tightly around her body— and this throws a wild tension in the air. Despite these moments, which are frequent as they would be in real life, the earnest and vulnerable love that circulates between them never really dies, even if it disguises itself in frustration or downright animosity at times.
A remarkably charming evening that will warm the heart and inspire the mind to want to write letters again, or at the very least revisit a time when letter writing was the natural way of things, Love Letters is a passionate love letter to the audience from two people whose lives were bound together by love.
Running Time: 90 minutes with no intermission
Love Letters plays through June 12, 2016 at The Hippodrome Theatre in the France-Merrick Performing Arts Center— 12 N. Eutaw Street in the Bromo Seltzer Arts District of Baltimore, MD. For tickets call the box office at (410) 752-7444 or purchase them online.
To read the news story about Ali MacGraw and Ryan O'Neal's arrival to Charm City, click here.