Good people are all around us but sometimes, for various reasons, they can be hard to spot. However, you will have no problem spotting them at Colonial Players of Annapolis' current production of Good People, written by David Lindsay-Abaire and Directed by Edd Miller. You may be familiar with Lindsay-Abaire's work such as the 2007 Pulitzer Prize winning drama Rabbit Hole and the clever and hilarious book for Shrek, the Musical.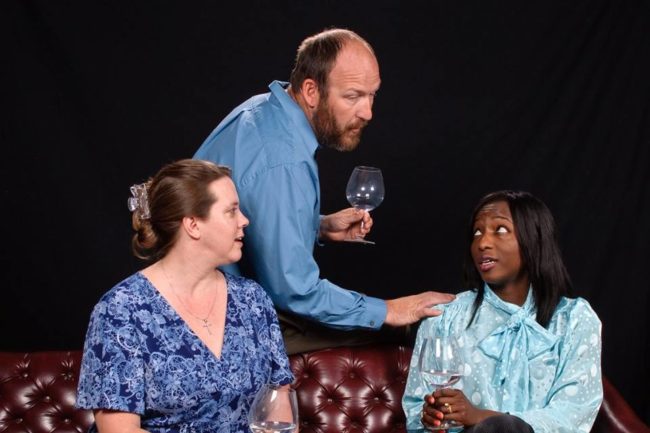 Good People tells the story of a middle class working woman in South Boston (a "Southie") and her trials and tribulations of unemployment, rent that's due, trying desperately to find a job, and dealing with a special needs daughter. A well-written drama, the sarcastic Southie humor pokes through in a well-balanced script and well-performed portrayals of these characters. The play takes place in the late 90's and the pre-show music included artists such as Oasis, Alanis Morissette, and Joan Osborn; this reviewer was hit with a wave of nostalgia and I reveled in it!
The set, designed by director Edd Miller, was simple and very appropriate, utilizing the fact that the space is in the round already giving it an intimate feel. The stage is broken up into thirds, which was a clever use of space and the audience is very much incorporated in the show making us feel like we were part of the action. Miller has used his space wisely and manages to keep an intimate feeling throughout the performance. Lighting Design by Frank Florentine was spot on and well thought out. Sound Design by Theresa Riffle was very clever with the 90's music, background city noises, and an Irish priest calling Bingo!
Shirley Panek takes on the role of Margaret, a middle-class, single, working mother trying to deal with the realities of being a Southie and life in South Boston. Panek does quite well in this role and has the perfect look and demeanor for the character. She pulls off the part effortlessly; though her Southie accent is questionable at the outset, it did get much better and more natural as the play went on. Most of the actors valiantly tried to keep up the famous South Boston accent and though they all did a fantastic job, some did have an easier time than others.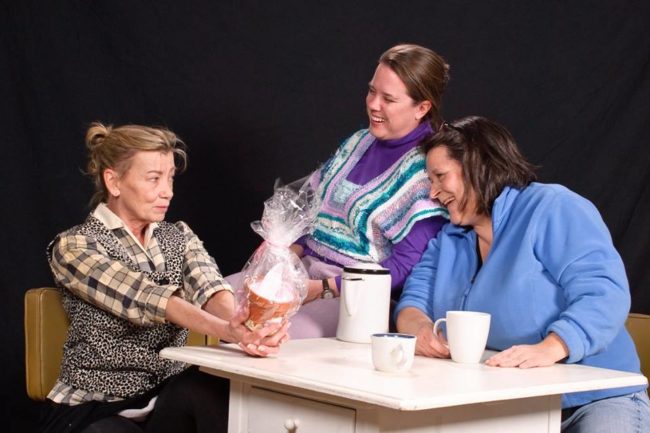 Two highlights of production are Bernadette Arvidson as Dottie and Karen Lambert as Jean. These two ladies hit the stage running and from word one, they're performances are spot on. They managed to mimic the South Boston tongue and keep it throughout the show. Along with Panek, their chemistry was brilliant and felt as though we were peeking in through the window and listening to these three have an everyday conversation about whatever is going on in their lives and the neighborhood at the time. Both Arvidson and Lambert were very believable as rough, no-holds-barred Southie girls who have had their hard knocks and came up swinging.
Ben Carr gives a strong performance as Michael "Mikey D" Dillon, the boy who made good and got out of South Boston, earning a medical school degree and making it all the way to Chestnut Hill, a very upscale community, just outside of Boston. Carr's Southie accent was in and out, as well, but this very well could have been an acting or director's choice to portray "getting out" of South Boston. Even if it wasn't, it was still a strong performance.
Rounding out the cast are Ashley Spooner as Kate, Mike's Georgetown wife, and Glen Pearson as the somewhat mousey Stevie, Margaret's former boss at the Dollar Store. Spooner gives a fine performance as Kate, a woman who grew up in Georgetown with the finer things in life, but balanced her character with a compassion for those who grew up with little more than nothing, like Mike's old Southie friend, Margaret. Her presence is strong but not overbearing, though once or twice she took the character over the top— speaking in an overly snobbish tone— she managed to make the character very believable and the audience ends up having the feels for her, as they should.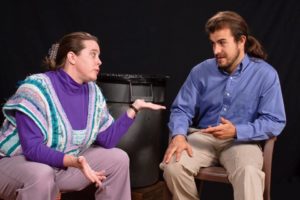 Glen Pearson gives an admirable performance as Stevie, another Southie who has a difficult job but stays professional regardless of his history with his employees, namely Margaret, who grasps at straws to keep her job by bringing Stevie's dead mother up in an already difficult and awkward conversation. Though the character has a smaller role in the show, he ends up being an endearing one because of his actions toward the end of the show. Pearson pulls off the character with ease and has the perfect look for the character.
You don't want to miss Good People at Colonial Players of Annapolis! Every aspect of the production works very nicely and the script is just about flawless with just the right balance of drama and comedic relief. The characters are familiar and it's a show the audience can relate to easily. If you're in Annapolis, check this show out!
Running Time: Approximately 2 hours and 15 minutes with one intermission.
Good People plays through June 25, 2016 at The Colonial Players of Annapolis— 108 East Street in historic Annapolis, MD. For tickets call the box office at (410) 268-7373 or purchase them online.