The fourth act of a play is known as "the sensation scene." This is the point where the play unites the A-plot with the B-plot, crams the moral of the story down the audience's throats, and then overwhelms the senses with something spectacular, usually a lot of smoke and flames. But what happens if you've not only overwhelmed the senses of your audience but completely shocked and stunned them with an unabashedly forward and unapologetically galvanizing performance charged with racial controversy? An Octoroon, that's what. Woolly Mammoth Theatre Company boldly closes out their 2015/2016 season with Branden Jacobs-Jenkins' Obie-winning play, which is a packed powder-keg hybrid— part period satire, part meta-theatric bird-flip— a piece of confrontational, conversational theatrical sensationalism turned on its arse. Directed by Nataki Garrett, An Octoroon reinvents the theatre as a place of novelty, exposing the revolting truth of America's racism, both historically and presently, and packages it as deliriously deranged entertainment with provocative moments fully intended to innervate the minds of the theatergoing masses.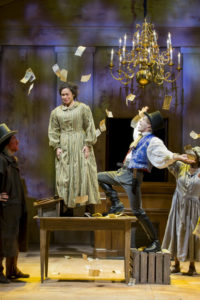 Much like the penultimate moments leading to the play's irreverent and mirthfully dismissive final exchange between Minnie and Dido, the best way to approach the show from a reviewer's standpoint would be to deconstruct its parts and address them individually. Aesthetically the show is at first nothing extraordinary, the simple wooden plantation façade nothing overly impressive to write home about, though it's true intentions revealed at the show's end are as startling and striking as Set Designer Misha Kachman intends. Once Costume Designer Ivania Stack sets to playing with the outlandishly garish color scheme and patterns used in the show's sartorial selections, however, there is an almost absurdist appeal to the show's appearance. The cupcake dresses featured on Dora, which end up looking a bit like bell-puffed muffin tops in shades of pink lemonade and blueberry plaid, are the stuff of southern saccharine dreams. And the flamboyantly foppish fashion featured on both George and M'Closky are equally chimerical to behold. Juxtaposing these lurid vivacities against the banal earthen tones of the remainder of the show's characters draws a definitive division between the races and their stations, a point which was already hammered upon with great vigor by the playwright.
Sound Designer Patrick Calhoun as well as Composers Christylez Bacon and Wytold create an effectively immersive aural landscape for the performance. In addition to the rap-style musical numbers composed for the piece, live musician Katie Chambers takes a perch upon the stage with a cello and underscores a great many moments of the show with an emphatic gathering of musical movements, each informed with an exacting and raw pathos to guide the scene's emotional compass. Chambers' live orchestral work becomes an integral component of the show, almost in a cinematic sense, which is a thrilling and unconventional feature to the performance, making it all the more novel.
Flawlessly executed fight choreography is a challenging feat in and of itself, but having that caliber of precision exist in a fight between two characters as they are actively played by the same actor is a flabbergasting sensation that is startlingly achieved by Fight Choreographer Robb Hunter. The knockout throw-down no-holds-bar violence between M'Closky and George (both played by Jon Hudson Odom) is masterfully crafted under Hunter's skillful eye. While the physical performance is delivered by Odom, it's clear from the dizzying exhaustion witnessed in this excursion that a well-versed fight choreographer has put their hands of authenticity all over the routine.
Woolly Mammoth Theatre Company, Washington DC's theatrical icebreaker when it comes to conducting conversations about poignant topics of current relevancy, has pushed the envelope, the borders, the boundaries— whatever turn of phrase you'd care to use— in this production in terms of stirring up audience responses. There aren't enough words which can be strung cohesively together that wouldn't take days of extrapolating and untangling to do justice to what's happening upon the stage though the truncated and extremely basic surface summation might stand as follows: Branden Jacobs-Jenkins has written a play where he is the main character trying to perform an adaptation of an extremely controversial play (The Octoroon by Dion Boucicault) and on the advisement of his therapist, he performs in 'white-face' and invites and encourages two white actors to play in 'black-face' and 'red-face' alongside him. Be warned that this production is not for the faint of heart, feeble of mind, or easily incensed.  
Jacobs-Jenkins' play delivers an unrelenting barrage of premises that the audience barely has time to palette and swallow let alone digest before the next one is being thrown into play. One of the more unsettling elements of his writing is the modern colloquialisms and overall irreverent attitudes used in the dialogue exchanges between Minnie, Dido, and Grace. This harsh abrasion of present-day textual use is a jagged fracture in the glass of historical reality that Jacobs-Jenkins has blown into existence and although adding humorous effect to the satirical element of his work, reads a bit trite in places. Unyielding in just how far he's willing to push what the audience is willing to accept, the characters ride the hard line of becoming wildly stereotyped monsters from a history America refuses to acknowledge let alone recognize and embrace.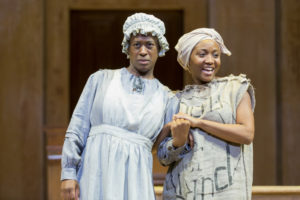 The sassy and flippant mouthiness of Minnie (Shannon Dorsey), Grace (Jade Wheeler), and Dido (Erika Rose) drives a good portion of the levities found in the show. With lines like "we're slaves but you are not your job" and other such contrary statements, Dorsey evokes a good deal of laughter from the audience with her gossip-girl inspired take on Minnie. Wheeler, who is a tertiary supporting role, has her defining moment of attitude in the second act and holds her own against Dorsey and Rose. The aforementioned pair capture the essence of two plucky rumor-mill rogues who can't get enough of the dirt when it comes to the tales of the others on the plantation. Both fierce and frightening when it comes to just how far they'll milk a scene for its comedic aspects, Dorsey and Rose charge through their performances with radical radiance.
Though more of a face, admittedly bedecked in ostentatiously ugly gowns, than a proper character of any depth or substance, Dora (Maggie Wilder) serves her purpose in the meta-play as well. A simpering gooey-eyed gal of a thing, Wilder's southern lemonade accent matches the abomination of an outfit she dons in the first act whilst flouncing about on the arm of George. Crafted primarily for comedic relief and plot advancement, Wilder plays the character on the surface, the epitome of a southern plantation stereotype if ever there was one. The play also includes an anthropomorphized hare labeled Br'er Rabbit (Jobari Parker-Namdar.) Extrapolate what you will from Br'er Rabbit's presence and existence in the play, but Parker-Namdar's physicality and bodily reactions whilst trussed up in the dapper bunny suit are worth noting and praising, if not for their absurdity for their accurate leporine tendencies.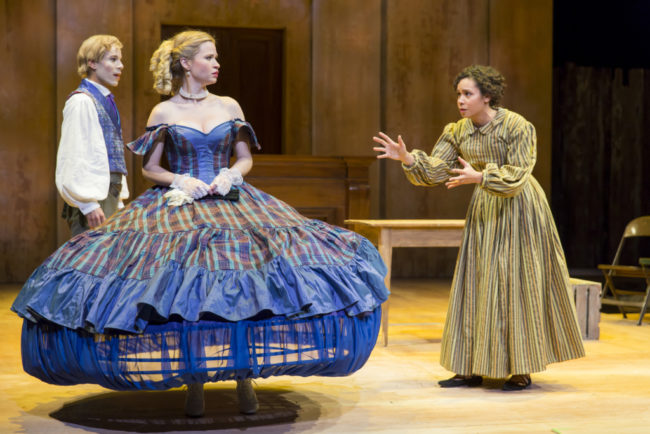 With a voice like a songbird, Kathryn Tkel is the perfect fit to the titular character of Zoe. With all the elegance and grace of a learned woman and all the command of an authority figure when it comes to placement on the plantation, Tkel delivers an impressive performance in the role, particularly when it comes to raw and earnest confessions of the heart. While the story revolves around her character more than it does through her character's existence, Tkel is active and reactive in the appropriate moments and gives an honest portrayal to the girl that is revealed to be an octoroon.
Here's where commentary on such a show gets sticky tricky in a hurry. When the performance given is utterly repulsive and repugnant but done so with the most purposeful of intention, does the actor then still not warrant praise? In the case of Joseph Castillo-Midyett, who does an exceptional job of playing out the minstrel show stereotype of a performer in blackface, the answer is absolutely. Watching Castillo-Midyett's performance as the 'wicked critter Paul' and 'old Negro Pete' turns the stomach and yet simultaneously draws forth laughter. This is a perplexing notion that could easily be worth a week's pondering all on its own. Castillo-Midyett embraces the roles— played entirely in blackface with minstrel qualities so strong they can be nothing but abhorred— and the play's ultimate success, be it perceived or actualized, hinges on these performances as one third of the main characters in action.
James Konicek delivers a similar though only slightly less offensive role in red-face as Wahnotee the drunk native American chief. Konicek starts the show as Dion Boucicault, delivering a thickly affected and somewhat broken Irish accent. Much like Castillo-Midyett, Konicek fully embraces the racially offensive stereotypes attributed to his characters— the drunken Irishman, the drunken Native with savage tendencies— and does not shy away from accepting his part in this controversial show, particularly once he becomes the French auctioneer, Lafouche, in the second act.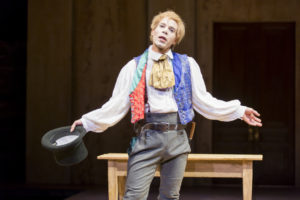 Jon Hudson Odom starts and ends the play with a bang though they are two very distinctive explosions of pandemonium on oppositely charged planes of existence. Strutting out to center stage all but naked, Odom sets what could be a flirtatious and playful tone for the evening, a deliciously deceitful misguidance to purposefully unbalance the audience so that the pending onslaught of racial indecency— however much it is an ugly truth— can wash over them like an unstoppable tsunami. Crafting to uniquely hysterical personalities in the opening sequence, (that of playwright Branden Jacobs-Jenkins and the alluded white female therapist) Odom gets things going on a note of enjoyable hilarity. By the show's conclusion, a visceral reveal of his emotional integrity and raw vulnerabilities assault the senses in much the same way as the playwright's defiantly satirical approach to the racist melodrama does.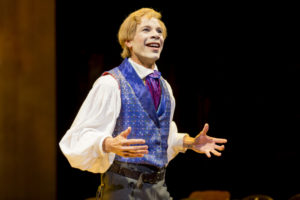 Odom plays in whiteface the way Castillo-Midyett and Konicek do in black and red-face respectively. Watching Odom grapple with the foppishly charming George and the sinfully salacious M'Closky is one of the more fascinating struggles exposed in the performance, particularly during the auction scene where he has to play both characters almost at once. Passionate, potent, and brimming to the point of spillage with heart, Odom is the pulse of the play, channeling every ounce of energy into the performance so that the audience is forced to confront Jacobs-Jenkins work in the most honest and unfettered light possible.
Definitely a conversation starter, Woolly Mammoth has succeeded in its mission of sparking dialogue between what's happening on stage and what's going through the minds of the audience with this final season offering.
Running Time: 2 hours and 40 minutes with one intermission
An Octoroon plays through June 26, 2016 at Woolly Mammoth Theatre Company— 641 D Street NW in Washington DC. For tickets call the box office at (202) 393-3939 or purchase them online.