It's that time of year when all the theatres start making their big announcements for what's coming to their stages in future seasons! After a roaring successful season of new works, fun shows, area premieres, and much, much more, the Maryland Ensemble Theatre is ready to roll straight into their 2016-2017 season. In a TheatreBloom exclusive interview, we've sat down with Artistic Director Tad Janes to talk about the company's rich history, how they continue to fight the good fight of professional theatre in Frederick and what's next for them as the new season gets underway.
Thank you for taking a moment out of your busy schedule, Tad. If you'd give us a quick refresher on who you are and what of your work the readers might recognize, we can get started.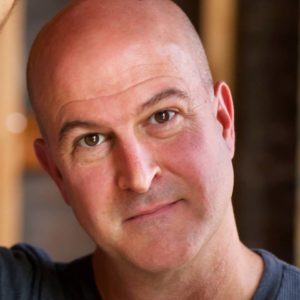 Tad Janes: Right, so I'm Tad Janes and I'm the Artistic Director for Maryland Ensemble Theatre. Our first season officially was '98 to '99. We're coming up on— I guess this is our 19th season?
And you have most of your original company members still working with you?
Tad: A lot of them, yes. We actually really got our start in '93. In April of '93 was when our comedy show started. The whole project was originally developed in the summer of '92 as a group of people sitting around saying, "Hey, I want to do this in the theatre, I want to that in the theatre, I want to do some other thing in the theatre." And we had all these people who wanted to do all these different things. Somebody wanted to teach classes, and somebody else wanted to do sketch comedy and improv, and somebody else wanted to do new plays, and somebody else wanted to take classic plays into schools. And we said, "What if we all got together and did this together?" Because we had all these people all over, someone in Dallas, someone in Morgantown, I was in Chicago, so why shouldn't we just hook-up somewhere?
How did Frederick become the hook-up point?
Tad: Well, Gené (MET ensemble member Gené Fouché) is originally from here. And there was another guy in the group who was originally from here. And then one of the guys who we had gone to college with was living here. That was three people already living in Frederick. A lot of people were pushing for Chicago but we didn't have any true connection to that city other than the fact that I was living there at the time. But I wasn't from there, I was from West Virginia and I was just about over the city at that point. When you're starting up a business, it's good to have relationships already established. When we produced our first piece— Finally Heard— which was about women of the Civil War, it was this brand new piece that we created around this original source material in the summer of '97. It was this brand new thing right out of the box and we had sponsors like The News Post, the local newspaper and the local cable station. Those are the things you get from relationships that you establish far beyond my coming to Frederick or my wife being born here.
So you set up shop here and you've been here ever since?
Tad: Yeah, we started to doing sketch comedy and improv in April of '93 because it was the cheapest way to start. There was no startup cost at all. We would go to a local bar and say "Hey, we want to do this in the back of your bar." And they said, "What is it?" Nobody really knew what improv was yet. We had to explain it. We basically would say it's like Saturday Night Live only we can say "f*ck" because we're live. And they would gasp and get all concerned, and then we'd remind them that we were going to be in the back of the bar and that the people who would be coming would be expecting that. So that's where it started. The first mailing list we had for that show was 212 people and we packed it. We had 110 people in the back of The Old Towne Tavern, which they used for bands, but we were playing on a Sunday night, which was an off-night for them. They gave us 100% of the gate, and they took 100% of beer and wine sales. It was a good relationship.
We kind of stepped up from there and made a relationship with the Ceresville Mansion, which is sort of like a banquet facility. They actually came to us. They said, "hey if we have a dark night, would you like to schedule something?" Because they would schedule weddings a year in advance so when they had a hole in their schedule they knew they weren't going to fill it. So we went along with that.
So you were just a floating company for a while?
Tad: Oh absolutely, we didn't have a space. And we didn't want any overhead. In '95 we started teaching classes for acting and improvisation. It was sort of a package deal. We started teaching students in October and by March we had two high school seniors that we had gotten full-ride scholarships through audition prep. Their parents were totally psyched with us, they became donors, one of them became a company member, and they became very active in our organization. In '96 we started up a "Classical Play Company" that toured classic plays to schools because that had been part of the original design. But that was the winter of the bad ice storm. We had 26 gigs all lined up, we were going to make a ton of money, but they all fell through. The schools lost almost the whole month of February. I think they had four days of school that whole month because of ice storm after ice storm. We had rented a space for rehearsal and set building, and we had to lose the space, it was just horrible.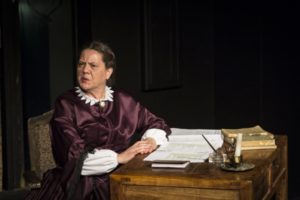 But we knew we wanted to produce plays, and we knew we wanted to produce original works. So we didn't give up. Gené had read a book called Women at Gettysburg by Eileen F. Conklin. It had maybe 18 different stories about the women and their effect on Gettysburg. She thought it was really fascinating because you never hear anything about women in the Civil War. We looked at some of those women, did some more research, found some more awesome stories, and that became our first piece. It ended up being called Finally Heard! Heroines of an Uncivil War. We produced it for three weeks at Hood College in Brodbeck Hall, which is a music hall that we formed into a thrust. And then we did it for three weeks at Frederick Community College on the proscenium stage. We invited them to see it at Hood College, because we'd done it at FCC first, so that they could see us create in a different space.
We raised about $27,000 that summer in a "build-a-seat" campaign and this was before the modern miracle of "crowd-source funding" internet sites, so we were doing it the hard way. We thought that $27,000 was enough money to open up a theatre, which is stupid. But we got right in there, opened up a line of credit and just kept going. We were in the space right next door to where we are now, the old McCrory's space, also known now as the Arts Center. We opened up that space in the summer of '98. We started working in there in October of '97 and it was sweat equity. We had actually had a couple of spaces that had fallen through before that. But we had all these seats that we had purchased from an old government building that was being renovated in Maine that we drove up there to buy. It was literally all the seats we could fit in a U-Haul for $1000. And then our first space fell through, so we had to store all these seats— 220 of them— in different people's basements for nine months, it was crazy.
How did you not just give up after all of those insane setbacks?
Tad: The dream was there. And we knew we could make it happen if we just kept going. So we got into the McCrory's space. And that fell through the first time. Then the Arts Council said "we'll buy the building if you guys can make it run. If you can't make it run, we'll just sell the building. If it runs, then we'll build the walls around you, we'll renovate the space, and we'll turn it into this arts facility." Well, we ran the business, and held up our end, but they didn't really do much with it.
We had a three-year lease, which they wanted to extend for half a year because the management wasn't ready to take over the responsibility of the building. We had a five-year post-term clause on our lease that said we were allowed a right of first refusal for all dates and times in the space for a period of five years. We had that set in there because we knew we were taking a big risk as to whether it was going to work or not, we were putting $100,000 into that space and it was risky. After three and a half years, we were producing 25 weeks at that point, they said that we could only produce 15 weeks. We pointed out that "right of first refusal" for all dates and times. And they basically said we had to sue them. Our attorney advised against it because it would get ugly and nobody was going to win and it would cost all this money. It was another huge setback because here we've spent all this money, again, and now we have to count it as a loss.
That was back in 2001. We just finished paying off the bathrooms in that space last November and we haven't used that space in 15 years. We moved in next door, where we are now, because that building was being serendipitously renovated at the same time. The realtor who put us into the McCrory's building felt bad for us and helped us out. The renovation that was happening basically resulted in them doing whatever we wanted them to do. Our only cost with moving into that space was paying for the grid. I think it was only 60 grand. And here we are still paying off the other building, but we're nothing if not determined!
You've been in the basement of the Historic FSK Hotel building at 31 W. Patrick Street for 15 years now. And you've always existed as Maryland Ensemble Theatre, whose mission is to be an ensemble-based performance troupe that does original works and so on?
Tad: That's right. And we know our community. And we have a theatre space to run, which means we have to keep busy, and we have to keep stuff going. Julie (MET Ensemble member Julie Herber) had The Fun Company going before us. We ran right about the same time, right around the same track. Now Julie worked with us for the first time in our second year, and she started renting space from us at The Cultural Arts Center. Then eventually we realized it would make a lot of sense to just roll in together.
What else do you guys have under the MET umbrella?
Tad: MET Mainstage, and then The Fun Company, then there's MET X, which has actually been there a lot longer than people realize. It's a production option. We have an agreement with our ensemble that whenever somebody wants to produce something outside of the mainstage season, if we have time we're going to make it as easy as possible for them to do it. We're not going to pay your royalties, but that encourages them to do new and original work, which is what we're all about. We're going to give them box office reinforcement, put stuff on the website print posters and programs for them, stuff like that. The production costs are out of pocket, but it's then up to them to get people there. And they do. Example, Lisa Burl and James McGarvey, they do a two-person sketch comedy show. It's two people on stage, with a stage manager and a lighting designer. They gather everything and they probably spend $300 or $400 on the production of it, and then they produced the show, they ran it for four performances, getting 70-80 people a show because it's a funny show, and by the end of it they're walking away with $600 or $700 a piece. And they're getting a chance to do something they love, something new. So we've got all that going on, plus The Comedy Pigs, which is our Sketch Comedy/Improv Troupe. There's an after school program that Julie runs as well.
Wowee. What a company. And now you have a brand new main stage season that has how many productions in it this upcoming year?
Tad: Six.
And how do you go about gathering your season? I understand it's not just you as the Artistic Director locked away in a room with scripts.


Tad: Nope. It's not me. It's us. And it's interesting when you work with actors and designers and directors who have not worked with us before, there comes a time once they've worked with us a couple times where the pronoun changes from "you guys should do this" to "we ought to do this." That's kind of when you know they're on the way and on board. Our ensemble is not just performers, it's designers, writers, stage managers too. There are about 40 of us now. It's cooperative. The way we select work is cooperative. You see plays, or you come across plays, you read them, whatever, and we pass them around. When somebody is passionate about something they're going to grab a script and you never know where they're going to come from.
I was at a Plowman's dinner in Canterbury, England, which is basically like a community dinner plus jazz. So I was at this community dinner doing some stuff, and this woman was talking to me about how she's in theatre and I'm in theatre, and we started talking about all these great plays we'd seen in London. Immediately she was my compatriot because she said "I don't like to go to The West End" I like to go to the other theatres before they go to the West End." So she goes to places like Donmar Warehouse. I love that space because it's got 212 seats and it's really intimate. She told me we had to do this play The Arsonists. And I'd never heard of it, but she pitched it to me. It was a great play, I started passing the play around, and people were getting into it. And then there it was in the February slot of the 2014/2015 season.
We meet in September or October and create a short list. Right after the holidays we get together as a group, and we do have a bit of a survey— a voting process to be able to evaluate the play. I think it's got like ten questions. Things like, "is this a play that will interest our audience?" "Is this a 'MET' play (whatever that means in your mind)" you know, questions like that. We use the survey as data, and that creates a list of the most interesting/popular plays to consider. We have a template that we work off of for the season. We know that two plays are going to be in the middle of the college semester and we have relationships with FCC, Hood College, Mount St. Mary's, and McDaniel, so we're specifically choosing two plays that could fit within a curriculum. Now whether that's a play about domestic violence or a classic, those two shows go into slots number two and five. We know at Christmas time nothing sells unless it has the word "Christmas" in the title. So it has to be that flavor.
And then we know that comedies sell better than dramas, so it's a matter of finding things that we're interested in, that have something to say that we want to say that fits our group.  We really take a hard look at the cast makeup too. How many women and how many men are needed for a show? How many male and female roles appear throughout the season? It's funny, you know the feminist group the Guerilla Girls? I occasionally get harassed by them about whether we have enough women playwrights or women directors. Since day one that has never been a part of our mindset because we've always had women directors. Half of our team are women. More than half of the ensemble is women. We're choosing the plays that we think fit us best. We aren't specifically picking female playwrights, but it's not like we're shunning them.
Now that we know the process. Let's hear this season!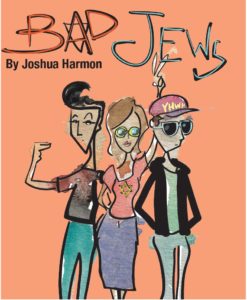 Tad: Well, we're going to open the season in September with Bad Jews. That's written by Joshua Hamon. It's a really interesting dynamic there because there are some people who say it's just a play with stereotypical Jewish people. We've had meetings with two Rabbis about it already and with some of our board members, who are Jewish. The play was brought up to us by two members in our company who are Jewish and they are all for it. Gené's going to direct that one and we have Bethanie Herman who is going to be her assistant director, she's a company member and she's worked with us before and she's Jewish. So we have our eye on that aspect of the show, but I think that play is really more about the family relationships. That will run September 16, 2016 through October 9, 2016.
And after that you're doing something a little different?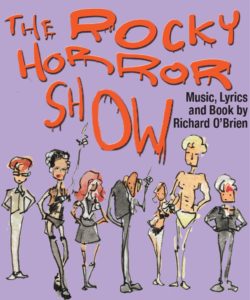 Tad: We're starting a new partnership with Frederick Community College. They have a smaller theatre department there, but the idea of Co-Producing a musical between our theatre and theirs, everybody wins. Royalties are so expensive, and paying musicians is so expensive. When you're running for four weeks or 16 performances in our space, the dollars spent on musicians racks up. So that's a 400-seat space, which gives us the opportunity to raise more funds to pay those musicians. So we're going to produce The Rocky Horror Show over there for Halloween weekend. Actually October 28, 29, and then Novemeber 3, 4, and 5, of 2016. That will help bring our costs down. You've got to pick a bigger-name show to fill a 400-seat space, plus we want to be able to give the students at FCC a chance to work on a show. And that is a show where you can have a lot of chorus, a lot of tech help, so that will be a pretty good opportunity. We're going to see how that flies.
And for the holidays?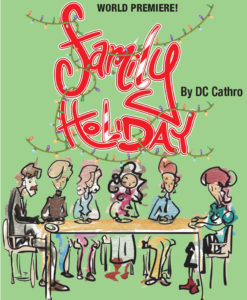 Tad: At Christmas time we're doing a play called Family Holiday, which was written by DC Cathro, who is a MET ensemble company alum. He submitted that play to our MET Lab Play Festival last summer. (To see what's coming up in the MET Lab Play Festival for the summer of 2016, click here.) It had a two-week workshop period. And that was the idea behind that festival anyway. We like to mine possibilities for regional playwrights for us to be able to produce. It's a really funny play, very funny. He comes back to his home to break some relationship news to his parents, which he's pretty sure they're not going to be okay with, but then he finds out that his family is in way worse shape than he is. And that one will run December 8, 2016 through January 8, 2017.
That brings us into the new year! What starts off in 2017?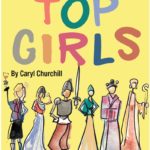 Tad: Top Girls. There you go, a play by a woman with an all female cast. Caryl Churchill's play set in Margaret Thatcher England about a career-driven superwoman celebrating her big promotion over her male co-worker in a restaurant full of history's most famous women. Suzanne Beal, who is actually one of our associate artists, will be directing that one. She just directed The Gift of the Magi over this past holiday season. She's also the Co-Artistic Director at Rep Stage. Let's see that one will run in February, so February 10, 2017 to March 5, 2017.
And after that comes…?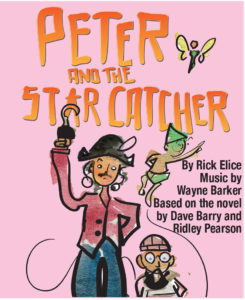 Tad: I know you're going to be excited about this, Amanda, I've heard you squeal about it before. Peter and the Starcatcher. That opens April 14, 2017, mark your calendar right now. That was one that we all saw in New York. When we saw it we walked out the door and all said "Yeah, that's a MET show, when can we do that?" Julie's going to be directing that one. I might want to audition for that one. It's written by Rick Elice, based on the book by Dave Barry and Ridley Pearson, with music by Wayne Barker. It's really quite the show, you know it won five Tony's. It's basically the story of Peter Pan only before he was Peter Pan. It's got all the makings of an amazing adventure: an apprentice 'starcatcher' and an orphan boy who find themselves in serious trouble once aboard a ship trying to guard magical 'starstuff' and keep it out of the hands of wicked pirates. You get to see how all of the characters in J. M. Barrie's Peter Pan came into existence through this incredible story. And it's going to run through May 7, 2017.
You're right, I am excited about that one. That's five…what are you closing the season with?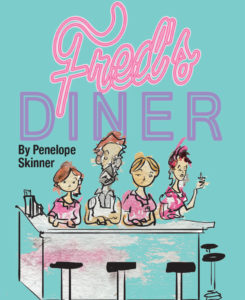 Tad: Fred's Diner. It's written by Penelope Skinner. It's a British play, but it's set in an American-themed diner in Britain. It's really a strong woman's play about three waitresses. It's funny, well it's a dark comedy. There's violence and murder. There's mystery. There's a lot going on in that one. As soon as the set for Superior Donuts went up we all laughed and said "Yeah, we need this set for this time next year." And that one will run June 2 through the 25th of 2017. And that pretty much does it for the main stage.
And then The Fun Company?
Tad: Will have five shows, but you'll have to talk to Julie about those.
Will they be featuring Junie B. Jones again this Christmas?
Tad: Probably. It's funny that you ask because last year Julie said she didn't think she was going to do Junie B. again. And I said to her, "Julie, the show has sold out the entire run two years in a row. To me that means that the demand has not been met yet. How can you walk away from that?" And she said she was concerned because she didn't want it to feel like they were doing the same thing. I reminded her that us, like so many other theatre companies, do Christmas Carol every year. And our production continues to grow an audience, it's been continuing to grow for ten years now, every year the audience is a little bigger. You can't walk away from something like that. Junie B. at Christmas time will fund the rest of the Fun Company shows for the season, just as Christmas Carol funds the whole rest of so many seasons for so many other theatres all around the country. That's why everyone does it. And you know, people need their Christmas traditions. And we're not doing some schlocky version, it's heartfelt and a real ensemble effort.
Are you directing anything next season?
Tad: I'm directing Rocky Horror.
You said you thought you'd audition for Peter and the Starcatcher, will you audition for anything else?
Tad: Well Bad Jews I can't, and then Family Holiday I can't because it will cross-run with Christmas Carol and I play Scrooge. There isn't really anything for me in Top Girls. So it'll come down to Starcatcher and Fred's Diner, but I'm not performing in two shows back to back, that's just nuts, I don't know how some of our people do it.
How do you guys audition for shows?
Tad: Well, we have a season-wide cattle call for people outside the company who wish to audition, that's actually coming up on June 12 and 13, 2016. We'll see people, we'll hear monologues and songs and get headshots. The directors are all in the room, they'll make their notes and get their ideas. Most of the directors— well in this case every director we're working with this year has worked with us before so they have a pretty good idea of what they're looking for. In the summer we do a collective audition with the first three shows of the season's directors where we read people. Now this year because Rocky Horror is a musical it has a lot of different needs for an audition. You don't want to read somebody before you hear them sing. But then we'll cast the first three shows over the summer. We'll see our company members, slide them into whatever roles we want, and then whatever role we didn't fill through the company we'll go to the cattle call list or anybody else who has been around for a while. Then the three shows from the second half of the season, we start making the connections over the holidays or after the holidays.
Take Superior Donuts, for example. I was approached about playing Arthur over the holidays, but we knew that we needed to find someone for Franco Wicks. We looked at some of the people we had read, we also knew we had one African-American ensemble member, Giovanni Kavota (who actually ended up playing Officer Bailey) And we revisited some other options until we found Najee (actor Najee Banks) who's actually in the theatre program at McDaniel, where Gené works. 
You guys don't always do musicals?
Tad: We do them when they suit us. We do them when they feel right for us. Rocky Horror will be a new venture and so far it feels right.
You've been the artistic director since the beginning?
Tad: Yeah. It actually just sort of happened. It was one of those moments before we opened, the group all sat around the table, and said, "well I think we need somebody to be the Artistic Director, somebody to have their name at the top." There were eight of them. And somebody said, "well, it's Tad, right?" And I was like "What?" And they said, "Yeah, it's you. You're the one who knows what's going on." And I said, "okay." But it's really about the group dynamic. My name may be on stuff, but we're an ensemble, a company, a family. I mean, my 15-year-old daughter and Caitlyn (MET ensemble member Caitlyn Joy) are producing Carrie over the summer with us. She had said to me that her and her friends wanted to produce a show, they were thinking about Heathers the musical, but we couldn't get the rights, but she still wanted to do something. She's sort of spearheaded this whole thing, which is kind of great because in our space there isn't a whole lot of opportunities for teenage actors. So to have that opportunity is pretty great.
Anything else you'd like to say about this fun and exciting season that you have planned?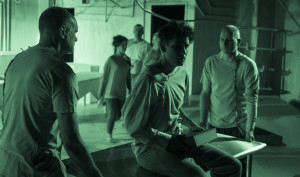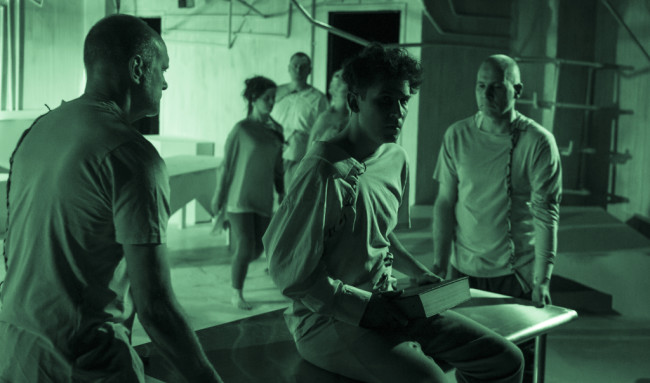 Tad: I think sometimes people put together a season with some kind of a theme or a through-line in mind. We've never really done that. We still aren't doing it. Because we have 40 different company members and because we know our community, we really want to have a very diverse offering from top to bottom and I think we do that every year. When you go from what we did in this season, something like One Man, Two Guvnors to devised Frankenstein, how much more different can you get? We're just going to keep doing our work, man. I was talking to one of our designers from this last show and he said it kind of felt like home to him, working with us. And I said to him that when you have 40 people working together on multiple shows at the same time as a company, you kind of have to like each other. There aren't any total jerks or douchebags among us because we aren't going to want to work with that. You're working with 40 people you can totally trust; you're working with a family. I think the community appreciates that. We have a great time as a company. We hope you will too when you come out to see our work.
For more information on what's happening at the Maryland Ensemble Theatre, including upcoming main stage performances, The Fun Company upcoming shows, and special events, visit their website.