Well you know what they say, if you don't have anything nice to say about anybody— then come sit by me! Gossip is no longer reserved strictly for the southern peaches of Miss Truvy's Beauty Shop in Chinquapin parish! And half of Rosedale will be giving their eye teeth to come and take a whack at this new play written by Baltimore local Davis Gable. Making its world premiere on the Just Off Broadway stage, The Coffee Shop, is a tributary homage play that brings the plot of Robert Harling's Steel Magnolias into a modern-day locally flavored coffee shop on the east side of Baltimore. Written by Davis Gable and Directed by Jason Crawford Samios-Uy, the show follows Harling's original over-arching plot lines and character developments with site-specific references to Rosedale and the community therein.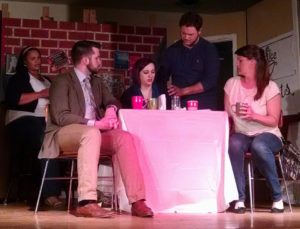 A local café from Charm City, even on the eastern city limits that border the county, has a certain feel to it. This atmospheric verve is captured in its essence by Set Designer Theresa Bonvegna. The illusion of exposed brick wall, street-facing windows, and an otherwise cluttered but comfortable aesthetic settles into the Bonvegna's scenic vision to create a convincing coffee shop on the stage. The artsy pictures and framed prints mesh well against the tacky table cloths, creating that "not-too-modern-wannabe-hipster" feel that so many of the trendier Charm City Coffee shops shoot for these days.
Playwright Davis Gable sets out to modernize Robert Harling's tale, which falls into the dated era of the 80's and is culturally situated in the slow-tongued south. His parallels to the iconic play-turned-movie follow fairly directly in the vein that imitation is the sincerest form of flattery. Truvy has been replaced by a warm and bubbly Carley, who now runs a coffee shop that was left to her by her hippy grandfather. The mother-daughter team of M'Lynn and Shelby have been transformed into a modern brother and sister duo, Brandon and Michelle, where the nagging but loving sister takes on a motherly role in regards to her brother's illness. The sweet yet slightly antagonizing Clairee has become a whip-sharp comic character man Connor and the rotten moody Ouiser has been replaced with a fierce and vicious gay diva character called Logan. Even Annelle has undergone some changes, becoming a mousy Mandy who goes through her own life changes as Gable's play progresses.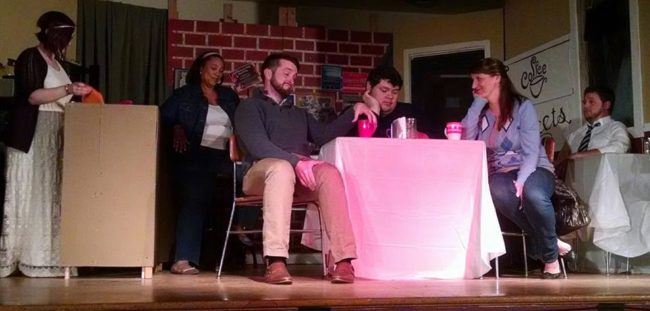 While Gable does a nice job of changing just enough elements of the story to keep people on their toes, any fan who even holds a remote familiarity with Steel Magnolia will catch all of the references and similarities. Gable's writing is somewhat troubling as it lacks the passionate drive that is associated with such heartfelt comedic "kitchen-sink-stories", though his best lines are often his present-day, Rosedale-centric refocusing of lines from Harling's story. In his attempt to localize the color and flavor of the story, Gable becomes a bit heavy-handed with specifying the locale, mentioning Rosedale a half dozen times too many, which creates a bit of a redundancy. These flaws aside, the play does have wit and some seriously entertaining characters to explore. Director Jason Crawford Samios-Uy brings this script together with minimal pacing issues, though there are moments that linger and stick creating slightly awkward pauses from time to time.
Sean Kelly takes on the somewhat dismissed role of Connor, who is a funny man and delightful. Modeled after Clairee, Kelly keeps a positive attitude despite the persistent negativity of Logan and all that's unfolding around them. Curiously intrigued by all the gossip that passes through the loose lips of the ladies and gents in the coffee shop, Kelly creates a nice stage presence and brings a mild balance to some of the more melodramatically invested characters in Gable's script.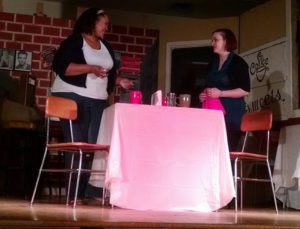 Queen of the gossip, Carley (Lydia West) may not generate all the rumors and scuttlebutt that come through her coffee shop, but she certainly doesn't mind sharing them. West delivers an earnest approach to the chipper and convivial character. Her interactions are well-played out against Mandy (Christie Arnie) from the moment we're first introduced to both women. Arnie delivers the character of Mandy with an impressive versatility. Fully transitioning from meek, meager Mandy the introvert into the mouthy and moody Mandy the extrovert, Arnie expresses the character well with both her physicality and facial features. Watching her hold her own against Logan in one of the final moments is a highlight of her performance.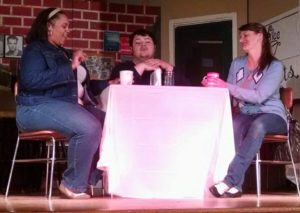 Mothering Michelle (Jennifer Skarzinski) and mild-mannered Brandon (Patrick Jay Golden) fit their roles well in this coffee shop business. Skarzinski has the tendency to overreact and delivers her emotionally charged, gut-bending "I want to know why" speech (pulled in tribute almost verbatim from M'Lynn's speech in the cemetery scene of the movie) with rigorously charged feelings. Golden toes the fine line of existing right at the edge of reality in all of his scenes, handling the "worsening of his condition" with commendable aplomb. The pair play well off each other and well off the others featured in the play with them, with Skarzinski in particular having a great handle on ranting about when it comes to the "happenings" outside the shop.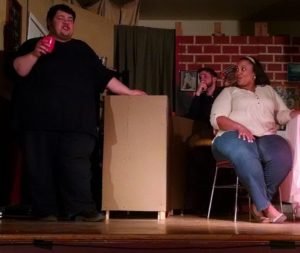 Logan (Jason Crawford Samios-Uy) isn't crazy, he's just been in a very bad mood for 40 years. Samios-Uy erupts onto the scene like an explosion of espresso, firing up the joint with heat, energy, sass, and something entirely too big to be contained within the four walls of the coffee shop. Throwing more shade than a jumbo-sized beach umbrella, Samios-Uy plays up Logan into a melodramatic caricature of a queen diva with attitude hotter than a McDonald's coffee circa 1992. On point with all of the zingers and flat-out "all T, all shade" style attacks penned into Logan's dialogue, Samios-Uy is the perfect fit to the cantankerously fierce character.
You'll love it more than your luggage, even if it is too twisted for colored TV— and that's saying something considering what passes on television these days. There are only a few chances to see this tributary production with solid acting and some humorous one-liners, so don't miss your chance!  
Running Time: Approximately 2 hours with one intermission
The Coffee Shop plays through May 22, 2016 at Just Off Broadway Baltimore at the Jerusalem Evangelical Lutheran Church— 4605 Belair Road in Baltimore, MD. Tickets can be purchased at the door or in advance online. At this time Just Off Broadway accepts cash payments only