Magnificent— adj. "very good; excellent." The Milburn Stone Theatre @ Elkton Station has a magnificent production of The 25th Annual Putnam County Spelling Bee crossing their boards for one weekend only and it would be a real shame if you missed this production! M-A-G-N-I-F-I-C-E-N-T. Directed by Andrew Mitchell with Musical Direction by Anthony Vitalo, the Musical & Lyrics of William Finn and Book of Rachel Sheinkin, this zany musical about young students at the most important event of their pre-high school lives spells out F-U-N for anyone in the area lucky enough to catch one of only four performances! Witty and wildly entertaining, MST's Spelling Bee will have you humming along, tapping your toes, and if you're extra L-U-C-K-Y you might just find yourself vying for the title of Putnam County Spelling Bee Champion alongside these incredibly exuberant spellers.
Focused— verb. "past tense of focus; to pay particular attention to." Lighting Designer Bevin Hensley uses sharply focused lighting to call attention to noteworthy moments where spellers shine in their emotional spotlights. F-O-C-U-S-E-D. Hensley's lighting, is actually for the most part understated throughout the production, but this is a definitive choice that allows the more emotionally influenced moments of her design work to radiate through with a more powerful effect. Her use of spotlight for Chip's big solo "My Unfortunate Erection" (handled by Spot-Op Melissa Redfield) adds an additional build of comic hype to that number. Using mood-enhancing colors like the cooled purples and ambers for the "I Love You Song" gives the performers a chance to embrace the visual element of their emotional expressions in those numbers.
Outré— adj. "eccentric; different." Director Andrew Mitchell makes several obscure yet curiously outré decisions regarding the subtextual relationships of the characters in the performance, which results in a refreshing examination of a musical show that's growing dangerously close to receiving a "Done to Death" stamp in the DMV area. O-U-T-R-É. Mitchell's choice to take the lesser played-up ending in regards to how Olive grows up (which for purposes of not ruining the musical won't be elaborated upon here) is a bold one and gives the show a cathartic sense of realism. Pairing off the various students with appropriate counterparts makes for an invigorating new look at some of the interactions that occur throughout the bee and brings a focused set of 'new eyes' to the show on the whole.
Pulchritudinous— adj. "physically beautiful; comely." The vocal talent featured across the board in this production is so pulchritudinous that it defies the laws of physics and makes sound look pretty." P-U-L-C-H-R-I-T-U-D-I-N-O-U-S. It's no small task to sing gloriously with a vocal affectation and it is one that the cast arises to with vigor. Characters like Logainne and Barfee are delivered with striking vocal carry overs that keep the integrity of the actor's chosen affectation without compromising the lyrical quality of the song. Other sounds— like group harmonies during "Pandemonium" and the various renditions of "Goodbye" are just pure honey to the ear.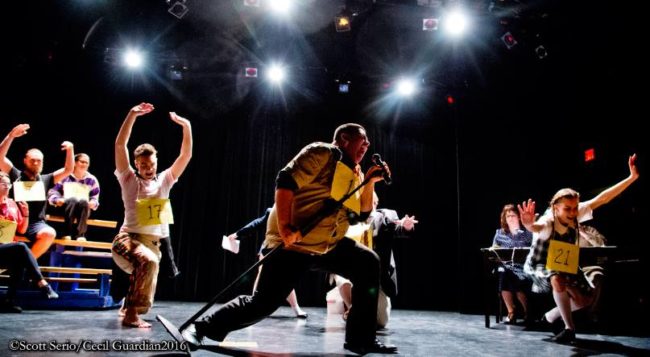 Capricious— adj. "subject to, led by, or indicative of a sudden odd notion or unpredictable change; erratic." One might say Rona Lisa Peretti (Barbara Walker) is fickly capricious when it comes to her favorite moment of the bee. C-A-P-R-I-C-I-O-U-S. Walker delivers a stellar and mellifluous voice throughout the performance. Warm, welcoming and nostalgic, each rendition of "Favorite Moment of the Bee" is inviting and waxes slightly poetic under her vocal tenure. Walker, who sits on the panel of "judges" opposite Vice Principal Panch (Charles Johnson) has a cheerful disposition and is quite convivial. Her vocals shine at their brightest during the "I Love You" trio number featured in the back end of the musical.
Pugnacious— adj. "inclined to quarrel or fight readily; quarrelsome, combative." Comfort Counselor Mitch Mahoney (Frank Gillette) has a pugnacious reputation to uphold, given that hugging eliminated spellers is his court-assigned community service project, but secretly just wants to reassure these young kids that life can be and in fact will be so much worse than missing a word at the county spelling bee. P-U-G-N-A-C-I-O-U-S. Gillette brings a serious serving of attitude to the performance and rallies hard for the stereotype of hard-ass convict on parole. With a big vocal belt during "Prayer of the Comfort Counselor" the whole house gets a good sampling of Gillette's soulful sound.
Splenetic— adj. "irritable, peevish, spiteful." When Chip Tolentino's (Matt Lucatamo) unfortunate erection becomes a distraction, the vitriol that ensues, particularly when aimed at Barfee, is nothing short of splenetic. S-P-L-E-N-E-T-I-C. Lucatamo delves into the adolescent nature of the character right at the midpoint of the performance, really digging in his spiteful heels when it comes to trivial things like peanuts. With an astounding belt and sustain at the end of his big solo "My Unfortunate Erection", it is somewhat surprising to hear him struggle vocally during the initial verses of this song though this appears largely to be an unbalance between the volume levels of the music and his frantic-pacing down in the house. Otherwise perfectly suited for the role, Lucatamo brings a great deal of hilarity to the performance even after his unfortunate situation occurs.
Delicate— adj. "dainty; fine in quality, construction, etc." Olive Ostrovsky (Katy Brady) is a rather delicate creature by comparison to some of the egos and personalities present at the bee. D-E-L-I-C-A-T-E. Brady delivers a sweet and soft character with her portrayal of Olive. Not without her charming quirks, particularly when it comes to her more humorous solo, "My Friend, the Dictionary", Brady finds a balance in her emotional expressions that match the lyrical beauty of her songs. "I Love You", a mournfully graceful and tragically beautiful trio shared with Gillette and Walker (in guise as the girl's absent parents) is vocally and emotionally rewarding for the audience.
Galvanic— adj. "stimulating, energizing." Logainne Schwartzandgrubenierre (Allison Graham)'s galvanic presence among the spellers has everyone all excited, then again it might be all the skittles and m&m's they had before the start of the bee. G-A-L-V-A-N-I-C. Radiating with an electric current of enthusiasm, and tempering it with a high-strung mentality, Graham takes Logainne to new heights of iridescent annoyance that are so pungent you fall in love with them. Both "Woe is Me" and it's charged reprise are great examples of her energy, accompanied by a lovely voice, surge forth and carry these songs to glorious fruition.
Truculent— adj. "fierce, vitriolic, aggressively hostile." Marcy Park (Mackenzie Brockmeyer) practically bites Miss Peretti's off with her truculent tongue when correcting the misinformation of how many languages she speaks. T-R-U-C-U-L-E-N-T. Brockmeyer is adroit when it comes to showing off in "I Speak Six Languages" not only with her vocal talents but with all of the little physical things she does to show off how well-rounded the character is. The frosty attitude delivered, not only to the in-show characters but at the "guest spellers" is spot on for the construct of the character but Brockmeyer takes it a step further by delving into the softer earnest tissues that bubble just beneath the frozen exterior of Miss Marcy Park.
Splashy— adj. "flashy or showy, worth taking notice of." Leaf Coneybear (William Bryant) is the odd one in the bunch, but Bryant's performance is definitely splashy, especially when he goes for the raised fifth at the end of "I'm Not That Smart." S-P-L-A-S-H-Y. Impressively invested in the vocal clarity of the character, Bryant's elevated octave approach at the end of that number is delightful, as is his overall approach to the character, playing him in a basic vein of simplicity rather than a melodramatic one. The scene-stealing element of his performance, however, is the itty-bitty-finger-monster friend that joins him in a few of his solo moments, complete with an affected vocal sound all its own.
Dazzle— verb. "to impress deeply; to astonish with delight." While the character of William Barfee (Zachary Jackson) is often relegated to the comic-support category, Jackson has conflated his humorous efforts with his stunning voice and fabricated a performance that dazzles the audience. D-A-Z-Z-L-E. Jackson possesses operatic vocal strength and tenacity, demonstrated in his enormous belts at the end of "Magic Foot." The intensity with which he delivers the various comic nuances of the Barfee character are hysterical. Insanely immersed in the character's psyche, the peanut-allergy recall scene is comic gold in the way that Jackson plays it.
Fun— noun. "Enjoyment, amusement, or lighthearted pleasure." Milburn Stone Theatre at Elkton Station has a healthy dose of fun in their current production of Spelling Bee." F-U-N.
Running Time: 95 minutes with no intermission
The 25th Annual Putnam County Spelling Bee plays through May 22, 2016 at The Milburn Stone Theater:  Elkton Station— 107 Railroad Avenue, in Elkton, MD. For tickets call the box office at (410) 287-1037 or purchase them online.