"Everyone has got a kink, what's yours?" In kinK, Wolfpack Theatre Company once again invites you to get beyond your immediate gut response to really think about an issue and consider the lives it affects. kinK, an evocative and risqué new work by company founder William Dean Leary, asks what happens when the community's creed "Safe – Sane – Consensual" encounters the notion of "There are no limits."
The black box theater of the Greenbelt Arts Center has been transformed into a leather/levi bar. Dance music throbs continuously in the background. Much loving detail has been put in the mood lights, decorations, and graffiti that feels appropriate and well-represented in GAC's basement venue. And there is a six-foot crucifix just waiting for the second half.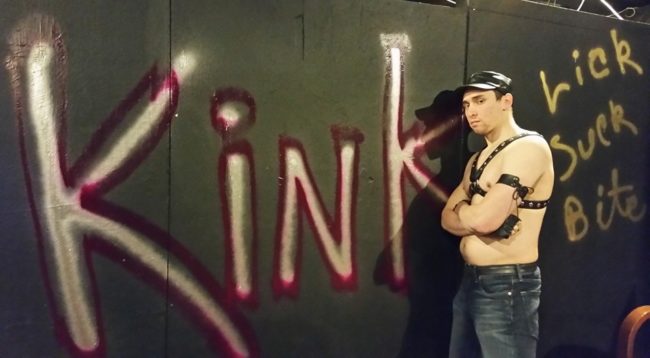 It is pleasant to sit in an empty club before the main crush and feel the energy gathering with the growing occupants. So too starts this play. But these patrons bring a different feeling— this is not a night to go out, but a night to gather together. This is a wake. Eric is dead. The judge has decreed his death a suicide. His family wants his house, his car, his dog. His lover and friends are grieving. Director and Playwright William D. Leary has written, or as he says, his characters have written for him, a compelling story. The bar regulars each have their own monologue (complete with effective lighting crafted by Lighting Designer Stephen Beitzell) that makes them all likable and continuously ups the ante as the show progresses.
Richard Koster as Karl, the bartender reliving his high school glories, well portrays the father figure who will do anything to protect his family. Eileen Murray Kraft as Lady Chatter Lee, the bar's heart, deftly knows when to strut and when to be motherly. Leah Livengood's Yvonne sensuously plays the professional whose experience provides the voice of reason. Jamie Brill as Cory is scarily over the top in the second act. And Jeff, played by Tom Tomlinson, doesn't say what everyone else is thinking, but rather says what everyone else is not thinking, to good comedic effect.
And then dead Eric's brother shows up with an offer. Thuan Nguyen debuts as Leonard in a broad and challenging role that shows you this is not the only family who is grieving. Welcome to theater! Jamie Brill (as mentioned) plays Eric's lover Cory in a widely ranging role with an absorbing sensitivity.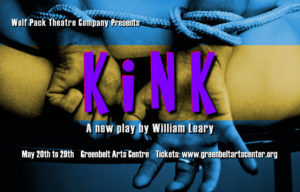 As the accused appearing in the second act, (remember the crucifix?), Paul Davis brings an unapologetic physical presence to the role that just begs for the violence that is done to him. Graphically. Onstage. Don't bring the kids. Oh, did I mention this was a leather/levi bar? Dannielle Beitzell's costuming impressively reveals the characters' nakedness without quite showing any nudity.
Mr. Leary and the Wolfpack Theatre Company has once again presented an engaging success that is also enjoyable.
Running Time: Approximately 2 hours with one intermission
kinK plays through May 29, 2016 with Wolfpack Theatre Company at the Greenbelt Arts Center— 123 Centerway in history Greenbelt, MD. For tickets call the box office at (301) 441-8770 or purchase them online.