Picture it! Schlimer, medieval Germany— the roof is made of dirty thatch, there are rats nibbling on stinky cheese, there are feces and rotting vegetables in the streets— okay, maybe don't picture it. Picture instead two dedicated, earnest, devoted, passionate guys who just want to actualize their dream of writing a big flashy Broadway musical and have it produced by a rich Broadway producer. Turn tables, puppets, helicopters, people who used to be famous, enormous sets, glorious costumes— they have none of that! Instead they have a one-way ticket to hilarity with a little engagement of the imagination as Bud and Doug pitch their concept for Gutenberg! The Musical. Incidentally— David Jennings and Justin Calhoun of Epic. Productions Inc.— happen to be two guys just like that, also pitching their performance of? Gutenberg! The Musical! Created by Anthony King & Scott Brown, and Directed by David Jennings with Musical Direction by Charlotte Evans, this witty, laugh-a-minute, musical is bursting at the brim with boisterous enthusiasm.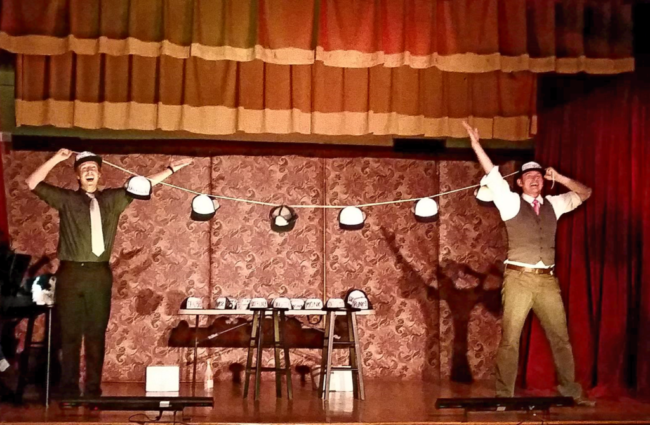 Jennings has pooled his talent with that of fellow Co-Star Justin Calhoun and between the pair they go off to the races at a breakneck speed, never once faltering in their delivery, comic timing, or energy as the show sprints from the opening introduction through to the madcap conclusion. If you aren't exhausted from sheer laughter by the show's end, there's a good chance you broke your funny bone before arriving and should have that seen to immediately by a doctor (who can read, so don't use the one featured in the show.) Jennings' laser-honed focus on exacting the balance between campy over the top melotheatrics and congenial moments of true heart and commitment is astounding; the result being that the production is nothing short of stellar.
Wild with enthusiasm from the moment they start, Jennings and Calhoun bring a palpable pulsation of the show's energy right out to the audience with their inviting mannerisms, amicably delivered speeches, and overly energetic comedy routines. The show itself is constructed in a way that allows the audience to feel included, inviting them to take the journey with Bud and Doug without forcing anyone watching to participate unnecessarily. Calhoun and Jennings handle this misty divide between the stage and the fourth wall with ease, treading lightly with jaunty smiles upon their faces and jovial energy radiating out from their hearts.
Under the musical direction of Charlotte Evans, the striking quality voices of Calhoun and Jennings come together for some ferociously delicious duets including, but not limited to, basically every number in the show. From absurd filler songs like "Biscuits", where the pair throw in some knee-slapping hysterical choreography, to the more vocally intense act one finale, "Tomorrow is Tonight" where the rocker-influenced verve of the number puts their vocal versatility to the test— and they pass with high-flying colors— there isn't a musical number in the show where Calhoun and Jennings don't deliver impressive talent with sheer heart throbbing beneath the lyrics, even amid the shtick of it all. Their ability to harmonize and balance one another's sounds out for numbers like "Monk with Me" is astonishing and a true representation of their performance talents.
Jennings is alive with the spark of creation for "The Press Song" sung as Gutenberg, just one of over a dozen characters that he takes on throughout the performance. With vivid facial expressions, a fully conscientious awareness of his spatial relationship to Calhoun and overall placement on the stage during every moment, Jennings captivates the audience with his rolodex of character physicalities, vocalizations, and affectations to create a clear-cut difference between the odd eccentrics of Schlimer like Beef-Fat Trimmer and Drunk #1. Taking turns with Calhoun to play the love interest, Helvetica, Jennings takes the low road of feminine stereotype to articulate the character's trauma during "Stop the Press."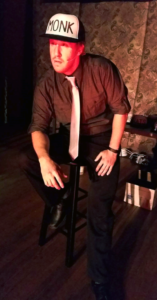 Possessing a vocal range that seems to know no bounds, Calhoun is an astonishing component of the two-person musical. Owning his nefarious and ruthless number "Monk with Me", Calhoun sends shivers up the spine with just how seriously he plays the vile villain character of Monk, so intensely invested in the caricature and over-the-top nature that it reads uproariously to the audience. His flailing limbs and sweet falsetto make his portrayal of Helvetica equally hilarious and his overall showmanship is top notch. Vocally sensational, "Tomorrow is Tonight" is yet another example of how Calhoun carries the earnest emotions of this whip-snap comedy through the lyrics and out to the ears of the audience while still allowing the audience to devour the humor like an all-you-can-eat musical theatre buffet. With bacon!
Calhoun and Jennings have exceptional chemistry between them, knowing exactly how to hand off character, making the most of every moment they have on the stage. Their sleight of hand tomfoolery when it comes to Monk chucking pencils at Young Monk is a scream, and the way their faces are as animated as their voices for "Words, Words, Words," is a hoot. Ripping open their chests and bearing their hearts for all to see, hear, and feel, Calhoun and Jennings have a Broadway sensation on their hands, under their feet, and in their souls as they perform for 90 minutes much to the audience's extreme delight.
It's not the success that matters, it's the dream— and in this case, Epic Productions Inc. has a wildly successful production on their hands that brings them one step closer to fulfilling their dreams. A must-see that will have you laughing so soundly your sides will be sore, don't miss this limited engagement performance! The earnest words to sum up the evening? "I haven't laughed this hard since Gentleman's Guide on Broadway." And if you can find a funnier production with as much talent and heart gracing the stage as Epic Production Inc.'s Gutenberg! The Musical, come see it anyway. You can never have too much laughter!
Running Time: 90 minutes including one intermission
Gutenberg! The Musical! plays Friday and Saturday nights at 8pm and Sunday matinees at 3pm through May 29, 2016 with Epic Productions Inc. at St. Mark's on the Hill— 1620 Reisterstown Road in Pikesville, MD. For tickets, call the box office at (443) 791-2671 or purchase them online.
To read the interview about Gutenberg! The Musical, click here.
To see how Broadway in Baltimore: An Epic Evening turned out, click here.