There is something to be said for comforting fictions. While they may not be the most elucidating tales they provide a certain umbrage from the harshness of reality that accompanies terminal illness. In an evocative rolling world premiere presented in association with the National New Play Network, Forum Theatre closes out its 12th season with Steve Yockey's Blackberry Winter. Directed by Michael Dove, this stunning 90-minute tale awash in profoundly polarizing emotions sparks a compelling conversation of perceived realities, emotional tribulations, and coping strategies that revolve around and are intrinsically threaded to Alzheimer's disease. Emotionally disorienting, with the epitome of balance spread across humor and heartache, Blackberry Winter will bring forth laughter and tears while engaging the mind, breaking the heart, and touching the soul with its poignant modern-day folk tale.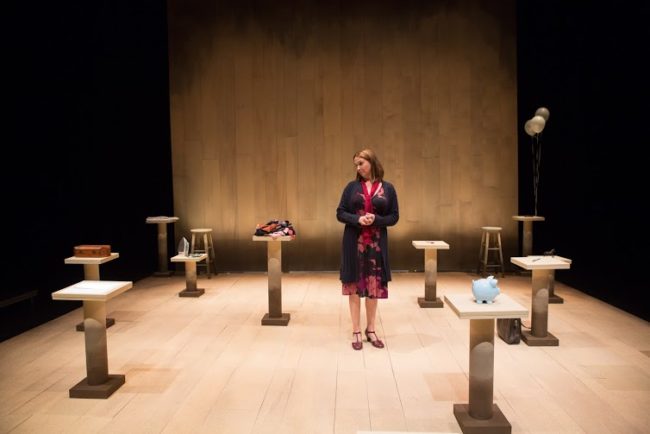 At its essence, the play is a one-woman show. The narrative is a direct address from the character of Vivienne Avery to the audience in regards to her methodology of handling her mother's progressively deteriorating condition of Alzheimer's Disease. Playwright Steve Yockey draws forth two secondary characters into his script when Vivienne decides that in order to aid her inability to cope she will create an "origins tale" or "creation myth" about why Alzheimer's exists; enter the White Egret and Gray Mole. Riveting and radiant with the spark of creation, Yockey's meta-tale is an illustrious sweep of disquieted verse and curious rhyme, which not only outlines the great lies we'll tell ourselves in an attempt to be assuaged from the pains of reality but juxtaposes his talents as a playwright against those of a natural folklorist.
Witty and biting, Yockey tears into the meat of Alzheimer's with reverent humor that boldly asserts the relatability of the show's subject matter to anyone in the audience who has had similar encounters. The emotional stressors tagged onto Vivienne are plentiful but the play is far from a dreary and downtrodden lament of the disease and all its complications. This is not to say that the play is not without potent moments of harrowing sorrow, brutal honesty, and soul-searing confessions that trigger waterworks upon deliver.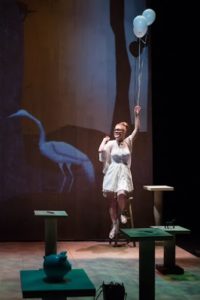 Framing the play's concept, Scenic and Properties Designer Debra Kim Sivigny compartmentalizes each of the props with which Vivienne interacts atop a pedestal at varied intervals across the space. This spatial expression is reminiscent of an archive or museum, an enclosed display of significant memory, each in its place— the exact opposite of the way a mind consumed by Alzheimer's would be organized and represented— and visited by Vivienne accordingly. Sivigny also crafted the show's costumes, creating a reverse approach to anthropomorphism in the characters of Gray Mole and White Egret. Rather than attempting realistic animal costumes, Sivigny takes an abstracted inspirational approach and the result is not only clearly recognizable but artistically impressive.
Coruscating the aforementioned artifacts of the mind at the beginning of the show, Lighting Designer John D. Alexander gives them each a moment all their own in tightly focused squares of warmth gleaming down from above. Alexander's crowning achievement in the production, however, is not that innovative light display but rather the whimsical blue-green forest patterning that envelopes the stage floor when Vivienne snaps the audience into the creation myth. Projections Designer Patrick Lord and Sound Designer Thomas Sowers accompany this transitional journey with their unique design elements. Lord's projection work is pure fantasy; the stilled motion of myth and legend playing out against the live narration of the two folk creatures creating a wildly immersive story in which one can easily become hypnotized.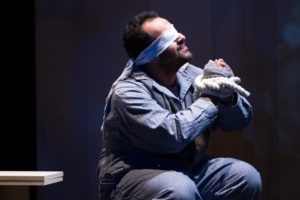 Ahmad Kamal plays the inquisitive Gray Mole while Sara Dabney Tisdale takes up the role of White Egret. The pair are only featured in the three parts of the creation tale, but each has a distinctive voice that gives a vibrancy to their animal-character that aligns with the creature's physicality and personified natural tendencies. Kamal is squirrely; the nasal affectation he imbues to Gray Mole making the blinded forest creature almost untrustworthy. His physicality is mostly internalized, though his rhyming verse is delivered with sharply noticeable intent. Tisdale is a delicate sort, enacting a sound foil against the edgier Gray Mole character with her graceful and majestic portrayal of the White Egret. Using her upright physicality to do most of the character's speaking, Tisdale eases the audience into her character's emotional track as the creation myth unfurls.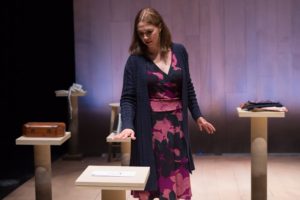 Holly Twyford gives a stellar performance in the role of Vivienne Avery. Loaded with compassion and brimming with empathy, Twyford is emotionally blindsiding and possesses a conviviality that speaks directly from her character's soul to the hearts of the audience. Earnest and forthcoming with each moment of angst, joy, sorrow, confusion, regret, fear, and laughter, Twyford delivers a heartfelt series of moments that are lucidly threaded together to transport the audience on this miraculously sincere journey of swirling pathos. Twyford harmonizes levity with gravity throughout the performance, letting each moment of laughter and mirth settle before sweeping it away in something sinister or sorrowful.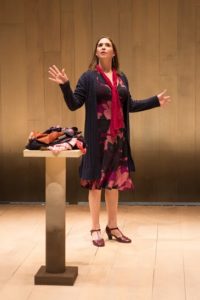 A master of being present in the moment with each detail she parlays to those listening, Twyford straps in for an emotional roller coaster ride not just as the show's narrative guide but as an active participant, taking us step by step through her character's journey. Harrowing monologues with gut-wrenching confessions are delivered with a raw vulnerability that pluck hard on the heartstrings while the livelier moments of joy and nonsense are delivered with zingy zest that reminds the audience it's okay to experience laughter and joy in such serious situations. Twyford's congenial connectivity to the emotional arc of the character is astonishing, a truly remarkable performance that keeps the audience gripped to her words every step of the way.
Memories are the tiniest, most fragile of things, and this is a show that will quickly etch itself into the memory of theatergoers across the DC area. A true emotional masterpiece with exceptional talent to support its premise, Blackberry Winter is an inspiring and captivating story that speaks directly to the heart.   
Running Time: 90 minutes with no intermission
Blackberry Winter plays through June 11, 2016 at Forum Theatre in residence at The Silver Spring Black Box Theatre— 8641 Colesville Road in the heart of downtown Silver Spring, MD. To purchase tickets call the box office at (301) 588-8279 or purchase them online.