In a world where we see four productions of Shrek within four months and four miles of each other, it takes a great big leap of faith to venture down the path less traveled, particularly in the genre of musical theatre and especially when it comes to the journey of opening a new theatre company. As Epic! Productions heads into its second season— preparing to mount it's second musical production, Gutenberg! The Musical, TheatreBloom sits down with Co-Founder David Jennings and current show co-star Justin Calhoun to talk shop about the process as a whole and spread the word about musical theatre that really touches the funny bone.
Thank you both for taking a moment out of your busy, busy schedules to sit with TheatreBloom to help get the word out about your upcoming show!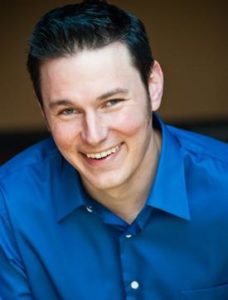 David Jennings: I'm David Jennings and I've been an area actor for the past 20 years. Most of my work was done amongst Toby's Dinner Theatre, Disney Cruise Lines, and Networks National tours. I've also done some regional theatre, Signature Theatre and Totem Pole Playhouse. Now I've started a company of my own— Epic! Productions— we are a new non-profit musical theatre company based in Baltimore County. I'm the Co-Founder with my wife Jamie Eacker, also known as Jamie Jennings. We got started in 2014, well that's when we became a non-profit. Our first production was in 2015, we did I Love You, You're Perfect, Now Change! It was a wonderful production that we produced in Baltimore City at Ciao Bella Restaurant and it got great reviews. During that time, we actually ended up dealing with the civil unrest of the city which resulted in us closing the run early. This prompted us to go back to our original plan, which was setting up shop in Baltimore County and this is where we tend to reside.
Baltimore County doesn't have a regional theatre. At full tilt, years down the line, we want to give Baltimore County a regional theatre that does theatre all year long, has summer camps for kids, and a lot of opportunities for community outreach. The first step was producing a show, which we did and we did well. We're currently working toward doing more than one show a year. Once we establish that we're going to start producing full seasons of show, aiming to produce year-round. Each step is a step toward giving Baltimore something big.
Now Epic! Productions is getting ready to open Gutenberg! The Musical! And you're just directing it? Or you're in it?
David: I am directing the show. I'm also in it. We chose Gutenberg because it's such a fun show. We're laughing at each other during rehearsals all the time—
And this "we" you are speaking of includes…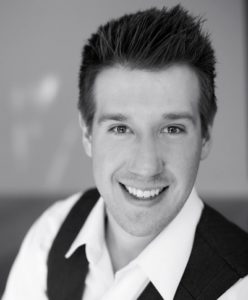 Justin Calhoun: I'm Justin Calhoun.
David: Oh right! Justin here is in the show too. It's only two guys in the show. Me and Justin.
Justin: That's right. My theatre career started at James Madison University in Virginia, then I went up to New Hampshire, I was there for about two years. I'm new to the DC area, about a year or two years in. Most of my area credits have been at Toby's. And now, Gutenberg!
David: It's such a fun show. It actually parallels Epic! Productions in a lot of ways. Here you've got two guys that are aspiring to be writers for Broadway and they've written this show, a brand new show, about Gutenberg the German who invented the printing press. They're new and aspiring, Epic! is new and aspiring. They're working with nothing; we're working with nothing because we're brand new still trying to establish ground to stand on. I feel so many parallels between the enthusiasm and the drive that they have, these characters in the show, and what we have. We're trying to come into this territory and share so much awesome musical theatre.
So your paths crossed at Toby's? Did you meet while you were both doing South Pacific just a few months ago?
David: Actually we met during Ragtime back in the early fall. I was JP Morgan and he was Willy Conklin. And I guess more presently you could say I played Link one of the last time's Hairspray was at Toby's and now Justin is getting ready to play Link when it opens this summer.
That's pretty awesome. Justin, what has it been like coming into this project?
Justin: It's great. I feel like with the DC and Baltimore area it's all about getting your name out there and trying new things. I think that's what we're doing here at Epic! with Gutenberg. It's just a lot of fun. It's risky, it's scary, but I think that's what makes it worthwhile.
Where you familiar with Gutenberg! before David brought it to your attention?
Justin: Not at all. I mean, obviously I know the history of Gutenberg, but the man, not the musical. But it was actually very exciting to learn. I got the soundtrack from David and I just fell in love with it. It's an amazing show. It's two guys having a blast. Luckily enough we get to have a blast on stage as well.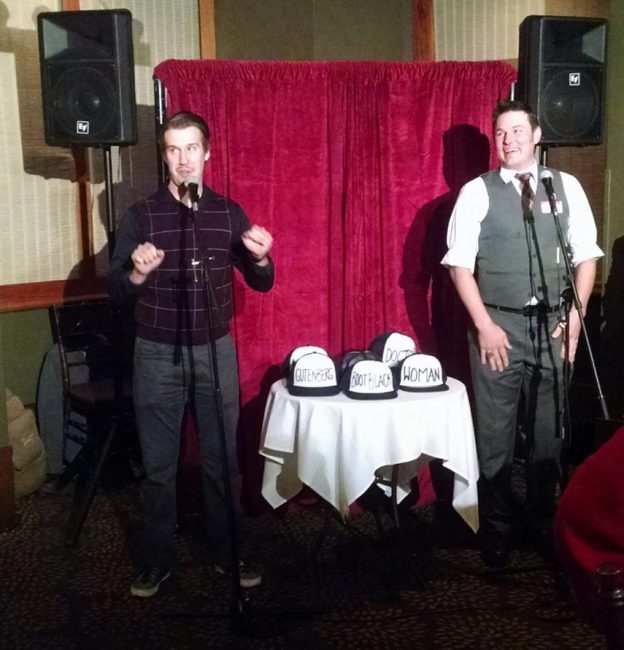 David: All of the music is just so catchy. Probably the catchiest of all is the end of Act I, "Tomorrow is Tonight." It's got an awesome rock sound, it's a send-you-to-the-restrooms kind of song. All of the music is so fun and so cleverly written. It pokes fun at everybody. There are so many colorful characters.
Justin: It's two guys, 30 hats, and a dream.
David: That's right. There's 30 hats.
Is it split pretty evenly? You each do about 15 characters?
Justin: Ish? I think there are two or three characters that are specifically Bud's or Doug's, but otherwise we switch hats and switch off.
David: We both play the love interest Helvetica.
Justin: Opposite of each other.
David: Yup. Helvetica is the love interest, she wants to be with Gutenberg, and we both have to play her.
Is this show similar to any of the shows you've done previously?
Justin: I did a four-person show up in New Hampshire called Musical of Musicals. It's similar. It's four people, and they are basically each the archetypes of musical theatre. You have the leading man, the ingénue damsel in distress, the villain, and the matron. It's those characters done in four or five different song-styles, think Sondheim, and Rogers & Hammerstein. It's a similar vein as Gutenberg! But I would say Gutenberg! is pushing it since it's just two men playing all 30 characters. It's the most extreme I've ever done.
David: Gutenberg! has a lot in common with Musical of Musicals.  You've got the hero, you've got the villain, you've got the love interest, and then you've got the town of Schlimer, which is just full of colorful characters. Drunks, they're the most prominent people, but the list of characters is just…it's so colorful. You've got Drunk 1, Drunk 2, Old Black Narrator, Anti-Semitic Flower Girl…
Justin: There's Boot Black, Beef Fat Trimmer…and there's Woman, Another Woman—
David: Which are separate characters—
Justin: Right. Then there's daughter—
David: Dead Baby.
Justin: Oh yes, Dead Baby.
David: It's something that would appeal to people that enjoy the styles of humor found in things like Family Guy, The Simpsons, South Park, or Monty Python's Spamalot. It's a broad-character, broad-humor show. But at the same time the boys are so full of enthusiasm that you can't help but love them. There's nothing highly offensive in the show. Our board member, Jerry Mayer, came to see a rehearsal just the other day and he said, "You know what? There's nothing in here that would offend the church specifically." But the characters are crazy. Every other line is a laugh line.
Justin: It's rapid fire comedy.
David: The cool thing is that all of the scene work is those two enthusiastic guys taking you through the story, commenting on their own work and how they got to be where they are and then all of the songs tell you the story of Gutenberg as they've written it. Even though they're really short, tiny scenes, they're so brilliantly written. I'm really grateful to Anthony King and Scott Brown for having written this. It makes me want to know more about them.
How did this become the project of choice for Epic! Productions this year?
David: We were looking at a lot of titles. With our current situation being what it is, we needed to choose something that we could do without sacrificing quality. We've always wanted quality over quantity. So we decided to go with a smaller-cast show. It just comes down to what's in the show, we didn't choose it because there's only two people in it, we chose it because it was awesome. It just happens that there are only two actors in it. There are a lot great smaller shows like this one that are phenomenal but people aren't as familiar with them because they don't get the marketing or the exposure that something like Les Miz got. Or that Shrek gets. We chose this show because of the laugh factor. We really want to make people laugh.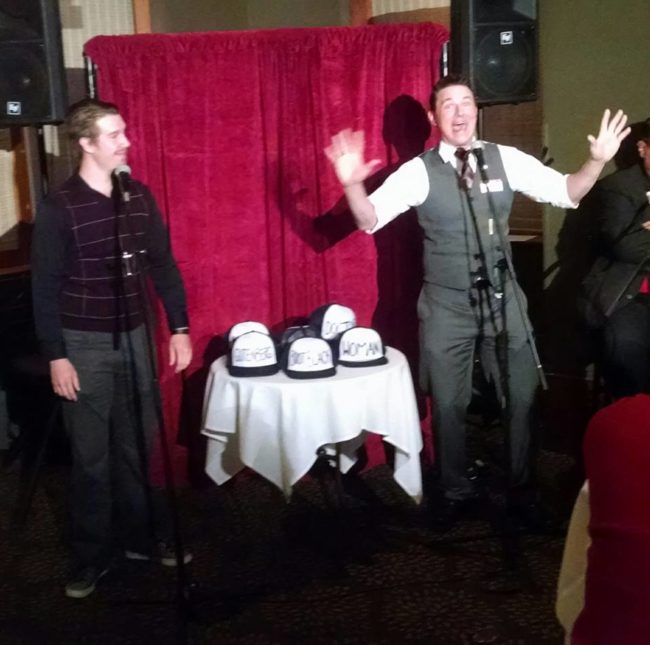 Do you think it's important to make people laugh in the theatre?
Justin: Absolutely.
David: Especially today. We live for laughter. This is such a funny show. You know, we looked at The Big Bang, the musical, which is a fun show. And that's not off of my radar just because we didn't do it this time around. We looked at so many of these smaller shows, and this was the one that spoke to us. Now, we're not excluding the classics or the bigger shows— we'll get to the Annie's and the Les Miz's eventually— but we're not focused on them. We're more interested in exposing people to fun and new things they haven't seen before. Like Gutenberg! Right now, our strength is focusing on these Off-Broadway type shows, and you know what? They're still "Broadway" quality writing, for what that's worth, they still came out of New York, and they're just as awesome as some of the big-name shows coming off the Great White Way. I mean what's the real difference between a Broadway house and an Off-Broadway house? Size of the house? How many seats? And the ticket cost, I guess. That's it. There are excellent shows coming out of Off-Broadway.
What has being a part of this experience taught you about yourself as a performer? Or about yourself and what you want to do with yourself as a performer?
Justin: I think it's a challenge. It's just these two guys so we're both accountable. This is not a show in which you can shy away or hide.
David: You're not a wallflower at any point.
Justin: Absolutely not. Everything you do is front and center so everything has to be deliberate and thought through. I think it makes you a smarter actor, especially with the jokes, they're rapid-fire and non-stop. It's a very cerebral show. It's funny, but you have to think, you have to be following along. It pulls you into the intellectual side of the comedy. You have to really focus on what you're doing as an actor and a performer but also as a fellow theatregoer. It makes you think, it makes you want to push and try harder. And this is really true of any role that you take, not just with Gutenberg! The Musical. The ensemble, the leads, they're all equally important and I think this show forces you to really hone your craft and really focus on what you're putting out there and what you're presenting.
David: You are front and center at all times. To me, I was describing this show to somebody as a show that actors want to do. If you get cast in let's say Carousel, maybe you're in the ensemble and there are things that you do get to do but there are times where you aren't going to be on stage. This is the kind of show where not only are you in the show, but you're constantly on the stage, you're constantly moving through the performance, every other line is a punchline; it's so meaty for two actors to do. It's so fulfilling because you constantly have something to do, you're not hanging out backstage, you get to be the focal point. The laughter and applause is so fulfilling. Actors love small musicals and small shows because there's more to do and it's more concentrated.
Justin: This show is very freeing because they're no wall between you and the audience.
David: Now don't think that we're going to be pulling anybody up on stage or anything like that, we don't want to scare away our audience before they even get out to see the show.
Justin: Although that would be fun. We just talk at the audience.
David: Yeah, we're not going to come after you, but we do address you directly, we're talking and commenting about the show we've written.
Justin: It is very inviting to come along on the ride with us.
It's wonderful to hear that you are both so enthusiastic about being engaged with the material. Do you think that's an important part of making this show work?
Justin: I think that's an important part of making any show work.
David: That's not to say that actors in this area ever give less than 110% on stage. That never happens. Ever. Anywhere. But when you are so fully engaged with something this awesome, it's just so fulfilling. Some shows are more fulfilling than others. This is one of those shows. It kills me that we're only doing six performances and that the venue only has 100 seats. I want everybody in Baltimore County to see this. I'm putting out one of my absolute favorites right off the bat, before we've even really established who we are as a company and I just don't want anybody to miss it! It's so great! This is such a gem. And yes, I'm the producer of the company, director of the show, in the show— but put all that aside. Even if another company without me involved in any way was doing it— I would want people to go and see it because this is such a fantastic show. I really don't want any person to miss it.
Justin: It really doesn't get done much if at all in this area.
David: It played Off-Broadway in 2006. But that's ten years ago. In ten years it's been done maybe once in this area—
That's it? Once in this area when we've got every theatre company and their brother doing the same six musicals over and over?
David: Let's delve into that.
Justin: Buckle up, it's about to get bumpy.
David: So Gutenberg! played Off-Broadway in 2006. It has been making its way, not only across the United States, but it's been translated into many different languages for international performances all over the world. But for some strange reason it's just not making its way to the DMV. There was an excellent production, the one that I said had been in the area, at NextStop Theatre in January of 2015 way down in Herndon, Virginia. Love NextStop Theatre and what they do. But that's really stretching the borders of the "DMV" area and it's certainly not Baltimore You don't often hear of people from Baltimore taking a day trip down to Virginia to see theatre. We should be doing that show up here in Baltimore.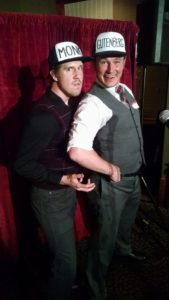 The market is over-saturated with certain shows. I had even put up a post last year that talked about how a certain green-ogre musical had seen its five different productions across the area and it was time for folks to come out and see something different, and that something different was I Love You, You're Perfect, Now Change! There is this fear inside of theatres that if they don't do the war horses of the craft, the tried and true chestnuts, like Les Miz or anything Rogers & Hammerstein, they are afraid that people won't show up, and a theatre does have to survive. That fear of putting on shows that people don't recognize perpetuates the fear in the community of people not wanting to go and see something they are unfamiliar with. Vicious cycle— theatres won't do it so it isn't recognized, but it isn't recognized so people don't want to take the chance and come see it. This is how you end up with eight productions of Shrek all around each other in eight weeks instead of one company doing Gutenberg! or The Lizzie Borden Musical or The Big Bang Musical. These are all great, fun shows but because no one knows them, no one will produce them. We want people to give us the opportunity to stretch their horizons a little bit. Let us give them some stuff that we know will be funny.
I've been in this industry for 20 years. I know what's going to be good and what's not, I just do. People need to take a leap of faith with us and trust that we're going to give them something good. I mean I've seen Les Miz three times. I still love it, and it's a great musical, but I've seen it. I'm interested in things I haven't seen. And other people should be too. It's how we grow. That's what keeps broadening my horizons, the opportunity to experience something new.
Justin: I completely agree. We need to— not reinvigorate theatre because it's been around forever and it's doing just fine— but we need to give new shows and new works the chance just to be seen. They just need a chance to get out there. A lot of these shows can change people's worlds. We've all seen Les Miz, and it's my favorite musical, personally, it's the first one I saw on Broadway, but I've seen it many, many times. It's wonderful, it's great. But I'd rather take a risk and try something new. You know, take the chance, spend a little bit of money, spend the day with a new show and if you enjoy it then you have something new to talk about it. And if you don't enjoy it then you still have something to talk about.
It's very commendable of Epic! Productions and David to take this risk and try something new like Gutenberg! There's a great line in the show where they say, "I never knew what it felt like to open up your chest and show the audience your heart." There is really a true heart beating in this show. The comedy is great and wonderful but there is a true message behind it and I think it's very fitting considering this is exactly what Epic! is doing by taking this stride out there and showing the audience their heart.
David: We have dreams too.
Justin: It's something that everyone has power to create. Baltimore, DC, and all the areas in-between should really put in the effort to take the risk on new companies and new shows because it'll pay off.
Anything else you would like to say about the experience?
David: Hmm. What else do I want to say about it? It's a show with a lot of heart. These guys care so much about their project, they're so enthusiastic and you will see those moments in the show. They're connecting with each other, taking that moment, and then they come back to the audience. But you get those moments where you really see how much this means to them and how much they care about their project. It has tender moments that will touch you.
We're facing all of these hurdles. Here we're walking into Pikesville knowing that no one knows us, so we have to put ourselves out there, that's one hurdle. Then we're doing a show that nobody knows, that's a second hurdle. And then you have the basic hurdles of how do you get people to come out to the theatre in the first place instead of staying in with NetFlix or going to the movies for Civil War? When we chose the location of Epic! Productions we had looked at DC. And we knew we could have chosen DC, where there are about 90 theatres also doing work. Or we could take the chance of walking into an un-saturated market, which is right here in Baltimore County. I know there is a theatre community here. I've seen their work and I'm getting involved with it. Now it's just a matter of figuring out how to get people to know that— A.) we're here! And also that we're safe, we're fun, we've got a great product that I think all of Baltimore will be proud of.
Why else should people come out to see the show?
Justin: It's in a great space.
David: Yeah we're in this amazing church— not the sanctuary but the hall. And how fitting that this really nice 100-year old church is hosting a musical about Gutenberg, you know the guy with the printing press and the bible, is in a church? This sort of goes into our idea of locational musicals, which is something that Epic! will be looking to pursue down the line. Because how cool that we're doing Gutenberg! in a church. We think Nunsense also belongs in a church. We were thinking maybe we could do Great American Trailer Park in a Bingo Hall. We want to give people these memorable ambience-loaded, fully immersive experiences. And we're starting with Gutenberg! You know this is what I'm here for, this is why I'm on this earth. To put this theatre together and give everyone the joy and love and happiness that my mother wanted me to have, to people through theatre.
Justin: Princeton has found his purpose.
David: Yes. Princeton has found his purpose. But he needs people to come and see the show so his purpose can continue.
Justin: The show itself is great. The story is great. The music is catchy. The comedy is on point. Take a risk, go see it, it'll be worth it. We promise. It's a 90-minute show, it flies through, you'll love it. It's quick. It's a beautifully eloquent piece that is hilarious yet full of heart. I know once people start seeing it we're going to pack the place because it's awesome.
David: To me this feels like the bacon of the musical theatre community. You know what I mean? You know how they say bacon is the gateway to meat? Gutenberg is bacon.
Justin: It's bacon that nobody knows about.
David: Secret bacon!
Justin: But once they get a bite, they're hooked.
David: This is the gateway to contemporary musical theatre. You will become musical addicted. It shows you that there is cool stuff beyond Phantom and Les Miz.
Justin: This is a gateway to everything. Because bacon is the answer.
David: Bacon is the answer to everything. Think bacon. Think Gutenberg. Come taste our bacon.
Gutenberg! The Musical! will play Friday and Saturday nights at 8pm and Sunday matinees at 3pm from May 20th through May 29th of 2016 with Epic Productions Inc. at St. Mark's Church on the Hill— 1620 Reisterstown Road in Pikesville, MD. For tickets, call the box office at (443) 791-2671 or purchase them online.