Stop the presses! Epic Productions Inc. is putting on a show! And not just any show, no sir! Why they're throwing a good old fashioned Broadway Cabaret evening full of some of the area's most talented performers. And throw it they did. Arriving as the first annual fundraising gala hosted by the budding theatre company, the evening enjoyed a great deal of food and merriment at the classy and posh Linwoods Restaurant. Silent auction items— which included a few highly coveted Broadway Posters signed by entire casts— as well as wild raffle drawings were just a part of the evening's encouraging ventures down the fundraising path for the company, who gets their third production underway in just two weeks' time after a successful run of I Love You, You're Perfect, Now Change and it's remount in February and April of 2015 respectively.
Gutenberg! The Musical, which opens on Friday May 20, 2016 at St. Mark's on the Hill, was just one of the focal points of the evening's entertainment as the company— Founded by David and Jamie Jennings— razzled and dazzled those in attendance with their musical theatre charms. Snippets of the upcoming productions, which stars David and area actor Justin Calhoun, were featured as the close of the first half of the cabaret series and later to finish off the evening. With radiant enthusiasm and an energetic eagerness to share the upcoming show, both Jennings and Calhoun gave a rousing performance that whet the appetite of the audience, making them eager to attend the production itself once it opens in two weeks' time.
Leading the cabaret, radio personality Robert Aubry Davis took up the role as emcee and introduced the various area talents as they took to their corner and sang to their heart's content. Davis traded off the microphone throughout the evening with performer Dan Manning, who not only sang gloriously rich renditions of "The Mary Ellen Carter" and "It's in Your Hands Now" (from Sondheim's Road Show) but also spoke touching words from the heart about supporting Epic Productions Inc. in its continued venture to grow and thrive in the community as a theatre company. 
Though Jennings only performed in the two sequences from Gutenberg: The Musical! both his co-star, Justin Calhoun, and his wife and company Co-Found Jamie Jennings lent their voices to the evening's affair with Mrs. Jennings delivering one of the opening numbers— a hearty rendition of "Spark of Creation" (from Children of Eden) with a blazing fiery passion. Calhoun delivered a stellar performance of "Proud Lady" (from The Baker's Wife) and was one of the most emotive performers featured during the evening.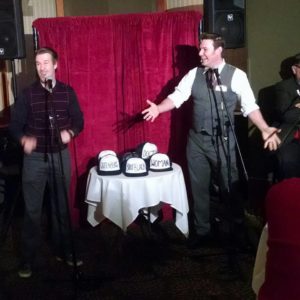 Other stellar singing sensations included Board Treasurer Melynda Burdette delivering her saucy version of "You Gotta See Momma Every Night"— an old Mae West vaudeville type number— and Caitlin Weaver performing "The Life of the Party" the song that abruptly started the evening with a bang. Kristen Zwobot chimed in with her stellar rendition of "Last Midnight" (from Into the Woods) and a potently perfect performance of "The Alto's Lament."
For those that were not fortunate enough to catch the company's inaugural production of I Love You, You're Perfect, Now Change! Tara Taylor, Emily Levey, and Michael Kenny reprised several numbers throughout the evening from the show including "Marriage Tango", "I Should be Less in Love with You", and "Single Man Drought." Kenny also delivered a hysterical rendition of "On the Street Where You Live" (from My Fair Lady) putting his own maniacally madcap psychopathic twist on the number, while Taylor crafted a quaint rendition of "Somewhere That's Green" (from Little Shop of Horrors.) All of the evening's accompaniments were provided by the company's resident Musical Director Charlotte Evans, who did an exceptional job of playing the vast selection of songs set before her.  
The evening was a most resplendent occasion and enticed those in attendance to follow the company on social media, in addition to encouraging them to support them in future theatrical endeavors.
Broadway in Baltimore: An Epic Evening occurred on Thursday May 5, 2016 at Linwoods Restaurant— 25 Crossroads Drive in Owings Mills, MD.
Gutenberg! The Musical! will play Friday and Saturday nights at 8pm and Sunday matinees at 3pm from May 20ththrough May 29th of 2016 with Epic Productions Inc. at St. Mark's on the Hill— 1620 Reisterstown Road in Pikesville, MD. For tickets, call the box office at (443) 791-2671 or purchase them online.
Click here to support Epic Productions Inc.