Do you dare be mystified by the marvels of modern magic? A little sleight of hand…a little creative conjuring? Feast your eyes upon City Paper's Best Late-Night Entertainer of 2015 as L.G. Gerace, Most Marvelous lights up The Living Stage Experience at Hotel RL for the third time since the project began. Appearing as a frequent performer at Hotel RL and in residence as the house magician for the Yellow Sign Theatre and the Baltimore Rock Opera Society, this phantasmic fiend of fleet-fingered sorcery will astound you with the wonders of his wizardry regardless of whose stage he's performing upon.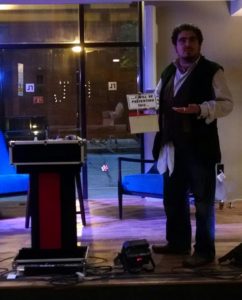 After his first two appearances at Hotel RL, L.G. Gerace, Most Marvelous has perfected the timing of his evening of intimate conjuring. The third incarnation of his enchanting evening played just 25 minutes— a perfect amount of time to dazzle an audience with his masterful magic. The crowd was as the event title suggested, intimate, but perfectly suited for the series of tricks featured. With personalized introductory music composed by Chris Baines (locally recognized for his work with the BROS) the evening's entertainment was off to an enigmatic and enticing bang with a silent card trick.
Though card tricks are among L.G. Gerace, Most Marvelous' well-versed repertoire, he does not limit his magical showcase to four suits and a deck of 52. Audience participation is the hallmark of all successful magic shows and there is no shortage of opportunity for those watching to become actively involved in the conjuring. Even this sharp-witted reporter with a keen eye for magic was astonished with the quality of the illusion set upon her when she found herself volunteered into the show. Gerace's showmanship is pristine, from the moment he opens his mouth— after the silent trick, which has a stimulating vibrancy all its own against the racy gypsy-sideshow-carnival-esque theme music— through to the show's conclusion.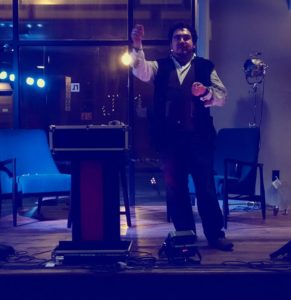 Crossbows, strait jackets, flames, cards, magician's wallets…so many unique elements that all come together with startling cohesiveness under the finely honed presentational skills of this wizened wizard. With a flare of something old-worldly when it comes to the delivery of his tricks, L. G. Gerace, Most Marvelous keeps the audience hypnotized; this is a rarity in this day and age when the world expects spectacle of drastic proportions. Be prepared to be truly amazed with the intimacy drawn forth from this well-practiced magician— and keep your eyes peeled for Zatanna…Gerace's serpentine sidekick that might just slither into a trick at the show's conclusion.  
A Night of Intimate Conjuring with L.G. Gerace, Most Marvelous was a one-night event at Hotel RL— 207 E. Redwood Street in Baltimore, MD. For more information on the upcoming events at Hotel RL, be sure to check out The Living Stage Experience project calendar.
Smirk & Mirrors happens every Wednesday evening starting around 8:30 and runs until closing time at Club Charles— 1726 N. Charles Street in the Station North Arts District of Baltimore, MD. Smirk & Mirrors is a free event but feel free to have a drink and enjoy the charming atmosphere of the club while you wait for your private house of magic with L. G. Gevace, Most Marvelous
To read more on L.G. Gerace, Most Marvelous' weekly Wednesday show, Smirk & Mirrors, click here