You see the cover and you judge the book, but don't turn away without a brand new look! These young performers at Third Wall Productions will have you thinking twice about labels, bullying, and judging people without ever getting to know them. Continuing on the 7th part of an ongoing TheatreBloom exclusive interview series— "A Little More Homework" we sit down with 13: The Musical's cast member Carly Victor to get her story on being a part of this fantastical teenaged musical experience.
Why don't you introduce yourself and we'll get started!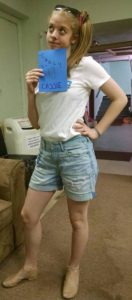 Carly Victor: My name's Carly Victor and I go to Shiloh Middle School. I just turned 13, and I'm in seventh grade. I play Cassie and I'm the understudy for Kendra.
Have you done theatre before?
Carly: Yes, this my— I don't know…13th? 14th show? But this is my first actual role. I was always just in the ensemble up until now. And the ensemble is fun! I've been in Les Miserables at North Carroll High School, and I've done Oliver! twice. I did that show here with Third Wall Productions.
Tell us a little bit about Cassie.
Carly: Well, Cassie is one of the cheerleaders and she's just like all of the other basic cheerleaders. She's not as cool as Kendra. She's not nerdy or "uncool" like Patrice, but she's not at the top of the social pyramid either.
How are you and Cassie similar? How are you and she different?
Carly: I can be sassy if I want to, I mean, come on! Yaaassss. Cassie is pretty sassy, well she gets sassy. Like Mean Girls sassy, and she pretty much stays that way until the end. Now I'm not mean, I'm pretty cool. But I am just a little sassy.
What is your favorite subject in school?
Carly: My favorite subject in school? ELA, I like to write. ELA is English Language Arts. I like to write stories. I'm not very good at it but I like to do it.
What is your favorite song from the show?
Carly: I like "All Hail the Brain". Now, I don't really sing in it but it's a super fun song. So Evan is trying to get Brett this date with Kendra. And he's thinking about what everybody will think of him. He's singing about himself and how people will love him if he's able to pull this off.
What's your favorite scene in the show?
Carly: Favorite scene…hmm. Um? Oh man…do I have to pick one? I would probably say "13" because that's the most active number. It's really fun.
This show talks about bullying. How do you feel about bullying?
Carly: I hate bullying. There are just so many people who let it be okay and that's not okay. I was actually crying in the car one night talking to my mom about a teacher bullying a student. I despise it, and it's really not okay ever.
This show also talks about labels. How do you feel about labels?
Carly: I don't like labels. In fifth grade I was bullied. And I was put into a label that was bad. My bully told people that I did stuff that I didn't do, and that label stuck and I was bullied because of it. It was rough but I'm good now. People should not label people or bully people. It's not okay.
When you're not at school or doing theatre, what do you like to do with your free time?
Carly: Well— I totally love to do my homework. It's so much fun.
I should tell you this is a transcript so the sassy sarcasm isn't going to come through there, Carly.
Carly: Haha! Well, you can put it in air quotes or something. Who actually likes doing homework? I mean, I do my homework, but I would not say it's something fun for free time. I dance eight hours a week. I do almost everything they offer at my studio, Tami Gee's Studio of Dance. I do ballet, I'm actually going to start learning point over the summer. I also do jazzy stuff. Jazz, lyrical, tap, musical theatre, leaps-turns-and-extensions. I do everything there It's a really good studio. I also play piano— coffee music. And I do voice lessons.
What do you want to be when you grow up?
Carly: I want to be an actress. But then I want to be a dancer. So I don't really know. And then I just remembered there's this thing called musical theatre that will maybe let me do both. Problem solved. Next?
What has been the biggest challenge for you being in this show?
Carly: My voice. Vocal rest and singing and vocal rest and singing.
What has being a part of this show taught you about yourself?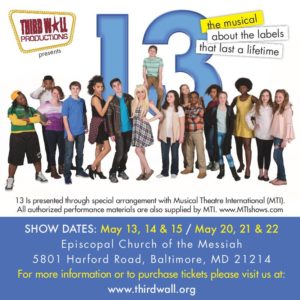 Carly: That I'm a little slow in the brain today and can't think of good answers for these questions. Okay, serious face. I've learned that no one can really judge you here in the safety of the theatre world. We're a collection of "specials" here. We're all on the same page, you know? I mess up a lot. And I've learned that no one makes fun of me for it here or judges me for it here. I always think I mess up so bad that I want to go run and hide. And they just tell me, "no you didn't." And everyone here is so supportive and they support each other, it's great.
What do you think people will learn from seeing this show?
Carly: I think they will learn about labels and how they affect people. Labels aren't just something you call someone, it's a form of bullying. And bullying is not cool! In this story, cheerleaders are awful and mean, but it doesn't mean all cheerleaders are that way. But if you look at the real world, as we change and approach a "no more bullying" lifestyle, cheerleaders aren't all that mean anymore. They used to be all caught up in how cool they were— and they're still cool or whatever, but they're not mean about it anymore.
Why do you want people to come and see you in this show?
Carly: Because I'm great. See? I told you I could be sassy. But seriously, everyone's great and it's such a great show and so much fun.  
13: The Musical opens on May 13, 2016 and plays through May 22, 2016 with Third Wall Productions at the Episcopal Church of the Messiah— 5801 Hartford Road in Baltimore's Hamilton neighborhood. Tickets are on sale now and can be purchased by calling 443-838-4064 or purchasing them online.
To read Part 1 of "A Little More Homework" featuring Taylor Casalena, click here.
To read Part 2 of "A Little More Homework" featuring Jake Clark, click here.
To read Part 3 of "A Little More Homework" featuring Andi Rudai, click here.
To read Part 4 of "A Little More Homework" featuring Morgan Hewitt, click here.
To read Part 5 of "A Little More Homework" featuring Margaret Hamilton, click here.
To read Part 6 of "A Little More Homework" featuring Christopher Owens, click here.