They're getting ready stay, they're getting ready today! These movers are ready to prove that they've still got a little more homework to do! Arriving as Part 3 of the TheatreBloom exclusive interview series, we sit down with ensemble member Andi Rudai and talk all about her involvement with 13: The Musical at Third Wall Productions.
Hello there, Andi! Thanks for sitting down with us.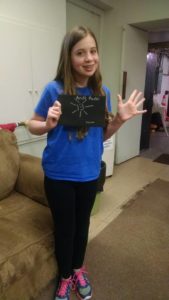 Andi Rudai: Hi! I'm Andi Rudai and I'm just in the ensemble. I go to Cockeysville Middle School. I'm in eighth grade.
So you are 13?
Andi: Yes.
What's it like to be in a musical about being 13?
Andi: I guess it's cool? I don't really know. It definitely, definitely doesn't have 13-year-old material though. It's all about "the tongue" and we're not doing that! At least not at my school! It's like, you know, older than what we do!
I know you've done some theatre before, what shows have you been in?
Andi: Well you saw me here in Oliver! I was Oliver. I recently did It's a Wonderful Life as Tommy at RTP (Reisterstown Theatre Project.) I've done a lot of plays at CCP (Charm City Players) but I was mostly ensemble. There was that one time where I understudied for Amaryllis in The Music Man and got to go on and play her for three shows. I was also in their Annie, what else did I do? I did The Wizard of Oz, and The Music Man.
What's your favorite subject in school?
Andi: I guess math. Math is really easy for me. I just like the equations.
When you're not at school or here doing theatre, what do you like to do with your free time?
Andi: This takes up most of my time but I guess I really like to read. I think my favorite book is Percy Jackson— the original series. I mean I've read both and I love both, but my favorite book is The Titan's Curse, that's the third one. I always like the third book in a book series. Just like Harry Potter, Prisoner of Azkaban is my favorite book in that series too.
Why do you like theatre?
Andi: I like being someone else. I also really like singing. I just really like it. I like the atmosphere of theatre and all the people in it. You can make a really good bunch of friends in theatre.
What would you say has been the biggest challenge being in this show?
Andi: Well, I normally like to sing more classical songs. I don't have a very jazzy voice. And so not singing with vibrato when I sing, that's been a problem everywhere. I'm just used to doing the older not so modern stuff.
This show talks about bullying. How do you feel about bullying?
Andi: I really don't like it. If I ever see someone sitting alone I try to talk to them and include them. But you know sometimes people just want to be left alone. Being left alone can be really nice sometimes too.
This show also talks about labels; how do you feel about labels?
Andi: I don't really like them. I don't think people should be labeled. I think people are more complex than any label you can give them just by looking at them or only seeing what's on the surface.
What's your favorite song in the show?
Andi: I think I just like them all. But I sort of like "13" because it's a big fun way to open the show.
Do you have a favorite scene in the show?
Andi: Yeah. It's the song that happens in the movie theatre, "Any Minute". Because at the end of that song Brett kisses Archie and it makes me laugh because that's not supposed to happen.
What would you say being a part of this show has taught you about yourself?
Andi: I don't really know. It's taught me, I guess, that it's good to step out of my comfort zone. This is a pretty fun musical and I'm more used to classical musicals, like the older ones like Music Man. So I guess this has taught me that I can enjoy the more fun ones too.
What do you want to be when you grow up?
Andi: I want to be a marine biologist and a naturalist. And I think I also want to be a minor actor and maybe a singer. I want to be a marine biologist because I go to this one camp— it's marine biology camp— and I just really like the feel of it. Me and my one friend, Katie, go to New Jersey for a week and we do marine biologist things.
What are you hoping people will learn from this show?
Andi: That being 13 is very intense.
Why do you want people to come and see you in the show?
Andi: Because I think it's a really cool show and we're all working really, really hard!
13: The Musical opens on May 13, 2016 and plays through May 22, 2016 with Third Wall Productions at the Episcopal Church of the Messiah— 5801 Hartford Road in Baltimore's Hamilton neighborhood. Tickets are on sale now and can be purchased by calling 443-838-4064 or purchasing them online.
To read Part 1 of "A Little More Homework" featuring Taylor Casalena, click here.
To read Part 2 of "A Little More Homework" featuring Jake Clark, click here.