If the good truth were known, it would be spoke aloud that The Baltimore Shakespeare Factory has an impressive production of The Winter's Tale to trod upon its boards the full month of April this year of 2016. What makes it so impressive, you ask? Not the fact that like at all BSF shows there is universal lighting a plenty and live music before during and at the end of the performance— both tools of the Bard's day which serves well this merry band of players in their authentic Shakespeareance, but rather that this particular production is being performed in Original Pronunciation. This is the second "OP" performance BSF has presented, the first being Merchant of Venice, which debuted in their 2015 season. Bringing audiences as close as possible to the way Shakespeare and his audiences would have heard the performance, this use of "OP" opens up a world of possibilities for the production including rhymes and puns that are lost in modern delivery, and a much fuller illustration of the iconic Hamlet reference "…to speak trippingly upon the tongue…" Directed by James Keegan, this bizarre non-comedy, but yet neither history nor tragedy, is a delightful evening of Shakespeare in earnest.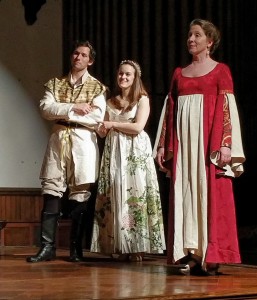 Keeping true to Shakespearean nature as it was some 400 years ago, The Baltimore Shakespeare Factory prides their productions on using broad universal lighting. The house is lit during the performance and rather than creating an awkward sense of being exposed to the performers and the performance, this generates an inclusive atmosphere so that theatergoers feel welcomed into the play space. This is particularly useful for characters of The Winter's Tale— mostly Autolicus— that end up addressing the audience directly and engage them in choruses of cheers and roars. In addition to no forced lighting elements, a BSF production keeps the scenic design to its most basic. A chair where needed for a throne and otherwise the blank stage invites the audience to more actively engage their imagination with the story as it unfolds. These devices, that worked perfectly well for Shakespeare's time, bring an authenticity to the production and heighten the overall experience for the audience.
Following in the vein of "when in the Bard do as he did", the production spares no expense on creating lavish and glorious costumes. Costume Designer April Forrer crafts the show's entire aesthetic around her fabricated couture and it does wonders for the production's overall appearance. The pristine white outfits, laced and trimmed with gold ribbon and inlay, for the characters appearing at court in Sicilia creates a pristine and regal sense of noble royalty that permeates the very air which the characters breathe. The fitted doublets and tight-laced corseted dresses are signature references to the time of the play. Forrer's finest craftsmanship is showcased in the second act with the verdant greenery draped as a dress on Perdita giving her the appearance of a pastoral princess. This bucolic grace is echoed in the dress which Perdita wears back to Sicilia's court, laced across the big with the same dazzling emerald color that appeared in her initial couture. Forrer's magnum opus, however, is the rainbow patchwork boots worn by Clown. Fanciful, absurd, and utterly perfect for the character, these boots are eye-catching and a perfect fit for such a silly sort of person.
Director James Keegan does an exceptional job of working OP into the performance. Sounding poetic and lyrical upon the ear, many of the characters do an outstanding job of letting the natural rhymes fall into place when they exist. Keegan guides the comedy interwoven with the psychodrama of the play with a keen eye, though there are a few pacing hiccups, mostly at the show's very beginning and tail end. With time these bumps should smooth themselves over and for the most part do not detract from the overall entertainment of the evening. Emotional intent is forcefully apparent in most of the scenic work accomplished by Keegan's direction and this is a crucial element of any Shakespearean production as it parlays effective communication to the ear less trained to the Bard's patterns of speech.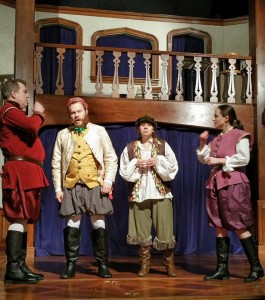 It is difficult to require comic relief in a play that is neither comedy nor tragedy— The Winter's Tale comes as somewhat of an unidentifiable show across Shakespearean scholars and falls into varying categories including one of its own depending upon which sources are consulted— but that doesn't stop characters like Clown (Rena Marie) and Autolicus (Jess Behar) from providing it. Marie, who has a naïve, albeit humorous, stupidity that orbits her gangly outstretched form like a shroud of madcap mist does a great job of working physical humor into her portrayal. The scene that immediately comes to mind is the back-bending bridge scene resultant from an encounter with Autolicus and a banana.
Behar, who bounces onto the scene like Michigan J. Frog doing fancy-free Vaudevillian style song-and-dance, is a comic crack-up who steals several scenes with her pickpocketing antics. There is something to be said for precision in comic timing, a quality which both Behar and Marie possess, particularly when playing together. The pair encounter each other several times throughout the second act and make for some of the funniest moments in the production. Watch Behar's facial expressions closely, particularly if you are seated off to House Left when her character attempts to make a sneaky getaway, they're bound to add additional chuckles and giggles if you can see them through the absurd glasses-and-nose disguise worn upon her face.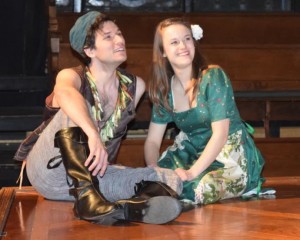 Energy is certainly not lacking among the players in the production. Many of the actors take on double and triple roles, as was commonplace in the days of Shakespeare. Kathryn Zoerb is one of many in the performance that does such, taking on four roles but two of most definite note. Starting the production as the precocious and fully energetic Mamillius, Zoerb's physical playfulness is contagious as she stabs at her father the king and tells wild tales to her mother the queen. Transforming into a beautiful maiden for the second act, Zoerb takes up the role of Perdita with grace and femininity though is no less spirited, particularly when it comes to spinning about with her beloved Florizel (Brendan Edward Kennedy.) The pair are ridiculously smitten over one another and the bubbly chemistry which glistens between them is as refreshingly potent as a warm spring breeze laid thick with the scents of rue, rosemary, and other such heavenly blossoms.
Conviviality and congeniality find their places well among various members of the cast, particularly when it comes to having an assured and firm handle on the delivery of the text's OP. Camillo (Conrad Deltrick) exists in earnest when it comes to taking orders from two kings, both with Leontes and later with Polixenes.  Antigonus (David Forrer) is much the same in his delivery of OP, solid and emotionally resonant so that his character's intentions are easily related and understood to the audience. There is sheer regret that plays vividly across Forrer's face when he is tasked to abandon the princess, which leads to the most memorable moment of this particular play— "exit pursued by a bear." A proper nod must be given to Zac Lawhon, the Designer and Constructor of said bear, though for fear of spoiling its majesty that is all that can be said on the matter.  
Proud, noble Hermione (Valerie Dowdle) is a vision of strengthened woman in this production. Radiant and aglow with child in the opening scene, the way Dowdle carries herself is both regal and gentle. There is a poetic and flowery lace in her persuasions to keep Polixenes in Sicilia, though these speeches are not made without a fiery force that belays the overall internal strength of the character. Dowdle holds her own when placed on trial and takes the atrocious slander spewed forth by her husband the King with overwhelming dignity surging forth from her stilled and calmed upright posture.
Two kings, Leontes of Sicilia (Chris Cotterman) and Polixenes of Bohemia (Terry O'Hara), close as kinsmen until one loses his mind and the other becomes banished. O'Hara, being the banished of the two, delivers one of the most natural performances in the production. His character is scorned against and he finds himself in an exile of sorts after doing nothing wrong and his protestations thereof are passionate but level-headed. Interacting primarily with Camillo once he finds himself tossed from the good graces of Leontes, O'Hara is seen precious little upon the stage but when he is, the moments entreat the audience to hang upon his every word.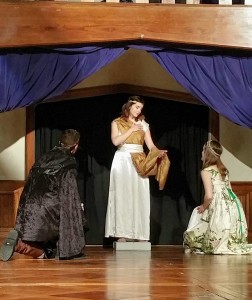 Cotterman, as the leading force of the tale's woe, is a fathomless emotional pit who carries scene after scene with his madness, remorse, regret, fury, and various other pathos that come churning out of his mouth in spurts and bursts. Particularly in the argument scene with Paulina (Marianne Gazzola Angelella) Cotterman displays his striking ability to carry full emotional turmoil for all characters present in that moment, dragging the audience through his hellacious madness from which there seems to be no redemption. Watching the way his character transforms as the plot unfolds is brutal and harrowing because of his overall commitment to fully expressing each emotion in a raw and honest manner. Textually and physically, Cotterman is committed to fully exploring the depths of King Leontes' journey, particularly the inconceivable madness that possesses him once he presumes the infidelity of his wife and best friend.
Be not vexed by the premise of OP, it only heightens the experience. Though it is required that you do awake your faith in The Baltimore Shakespeare Factory to handle this production well, and faith be restored as they do so with vigor. A splendid time is guaranteed for all who attend.
Running Time: Approximately 2 hours and 40 minutes with one intermission
The Winter's Tale plays through April 24, 2016 at The Baltimore Shakespeare Factory at the St. Mary's Community Center— 3900 Roland Avenue in Hampden borough of Baltimore, MD. Tickets can be purchased at the door or in advance online.