Milburn Stone Theatre's got no troubles, life is the bubbles under the sea! They've got the spirit, you've got to hear it, and yes it's hotter under their water— why who better to bring the magic of Disney to the main stage than the theatre's new Artistic Director Bambi Johnson? Opening up a sensational production of Disney's The Little Mermaid, with music and lyrics by Howard Ashman, Glenn Slater, and Alan Menken, and Musical Direction by Shane Jensen, this timeless fairytale classic is the most technically ambitious productions to hit the Milburn Stone Stage in quite a few seasons. Teaming with exuberant voices, fantastical special effects, and an iconic story that stirs up the blissful nostalgia of childhood, The Little Mermaid is the perfect evening out for young theatergoers and theatergoers young at heart.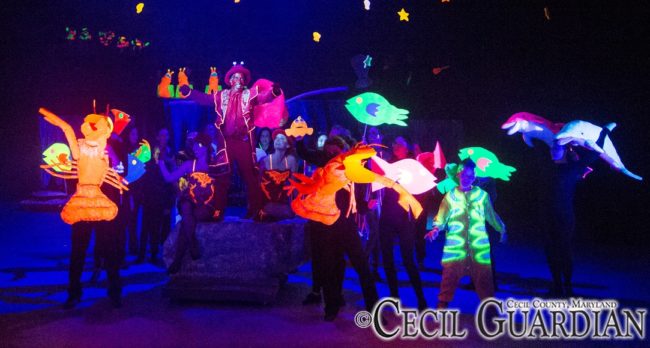 Aquatic amazement is truly the best phrase to describe the astonishing accomplishments of the technical design team working under Director Bambi Johnson's vision for the show. Striking backdrops to differentiate dry land from under the sea are one thing— a thing they incidentally have plenty of— but the creative work of Scenic Designer Bob Denton, who also works as the show's Projection's Designer, is nothing short of sheer Disney magic incarnate. Ursula's ominous looming throne is an extension of her nefarious personality, and Ariel's grotto exists in a similar fashion only in her cheery devotion to gathering the mysteries of the human world. Denton crafts each of these enormous set pieces as limbs of the characters they represent, entwining personalities into his work rather than simply crafting a feeling. This notion of extending the energy of the show does not stop with the sets on stage as Denton lets the scenery drift out into the house like the foam of a wave and mesmerizing lights and exotic coral-reef drapery drips from the balcony overhang to complete the feel of being under the sea for the evening's entertainment.
Denton's projection work, alongside Laser Technician Darren Lewis and Lighting Designer William A. Price III, fabricate enchantment into reality. The swirling ocean waves have to be seen to be believed, especially when it comes to the way the Mer-sisters and Ariel pop up out of them. Price, much like Denton, captures personalities of songs in his light work and has a laser focus on dramatically setting the luminescence of a scene to support the emotional occurrences rather than take its place. Denton's video-projection work at the end of the first Act is fantastical as well, a truly creative conception that solves one of the great many challenges of such a spectacle-heavy production.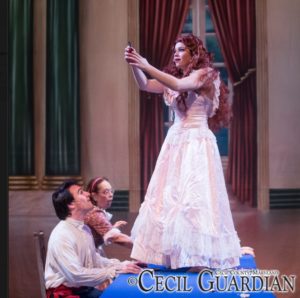 Denton and Properties Master Eyvo Johnson share a great pride when it comes to the attention to details in this underwater menagerie. The coral choral stand, the intricacies of what furnishes the grotto shelves (is that a portrait of Sondheim nestled in there? As a nod to finally finishing the seasons of Sondheim most recently featured in the Milburn Stone Theatrical Annals?) all of these carefully nurtured nuances enhance the experience of going under the sea tenfold when it comes to the show's aesthetic.
Furthering the dazzling appearance of the show, Costume Designer Lindsay Ellis has outdone herself in the creativity department. Real seashells adorn the corseted tops of each of the Mer-Sisters, and the inventive ways in which she creates the sea-life look among various and sundry members of the ensemble defies description in both its cleverness and its wildly imaginative existence. Ellis, like the rest of the creative team, is about capturing the essence of personality in her design work, but has the added challenge of keeping the principal characters familiar to the audience's eye. Prince Eric still looks dashing in his boots and white sailor's shirt while Ursula still looks wicked with her long loopy tentacles and black-purple color scheme. Ellis' most impressive sartorial selection? The French Quarter-Mozart inspired hybrid costume featured on Sebastian, giving him the look of Amadeus meets Doctor Facilier in robust crustacean red. A special nod goes out to Puppet Designer Rick Waterhouse who concocts equally imaginative oceanic creatures that blend against Ellis' costume work and are featured in "Under the Sea" and other big company numbers.
Director and Choreographer Bambi Johnson plays to the strengths of her cast. True the mission statement of Milburn Stone Theatre, Johnson makes the production accessible to performers of all age ranges and experience levels. Her inclusion of the cluster of cute baby clams (Xander Chailou, Korie Mitchell, Paige Rasnake, Payton Rasnake, and Violet Smith) is not only a precious way to involve extremely young children in a purposeful fashion but really adds a uniquely adorable element to the performance overall. Johnson's choreography is appropriately fitted to the talent of her cast. Rather than pushing intense and insane routines, Johnson focuses on precision and clean synchronization for the larger group numbers like "Under the Sea" and allows the Featured Dance Core (Dann Combs, Marissa Julian, Katie Loftus, Vera Roell, Stephanie Smith, and Jen Zellers) to showcase their stuff during these numbers in smaller featured routines. "She's in Love" focuses on the doo-wop nature of the song with a great many hip-pops from the Mer-Sisters.
The tap routine for "Positoovity" gives Scuttle, Ariel, and The Gulls a chance to showcase their fancy footwork while Sebastian and the Dance Core shine during "Under the Sea." Johnson focuses on fluidity and beauty for "One Step Closer," a dancer's waltz shared between Prince Eric and Ariel that showcases some lifts, spins, and twirls that are spectacular. It's this approach, which finds balance between the complex and the simplistic, that makes for exemplary choreography in a show that can be a daunting challenge to any Choreographer. As a Director, Johnson moves the show along with practiced expertise, covering the scene changes with drifts of ocean creatures or subtle lighting focuses so that the production never feels as if it's hung up or dragging. Enthusiasm and energy runs consistently high throughout the production, even during the scary moments that feature King Triton (Matt Peterson)'s temper or Ursula and her ne'er-do-well sidekicks, Flotsam (Steve Flickinger) and Jetsam (Matt Tart.)
Character performances are in their prime for this production. Whether it's seasick Grimsby (Zach Rogers) who delivers quite the hilarious moment in his "heave-ho" at the beginning of the performance or the antics and shenanigans of scene-stealing Chef Louis (Ted Cregger), there are a great many people who tickle and delight the audience all throughout the show. Cregger in particular goes to town with his solo number "Les Poissons" and is overly melodramatic in delivering the campy good-natured fun of the chase-and-chaos routine enacted with Sebastian.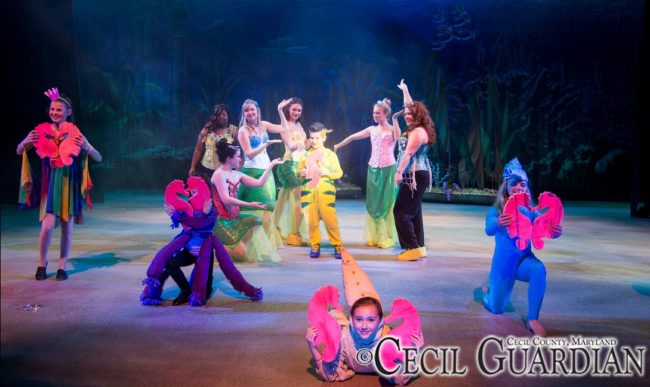 Melodically the show is well received. Ariel's sisters— Aquata (Emily Elborn), Arista (Charis Latshaw), Allana (Libby Burgess), Atina (Lithia Knopp), Adella (Alli Graham), and Andrina (Tigga Smaller)— provide lovely sounds for both "Daughters of Triton" and later as the land-princesses during "The Contest." Their sparkling moment, however, is during "She's in Love" a number where they get to belt their vocal prowess and are accompanied by the most adorable guppy fish, Flounder (Judah Latshaw) in all of Atlantica. Latshaw, as the precocious and spunky best friend of Ariel, has gumption and spark, particularly when it comes to gliding along on his heelies. His solo in "She's in Love" is vocally impressive and great fun to watch as he spins and "swims" along with the other Mer-sisters.
From fish to flight, Scuttle (Dane Hutchinson) knows all there is to know about both mermaids and land people. Hutchinson adapts a comic vocal affectation and squawks about through the performance making curious gull-like noises that enhance his performance. Hutchinson's Finding Nemo nod is too funny for words. His tapping abilities are on full-display for "Positoovity" and the vocal integrity with which he carries his chosen affectation into the song is impressive. Overall quirky and serving well the role of comic relief when it comes to moments like Prince Eric washing up after the storm, Hutchinson is the bird's meow. The cat's squawk? The human's whoopee!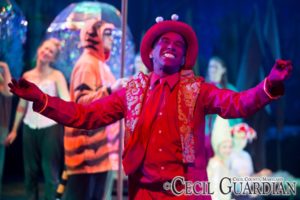 Spastic and short-tempered, Sebastian (Eyvo) is one hot-blooded crab. Mastering the side-shuffle of a crab, Eyvo scuttles about in a frantic panic through nearly every scene. His accent roles through the waves of Jamaica, the Caribbean, and a few other tropical islands, a nod to the character's well-traveled history as court composer to King Triton. There's no mistaking Eyvo's talented singing voice, however, when he leads the ensemble for both "Kiss the Girl" and "Under the Sea," with the latter of the two being an enormous staged success. Watch his stage shenanigans closely during "Les Poissons" and its reprise as he's too funny for words in these scenes.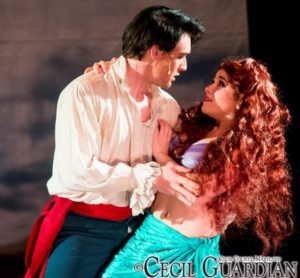 With a bold and daring spirit that permeates his voice, Prince Eric (Carl Pariso) vocally dominates the role of the seafaring rogue who wishes nothing more than to be free on the ocean for all of his days. Pariso has an exceptional voice that is perfectly suited for songs like "Her Voice" and "One Step Closer." His body carries the essence of his spirit whenever he moves with a song and there is a hauntingly beautiful emotional connection to the lyrics he's singing, especially when singing "Her Voice." Pariso has inspiring and touching chemistry with Ariel, from the moment he first lays eyes on her through to the happy ending of the performance, they fit like a snail in its seashell and their voices blend sublimely as two halves of the quartet in "If Only."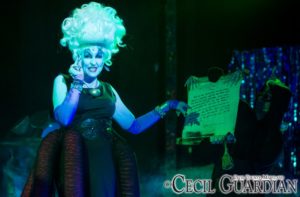 Nasty and zany, Nance Weber is putting her own unique spin on the mega-villain Ursula. Channeling the spirit of a drunken lounge diva with the appropriate nods of homage to both Pat Carroll and Sherie Rene Scott, Weber concocts her own perfect potion of potent evil when it comes to embodying the sea witch. Despite "Daddy's Little Angel" being a milquetoast number— due to its poor lyrics and overall scoring— Weber (assisted by her riff-raff electric eels) finds a way to garner the audience's interests for this song with her charming voice. Sultry, salty, and seductive by way of power-play, Weber lays it on thick and full for "Poor Unfortunate Souls," acting the living barnacles out of the number while vocally bowling over everything and everyone that's on stage. A true maelstrom of Disney villainy, Weber does the evil sea witch a great justice with her performance.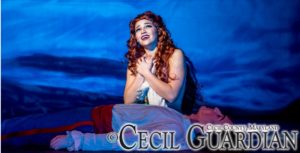 Stellar vocals arrive to the character of Ariel by way of actress Karalyn Joseph. Wide-eyed, eager, enthusiastic, and perfect of pitch, Joseph is a sensational Ariel and delivers in earnest the clarity of the character and all of her deep oceans of emotions experienced throughout the voyage that is The Little Mermaid. Blended and balanced when it comes to delivering moody teenaged daughter with curious new world discoveries, Joseph understands the nuances of the character and extracts them accordingly. Her voice is dulcet, delicate, but not without power, particularly when it comes to singing her way through "Beyond My Wildest Dreams." This number, filled with explosive jubilance, radiates with her vocal abilities and shines with her emotional connection to the experience. "Part of Your World", the iconic number by which all Ariel-girls find themselves judged, is performed to utter perfection with her resplendent voice and heartfelt feelings surging through every word. A remarkable performer, Karalyn Joseph is the Ariel of everyone's dreams, and lives vibrantly in each moment both above and under the sea.
Not a show to be missed for all the shells on the beach, The Little Mermaid has magic for everyone. Spectacularly daring with all of its spectacle, terrifically engaging with all of its talented performers, marvelously wondrous with all of its magic, this is one for the books at Milburn Stone Theatre this spring.
The Little Mermaid plays through May 1, 2016 at The Milburn Stone Theatre— 1 Seahawk Drive in North East, MD. For tickets call the box office at 410-287-1037 or purchase them online.
To read Part 1 of the "Part of Your World" interview series— featuring Prince Eric and Grimsby, click here.
To read Part 2 of the "Part of Your World" interview series— featuring Flounder, click here.
To read Part 3 of the "Part of Your World" interview series— featuring Sebastian, click here.
To read Part 4 of the "Part of Your World" interview series— featuring Ursula, click here.
To read Part 5 of the "Part of Your World" interview series— featuring Ariel, click here.