Oedipus! They know something you don't know! But they're going to tell you anyway! A stellar new revolutionary musical is seizing the stage at Maryland Ensemble Theatre this spring, shaking the walls and shocking the soul with one of history's most brutally revolting Greek tragedies. Oedipus Rox! a new MET original musical production, with Music and Lyrics by Thom Huenger and Book and Lyrics by Sarah Shulman, brings the well-told tale of Oedipus Rex to crackling sizzling life. Electrified with a glam-band rocker score and overall motif, this bold and daring new musical is one for the history books.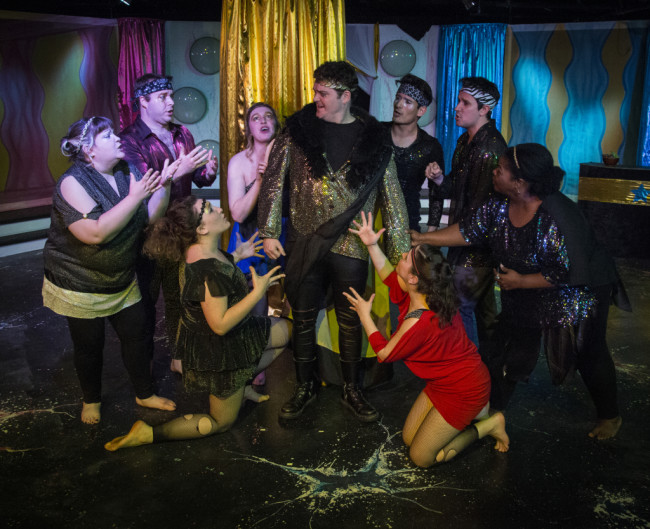 The overall concept is insanely brilliant. A time lord hijacked ancient Greece and all its woes, stuffed it into the TARDIS, and then crash-landed at a Bon Jovi concert somewhere in the 1980's. The accessibility that Co-Creators Thom Huenger and Sarah Shulman bring to the story of Oedipus is nothing short of astonishing as the show is sharp, extremely clever, and laid out to cater to all experience levels of the Greek tragedy: those highly familiar, those who've never heard of it, and everyone in-between.
Shulman and Huenger pen genius lyrics consistently throughout the show. Bravely pushing the envelope when it comes to the darker humors, crasser nature, and overall adult themes of the narrative, this creative duo nails it home with the lyrical ingenuity. Huenger, who serves as the show's Musical Director alongside Robert Martin, ensures that these lyrics are enunciated and articulated throughout the course of the performance, which allows the audience to thoroughly enjoy all of the clever zingers, witty quips, and dark puns that are peppered liberally throughout.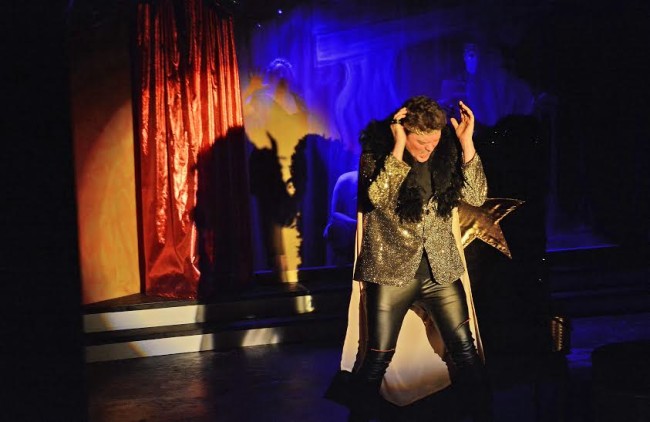 Shulman's script deconstructs the story of Oedipus with modern characterizations that make these time-honored archetypes relatable. Nefarious villainy, however misunderstood, is loaded into the construct of Creon, while Oedipus radiates with arrogant hubris in a jerky jock fashion. The emotional stakes that Shulman concocts are echoed and reinforced in Huenger's score, complementing and playing off one another from the opening note through to the closing number, which has a fierce rocker verve and lyrical dissonance to the extreme. There are sensational moments throughout when the combined lyrical aptitude of this duo layered over Huenger's score sends shocks of goosebumps crawling up your skin. It's a marvel that must be experienced.
While the dynamic duo of Shulman and Huenger have crafted tangible characters portrayed by humans, Lighting Designer Tabetha White has turned the medium of her artistry into an ethereal character that accompanies the performers everywhere they journey during the show. The opening number is embraced and enveloped in a hazy purple, the luminary epitome of foreshadowing incarnate. White transforms her lighting effects into emotional shades that slither and slink through the production heightening the overall aesthetic experience. Her use of vibrant glows, both in warm and cool hues, matches the dizzying whimsical color palette used throughout the production by other designers.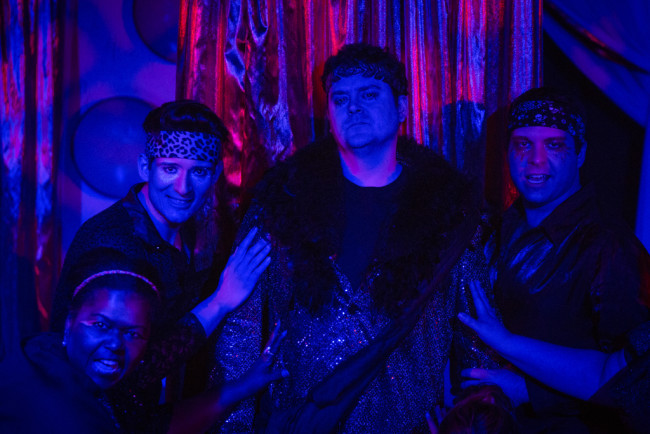 Set Designer Cecelia Lee teams up with the intense lighting effects provided by White to create a proper rock concert atmosphere. Shimmery lamè fabric is draped over concealed areas of the play space and catches the eye as a bonus when characters are revealed behind it. Lee's attention to the marble cracked swirling on the floor is another visual masterpiece that flawlessly fits the aesthetic of the production. Properties Master Lia Seltzer constructs a wicked throne most befitting for Oedipus the king, covered in sparkly tinsel-threaded feathers and a shiny gold star across the back. Seltzer's work, alongside Special Effects Artist Katie Rattigan, add a rock-star flare to the production that fully embraces the notion of the Rox in the show's title. Rattigan deserves a special nod for her glasswork featured at the end of the performance.
Entwining ancient Greece and glamour-band rocker 1980's into a riveting rocker look falls to the shoulders of Costume Designer Stephanie Hyder and Makeup Artist Isabel Duarte. There is a serious overload of guyliner and larger-than-life glitter streaks on everyone's faces which milks the essence of the rock-concert couture in the best way possible all compliments of Duarte's keen eyeball for 80's facial fashions. Hyder fuses ratty black fishnets with sweeping toga-inspired gowns and capes for a gnarly hybrid of Queen meets Thebes and it thrusts the show forward full-throttle with both of these crucial thematic concepts strapped firmly in place. There are too many magnificent costume and makeup effects to list, the pictures do them some justice, but seeing the performance will do them a great deal more.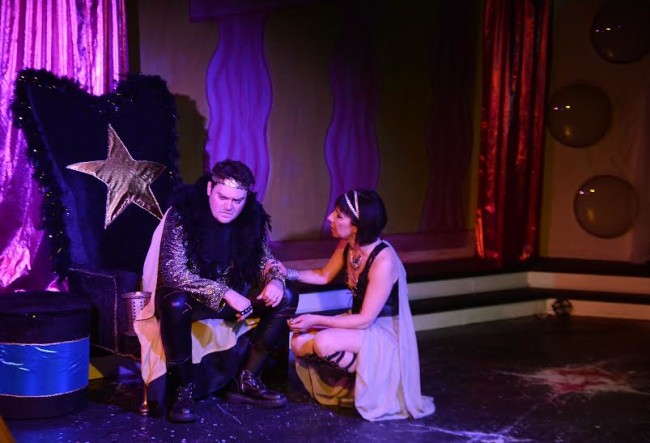 Even with its heavily weighted rocker themes, the show is still a musical theatre production and no musical is complete without a liberal dose of dancing. Choreographers Melissa Gregory and Bailey Sterling use the ensemble to augment Huenger's score every opportunity they get. Whether it's campy line-shuffle dancing during "The City is Doomed" or background doo-wop style movements for "What I Witnessed", Sterling and Gregory use their knowledge of movement to inform their routines, effectively capturing moods and feelings among the ensemble as they dance.
Director Tad Janes shares the blinding Olympian vison of the show's creators. In a stunning moment that cannot be spoken of for fear of spoilers, the most cathartic and rewarding payoff in recent theatrical history is captured in striking visual astonishment near the end of the show. Janes' familiarity and working knowledge of blocking in the uniquely intimate space of the MET main stage leads to a strong production that is exceptionally well paced. His inclusion of a tricky side-mirror provides a curious and fascinating opportunity for audience members to view shady side-profiles of certain events happening at the midline of the play space. Unapologetic and unafraid to go for the jugular both in dark comedy and deeply dense dramatic moments, Janes pushes the ensemble to deliver a ferocious and fearless production that literally ROX.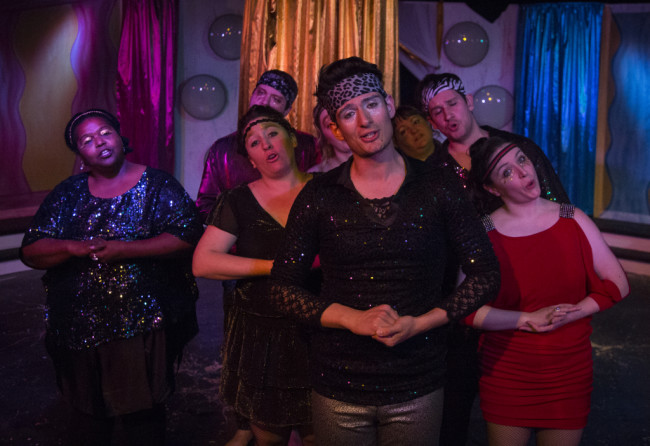 The way in which Shulman and Huenger have penned the ensemble sparks incendiary expertise when it comes to delivering the notion of a Greek Chorus. Hissing and hinting as ominous shades of the future, the core of performers is ripe with talented voices, animated expressions, and an overall determination to tell the tale as it's never been told before. Powerfully delivering group songs like "Oh, Oedipus King," and "Welcome to Delphi" this chorus is riveting and puts you on the edge of your seat throughout every moment of their on-stage engagement.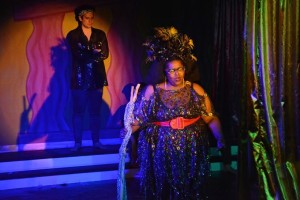 Sassy, brassy, and soulful Madam Tiresias (Miriam Bowden) is a sight to see strutting onto the stage in all of her peacock glitzy glamour. Bowden is selling serious soul in her initial solo feature, "The Seer's Song" and brings a resonant reprise of that attitude in her solo featured at the end of the production. Bowden, like nearly every performer involved in the production, doubles as a member of the "Greek Chorus" and her voice can be heard in all of the ensemble numbers carrying the ferocity which has been imparted to these shades of the story's narrative.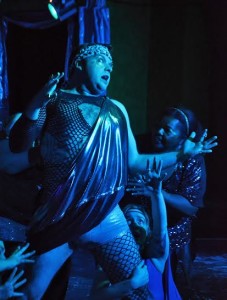 Paying homage to the rocker greats with moves like Jagger, Matthew Lee plays the Witness featured late in the second act and blasts out "What I Witnessed" with serious 80's glam-punk attitude. Lee's facial expressions are vivacious, leaping off his face in this number, particularly in the opening verse which is crass, crude, and creative to say the least. The Oracle (Thomas Scholtes) is of a similar larger-than-life nature but in a much different vein. Scholtes is draped in silver lamè and hole-torn fishnets with a thick layer of hedonistic tendencies oozing off his persona as he strikes pose after pose leading up to, through, and after his solo "Song of the Oracle."
Antigone (Carson Elizabeth Gregory) is a smoldering ace in the hole. Erupting with a voice that sets the stage ablaze, Gregory's mixed belting ability strikes a conflagration that all but burns the stage to the ground during "Family First." Her striking vocal prowess juxtaposed against her stereotypical teenage nature makes Gregory's portrayal of Antigone perfect for the fabricated reality of Oedipus Rox! Gregory is fun and flippant as the doting daughter of Jocasta and Oedipus, who affectionately at times refer to her as Annie, but delivers a pure inferno of emotions when given the stage for her solo song.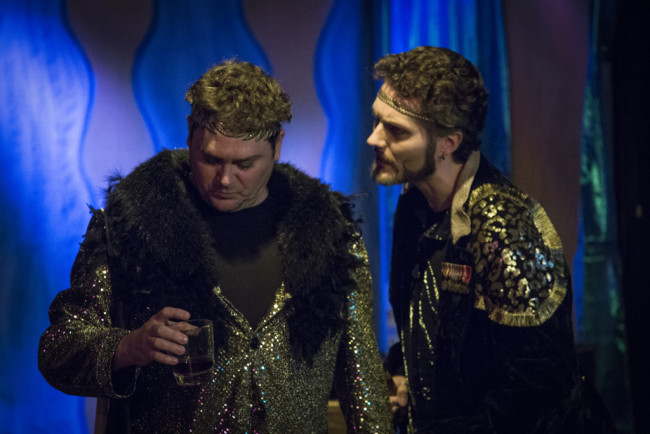 A trio of emotional perfection comes writhing together in the den of iniquity that has been concocted upon the MET stage with Creon (Eric Jones), Jocasta (Julie Herber) and Oedipus (Jack Evans.) "The Life I am Living", the trio that descends upon the Act I finale (a sharp and poignant move by Shulman and Huenger where most expect a quartet) brings startlingly impressive harmonies together from this trio of performers, preparing the audience for the heavy-handed smack of doom and destruction that's about to land in Act II. The trio plays exceptionally well with one another, the ever shifting dynamic of love and loathing among them really amping up the emotional stakes of the show.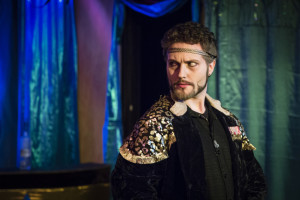 Jones, whose knave-like swirly beard only enhances his villainy tenfold, embodies the misunderstood nature of this vilified antagonist to perfection. His higher end tenor range is mesmerizing, particularly in the confrontational duet between himself and Evans, "This is My Time Not Yours." Jones throws musical daggers tipped with visceral poison at Evans in this number as the pair pace around each other like caged Manticores poised to pounce and destroy. Leading "The City is Doomed" with his natural showmanship, Jones showcases a great versatility in his character, but it's the harrowing vengeance that possesses his final speech to Oedipus that sends shivers up the spine. Possessed of stellar singing talent, Jones is a vocal force to be reckoned with in this production and rocks out his role as Creon.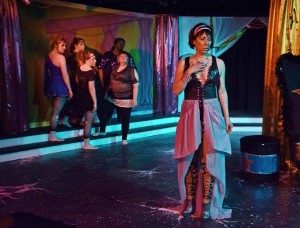 Herber, the emotional incarnation of Pandora's box, delivers an intense character portrayal of Jocasta and plays her scenes opposite both of these leading men with amazing emotional earnestness. The way in which Herber emotionally connects what she's singing to what Jocasta is feeling is so palpable that these haunting moments become ethereal characters that hover beside her, shrouding her in a cloud of pathos that seeps out over the audience and slips into their souls unnoticed until they find themselves shaking and sobbing along with her in her most broken moments. "Jocasta's Final Lament" is one of the most brutally emotionally honest moments in the production and Herber owns it with such tenacity that it feels like a gut-punch to the soul.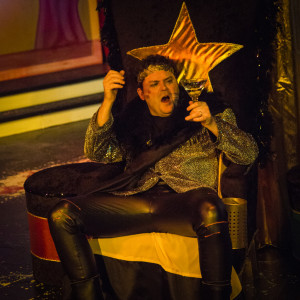 Jack Evans is the king. There is no better way to honestly express what he's doing in the title role. Emotionally invested, dynamically devoted, and singing with powerhouse vocals that blow the mind, Evans is every great 1980's rocker all rolled into one and smashed against the narrative backdrop of Oedipus in ancient Greece. Evolving the character from a cocky and arrogant heathen with drunken tendencies into an emotionally obliterated disaster, Evans owns the role as if history were written specifically for him. "How Did We Get Here (Finale Reprise)" shows the complete tragic beauty of his unraveling.  "Oedipus Complex" showcases Evans' ability to be flippant and funny while maintaining his vocal integrity. The heart and soul of his performance echoes not only in his singing abilities, which are phenomenal particularly when he goes for those insane rocker-belt-and-sustains or ranged riffs, but in his vivid and vibrant facial expressions. Remarkable in the dramatic and comedic moments of the production, Evans is a God of the stage in the role.
The production, in all its glorious brilliance, grips you with venomous talons, digs into the meaty flesh of your soul, and shakes you vehemently until an emotionally charged catharsis erupts from your brain and splatters all over your body, drenching you in the profound and striking wonder that is this original new musical. The show of the season, Oedipus Rox! delivers a theatrical and emotional payoff for anyone who has ever had a fleeting encounter or passionately tangled embrace with the Greek tragedy of Oedipus.
Running Time: Approximately 2 hours and 30 minutes with one intermission
Oedipus Rox! plays through May 1, 2016 on the Main Stage of the Maryland Ensemble Theatre in the Historic FSK Hotel building— 31 W. Patrick street in downtown historic Frederick, MD. For tickets call the box office at (301) 694-4744 or purchase them online.