Tax man got you down? Then make your way to St. John Evangelical Lutheran Church in Riverdale, MD, where Wolf Pack Theatre Company's current production of Love, Sex, and the I.R.S., is sure to put a smile on your face, and is guaranteed to tickle your funny bone. Written by William Van Zandt and Jane Millmoore, and Directed by William Leary, this hilarious farce set in the disco-era of the late 1970's is loaded with lies, deceit, mistaken identity, cross-dressing, and plenty of sight gags.
Jon Trachtman and Leslie Arthur are out of work musicians who room together in New York City. To save money, Jon has been filing tax returns listing the pair as a married. The day of reckoning comes when the Internal Revenue Service informs the "couple" they're going to be investigated by a Mr. Spinner. Leslie masquerades as a housewife, aided by Jon's fiancee, Kate. Complicating matters further, Leslie and Kate are having an affair behind Jon's back. All that's left is for the audience to sit back and watch the hilarity ensue.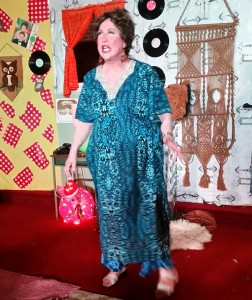 Director William Leary (who also serves as the Set Designer) has done a wonderful job of converting the small stage of the church sanctuary into a cramped 1970's era NYC loft. Vinyl albums cover much of the gaudy wallpaper. Various staples of the time period appear all over the stage, from the very bright lava lamps and fiber optic lights, to the bear-skin rugs, afghan wall hangings, and other sundry tchotchkes. Near the exit that leads to the kitchen is a stop light that flashes yellow through the entire show, almost as if to warn you of the caution that lies ahead.
In regards to Mr. Leary's direction, he has done a good job of maneuvering the upwards of eight actors who appear on stage at any given time without any train wrecks, which is no small feat given the number of quick entrances and exits. He did make a curious decision in casting a female in the role of Mr. Jansen, and making the character Mrs. Jansen. I found this choice to be detracting from one of the facets of the script. Jansen is the quintessential male chauvinist pig, playing grab-ass with the females of the show, sucking down beer, and in general just being a jerk. The choice Mr. Leary made could quite possibly have been out of necessity, as there is often of shortage of males in community theater.
Costume Designers Dannielle Beitzell and Eileen Murray Kraft are due high praise for the wonderful costumes seen throughout the show. Jon's blue jacquard pants with mint shirt, topped off with a brown leather fringe vest is beautifully appropriate. Not to mention Leslie's red bell bottoms (which appear to be velvet) with orange flares. Kate's striped sweater dress with knee high socks fits the time period perfectly. And then there is the first time Leslie appears in drag. In a nuclear bright red wig, with a short, shiny copper dress, he (she?) looks like a futuristic fembot (and I don't mean that in a bad way.)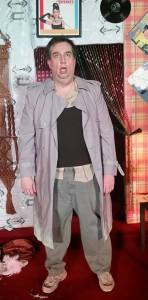 The performances in the show were generally strong, though there were a couple of periods of what appeared to be confusion by actors on stage (perhaps dropped lines due to opening night jitters.) Aref Dajani, as Arnold Grunion, makes the most of his brief time on stage. Portraying a derelict street drunk trying to make a quick buck, Mr. Dajani's blank stare and voice immodulation are charmingly funny. Lauren Patton is perfect as the deer-in-the-headlights, ditzy blonde girlfriend of Leslie, Connie. Lorraine Bouchard, as the aforementioned Mrs. Jansen, did an admirable job, though much of her dialogue just didn't ring true due to the reasons stated previously.
Stanley Livengood (Floyd Spinner) and Susan L. Smithers (Vivian Trachtman) were simply wonderful to watch on stage. Livengood, as the IRS man, with his horn-rimmed glasses and higher intonated Droopy the Dog vocal lilt, had the audience in stitches. When he was chasing Kate around the stage and ripped open his shirt, there were audible gasps. Smithers came through the front door like a freight train and didn't let up until the final curtain, except when passed out on the floor in a drunken stupor. With a booming voice and an oh-so-great sneer, all eyes were on her whenever she was on stage. Vanessa Berben played Kate Dennis with just the right amount of innocence and confidence, with her big doe eyes and movie star smile, making her seemingly irresistible to the men in the show.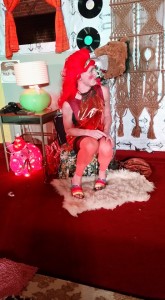 Which brings us to the two main characters of the show. Brian Thomas Wise, as Jon, gave an admirable effort, but at times seemed unsure of his lines. He was however, quite droll during scenes in which he was confident with his dialogue, which was a nice contrast to Dwayne Allen's portrayal of Leslie Arthur. Make no bones about it, this show succeeds or fails on performance of the role of Leslie. And in this case, Mr. Allen comes through. His Leslie had enough energy for the whole cast. Bounding all over the stage, and in and out (and in again) of drag all evening, Mr. Allen tackled the show with zest.
Running Time: 2 hours and 20 minutes, with 2 brief intermissions.
Love, Sex, and the I.R.S. plays through April 16, 2016 at Wolf Pack Theatre Company, at St. John Evangelical Lutheran Church – 5820 Riverdale Road, East Riverdale, MD 20737. For tickets call the box office at 240-271-5471, or purchase them online.