Illusions may shatter but memories stay. And a small man can be just as exhausted as a great one. America's original play in memory, Arthur Miller's Death of a Salesman comes to Everyman Theatre to close out their 25th Anniversary season as a part of The Great American Rep cycle, also featuring Tennessee Williams' A Streetcar Named Desire. The iconic American drama gets the cycle underway and Directed by Vincent M. Lancisi, the meager life of Willy Loman is juxtaposed against his fantastical pipe dreams and done through striking recollected replay.
A fluid blend of sights and sounds perfectly crafts the essence of memory that is threaded through this production like a fine skein of shimmering silk. Lighting Designer Harold F. Burgess II and Sound Designer Chas Marsh fuse their work together to seamlessly whirl moments of recollection and moments of present existence in and out of one another, blurring the lines between the two so that Willy's state of mind always appears to be floating in the fuzzy gray ether of their meeting point. This makes for a striking aesthetic overall and really envelopes the character in his own muddled world of dreams, realities, and memories. Burgess also uses projections against the brick backing of Daniel Ettinger's set to shift both time and spatial location.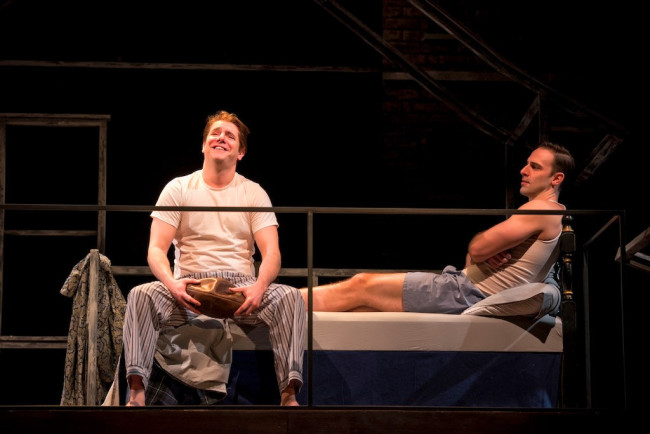 Ettinger's set is strikingly symbolic. The skeletal outline of the house reflects the bare-bones nature of the Loman lifestyle. It also represents the minimalistic existence of Willy Loman in the grander scheme of things; the thin framework of the house's steel bars juxtaposed against the fullness of the bricking around them is a visual appetizer for just how insignificant the life of Willy Loman is in comparison to the world outside of his Brooklyn home. Burgess' shadowy lighting accentuates Ettinger's work in profound ways as well, his use of shadow and brightness in moments of reality and memory respectively highlight varying elements of the scenic detail.
Director Vincent M. Lancisi hits as many ups as he does downs with his directorial and casting choices in the production. Priming the audience for a conversation about race by casting company member Dawn Ursula as The Woman, Lancisi fails to follow through on this conversation, missing an exceptional opportunity to add a new layer and refreshing approach to the classic. The character of Willy Loman taking on a mistress of non-white origins would have given him substance— the choice of a bold man— but Lancisi's downplay of this casting choice does neither Ursula's stellar talents nor the overall concept that could have come with it any justice. Lancisi's casting choice of Chris Genebach as Biff is another one that arrives unevenly. Though his gritty Brooklyn accent is tried and true (compliments of Dialect Coach Gary Logan) there is a glass ceiling of emotional expression trapping Genebach throughout the performance. Whether this is Lancisi's guidance of not pushing the character choices far enough or Genebach's inability to deliver a dynamic performance is a blurred and indistinguishable line, but the end result is somewhat anti-climactic, particularly when heart-stirring speeches from Biff near the show's end feel hollow and unresolved.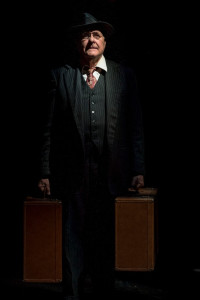 Lancisi does, however, make exceptional casting choices with Wil Love and Deborah Hazlett in the Willy and Linda Loman roles. Effectively capturing the stereotypical entitlement of the husband when it comes to the wife for the time period, Lancisi's blocking and staging choices when it comes to the couple strongly highlight the mismatch of power, showing Linda as meager, devoted, and demure and Willy as dismissive, assertive, and aggressive. This follows to the line the structure in which Arthur Miller wrote the characters, and Lancisi calls attention to that in the way Linda dotes on him both vocally and physically as well as in the restrained manner in which Willy reciprocates his affection.
Danny Gavigan carries a good many scenes between his character, Happy, and brother Biff. With an equally strong accent and a sense of mindful presence on stage, though the text does not support intense emotional outbursts the way it does for Biff, Gavigan delivers his emotions forthright. There is a sense of conviviality in her character which resounds consistently throughout the performance, particularly when he addresses Biff about how things have been in his brother's absence. His playful nature in the scenes of yesteryore (as indicated by Costume Designer David Burdick's nostalgic letterman jackets and schoolboy couture as well as a warm flood of welcoming sun from Burgess' light-work canon) speak to his ability to subtly shift a character through time and carry traits and tendencies of that character fully through from one moment to the next.
Other supporting character roles of note include Bruce Randolph Nelson who plays the quirky Charlie, and later the zippy Howard. Nelson's characters are defined by his physical leads; Charlie with his protruding paunch and bow-legged gait and Howard with his upright spine and low-bent head. Megan Anderson also deserves a nod for her subtly seductive walk-on role as Miss Forsythe, as does Drew Kopas for his nasally nerdy portrayal of Bernard, which fades into a more polished and educated representation of the character in the present moment of the play's existence.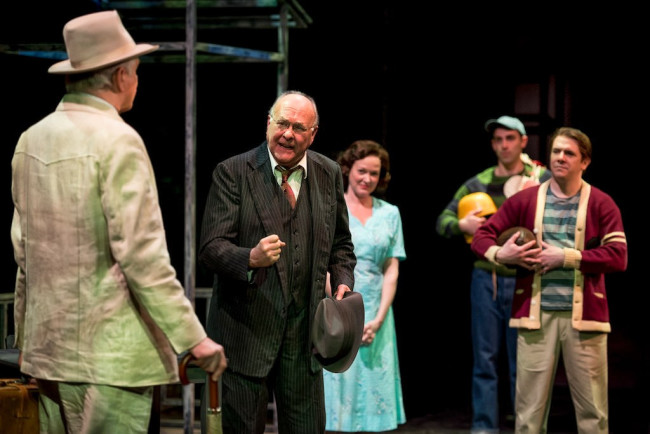 Carl Schurr, who's character of Uncle Ben only ever exists in memory or the shades of ghostly apparition, is a formidable presence on the stage. The epitome of success, or Willy's ideal thereof, Schurr drifts into the scenes fully embodying both his flagrant confidence and his existence as nothing more than the way he was recalled. His interactions with Willy further define the disparaging difference between a man of great fortune and accomplishment and that of the downtrodden and failed. Schurr's voice adds a haunting and almost mellifluous quality to his line delivery, making it that much more intriguing to see him waft in and out of Willy's mind.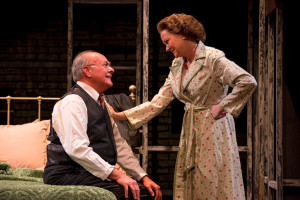 Wil Love as Willy Loman is a remarkable choice and delivers a unique amalgamation of belittled and bewildered juxtaposed against exasperated energies charged by indescribable emotions. The way in which Love vacillates between moments of memory and moments of present reality is mesmerizing, blending and blurring the lines of Miller's work so that the audience can fully see how his mind has decomposed over time. The once perfect façade of success and popularity has cracked in so many places it is unrecognizable and Love's approach to that is deeply profound. Deborah Hazlett, as the dedicated Linda, clutches as the pieces of the shattered mirage that is her husband's nonexistent legacy and her moments of emotional expression, though written without depth to be intentionally hollow, are somehow vibrantly deep.
The production is not without its charms, but much like the life of Willy Loman, there are dreams and expectations that come along with seeing the performance that are never quite fulfilled.
Running Time: Approximately 2 hours and 50 minutes with one intermission
Death of a Salesman plays June 12, 2016 as a part of The Great American Rep at Everyman Theatre— 315 W. Fayette Street in the West End Entertainment District of Baltimore, MD. For tickets call the box office at (410) 752-2208 or purchase them online.