Luck is believing that you are lucky, and it is high time for Baltimore to have a healthy dose of luck. Rolling through on the rattling rails of a passing street car, the alternating half of The Great American Rep, Tennessee Williams' A Streetcar Named Desire, has settled into Everyman Theatre and is bringing all the luck Charm City needs to feel good about its theatrical experiences as of late. Directed by Derek Goldman and playing in repertory with Arthur Miller's Death of a Salesman, this stunning southern classic plays out with a beautifully dramatic flourish across the Everyman Stage, truly living up to its label as an epic American classic.
 Scenic Designer Daniel Ettinger fabricates the heart and soul of the Louisiana French Quarter circa 1947 in his set design. The cluttered filth of the two-room Kowalski apartment is a far cry from Stella's childhood plantation in Mississippi, but is visual perfection that sets the tone for the show as a whole. The upstairs overhanging balcony it in faded turquoise mystique is a fancy accent to the chaos that plays out so often below. Ettinger relies heavily on the work of Lighting Designer Harold F. Burgess II to fully illustrate the various iniquities occurring throughout the performance on his rather impressive set.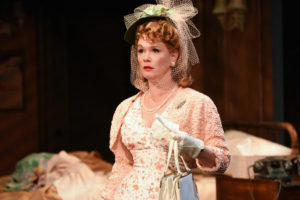 Costume Designer David Burdick captures the essence of culture in his crafty couture. Polarizing the forces of fashion, Burdick readily displays the disparity between simple-life Stella and her wealthy worldly sister Blanche with their sartorial selections. Blanche's menagerie of dresses, from the one she arrives in looking prim and polished fresh off the plantation, to the one she leaves in, looking tried and tested and thoroughly overwrought, exposes a wide variety of classy clothing that speaks to the shadows of her former life. The costumes Burdick creates for the other characters are otherwise unremarkable but purposefully so, creating a sharp contrast between the reality in which they live and the delusion where Blanche's mind settles.
The majesty of this Tennessee Williams' classic is not without its darker demons, namely arising in the form of physical violence and abuse. These dramatic outbursts are handled with precision by Fight Choreographer Lewis Shaw. The brawl scene through the poker game is one that quickly comes to mind when attempting to cite an example of the fine craftsmanship Shaw puts forth in working with this cast. The tight pacing, marked delivery, and overall chaotic verve of Shaw's throw-down work has a striking authenticity to it in addition to creating a glorious spectacle in the play space while unfolding.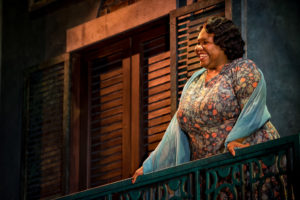 Director Derek Goldman's most genius framework element comes in his use of Vocal Performer Kelli Blackwell. Appearing like a vision at the top of the show, and through every following scenic departure, Blackwell is the soul of jazz incarnate, singing her way through scenic transitions. With a smooth and smoky voice that sizzles into the atmosphere like sultry smoke, Blackwell's songs serve as a narrative element, foreshadowing and laying the groundwork for what is about to happen in the upcoming scene. While her voice is stellar, the emotional attachment to these numbers strikingly clear, it's the inconsistency with which Goldman has her meandering through the space that feels slightly off at times. Initially, Blackwell is a presence, observing from the outside perimeter of the stage or just from the overhang of the balcony, making her feel like a casual observer. But once the third act begins, Blackwell arrives through doors in the Kowalski apartment and steps in and out of the scene as if the invisible border wall does not exist. This juxtaposition of clearly existing outside of the play as an observer and then suddenly being infused into the scenes as a passively present element is truly the only missed step in Goldman's otherwise stellar direction.
Cameo characters of note include Eunice (Dawn Ursula) and Steve Hubbell (Bruce Randolph Nelson) who are constantly bickering and blasting one another out in a fashion that mirrors and imitates the larger conflicts between Stella and Stanley. Both Ursula and Nelson bring a ripe and eager sense of character work to the stage and their little moments of cat and mouse, particularly up on the balcony, are the sprinkling of easy humor that a heavy dramatic classic like this one needs. Arturo Tolentino, as Pablo Gonzales, should also be noted for his silly antics during the poker game scenes.
The world of the play may exist in Stanley Kowalski's (Danny Gavigan) apartment, but the action gets going with the arrival of Blanche DuBois (Beth Hylton.) There are a great many praiseworthy points to Hylton's performance as the driving force of the production, but there are times when her delivery is somewhat uneven. The Mississippi drawl that oozes from Hylton's lips coats the French Quarter like sweet southern honey though at times fades in and out of clarity. This happens mostly once she's recovered from a loud vocally emotional outburst and a few words across the next beat passes before she recovers the sound.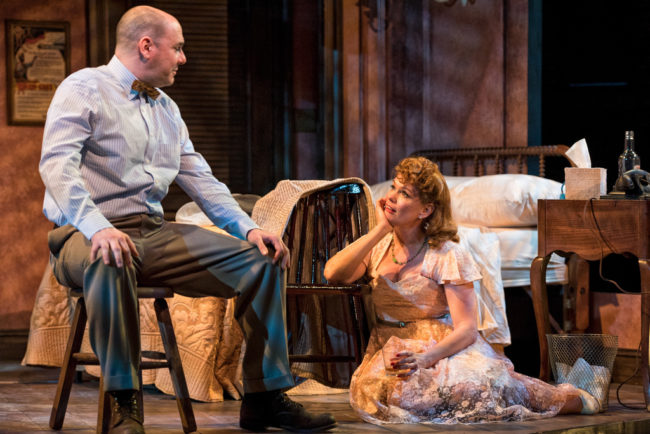 Hylton delivers Blanche as emotionally unbalanced right from the beginning of the performance, which gives her little room to expand into, however, this does not stop the actress from succeeding in a complete character transformation by the end of the production. Some of her most impressive moments are scenes shared with the generally charming Harold Mitchell (Chris Genebach). Their initial courtship is delightfully coy and the nervous flirtations arising from Genebach in these moments feels earnest. There I a pitiable softness that quickly replaces an irate anger in Genebach's overall demeanor in his final scene with Blanche that showcases his versatility when it comes to being emotionally expressive.
There are a great many monologues that Hylton delivers with harrowing emotional connection, particularly in the second and third act of the performance, most of which are delivered with a tremendous amount of energy and emotional resonance. There are one or two, particularly moments when the character softens into tears or breaks down entirely where Hylton seems to struggle to maintain her composure, and while this feeds the emotional deterioration of the character, the clarity with which she delivers the text in those moments suffers somewhat, making it difficult to understand what's being said.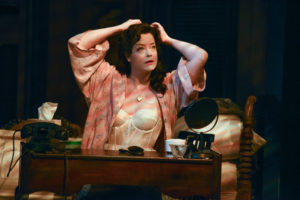 Stella (Megan Anderson) who has far fewer textual encounters than her sister Blanche, is a controversial character when viewed through the lens of modernity and femininity as her questionable lifestyle choices are addressed by Blanche. Anderson does a phenomenal job of bringing depth to the character, giving her a multitude of complex layers that are often conveyed in a simple stern glance or shouted response to Stanley. Highlighting the passionate love that Stella feels for Stanley, Anderson's portrayal makes the revolting dynamic of their relationship— with abuse, misogyny, and infidelity— somehow more palatable. Delivering Stella with a solid spine so that there is a conflagration of emotional flare-ups between her and Stanley (Danny Gavigan) Anderson puts a fighting spirit into a role that sorely needs one.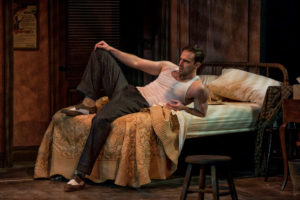 Gavigan, as the brutish thug, is a powerhouse performer who drags the audiences' attention directly to him in an unabashed and unapologetic fashion. There are moments of animalistic passion and hedonistic indulgence that spew forth from Gavigan's portrayal of Stanley that make him repugnant and impossible to swallow. This characterization is a perfect representation of the misogynistic American man in the late 1940's. Gavigan bites and snipes with both Anderson and Hilton's character, creating some of the most refreshing exchanges between the iconic characters to be witnessed on the stage in recent history. Grounded and focused, Gavigan's Stanley Kowalski gives the audience so much more than the deeply anticipated "Stella!" moment theatergoers everywhere have come to yearn for.
Arguably the more impressive half of The Great American Rep cycle at Everyman Theatre, A Streetcar Named Desire will grasp your attention tightly and hold on through the bitter end. A tremendously talented and exceptionally well-received performance, this production does Tennessee Williams' work a great service of justice.
Running Time: 3 hours and 15 minutes with two intermissions
A Streetcar Named Desire plays June 12, 2016 as a part of The Great American Rep at Everyman Theatre— 315 W. Fayette Street in the West End Entertainment District of Baltimore, MD. For tickets call the box office at (410) 752-2208 or purchase them online.
To read the review of Death of a Salesman, appearing as the other half of The Great American Rep cycle, click here.