Station North is alive and thriving with its newest artistic residents, Stillpointe Theatre. After moving into 1825 N. Charles Street back in December, Stillpointe Theatre is off to a great start of bringing their unique and vibrant work to the Station North Arts District. On April 1, 2016 the company launched Under the Umbrella: A Series for the Senses. The artistic series, which debuted with an opening reception on April 1st, runs through May 20, 2016 and will feature various events including cabaret performances, comedy acts, the Stillpointe Theatre Spring Gala, and Imaginary Friends: Paintings by Alix Tobey Southwick. A resident artist of Baltimore City for nearly 40 years, Alix Tobey Southwick brings her fantastical paintings to Stillpointe as a part of an expanding arts initiative to include all forms of art in the company's mission of serving the community with original and inspiring works. In a TheatreBloom exclusive, Alix gave us a few moments of her time at the "First Thursday Open Gallery Happy Hour" event to talk about her work and working with Stillpointe Theatre.
Thank you for giving us a few moments of your time, Alix. And for welcoming us to see your paintings. Could you tell us; why did you want to be an artist?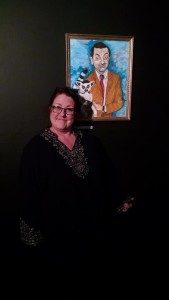 Alix Tobey Southwick: It wasn't really a choice in my family. My mother's entire family going back many generations were artists. I'm named for a man named Alexander Lucking, who was my great-grandfather. He came to the United States after meeting Winslow Homer and other American artists in his town of Dusseldorf, Germany. They said, "Dude! You need to get to the United States." So he came, and he found a nice German girl to marry, and he started my maternal grandmother's family. Every single person in that family, my mother and her three brothers, my grandmother, everybody in that family going back to Alexander have been visual artists. They've also been singers and poets. And yes, I sing and do poetry too. I always have.
Is there any art you don't do? We know you do a bit of theatre, we've seen you over at The Yellow Sign Theatre.
Alix: Oh yeah, and the acting thing. I do the acting thing. House of Cards, extra work, film stuff, the stuff with Horatio Dark. I think that's all part of it. It's all one in the same, the art forms. And that goes for cooking too. Cooking is an art form. I think that once you're involved in one of the arts, you can be involved in the others too. I just consider it to be different media appropriate for different applications. Different ideas require different media.
What's your preferred method of creation when it comes to art?
Alix: I think all of these here in the Imaginary Friends gallery showing are either water color pencil or water color pencil and acrylic. In essence they're basically paintings. I think that that's the easiest transformation from the brain to something concrete for me. I have a degree in sculpture. I was a painting major before I transferred to Virginia Commonwealth University's Sculpture Department. I transferred there because I wanted to learn other processes. I did that and I cast metal nearly every day for the three and a half years that I was there. I think that most of my ideas are perfectly suited for painting. I viewed art school like vocational school. Don't tell me what to paint or build, but show me how to do it. So that's the information I got out of the school. I think most of the time I do paintings. Sometimes I do sculptures.
I saw some pieces on the back wall of the theatre that look like quilt squares. What are those?
Alix: Oh the little tiny ones? The miniature paintings? They're just paintings on fabric. I've stretched fabric over canvas. Some of the larger pieces are also on fabric, like the one of Eartha Kitt. Ibello Fabrics, they do a lot of the work for the set dressers for House of Cards, and a good friend of mine is their IT person. She saw that they were throwing out little booklets of swatches and things, and they were throwing out ends of fabric after they'd finished a job. They were throwing them out in the dumpster. So she said, "I know artists! Don't do that!" She called me because she knew I would gather it all and disperse it to the quilt-makers and the painters who use fabric and other artists. I started with this fabulous resource and I just started painting on fabric instead of canvas.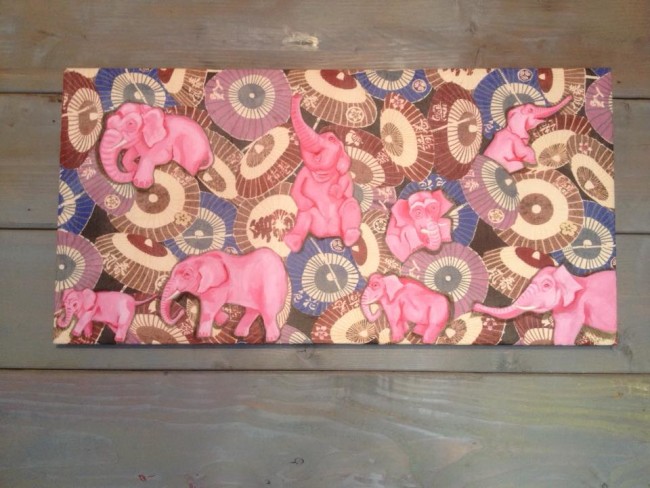 I actually had this parasol fabric, it's very thin material, for years. I had started to make a blouse out of it but then I decided I didn't like it so I turned it into this canvas. What goes with parasols but pink elephants? It's all about silly cocktails.  
I noticed you have a lot of pop cultural icons and people in your paintings, where do you get your inspiration?
Alix: Um. Pop culture?
Okay, that was a dumb question, let me rephrase that. What is influencing the subjects of these paintings?
Alix: One of the things I say here in this little bio that they had me write for the gallery exhibit is that I grew up in the 60's watching television and going to theatre, seeing musical theatre, seeing Shakespeare, and seeing all sorts of things in the DC area. That's always been something in the back of my mind, I had always thought "one day I will work in that medium and do something there. I'll work in film or I'll work in TV." So I've done those things, but because this is my Imaginary Friends show, a lot of these paintings is based on how a lot of this stuff inspired me as a child to look beyond who I was. I read a lot of books. There's a painting about some of my sci-fi author people. I think that for the most part the idea that maybe I could be Honey West, and I could be a detective and have a pet ocelot and a male secretary, or maybe I could be like 007— that to me brought me outside the world that I was in and fed my imagination. I've always felt a need to give a tribute to those influences. I guess this was the time that I did that.
How did you end up having your work shown through Stillpointe Theatre?
Alix: Well, they became my neighbors when they moved into Station North back in December. When Ryan (Artistic Director Ryan Haase) was about to do the space launch when they first moved in, I was popping out to feed the parking meter and I ran into him. He said, "Do you have a lot of paintings in your apartment?" And I said, "Hundreds!" He said, "Could you fill up our hallway for this opening?" And I went, "I guess." So I sent him some photos, he loved them, and so I brought over all the big stuff to fill up their hallway.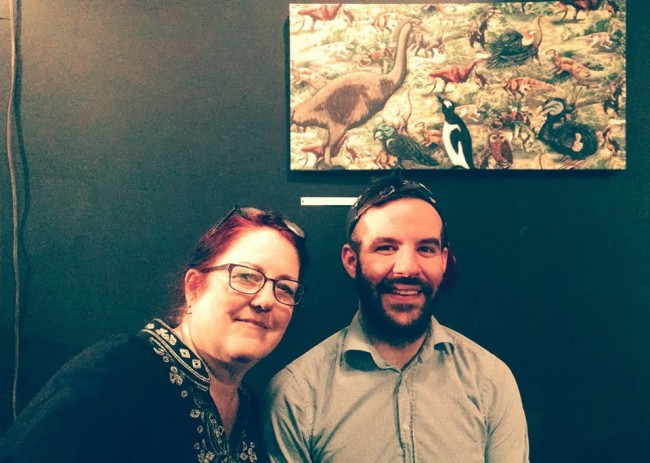 I don't know when it was that he asked me to do this show. I think it was in early March. But whenever it was that he asked, I was just getting over a cold. I actually asked him to call me in a couple of days because I had this really bad cold. Then I of course got better, and when he called I said, "Hell yes!" He told me I had the whole theatre, the whole room. I couldn't believe it. I think we're a good match. I love musical theatre and some of the people in the portraits that I've done recently are my heroes of choreography and of musical comedy and film and comedy in general. It fits. It fits really well together. I'm probably their parents' age, or maybe a little younger, these Stillpointe Theatre people. But they know the history, they know the shows that I know. They know who Gwen Verdon is. It's this really nice thing because we both love musical comedy and musical theatre.
Do you have a favorite piece in the Imaginary Friends collection?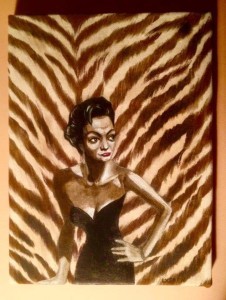 Alix: I don't know. Not really. I love them all. If I had to choose one right now here? I'd say the Eartha Kitt piece. I was very happy with Eartha Kitt when that worked out. I had stretched that tiger fabric over that canvas probably five months ago. I never knew what was going to go on that canvas, I just knew I liked the fabric. I had prepared like 18 small canvases with it and thought "Well, eventually I'll figure out who goes on here." While I was painting the Star Trek stuff, I was thinking about Batman, Catwoman, stuff like that. And I thought, "Oh! I've got that tiger print fabric. I'm going to put Eartha Kitt on that." That painting just really came together beautiful. It was very fun. Every little brush stroke on Eartha is luscious and gorgeous, her cleavage, her dress, everything is just so, "rrr" you know?
Do you have other projects in the works?
Alix: Well there's more than what I've got up here for Imaginary Friends. There are more tributes to people coming up as well. Back 30 years ago everything I did was all jazz musicians. I had a show at The Hubble Telescope that was almost entirely paintings of jazz musicians. There was one of Melina Mercouri that I remember— Dan Rodricks came up to see the show and he said, "Well, you're a 'tributist'." And I thought, "yeah okay, I hadn't really thought of it that way but it's true." I like to point out when people are doing something good. That's what I do every day. That's why I tell people to come see the work here at Stillpointe because they're brilliant. But that show at Hubble was almost all jazz musicians. That's what I did back then, I painted jazz musicians.
What is it you love about being an artist?
Alix: I don't know I'm just compelled to do it. I've always been compelled to do it. Like I said, family. Mother's side was artists, father's side was doctors and scientists. But yet they were still artists. They could all draw beautifully. Their lab drawings and stuff were all gorgeous. My father drew a couple portraits of my mother. Now they weren't great, they were okay, but they showed some promise. And his father had to choose between the med school at Pennsylvania University and the Beaux-Arts Academy in Paris. That was his choice. I was amazed when he told me that, it was a couple years right before he died, I had never known that about him. He'd been a doctor since the early 1900's. I knew nothing about his art ability. While I was doing prosthetics, I was a prosthetics technician for years, my father said to me, "Now you've brought the art and the science together." My father was very proud of that. I just like to build things. I like to make things. I've been that way since I was a toddler. Give me stuff and I will turn it into something.
When your work is not in exhibition here at Stillpointe, where can the masses find your work or purchase your work if they are so inclined?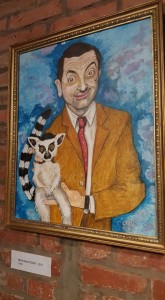 Alix: You know… I haven't even set up a website. I'm an old woman! I need to get someone who's a little more savvy than me to help me with that. I do know some people who can help me with that, but I've just been so busy that I haven't really stopped to deal with that. But yeah, I'll get that together. Luckily, Imaginary Friends is here at Stillpointe through the middle of May. They're going to have gallery hours during The Maryland Film Festival. I'm not sure what those gallery hours are but as soon as I know I'll be posting that on Facebook and I know Stillpointe will be sharing that information as well.
Anything else you'd like to say about getting the chance to exhibit your work here at Stillpointe?
Alix: Just that I think these guys are brilliant. The 25th Anniversary— no, that's not it. However the title goes— 25th Annual Putnam County Spelling Bee? That show was so good that even though there wasn't a moment where you should cry? I was in the audience crying from the sheer beauty of the performance. That's how I always feel about the work they do here. It's brilliant work that they're doing. Everyone should come and see what they do here.
Imaginary Friends: Paintings by Alix Tobey Southwick is in exhibition through May 12, 2016 at Stillpointe Theatre— 1825 N. Charles Street in the Station North Arts District of Baltimore, MD. For gallery hours and other event dates for Under the Umbrella, please visit their website.