Some enchanted evening, you may attend the theatre. You may attend Toby's the Dinner Theatre of Columbia and see…a truly enchanting Rogers and Hammerstein classic with their production of South Pacific. As the run winds its way into the final month of production, TheatreBloom sits down with actress Teresa Danskey, currently playing ensign Nellie Forbush, for a little happy talk regarding her debut performance at Toby's.
Thank you for taking a moment out of your busy schedule to sit with us. If you'd give the readers a quick introduction and maybe a little taste of what theatre work you've done in the area, we can get started.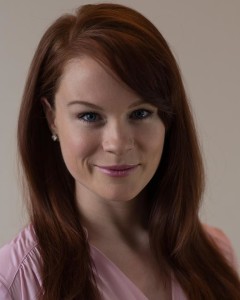 Teresa Danskey:  My name is Teresa Danskey and I play Nellie Forbush in Toby's Dinner Theatre production of South Pacific. This is my first production with Toby's. I should also say that this is my first professional production. Prior to this I've only done community theatre within the DC area. My last production before this was In The Heights with Little Theatre of Alexandria. I was a featured dancer in that show. Before that I played Florence in Chess at Kensington Arts Theatre and before that Rona Lisa Peretti in The 25th Annual Putnam County Spelling Bee, also at KAT. And way before that I was mostly involved with The Arlington Players.
How did you come to be interested in Nellie Forbush? What was the draw to want to be a part of South Pacific?
Teresa: I have been wanting to get into Toby's for a while. I was never previously available for their season audition calls. Actually, I'd always heard about their season call too late. But this time I heard about it before it happened, so I got excited. I got even more excited when I heard South Pacific was a part of their season. Nellie has been on my bucket list for a long time. I had never seen her done in the way that I had envisioned her being done. I have always seen other people perform her as a one-layered character. I knew that she had a lot more depth to her than that. She's very fun but she's also complex. She goes from "Honeybun" to plunging the racial depths that the show explores at the end of the second act. I'm really pleased to be able to play her.
What is it like getting to bring depth to a character that, as you mentioned, often gets portrayed as a one-layered woman?
Teresa: I think it's a really wonderful opportunity. Now, what is it like? I think if I can talk a little bit about the process of getting into Nellie I can better answer that. I thought it was important to read some of the major works that have been created around the show. So Michener's Tales of the South Pacific, and then— oh what is the other one that I read? South Pacific: Paradise Rewritten by Jim Lovensheimer. He goes through all of the rewrites that have come to South Pacific since 1949. I didn't read all of it, but I read large excerpts of that one and I think in reading about the journey that the script has taken really helped me to realize the many layers of Nellie. I think I always thought that they were there? But actually reading through all those excerpts from those texts, I really internalized them.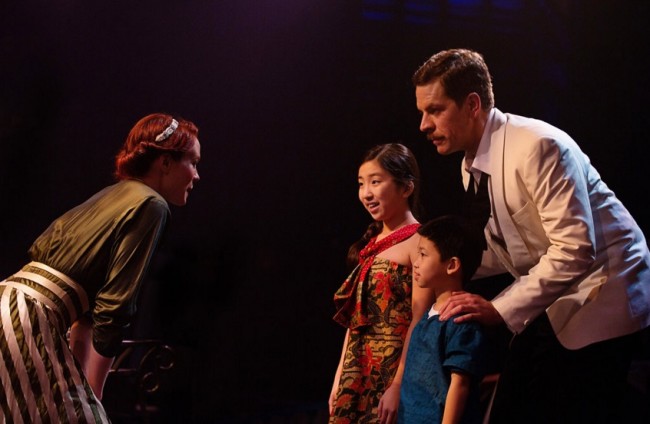 Also, for my day job, I'm a teacher in DCPS (Washington DC Public Schools) although I'm currently taking a year off as I perform in this and finish up at Grad School. But in my day job within DCPS we do a lot of race and equity work. It was really important when I realized the potential for Nellie's layers here because I have a lot of students that have come or that are coming to see this show. I really felt it was important to achieve that depth there. Part of achieving that was working with Mark (Director Mark Minnick) to change the banter and the— oh what's the word I'm looking for? I'm a Spanish teacher so sometimes the words come at me in Spanish first— to change the dialogue. That's the word. We worked on changing the banter and dialogue to really get those layers in place.
How do you find yourself relating to Nellie? What of yourself are you bringing to her and what of her has been a challenge for you?
Teresa: She's really easily relatable to me. I'm from the Midwest. I have no accent, well, quote-unquote no accent. I come from a more traditional family. My family is not overtly racist, however, some of the older folks in my family, I have definitely seen quite a bit of prejudice come out in some of the things they say. I relate to Nellie in that sense. Some of the things that I was told when I was young are, I imagine, somewhat similar to what Nellie had learned growing up. Part of my journey going through my teens and growing up into my 20's has been very, very relatable to what Nellie has gone through. You know, studying abroad, looking at other cultures, appreciating diverse ways of living, and really seeing the world through my own eyes.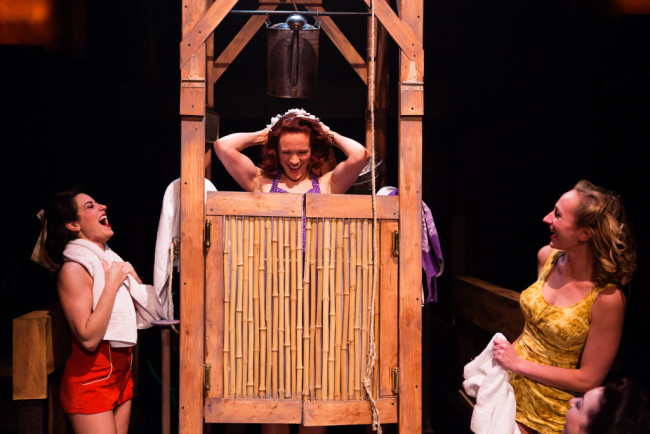 What has been the most fun or exciting part of this whole process for you?
Teresa: I feel like this is going to be a little cliché, so I can think of a different answer if you want me to, but I just feel really fortunate and excited to go into Toby's and perform every day. For me it felt like a big longshot going out for them. To be cast there it's a big honor and I think about that every day. I also love performing "Honeybun." It's just a good chance to goof off. Jeffrey (actor Jeffrey Shankle, playing Billis) and I get to have some fun.
That's actually the perfect segue into my next question. As a newcomer to Toby's what has it been like to work with the household names that have come to be recognized as cherished members of the Toby's performing family?
Teresa: It's a little intimidating actually. It's intimidating because they know their stuff so well, they know the organization of how a show works there so well. But it's also really reassuring that when I get on stage everybody is going to be giving 100%. That is wonderful. It's not always like that but knowing that it is always like that here? It's just wonderful.
Have you ever worked in the round before?
Teresa: I worked in the round one time. This was— oh gosh, how old was I? I think I was ten years old. It was Secret Garden. But it was for a one-weekend thing, maybe two shows. So…technically no? This is my first time in the round performing as an adult. It was a bit of a culture shock learning the entrance one, two, three, four, and all of the different A, B, C, D's…but you know what I've discovered? I really enjoy performing in the round. There's so much more energy! I think also because everyone at Toby's— both on stage and the audience— everyone is just so close to you? Their energies are just so palpable. Even though performing naturally gives actors and actresses a lot of instant energy, I feel like performing in the round actually gives even more of that energy.
You're playing opposite another new face on the Toby's scene, Russell Rinker as he takes on Emile de Becque. What has it been like working with him for this project?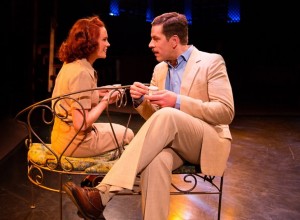 Teresa: Russell has been a wonderful man to work across from. We had a conversation the first day, trying to get some of the awkwardness out of the way because we have to be fairly intimate. After that conversation I knew that things were just going to be very easy. He's really professional and we have a great relationship in that we help each other out. We're really able to talk to one another about the process and give one another feedback. It's really wonderful working with him.
What has it been like working with Director Mark Minnick?
Teresa: I was also intimidated by him, for sure, quite possibly more than even Toby. (Artistic Director Toby Orenstein) Although, honestly, I didn't really know what to expect from either of them, having never worked with them before. Mark has been fantastic to work with. I really prefer to work with directors who avoid fluff when giving feedback. I don't think Mark is capable of fluff. Or maybe he is but he sure didn't bring it out for this show. He's very straight forward in what he's saying, but in the same breath, he is also really giving with his compliments. I felt very reassured with what I was doing throughout the whole process, not just with compliments but when it came to trying out different things. He'd say, "Okay, now try it this way. And now this way. Wait, that way. No go back this way." He makes it comfortable to find what's best for the show. I want to work with Mark as much as I can.
What would you say has been the most challenging aspect of this whole process?
Teresa: I don't see my husband very much. No, truthfully! Both of us are very busy. Now he is not a performer. He goes to grad school, has a full time job, and is also starting his own production company. So he has very little time, I have very little time. We're on opposite schedules. I have Saturdays with him, and that's nice. We get Saturday mornings from 10am until 4pm. I feel like that's been the only real challenge.
Do you have a favorite moment or a moment that defines the show for you?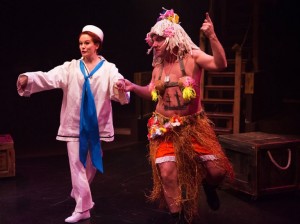 Teresa: Let me think for a moment. It's difficult because there are various storylines being threaded throughout the show. I very much like the final scene of Act I because you get to see Nellie and Emile so very much in love, but then those complications that come from deep-rooted racism surface. Those are definitely not my favorite musical moments of the show, though. My favorite musical moments of the show come when Crystal (actress Crystal Freeman, playing Bloody Mary) is on stage and she's singing "Happy Talk." I'm actually backstage on top of the platform just waiting to go on for— what is that song that I sing? The one I sing with Jeffrey, oh yeah, "Honeybun." So I'm up on a platform, in the dark, waiting to sing "Honeybun" and it's just a very calming and happy moment. I think that's my favorite musical moment, though I know that must sound strange.
Not at all. Everyone has their own moment that speaks to them. How is what you get to sing as Nellie different from what you've sang in the past?
Teresa: Nellie has been one of my favorite character to play. She's not my favorite character to sing. I know what my strengths are, and it's singing in high-belt. Nellie doesn't really sing in high-belt very much. But I also get to use a mezzo-soprano voice, which I don't bring out very often, so it is fun to sing. It's just not very challenging to sing.
What has undertaking this experience— a bucket list role, your first show at Toby's, your first professional performance— what has that taught you about yourself?
Teresa: I have an actor friend, Ian Anthony Coleman, who does work with Keegan Theatre.
He talks a lot about "leaving it all on the stage" when it comes to auditions. If he auditions and he knows that he could have done something better, that's the only regret he walks away with, he makes sure that he leaves everything there. After listening to him enough, I took to mind to start auditioning like that. Toby's was the first place where I actually did that for an audition. I feel like it paid off. Working here for the first time has brought a new level of joy that I just haven't had in a really— actually I don't know that I've ever had this level of joy before. It's just really fun. I think having that feeling of knowing that I do feel really grateful to go into work every day is just a wonderful feeling to have.
What is it that you think makes South Pacific relevant to modern audiences?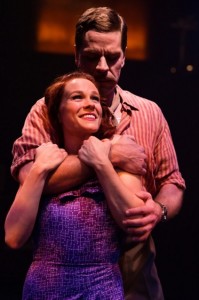 Teresa: I think for one, there are a couple of different scripts out there. The one that we have is not nearly as explicit as what we're working with. That came down to Mark's decision, how he made the racism more visible, a little bit of what I was talking about earlier in the banter and the dialogue to make it clear. I think also people today just realize that relationships do not have to be about both people being in their 20's or both in their 30's or two white people or two black people being together. The mix of ethnicities and the mix of ages is relevant to society as we live it today. I'm sure if Robert (actor Robert John Biedermann 125, playing Capt. George Bracket) were here for this he would talk about it is relevant to the army, however, I'll let him do all the talking about that when you see him at the show.
What is it that you hope people will take away from seeing this production of South Pacific?
Teresa: Hmm. I think it's an enjoyable evening. No, let me think about this. What will they take away? Well, I think there are different types of audience members who come to the theater looking for something different. There are a lot of people that are coming just to enjoy the music of this show, after all it is iconic and beautiful. I think I'm hoping that while those people who are coming for the music to enjoy it, that we're able to offer up a chance for them to reflect on their human journey or maybe even their racial journey.
Why come see South Pacific at Toby's?
Teresa: Toby's offers a full meal AND a night of entertainment. That's a very, very good deal right there. But I think more importantly, Toby's just has really outstanding talent. Everyone in our cast, whether they're in the ensemble or a principal role, has headlining talent. It's a very talented cast. Everyone is very passionate about the role they are performing.
South Pacific plays through March 20, 2016 at Toby's the Dinner Theatre of Columbia— 5900 Symphony Woods Road in Columbia, MD. For tickets please call (301) 596-6161 or purchase them online.
Click here to read the TheatreBloom review of South Pacific.