We are all easily explicable, what we are not is easily extricable…perhaps in your case it is not easily extricable from your job? Or from your couch when your favorite program has graced the television screen? Whatever you find your inextricability to be, make no explanations for having missed the finest show that Fells Point Corner Theatre has offered up this far this season. Making its Baltimore area community theatre debut, David Ives' Venus in Fur will keep you perched at the edge of your seat until the rather astonishing conclusion as Thomas and Vanda have at each other over the course of 90 minutes' stage traffic. Directed impeccably by Lynda McClary, this stunning and evocative comedic drama hits stirring points in the human psyche that will leave you feeling emotionally aroused to a fevered pitch before all is said and done.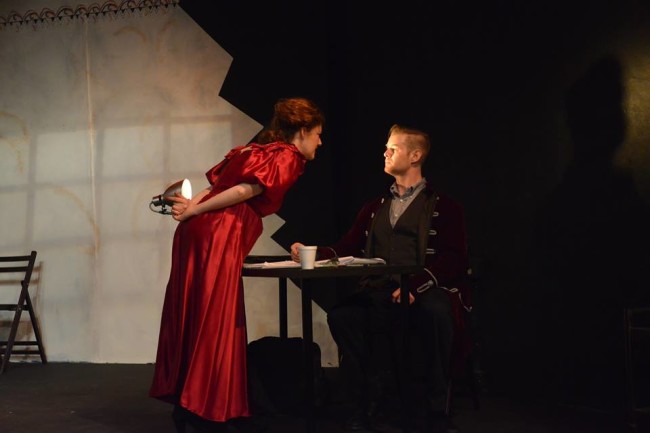 Director Lynda McClary, ruler of costumes, scenic resplendence, and the show's overall success in regards to moving at a breakneck yet intelligible pace, sets down and ironclad success of a production. The attention to detail in the grody interior design of the 'found audition space' in which the play takes its setting is remarkable. The grime, which is painted painstakingly into the walls, for all intents and purposes, looks authentic and heightens the notion of finding pleasure in the most distressing of places, a prominent, albeit understated, theme in Ives' work. The costumes are equally striking, particularly the skimpy nature of the threads that work their way into Vanda's rotation, the leather and garters making for the perfect touch when defining the character's dual nature.
Lighting Designer Joel Selzer and Sound Designer Rick Stover complete the intrinsic value of the show's aesthetic with their well-crafted sound and sight work respectfully, particularly when it comes to the storm effects. Selzer's blinking lights— complete with gobo window design— and Stover's accompanying thunder make for the perfect storm and really enhance the moments of tension that arise in those scenes. Selzer's subtle hand when it comes to applying "a full grid" effect to the space is well handled and lends itself to an authentic spatial feeling.
Arriving to the stage after a brief performing hiatus, Andrew Porter takes on one half of the two-character play with vigorous aplomb. His presentation of Thomas is at first one-dimensional, arriving on the scene as a high-strung, somewhat effeminate type-A 'director' sort. Porter's portrayal shifts drastically once his character is forced to encounter Vanda, with a clearly strained anal-retentive flare surfacing in lieu of his more scattered emotional outbursts. Porter's ability to capture both of these dynamics within one character is impressive and adds a realistic depth to the notion of Thomas as the play progresses.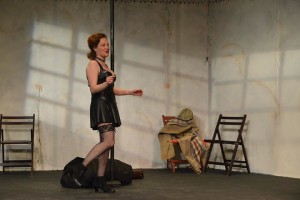 Anne Shoemaker arrives on the scene a bit like a vodka and soda, shaken voraciously with pop rocks and sugar, before being liberally sprayed all over the stage. Prepossessing of an insanely intense bouncing perkiness, Shoemaker delivers a dizzying madness, which borders on nauseating as one tries to keep pace with her energetic freneticism. The shocking face-slap comes not from Shoemaker's ability to deliver such a character, as her past stage encounters have proven her to be beyond versatile, but the fact that in a mere second this spastic poptart of a performance is snapped into a reformed and refined existence. Everything about Shoemaker's existence on the stage— patois, poise, posture, accent, intonation, inflection— falls into something so drastically different the moment she becomes 'Vanda-in-script' that it takes a moment just to register the shift.
Shoemaker's ability to shift in and out of her dual characters is flawless, like the popping of toast ejecting from a toaster, with no residual overhang from one to the next. Porter's shifts are far subtler, a solid choice as his in-script character is much more similar to his out-of-script character. The pair traverse the script with ease, and adding to the intensity of the production's overall appeal is the physical fighting between the pair (choreographed more than adequately by Fight Choreographer Larry Malkus.) These intense physical and emotional moments keep the audience on their toes and lead to astonishing moment of natural chemistry occurring in nearly every scene from beginning to end.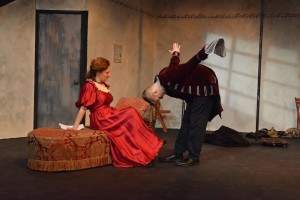 The almost surreal intensity with which Shoemaker delivers sensual temptation in these "in-script" moments with Porter is astonishing and heats up the scene quite quickly. The chemistry that roils between them, both in these intimate encounters and the more volatile relation that explodes between them when not "in-scene", is exceptional and nothing short of riveting. Jibing at one another over the clearly sexist overtones Ives has imbued within the script, Shoemaker and Porter are the perfect pair for this production.   
Running Time: Approximately 90 minutes no intermission
Venus in Fur plays through April 3, 2016 on the main stage of the Fells Point Corner Theatre— 251 S. Ann Street in Fells Point in Baltimore, MD. Tickets may be purchased at the door or in advance online.