Friends! Romans! Countrymen! Countymen! The day of coming together for brutal group stabbings has most recently passed! But the day of coming together for group giggling, or more aptly, group laughter-induced-explosions is upon us! A heavier task could not have been imposed than I to speak my praise unspeakable— for there be so much of it, I risk stealing the thunder right out from Prologa herself when she starts the same indescribable task of priming the audience for the uproariously delightful screamingly scandalous good time they are about to have when they attend the limited-engagement production of The Menaechmi Twins now appearing in the colosseum— well, a colosseum…okay the main stage of the Community Building— at the Community College of Baltimore County's Essex Campus! Directed by Linda Chambers, this play of Plautus'— and its eight extraordinary ensemble members— puts Shakespeare to shame, puts the Bard on notice, and puts the audience into a barrel of laughs that rolls non-stop from the stage for the all too brief time in which it treads the Roman boards! Boards the Roman treads! Romanizes— you get the picture! Now get to the theatre!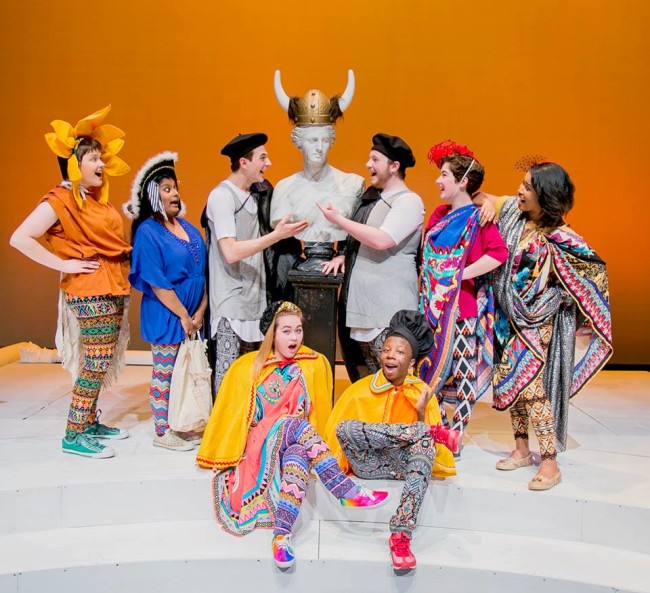 While the focus is most definitely the exquisitely talented students that the CCBC Academic Theatre is producing in its well-kept secret of an Arts & Humanities program, designers too deserve their due for this production when it comes to crafting scenic brilliances and poppy panache across the show's overall aesthetic. Scenic and Lighting Designer Terri Raulie has outdone herself with the grandeur of the set. The Greco-Roman columns and house-fronts give the nod to a production of A Funny Thing Happened on the Way to the Forum, while the color machinations of sand-gritted orange warm the stage for Costume Designer James J. Fasching's outrageously sensible stylings.  
Despite the play itself being something like several centuries old, Director Linda Chambers and the acting ensemble has lent a modern air to the text and overall comic delivery of the performance. Not one to fall behind the times, Fasching's couture puts a refreshing retro-modern twist on a show that takes place in Epidamnus, Greece in 200 BCE. With the toga-esque long-flow tunic tops in solid Roman-by-way-of-Egypt jewel tones, there's already a great vivacity arising in Fasching's sartorial selections which is the epitomical representation of the bursting energy carried by the actors throughout the performance, but the true fun doesn't arrive until one looks down the leg. Zany patterned leggings that practically pounce off the leg are what make these threads so trendy. Fasching takes it a step further and puts everyone in color coordinated Converse sneakers, including Erotium who gets her own unique pair of Converse Stilettos.
A nod to the run crew— Board Ops Tim Neil, Alonzo Perez, Tate Erickson, David Martin, and Stage Crew Brandon Imes, Lavisha Lewis, and Sergio Rivera— in addition to Stage Manager Miles Lawlor, all of whom do their part to keep this hysterical show running smoothly, on time, and in the hilarious vein of the moment that the actors and Director Linda Chambers have created. Without Lawlor and the run crew, who are students enrolled in the academic program at the college, the show would indeed not go on and all of the hard work that has evolved through the devising and rehearsal process would be for naught!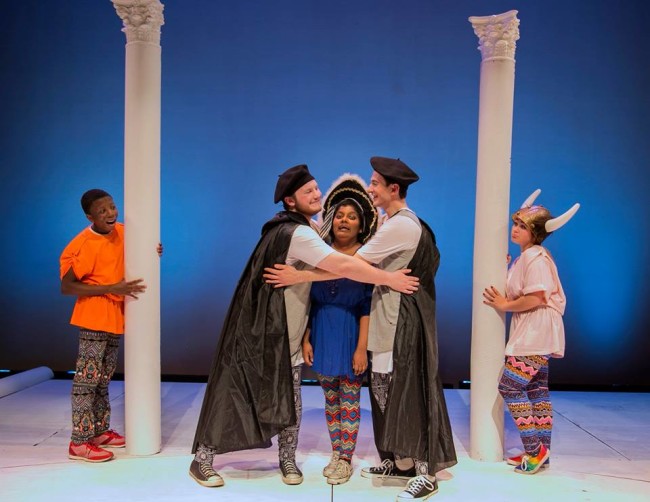 Chambers, who has exacting precious with her ability to eek out comic nuance, delivers a spectacle show in just under 90 minutes. Better than the Bard's Comedy of Errors, as it lacks the gargantuan plot holes and other bad humors found within the less-than-stellar Shakespeare, her production is witty, scintillatingly sharp, and filled with modernized patois, improvised moments of great organic comedy, and an overall sense of fun— exactly what a comedy on the stage should be. Chambers and her eight-person ensemble find refreshing ways of presenting comedic exchanges— everything from a hilarious Benny Hill-turned-Scooby-Doo- style chase scene, to a slow-motion fight scene, and just about everything  you could imagine in-between (listen carefully for a home-grown Bawlmer reference and a meta-play-fourth-wall-implosion)— resulting in a madcap, mad-dash, delicious comedy that you'll eat up for the full hour and a half it's on.
Though there are characters that possess more lines than others, the eight performers featured in the production work as one unified ensemble to tell their tale and they do so with a stupendous sense of earnestness. Their comic timing is free of artifice, their laughable moments are exacting and truthful without reaching for forcing a joke to fall into place. Some of the funniest bits actually fall in the silent pantomime work of CeCe Hack and Jalon Payton, who do take on individual "ensemble" roles written into the script, but serve primarily as the play's "watching-movers." The pair work tirelessly— like Thing1 and Thing2— to ensure comic sight gags, costume changes that are comic genius, and other moments of sneaky humors that really make this play a notch above your average "who's who" comedy. Payton has the hysterically arduous task of moving old Senex (Claire Wescott) along during the slowpoke shuffling and that moment alone is worthy of 1,000 drachmae.
Wescott, who starts life on the stage as the fiery servant archetype and all-around marvelous moocher Peniculus, finds great physical disparity between that of rootin'-tootin' spitfire hunger-fiend and the derelict and dusty Senex. Wescott's most laughable moment is delivered in the high-speed mincing "move" that races Senex off-stage in a sense of perpetual urgency. The commitment to this comic shtick is too funny for proper words. Erotium (Yasmine Hasib) is quite the frosty tot when it comes to putting the glacial chill on the pair of Menaechmus. Channeling her inner diva in a way that exudes gracefully and charismatically out of her statuesque poses, Hasib draws a deep connection to the scorned woman and gets particularly vicious in the shoe-department when it comes to laying into these lousy men.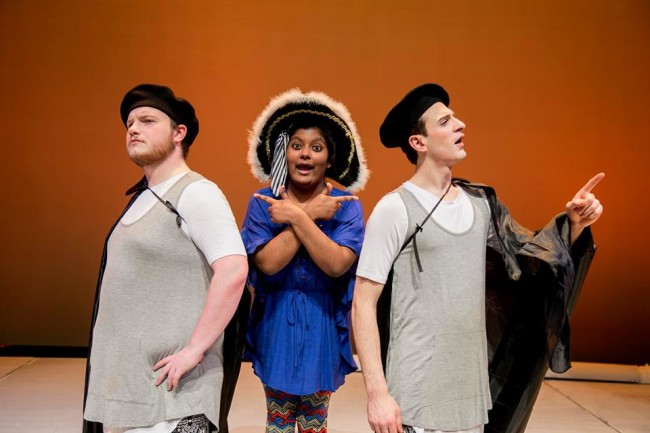 In the name of the immortal gods Anjali Cornish takes on the role of Messenio and packs quite a punch in the process! Cornish's character is a pint-sized pipsqueak that won't pipe down, but she isn't letting a little thing like little stop her when it comes to making a huge overly dramatic presentation of the hilarious sidekick character. With wildly wandering facial expressions and adorably accurate attacks of apoplectic panic, Cornish has a great many moments which become show-stealers, particularly during the pandemonius fight choreography featured near the end of the production.  
Brimming over with magnificent melodramatics is Ana Steuerman in the role as Matrona, the royally scorned and screwed housewife of Menaechmus. As lively and fiery as Wescott's Peniculus, only with a more over-the-top approach to the absurdist moments, Steuerman works the comedic elements of her character's plight to a finely tuned tee. Throwing vicious shade in a full-blown Hydra versus a Hero showdown against her husband, Steuerman holds her own in the anger department and relies heavily on her hyper active physicality to channel all of her character's emotional energy into exaggerated gestures that result in uproarious laughter for all watching.
By Hercules! By Pollux! By Jupiter! Buy these boys some name tags! Christian Fisher and Giustino Puliti take on Menaechmus and Menaechmus. Or is it Menaechmus and Menaechmus? Fisher plays Menaechmus. Puliti plays Menaechmus. They play twins. Who don't know they are twins. But do know that they have a twin. (Maybe all of Shakespeare's bad plot holes weren't excluded after all.) Fisher, credited as Menaechmus 1, presumably because he is the first to which the audience is exposed, is a force to be reckoned with when it comes to his temper, much like Giustino's portrayal of Menaechmus 2.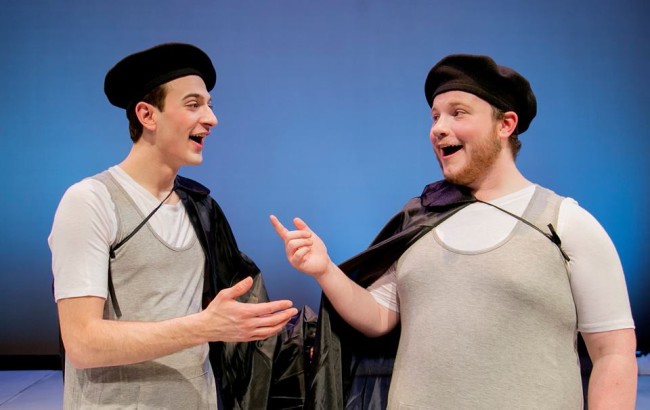 Growling, roaring, bellowing, and blustering, Fisher lays heavily into his terrible, horrible, no good, very bad speech like a ravenous cannibal. Irked to full capacity and riled up with the hellfire of Hades, a trait which is passed like the plague onto Puliti for later moments in the production, Fisher is a bombastic presence on stage that can be felt all the way back in the days of the BCE. Giustino comes into his prime limelight near the end of the performance and he's going off the rails on a crazy train— er, going off the columns on a crazy charity. The pair, though virtually never together on stage (as one of the slippery glue-strips that holds the plot in place), work exceptionally well with each other and the rest of the cast, especially when it comes to blatant acknowledgement of the outright shenanigans that are erupting all around them.
An exceptional performance, comic gold in its prime, with a clear and concise story and epic moments of comedic sincerity that will leave you sore from laughing, The Menaechmi Twins is a fantastic way to get in touch with the classics and enjoy live theatre!
Running Time: Approximately 85 minutes no intermission
The Menaechmi Twins plays through March 22, 2016 as a part of the Department of Performing Arts and Humanities of the School of Liberal Arts at the Community College of Baltimore County on the main stage of the Theatre Building of the Community of College of Baltimore County Essex Campus located at 7201 Rossville Boulevard, in Rosedale, MD. For tickets please call the box office at (443) 840-2787 or purchase them online.