You must be serious about something if you wish to have any fun in life at all, and the thing to be serious about this spring is procuring a ticket to the exceptionally well-performed production of Oscar Wilde's The Important of Being Earnest. The house is intimate and tickets are likely to be snatched up once word is out at just how resplendent and amusing the current Annapolis Shakespeare Company production is, so now would be the time to call for the dogcart to take you to Studio 111 and prepare yourself for an evening, or an afternoon as the case may be, of delightfully decadent high-brow comedy served up at its finest. Directed by Sally Boyett, this quick-witted, smartly-paced comedy will leave you yearning for your own bout of Bunburying either in town or out in the country and is sure to stick a tickle to the inside of your funny bones for some time after you leave the theatre.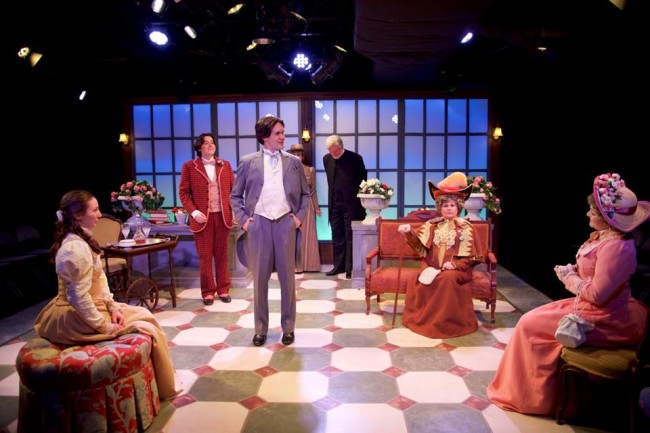 Transforming the intimate space of the ASC studio from a modern day blank black box into the late 19th Century English flats, gardens, and drawing rooms in which the play takes place, is the sole task of Scenic Designer Jack Golden and Scenic Artist Amy Kellett. The furnishings are elegant and exactingly placed so as to create the illusion of comfort and care without overcrowding the stage. Kellett's attention to detail is displayed with refined decadence when it comes to the patterned floor, while Golden's most impressive set construct is the glass wall-length window drawn in for the third scene inside the Woolton Manor Home drawing room. The scenic refinement is enhanced by Lighting Designer Adam Mendelson's subtle indoor and outdoor cues, as well as his keen understanding of how to apply a light touch of mood through illumination in such a quaint staging area.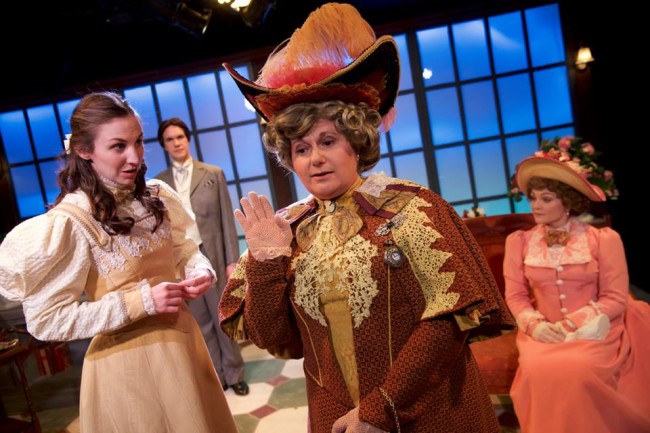 Extravagance is not spared when it comes to the outlandishly perfect sartorial choices made on behalf of the characters by Director Sally Boyett. Fashionably suited to both the play's locale and playwright Oscar Wilde's character constructions, Boyett's ideas of how these characters ought to look come together with a lavish flare that perfectly befits both the functionality of the comedy and the aesthetic. Aiding the couture's glove-like fit to each of the performers is the company's resident Dialect Coach, Nancy Krebs, and her work to extrapolate polished and refined English sounds from each of the cast members in play upon the stage. These production values, in addition to Boyett's rigorous pacing of the comedy and her astounding ability to unfold such a larger-than-life production on a carefully plotted and cozy stage, are what really make the performance praiseworthy beyond compare.
Every performer of the nine-person cast finds their niche in this production, be it momentary comic relief or more long-standing plot motivation. Merriman (Larry Levinson) and Lane (Timothy Sayles) are at the bottom of the social food chain, so to speak, as the butler and manservant respectively but both give noteworthy performances with the simplest of affectations to their character construction. Both Levinson and Sayles adopt a rigid posture, which translates into something humorously delightful as they bow and present themselves to the families they serve. Levinson in particular adds a layer of laughable humor to his character with the zapped deadpan delivery of his one-lined appropriations when responding to orders.
Oscar Wilde's works may be some of the original "rom-coms" as it were, and if the side-plot flirtations are any grounds for basis, The Importance of Being Earnest falls assuredly into this category. The Reverend Chasuble (Will Cooke) and Miss Prism (Sue Struve) are the prime example of this notion. Cooke and Struve are, in a word— however trite— earnest in their interactions and mild-mannered flirtations with each other. It's adorably embarrassing how quaintly they respond to one another's subtle advances and it is these moments, however few, that set the borders for the more overt flirtations and proclamations of love from the main characters.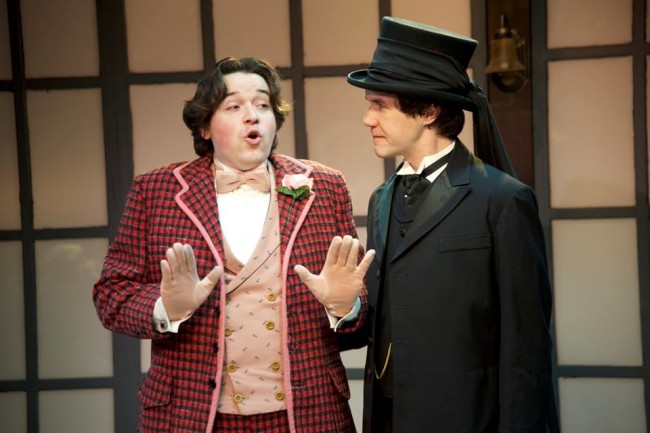 Thick as thieves who would so quickly turn on one another in the matters of love are Algernon (James Carpenter) and Mr. Worthing (Brian Keith MacDonald), who takes up so many different aliases during the production that one almost needs a diary to keep track of them all. Carpenter and MacDonald display a kinship not so unlike a fraternal bond wherein one is constantly besting the other be it in affairs of state, domesticity, bachelor life, and even love. Carpenter, whose character's propensity toward eating reflects well in his rosy-filled cheeks, possess as jovial gaiety that permeates every step he takes, ever word he speaks, and every smile that graces his lips as the play rolls merrily along from town to the countryside. A babble and a twitter with puppy-love upon initially meeting Cecily, Carpenter's character becomes the epitome of a spring-sick chicken when it comes to fondness and affection for the coquettish country maiden.
MacDonald, as the smug and more grounded of the brotherly companions dons a perpetual smirk, sometimes snide, sometimes cheeky, but always present even in moments of uncertainty, and it grounds his character with rooted cleverness. Possessed of articulate facial expressions, particularly when it comes to surprising and sticky situations, MacDonald translates a world of emotions through his face in addition to his textual delivery. It's his smarmy and upper-crust mannerisms that distinguish his character from that of Algernon's and makes him on the whole the driving force of all the zany exchanges which the pair encounters both among themselves and with their women respectively.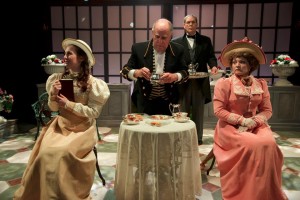 Cecily Cardew (Teresa Spencer) and Gwendolen Fairfax (Renata Plecha) drape a cashmere cloak of refined femininity over the production, though they are as opposite as chalk and cheese when it comes to country countenance and city charm. Spencer's approach to the simplicity of the character makes her irresistibly exquisite in this role with her lilting voice and sweeping confusion that reflects prominently across her face. Plecha, who delivers not only a striking performance as the poised Gwendolen, deserves the highest of praises for her London-town make-up sense with the paled face deliberately caked on and her eyebrows extended and defined to that of a true city woman. These two women, particularly Plecha, have the most amusing facial expressions that carry their interactions to new enjoyable and humorous heights throughout the performance, but none quite so soundly as during their Act II tea-scene exchange. This scene alone holds merit for being the most uproarious exchange between a pair of character in the production; Plecha and Spencer make it utterly enjoyable and throw shade between one another as if they were lobbing volleys in a Wimbledon match! Truly magnificent performances given by both women, they spin the production about on its head when it comes to drawing attention to the high-brow humors of Wilde's comedic wit.
Taking the cake, muffins, cucumber sandwiches, and everything else one can take from such a show with such a stunning performance, Laura Giannarelli is a rolling freight train of explosive personality barreling down the tracks of the show's supporting character roles. Giannarelli exemplifies the haughty and simultaneously hilarious nature of Lady Bracknell consistently throughout the performance, with perfectly poised inflections peppered throughout her speech patterns. Her highly aristocratic rolling of the R's in her speech furthers this notion of over-the-top preposterousness and makes her performance nothing short of delicious. With an outrageous hat to match her perfected personality, Giannarelli steals the show during her ferocious inquisition scenes, particularly when accosting poor Miss Prism in a tone that could shake down Stonehenge.
Guaranteed to be the best Bunbury you've ever experienced, delight yourself with a true theatrical treat in this extravagantly polished, and perfectly proper afternoon or evening of convivial wit-laced comedy. You shall not be disappointed in the results!
Running Time: Approximately 2 hours and 25 minutes with two intermissions
The Importance of Being Earnest plays through April 10, 2016 at the Annapolis Shakespeare Company in their Studio111— 111 Chinquapin Round Road Suite 114 in Annapolis, MD. To purchase tickets call the box office at (410) 415-3513 or purchase them online.