Dearest Reader, an adventure awaits you— both bold and daring!
But with effort abound, tons of creativity and caring
A spectacular spectacle, and you must doubt those naysayers,
Comes Seussical! The Musical at Charm City Players!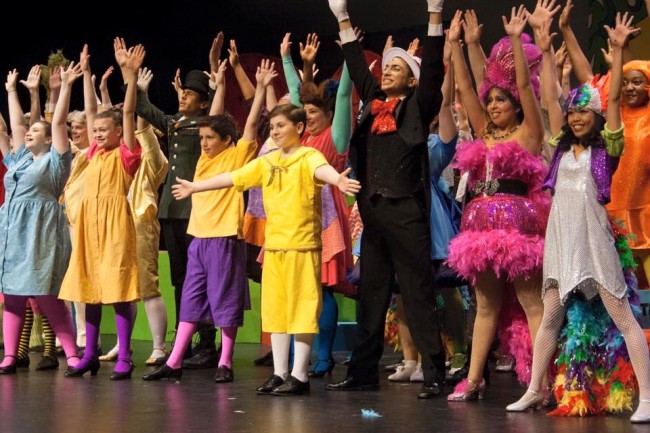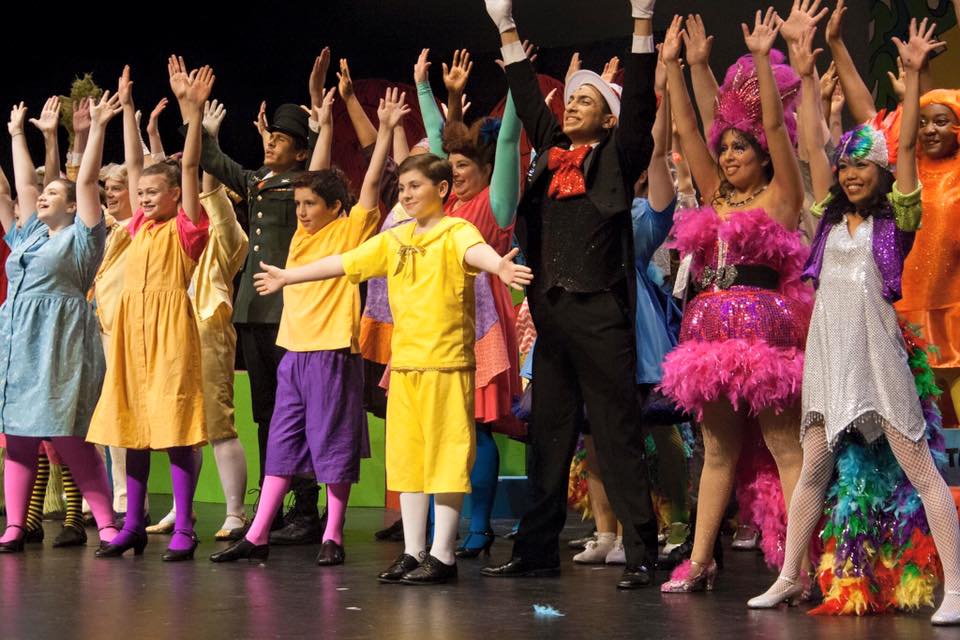 It's all been done before, it's been done too many times
Why that musical about Seuss with all of its rhymes!
But I'm telling you this, and I'm truer than true
That this production is different, it's practically new!
Settled into their new home, CCP at Mercy High School,
They're making their mark and it's undoubtedly cool!
With glimmer and glitz and a radiant glow
You won't want to miss this Seusstacular show!
It's only six shows, so to get a ticket, make haste!
You simply can't miss it, there's no time to waste!
With Stephen Napp at the helm and Kathryn Weaver's Musical Direction
Why this production of Seussical is practically perfection!
All the tunes in their order, and all the melodies in place
Why they've even got harmonies that float mellifluously through space!
And I must take a moment to acknowledge the dancing
So many bodies on stage, it's practically entrancing!
Choreographer Jason M. Kimmell knows his stuff
About coordinating bodies and limbs without fluff.
It's succinct and sincere, clean cut and quite spiffy
There's not a dance number that ever feels iffy.
If you glance in the program your eyes will go POP
At just how many people whose names do get top—
Billing, that is when it comes to creation
Of set, props, and costumes, it's quite a sensation!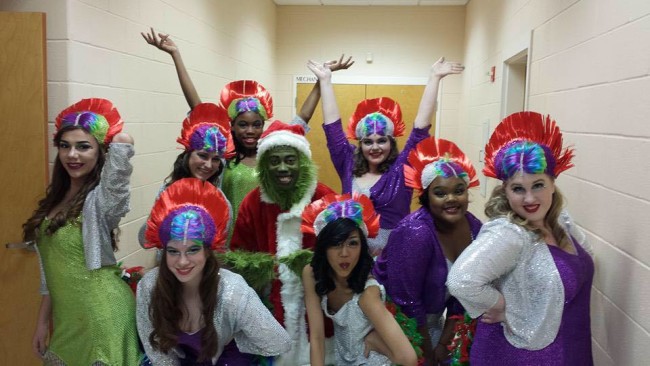 To list them all here would be an impossible task
So group praise for all, and in your wonder they can bask
At their whimsical artwork and their fabulous threads
Without which this production surely wouldn't turn heads
But turn heads it does, especially the clothes and the wigs
These characters have magical, stupendous looking digs!
From rainbow tinsel-threaded boa tails and sparkling dresses
To furry costume accoutrements, their outfits are successes!
Loaded with marvelous colors and glitterasmic sparkling delight
These costumes are amazing, the crew did them up just right!
The only thing outshining these outfits outstanding
Are the performances given, ovation-worthy, we're demanding!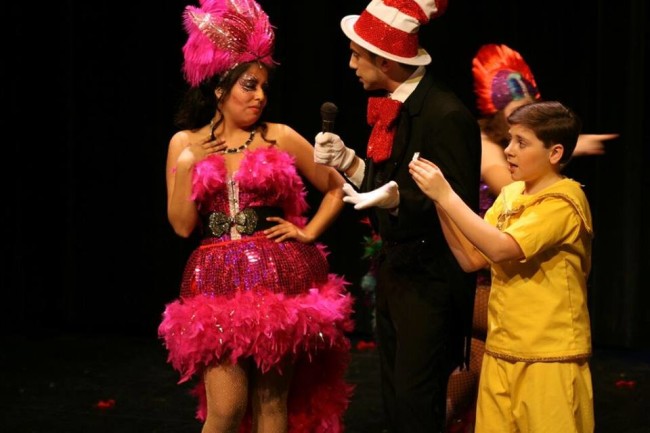 From the chorus to the leads, and all performers in-between
It's a show packed with talent that simply has to be seen!
Where to start? What to say? So many wordful praises
That this here review it could go on for days-es!
There's Yertle the Turtle, who Chris Fotis does play
And his one-second solo is truly okay
Well, it's more than okay, but you try finding a rhyme
That fits quite as well in both meaning and time.
Fotis doubles his role as a Wickersham Brother
And he's dancing with sass, much like the two others
That's Brandon Shaw and Tate Tiemann, making up the Wickersham Team
 And those three put together, do seriously gleam
With sparkle and panache all across their dance moves
Tiemann even busts out with some fierce vocal grooves.
For "Monkey Around" his solo is heard
And it's fierce and fantastic, two well-deserved words.
But the Wickersham Brothers aren't the only cool cats
Too many to list, all those Who's and their hats
Okay, they don't actually wear hats, they tease their hair up quite high
But they're awesome to look at and listen to, here's why
They all sing on pitch, and deliver a great sound
And there definitely needs to be much more of that going around.
Like our Grinch, Thomas Ogar, who gets a solo quite brief
Delivers great sounds in green, why, what a relief!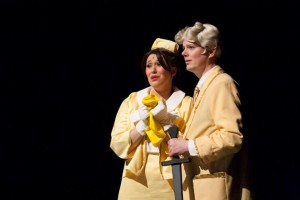 Then there's The Mayor, Jeff Baker, and his Wife
Played by Christina Napp, without difficulty or strife.
Their duet, "How to Raise a Child" is Seussically delightful
The way Napp channels Jackie-O, is something quite frightful.
Her look, all in yellow, with her patented wave
Is a little inside head-nod, for us adults who behave.
And let us not forget General Gengis Kahn Schmitz
Whose character is truly, quite really the pits!
But the actor, John A. Gurtshaw, has quite a fine penchant
For barking and biting in his robust German accent
Okay, I'll admit, that last line wasn't quite so rhyming
But I'm doing my best here, to at least fit the timing.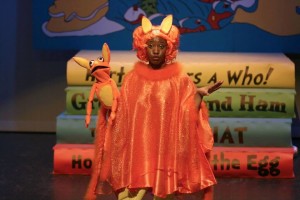 Moving on from the Butter-Side-Up Battling Who
It's time to laud praise on a seriously Sour Kangaroo
JacQuan Knox is belting out serious attitude
And her character portrayal is perfectly rude!
She shoots down Horton with dramatic diva flare
And her pouchling, a puppet, is too cute to compare
Think of every great stage diva, from Patti to Bette
And the belting personality of Knox is what you'll get.
Filling in moments like in "Biggest Blame Fool"
Knox is super sensational, and put simply, she's cool.
Showcasing another diva-esque performance beat
Is Mayzie La Bird, actress Hannah Gutin-Chreech.
Strutting her stuff she makes no bones about
Just how fantastic she is, and how she loves to go all out.
With a big carrying voice for self-titled solo
You'll watch on with glee to see just how far she'll go.
When owning her role, against Miss Gertrude McFuzz
Gutin-Creech is the fanciest bird ever was.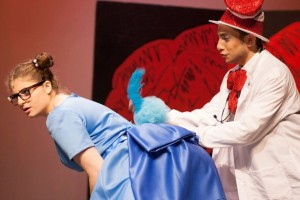 Now poor one-feathered Gertrude, played sweetly by Grace Kane
Is extremely talented too, but in a much different vein.
Her character isn't all loud and stand-outish,
But much more reserved and completely self-doubtish.
Kane's portrayal of Gertrude is heart-warming and earnest
With a tender loving heat that feels quite like a furnace
Coming into her own in both song and character voice
You'll fall in love with Kane's Gertrude, there won't be a choice
Especially when she serenades poor oblivious Horton
Why, true love in her portrayal, what could be more important?
Then there's Horton, you see, a most determined character indeed
Leave it to James Gilbert, who brings our Horton up to speed.
When it comes to solos and duets, he's truly sincere
With a heartstring tugging voice, Gilbert makes it quite clear
The emotional intentions of Horton, he echoes through all,
A person's a person, no matter how small.
When he teams up with Jojo (Logan Dubel) for "Alone in the Universe"
A tear comes to the eye, as their sing through their verse.
Dubel has a voice that's sugary sweet and serene
He's angelic, cherubic, if you get what I mean.
Precocious and adorable, as Jojo, Dubel succeeds
When it comes to thinking up thinks such as these.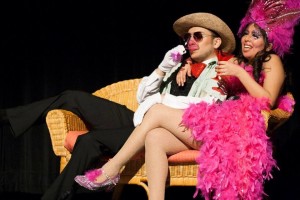 Let's not forget our boisterous narrative prat
Why that ridiculous, Seussical menace The Cat in the Hat!
Played by Joseph Haddad with enthusiasm and cheer
With all his energy we're quite glad he's here!
He follows his hunches, and makes a great show
Just one of one hundred reasons you must go!
To see Seussical! The Musical with this phenomenal cast.
And I almost forgot— how could I forget?
The cutest little cast member to be debuted as of yet!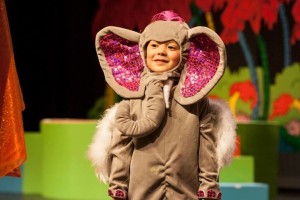 Little Parker Napp appearing live at the end of the show
He's reason number 101 you must go!
An adorable hybrid of precious and too cute
Why if you don't go see him, we're giving you the boot!
It's an ephemeral event, that's not going to last!
So go one, go all! Quickly now, don't be naysayers!
You must catch this show at the Charm City Players!
Running Time: Approximately 2 hours and 15 minutes with one intermission
Seussical! The Musical plays through March 20, 2016 at the Charm City Players now in residence at Mercy High School in the Harry and Jeanette Weinberg Auditorium— 1300 E. Northern Parkway in Baltimore, MD. To purchase tickets call the box office at (410) 472-4737 or purchase them online.