Come with me to see something strange unfold and hear the weirdest tale that's ever been told. But children, be wary if you're faint of heart, for what's happening on stage is more than just art! The Children's Playhouse of Maryland is undertaking a marvelous masterpiece, an enormously fruity and fantastical story— James and the Giant Peach! What a musical! Directed by Liz Boyer Hunnicutt with Musical Direction by R. Christopher Rose, this catchy chimerical tale is adapted from Roald Dahl's delightful darkness and takes children of all ages on a wild and wonderful journey.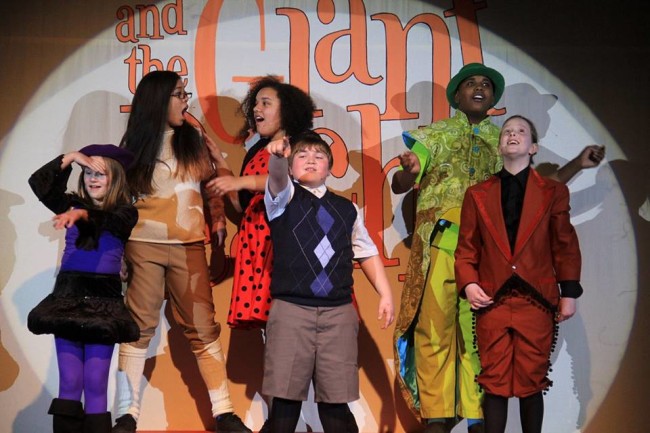 It's a huge team effort over at CPM to create the wonders of a Roald Dahl-inspired stage show so that the imagination can play connect the dots. Scenic Artist Laura Miller and Set Designer Diane Smith team up and create at least three phases of the "giant peach" across stage-length curtains to really fabricate the illusion that the magical crocodile tales have grown a gargantuan garden-variety fruit hanging from the withered old tree. Enhancing these aesthetical details is the work of Lighting Designer Thomas P. Gardner, who uses swirling gobos in various colors throughout to create magical effects. Gardner's finest illumination is the mesmerizingly tranquil and dazzling blue swirls that spin slowly to create the ocean waves once the giant peach is set adrift at sea.
Half of what makes a musical stage show so much fun to see and do is all of the dancing that's worked into the performance. Choreographer James Hunnicutt finds a happy medium between lively steps and simple routines that keeps the young performers looking good and feeling energized as they bounce about from number to number. Songs like "There's Money on that Tree" and "Plump and Juicy" become regular show-stopping numbers with all of the shuffles and spins incorporated therein. Hunnicutt works hard to showcase solo performers who know their stuff as well, the most prominent being the fraidy cat Earthworm (Jocelyn Castillo) who really gets to strut her stuff during "Plump and Juicy." Castillo owns the number and really shakes out a good deal of dancer's flare in this hilarious routine trying to get the attention of the seagulls.
Director Liz Boyer Hunnicutt masters yet another performance for young audiences by young performers with her sharp intuitive directorial skills. The show moves quickly along, numbers bouncing from one to the next, and everyone looks to be having a splendid time upon the stage. Between the powerfully voiced ensemble really contributing to numbers like "Our Adventure Begins!" and "Welcome Home" there seems to be no stopping the good time that is being had by performers and audiences alike upon this stage under Hunnicutt's skillful guidance.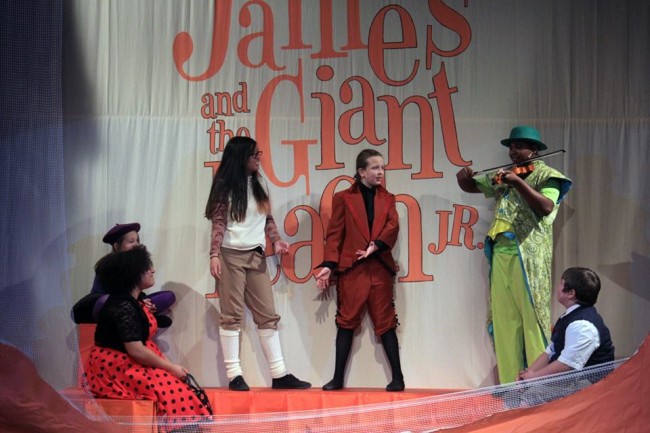 The ensemble is populated with stellar performers, all of whom look— as James says, Fantasmariffic— thanks to Costume Coordinator and Wearable Wrangler Sharon Byrd. Between the bugs, the barnyard critters, and the Oompa-Loompas (Sofia Alvarez, Amy Claudio, and Molly Foggo)— yes, somehow those bouncy little bumpkins matriculated their way along with Willy Wonka (Addison Barry) over from their own musical right smack into the middle of this one— Sharon Byrd delivers a handful of crazy and creative costumes that really fit the look of the production. Pay careful attention to all of the curious colors and beautiful patterns used for the insects! But best of all? Cruella DeVille-inspired couture for the horrid nasty Auntie's Spiker and Sponge!
There's a little show stealer erupting out of the ensemble during "There's Money on that Tree" and she goes by the name of Addison Barry. Acting as a character called Buzz, Miss Addison Barry steals the thunder of the entire routine by exploding like a bubble-gum pop tart filled with jazz, pizzazz, and panache when she takes to the center of the stage and leads the dance routine there. Her character is vivacious and you just can't take your eyes off her as she goes "total Hollywood" in this scene.
Our narrative force, Ladahlord (Sam Patterson) gets the ball— or the peach?— rolling early on, so to speak, with his talented and fulfilling vocal sound. Patterson is enigmatic and just a little bit marvelous in his mysterious wonder. Carrying each of the "Right Before Your Eyes" tunes (through at least four reprises), Patterson uses his rich and robust voice to draw the audience into the tale.
James (Zachary Byrd) starts off life quite miserably, being an orphan whose parents have been decimated by a rampaging rhinoceros (Katie Doyle, commanding the puppet, cleverly crafted by Lauren Lowell.) But it only gets worse for the poor boy as two living relatives are discovered! Byrd keeps a positive attitude about his portrayal at all times and really acts the part when it comes to being brave once the circumstances start to change. Facing down a crazy crew of insects, two seriously sinister Aunties, and a whole world of other dangerously adventurous encounters, Byrd is the boy for the job.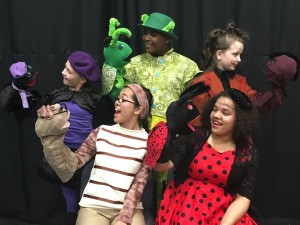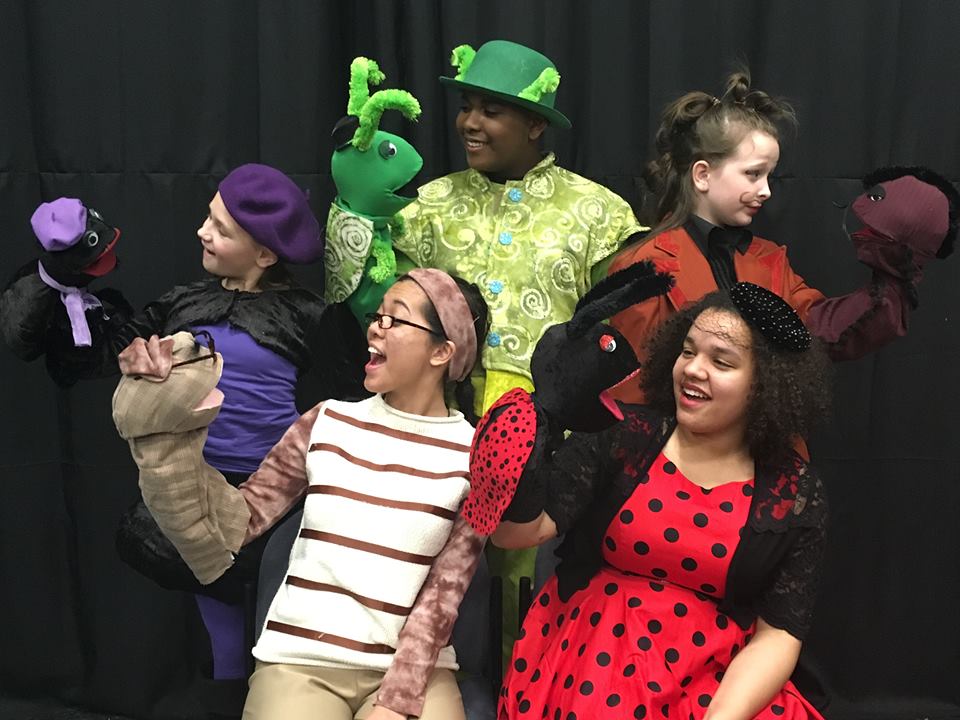 The insect company consists of a quintet of lovely performers. Centipede (Jacqueline Hicks) has a perpetual chip on her shoulder, which is the complete opposite of the terrified and cowardly Earthworm (Jocelyn Castillo.) Both Castillo and Hicks have their moments to shine, really pushing the defining markers of their character traits— moody and attitude-y, and timid and frightened respectively— making them easily identifiable no matter what the circumstance. The same can be said for the mostly amiable Spider (Gwen Lowell.) One of the zippiest and zingiest lines in the performance is delivered by Lowell's character. "Did you know they killed my fiancé? Yeah, and the gigantic one? She ate 'im!" The comic timing with which Lowell dispatches that line is impeccably delivered.
Carefree and easy-going Grasshopper (Jared Alston Davis) settles in delightfully with the cheery and primly proper Ladybug (Anderson Gray.) Both Davis and Gray have beautiful voices used to highlight numbers like "Our Adventure Begins!" and "Everywhere that You Are" with the latter of the two being a chance for Gray to sing a melodious and comforting solo at James. Davis masters "Floatin' Along" with that "hakuna matata" essence imbued into his lyrics and keeps the song jovial as he waxes through it with ease. The pair are most adorable when they subtly admit to fancying one another.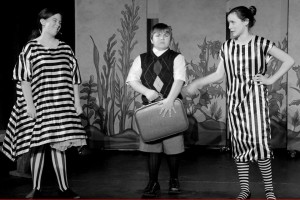 What would a good story be without two nasty, horrific, shrieking, atrocious, vicious, revolting baddies? Not a very good story, that's what. But don't worry because James and the Giant Peach is a very good story, right down to the fact that they include two of the most wicked, horrid, vile, and disgusting old-world Vaudeville-style villains that could ever be thought of in Spiker (Kathryn Schudel) and Sponge (Emily Ricci.) Led by Schudel's shenanigans, this pair of rotten old villainous vixens really ham up the stage every chance they get. Hilariously comic and fully invested in their shrill voices complete with accents, both Schudel and Ricci run away with the show on their black-and-white-striped dress-tails. Schudel really shakes it up for "I Got You" turning the duet into a classy and uproarious Vaudeville-style stomp routine. These two twisted sisters will keep you rolling in the aisles with laughter until their hysterical, albeit untimely, end.
A tremendously fun and exciting production that should have every member involved beaming from ear to ear with pride, James and the Giant Peach, won't settle in for long, so be sure to catch it before it floats away, drifts away, and is all eaten up this March!
Running Time: 1 hour and 45 minutes with one intermission
James and the Giant Peach plays through March 20, 2016 at the Children's Playhouse of Maryland in the Lecture Hall of the Administration Building at the Community College of Baltimore County Essex Campus— 7201 Rossville Boulevard in Baltimore, MD. For tickets call the box office at (443) 840-2426 or purchase them online.