Good evening, Charm City. It's 9:00 o'clock, not quite the witching hour but certainly the hour to be bewitched by your favorite radio program host— the master of the macabre! The antiquarian of the insane! The navigator of the netherworld! Why, it's time to grace your ears with the haunting styles of Horatio Dark and his monthly broadcast of Between the Lines. Presented in live and living color from the radio-broadcast station of WYST (taking up residence in the old Yellow Sign Theatre up on North Charles Street in Station North), a studio audience gets to experience the phenomenon that is 1940's radio play magic. Featuring two series regulars and two new writers, the month of February is filled with fantastical adventures through time and space that will keep you eagerly ensconced upon the edge of your seats right to the very end of the program.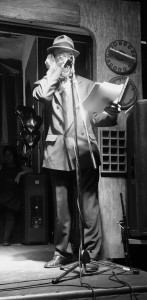 After a racy exclusive holiday event— Horatio Dark's Between the Sheets— the regulars have returned to the stage with some shocking new additions to carry on the torch of terror in the regularly scheduled broadcast. Taking on the role of the Announcer, Mr. Craig Coletta (Yellow Sign Theatre Company's Artistic Director) adapts his best 40's persona and delivers the introductions with a smooth sound made for night time radio. Returning as the ghoulishly grand host with the most Horatio Dark, Mr. Jon Freedlander brings his haunting humorous charm back to the heads-and-tails of each of the serial installments. As always, Foley Master Dave Marcoot brings the live sound effects to outrageous new heights from the foley booth, with the assistance of Mx. Eidhnean Illuviel, making their second appearance to the program ((having made their foley debut in Horatio Dark's Between the Sheets.) All's well as things get underway on an unseasonably warm Sunday evening.

Despite some minor microphone and technical issues— "hey folks, that's live theatre" as they say— the show was received as a smashing success. Substitute hosting for Horatio Dark, Mrs. H Dark (as read by the fabulously glamorous Lori Travis) two new writers— Matt Fendahleen and Clara R.S. Ward— as well as two returning serialists— John Higgins and Horatio Dark himself— kept the audience roaring with laughter, gasping in shock, and otherwise completely engaged with the timeless art form. Props and nods of a well-deserved manner should be handed over to Foley Master Marcoot and his lovely assistant Mx. Illuviel for the extensive sound work throughout the evening, as this particular month's broadcast was heavy on weather effects.
The Drowning of St. Joan: A Tale from Ashwynd by Clara R.S. Ward
On the cliffs of Ireland in the midst of the second great war sits an asylum cut off from the village run by a priest and a nun. But curious things happen within the walls of Ashwynd Asylum as the inhabitants are cut-off from the village due to a perpetually unending storm. So begins the Twilight-Zone-twist of Clara R.S. Ward's script. Written with dated pop culture references, and a few personal touches that cater to members of The Yellow Sign Theatre Company and their love of old school art forms and underground drinks, the script is somewhat frantic, a little bit spooky, and seemingly well received among the audience.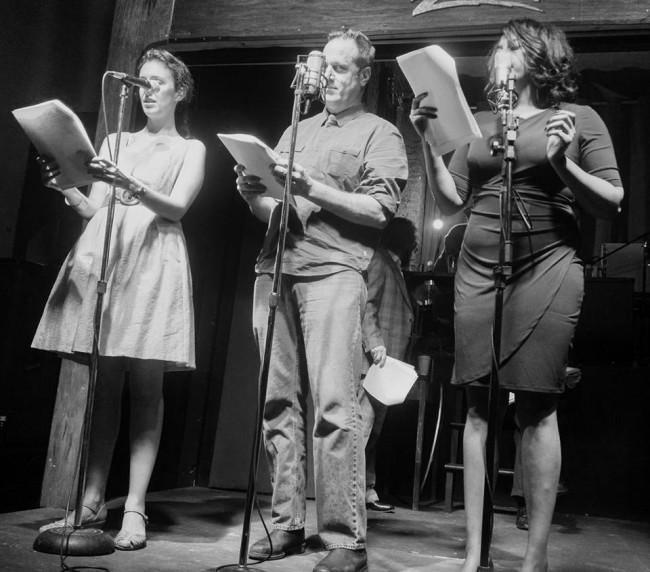 Voicing Father Peter, Michael Stevenson delivers the character with a rich and hysterical gusto, really landing moments of panic with a heightened sense of both facial and vocal animation. Holding her own against the larger-than-life radio personality delivered by Stevenson, Allyson Washington takes on the kindly, albeit feisty, role of Sister Nicola. But it's Chris Allen who becomes the show-stealer in this episode, as the quick-talking American GI, Lt. Philip Hendricks. Both Washington and Allen have a great working repartee when it comes to exchanges with Stevenson. Delivering a stellar Irish sound, Stevenson puts the pikey in the priest and really packs a punch when it comes to rolling certain terminology over his tongue.
Line of the script: Lt. Philip Hendricks— "…I can't survive being shot down only to die face down in a nun's pie!"
What are the Odds? by Matt Fendahleen
Loaded with super scientific sound effects, particularly a process and bell-ding for the "Probability Engine" this script is primed to keep the Foley Artists on their toes. Marcoot and Illuviel deliver, particularly when it comes to the machine, and have solid timing throughout this episode. Taking somewhat of a misogynistic turn, Fendahleen's writing does have solid characters, if the plot moves a bit slowly at times. The dialogue is well constructed, particularly when it comes to fleshing out the character of Nixon Rich, who appears to be an amalgamation of a modern day Trump meets a savvy 1940's entrepreneur with class and savoir faire (think Hudsucker Proxy.) Fendahleen also unearths a curious patois for the character of Professor Hermann Smart, which when juxtaposed against the zippy punches of Nixon Rich, make for an intriguing combination of hot fire and slow heat.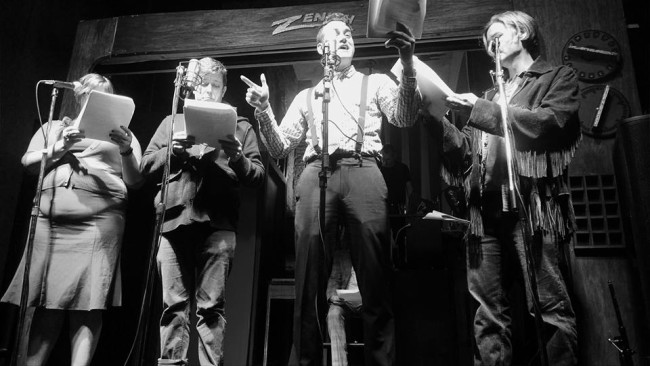 The elderly German professor, voiced soundly by Mike Jancz, is perceived as feeble almost instantaneously. This is enhanced by the deliberately slowed speech pattern and monotone delivery Jancz imbues to the character. Again, pushed firmly up against the slick and sassy tongue of Nixon Rich, played read vivaciously by Rex Anderson, the contrast creates sparks of fascination throughout the serial. Anderson is the cat's meow, the cola's fizz— all that and a bag of chips when it comes to his smarmy and arrogant persona. Notable cameos include Chaz Kedesla as the gooberish goon Alonzo and Alix Tobey Southwick as the sentient Greta, which marks the script's delightful twist ending.
Line of the script: Nixon Rich— "…your nest is going to be so feathered it'll be like an explosion in a pillow factory."
Close to Chrome: A Bennington Marcus Mystery by John Higgins
A new installment of the favored serial has arrived! Close to Chrome, takes Marcus and Theo16 to discover the location of and subsequently rescue Socrates-41, also known as Dr. Chrome! But not without its natural course of trials and tribulations along the way. In true crime noir gumshoe detective beat style, Higgins populates the recording stage with perhaps the most characters ever experienced in a single serial episode. But none of the characters feel out of place superfluous, or under-developed, a praiseworthy point if ever there was one. Higgins' new script features the return of The Prize (voiced by Maddie Rodgers Croy) as well as Mayor Dupree (played hilariously in the homage-vein of Hedonism Bot by Bob Rose) and introduces fabulous new players like Socrates-41 (voiced with vivid animation by Rex Anderson) and the hipster-happening Bartender Kirby-26 (played to uproarious enjoyment by Michael Stevenson.)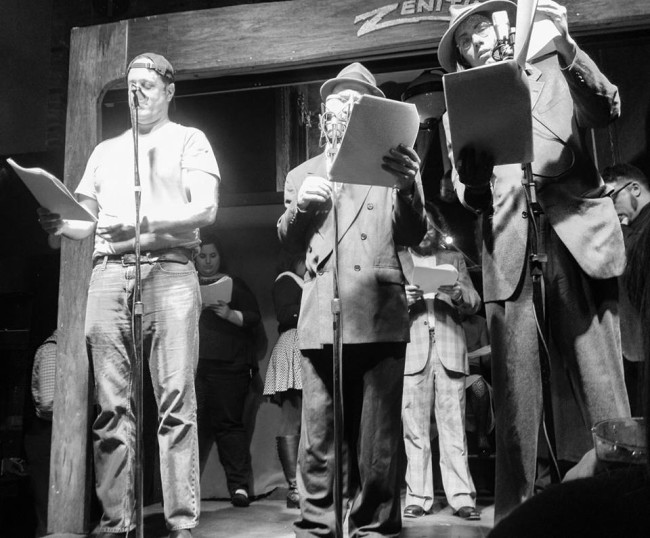 Higgins captures actual old world Baltimore and fuses it flawlessly into the fantasy version that exists within the Bennington Marcus world. Marcus and Theo16 take a field trip to The Diode, a club in Fells Point with an all chrome staff, and anyone familiar with the layout of the point can immediately picture its location from the simple yet sharp description he's penned. Craig Coletta, Jeffrey Gangwisch, and John Bennett, adapt their recurring roles of Marcus, Theo16, and the Chief respectively and bring the well-established gravel, chrome, and guts (respectively) to each of these finely carved characters consistently throughout the episode. Notable cameos come from the Gearheads— this episode's vile villains— voiced by Todd Gardner and the hysterical Chris Allen, who is the beefier, meatier, goonier of the two. Maeve Yeager also brings a touching sense of maudlin reality to the show with her brief appearance as Darlene DeLaCroix, a real sweet doll from the era. 
Line of the script: Gearhead— "Go suck an egg, Johnny Law!"
Driftwood: A Rex Pylon and Dot Planet Tripper Adventure by Horatio Dark
Get along little doggies, because Driftwood is going to be yer new home! It's a rootin' tootin' hoedown of a good time in the latest Planet Tripper Adventure as Rex Pylon and Dot find themselves on a planet that mimics to the letter Dot's old-fashioned cowboy western novels. Foley Master Marcoot and his assistant Mx. Illuviel have their work cut out for them with galloping horse hooves, gunshots, and saloon shenanigans happening all around them, but the set of sound-makers succeed superbly in creating the soundscape of the old west— in space. Horatio Dark's newest installment really hones in on the iconic wild west tropes, everything from the bumpkin-dandy Deputy Boon (read by John Higgins, who ends up being the dag-gum scene stealer with all of his un-fancy talk and hilarious twang) to the tumbleweed-headed barkeep Skinner (rivaling Higgins and giving him a run for his money, Chris Allen takes the character to task with an old spittoon of an accent and a lively dustbowl spirt.) and naturally it all ends with as showdown to show down!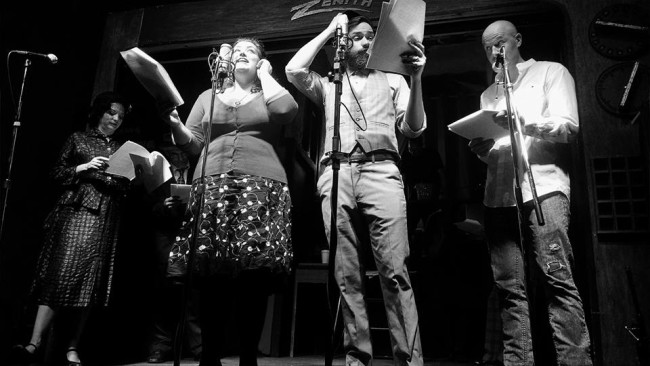 Introducing Lori Travis as Sheriff Jonas and Jess Rivera as baddun Shotgun Josie Clanton, the script is filled with laughable moments, Pensyltucky accents, and some slick gun-slinging that you just can't get back on earth. Continuing their recurring roles as Rex Pylon and Dot, both Derek Vaughan Brown and V Lee bring their exceptional character work to the table, really settling into the niches of their characters as they experience this new rough-n-tumble terrain. Vaughan Brown takes a few good shots at Lee's sweet-n-silly character and maintains his "adventure captain" routine in the face of crazy uncharted wild-west-waters while Lee gets a chance for her character to have useful information to help them out of their current sticky situation. The face-off between Boon and Rex is one of the most entertaining segments of the script. Dark's writing, as always, is fondly reminiscent of Futurama and keeps the audience tied up in giggles with these two loveable knuckleheads and all of their zany adventures.
Line of the script: Shotgun Josie Clanton— "…I came here fer two things. To chew licorice root and to shoot you dead. And I'm all outta licorice root."
In Conclusion
February's installment, back to the regular and utterly delightful shenanigans that are Horatio Dark's Between the Lines, after the brief— though insanely entertaining— V-day disruption of Between the Sheets— was one for the books. With Big Sleeps, Probability Engines, Craig Coletta cracking on stage compliments of Bob Rose (an unheard of, unseen, and potentially once in a lifetime event) and a shit-ton of gunshots going off from the Foley Booth, this month was epic as promised. Be sure to join The Yellow Sign Theatre for the March installment of Horatio Dark's Between the Lines, date to be announced.
Horatio Dark's Between the Lines was a one-evening event occurring on February 29, 2016 at The Yellow Sign Theatre— 1726 N. Charles Street in the Station North Arts District of Baltimore. Be sure to attend the regularly scheduled Horatio Dark's Between the Lines on the last Monday of every month starting at 7:00pm. Arrive early as seats fill up quickly.
Missed a broadcast? No problem! You can hear Horatio Dark's Between the Lines online as an uploaded podcast. Just click here.