Are you cool enough to enjoy the strawberry? Because there is no difference between the past and the future, they're all with you together in the bed of the present. Are you ready for a cinematic hybrid of chaos, confusion, and conclusive truth that is masquerading itself across the stage of Strand Theater Company? Because if you are, then you're ready to face Harry and the Thief, written by Sigrid Gilmer. Directed by Susan Stroupe and receiving its regional east coast premiere, this whirling dervish of catastrophically confusing yet simultaneously cacophonously comic scenes and characters will have your mind racing to keep up with all the action and trauma as a thief called Mimi races through time to deliver guns to Harriet Tubman in a plot that goes diabolically awry the moment it gets underway. Sharp, smart, and loaded with stereotypes that get blown to smithereens in the rising action of the plot, Harry and the Thief is a rare historical gem that sheds light on a great many important ways of looking at progressive theatre making when it comes to holding power as women of color during times of oppression.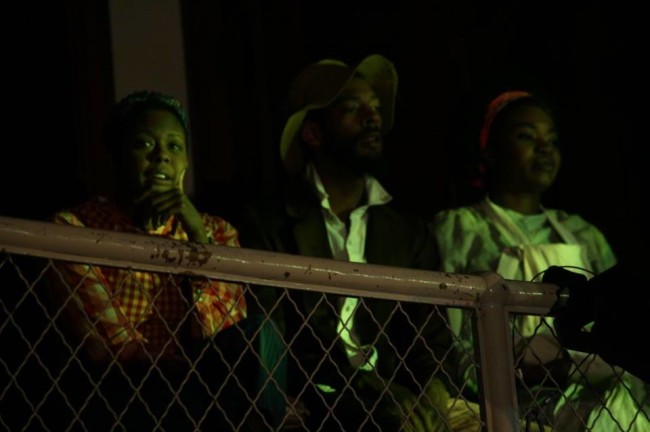 Existing as a shining example of Strand Theater Company's mission statement of supporting voices of women in theatre, this production of Harry and the Thief features a female playwright with strong female characters, and a slew of female designers working to get the play up on its feet. The entire aesthetic of the show looks accidental, bordering on haphazard, but this suits well the absurdist nature that playwright Sigrid Gilmer has penned into her work. Costume Designer Mika Eubanks and Set Designer Kate Smith-Morse work together to create a cobbled together composition of the modern day blended with the mid 1850's in both costumes and backdrops. Smith-Morse's backdrops are hand-sketched with a crude rapidness to their appearances and add to the cheesy "low-budget film" effect that permeates the production as a whole.
Lighting Designer Adrienne Gieszl follows suit and has a heavy hand of haphazardness for a great many light plots that blink, almost randomly on and off throughout the performance, but this fits the nature of the ever pandimonious progression of the play. Laden thick with a great many superfluous dance moments— all exactly plopped into perfectly displaced locations to further the absurdism of the play's premise— Gieszl's spastic illumination feels at home among the twerking and celebrations of bodies in motion throughout the performance. The same can be said for Sound Designer Max Bent's work, though much of Bent's work is more thoroughly grounded in the realistic notion of soundscape. This provides a balance, a rickety linked bridge if you well, to the world of reality from the world of Gilmer's play. Bent does an exceptional job with the technologically charged sounds, particularly that of time travel, every time someone is coming or going from the past or the future.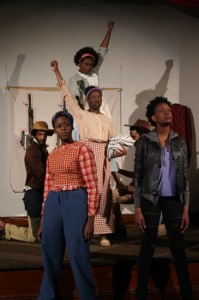 Gilmer's play smacks hard of modernism, movie tropes, stereotypes, and a plethora of other devices that might seem trite upon first investigation. However, her curious ability to blend them all together in one jumbled amalgamation of absurdism, realistic historical capture, modern language that flows with an unnerving fluidity despite the time differences, and her fully fleshed-out character development makes them function as a highly unique and unusual but clearly impressive piece of theatre. While second and tertiary viewings of the performance may become necessary to fully absorb everything that's happening (and further enjoy some of the more outrageous comedies) there is one overarching sentiment that resonates soundly through the play and works as a solid takeaway concept from the production. The notion that Harriet Tubman— the noble, brave, and true general of freedom— could be "a" Harriet Tubman and not just "the" Harriet Tubman. This echo of baring the torch in the name of righteousness is one of the most beautiful and profound moments layered deeply into the strange humors of the play and rings true against a great deal of other instances throughout history.
Director Susan Stroupe tackles the beast of the play with a vigorous energy that catches like wildfire and spreads through her ten-person cast with great fluidity. There is a hum, not unlike the Max Bent's carefully crafted sound of time-travel, that roars— dully at first— through the cast and carries them forward through the shenanigans and wildness that is the work. Though the work clearly has principals and title characters, Stroupe focuses on the ensemble nature of the piece and this serves the work in a positive vein. Her use of both levels of the play-space furthers the explorative nature of Gilmer's work and makes it a site-specific piece that brings an additional layer of meaning to its existence. Coaxing moments of earnest emotion out of all of the players— even in those moments when the meta aspects of the play-gone-movie completely obliterates the fourth wall and dissolves the reality of the play— Stroupe is a masterful hand to have at the helm of the production.
Gilmer has constructed a Director character to oversee the performance of the performance, which is only just the tip of the iceberg when it comes to adding in the layers of meta-existence and fourth-wall jabbing in this play. Anita (Samy el-Noury) sits on the precipice of the play's boundaries, living in an undefined reality, which adds to the more confusing moments of the play. El-Noury's numerous costume changes, though humorous, further this displaced existence of Anita's character and draw forth a great many questions about whether Anita is an actual part of what's happening, an entity that has created the beautiful disaster that's occurring or perhaps a figment of the players' collective imagination. El-Noury plays up the snappy and moodier elements of Anita's character, though these stereotypical caricature traits play out somewhat unbalanced, particularly when it comes to the little aside comments peppered in-between scene changes. El-Noury's delivery of the opening and closing monologues, a clear parody of film-trailer-teasers, is hilarious and really brings forth the framework for the creative chaos that's about to unfold.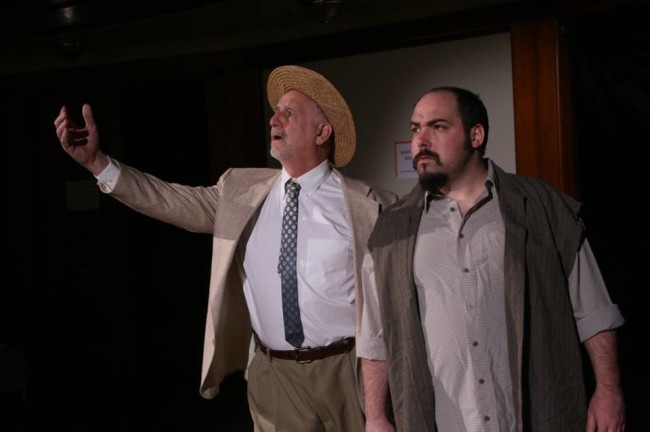 Frank Mancino, playing plantation owner Orry Main Scarlet, and Alexander Scally, playing Overseer Maynard Jones, quickly defy their characters' stereotypical existence and use raw emotional outbursts as comic buffers to create a humorous disquieted unease among the audience as those watching try to figure out exactly how these characters fit within the convoluted plot of the play. Mancino adapts a slightly affected accent, adding to the humor and confusion of his character, while Scally relies more on physicality and facial expressions for his outburst moments. Watch them carefully during the waltz-and-spin dance break of the second act as the little nuances of their movements here help to further break down the constructs of what the audience believes to be true about their characters. Scally in particular has a momentary meltdown that draws the audience into the midst of the scene, which is already teaming with chaos, and blasts apart the suspension of disbelief in a unique and inexplicable manner.
Shilo (Trustina Fafa Sabah) and Maddox (Madison Sowell) are two of the more fascinating character constructs because of the way they interact with others and with each other throughout the production. Sowell's highly polished accent, bordering on British, sounds so absurd that it's perfect and his rigidly stiff mannerisms are equally laughable but fit the character to a pristine tee. Sabah delivers an electrifying character as well, her inflection and general cadence of speech ensures that you can never predict just what comes out of her mouth. The pair of characters is witness to the joy carefully crafted into Gilmer's work, showing that tragedy and hard times are not all that was had for those oppressed in history.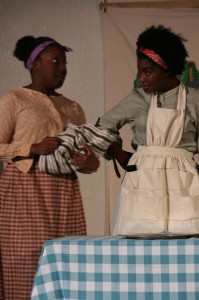 Spastic, bombastic, over the top and insanely melodramatic, Vivian (Zipporah Brown) is a fierce force to be reckoned with. Split down the middle between completely over-energized and deadly serious, Brown portrays two sides of this character as if they were split apart by lightning and desperately trying to reunite as one. It's exhausting just to watch Brown's boundless energy bouncing up and down with almost a childlike innocence, and harrowingly striking to see her stoically still, gun poised at the ready upon her shoulder. A great many of her emotionally charged moments are interactions with Scally's Overseer character, while her more humorous moments happen with the character of her brother, Knox (Javier Ogando.) Delivering a bizarre sense of comic relief, particularly with his zippy one-liners, Ogando's character fits into the show almost like something out of "Not Another Teen Movie" or a Wayans Brothers film. Peppy and zesty, though not to the extreme that Brown's character is, Ogando is a breath of intrigue among the characters that originate in the past.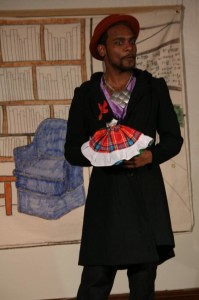 Mimi (Aladrian Wetzel) and Jeremy (Mike Smith) are the only two characters, outside of the misplaced Anita, who originate in present day. Wetzel has a ferociously disturbing calm within her that radiates out through her posture, textual delivery, and almost blank facial expressions. Smith delivers a diabolically insane mad-scientist stereotype with a big fun flamboyant personality to shake things up. The pair of them create for a moving and dynamic introduction to the piece as the play gets underway. Smith's flamboyance grows as the insanity of what his character encounters changes and the play moves forward, while Wetzel's determination and persistence blossoms as she finds herself dealing with unexpected surprises in history.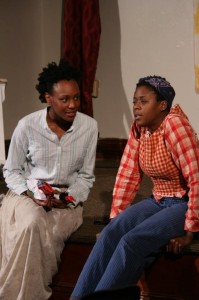 When Wetzel's character at last encounters the historic icon of Harriet Tubman, in this play called Harry (Monique Ingram) the way with which she handles her character's choices is profound and impressive. Ingram, who is a radiant beacon of everything that Tubman is purported to be, brings an impressively mindful presence to the stage in this role. The modern speech patterns flow easily from Ingram's tongue sounding as if Harriet Tubman might have actually spoken that way despite her existence in the mid 1850's time frame. Her command of her own destiny throughout the story is powerful and she wends moments around her being as if she were playwright, lead performer, director, and deity all in one while doing so with a great sense of humility. It's a powerful thing to watch.
All in all the play leaves you with a great many questions, a great many humorous moments that you will question whether or not you can laugh at and enjoy, but such is the way of edgy live theatre living on the fringe of reality. Unlike any other production currently happening in Charm City, Harry and the Thief is definitely an engaging and unique experience that should be seen at least once (twice if you want a broader and fuller scope of what's happening.)
Running Time: 2 hours and 20 minutes with one intermission
Harry and the Thief plays through April 10, 2016 at Strand Theater Company currently in residence at St. Mark's Lutheran Church— 1900 St. Paul Street in Baltimore, MD. Tickets can be purchased at the door or in advance online.