Kicking off things with a bang after a season-long hiatus, Iron Crow Theatre is back with its most ambitious season ever. Under new management, establishing a new identity, and toting a whole bunch of new ideas, the company is rebooting their version of live theatre in Baltimore. Transitioning from the well-known moniker of "Baltimore's Gay Theatre" into the broader umbrella of "Queer Theatre", Artistic Director Sean Elias was heard making the statement that "…Queer…as defined to be renegade and unorthodox would be the mark and focus of rebranding the theatre…" at the season launch party held on Saturday February 6th earlier this year. Curious as to what exactly this meant for the future of the theatre, in addition to being elated to hear that Iron Crow Theatre would be bringing musical theatre into their performance repertoire, TheatreBloom took a moment to sit down with Sean and explore the season more thoroughly with him.
If you would get our readers familiar with who you are and what it is you do with Iron Crow, that would be a great place to start.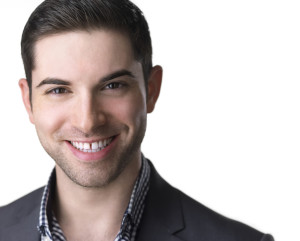 Sean Elias: Sure! I'm the Artistic Director and Chief Executive Officer at Iron Crow Theatre. I first came to Baltimore about three years ago. I did a community audition that they were holding at Centerstage. Steve (Former Iron Crow Artistic Director Steven J. Satta) had seen me at the audition there, we ended up grabbing coffee and talked about opportunities with Iron Crow, so I actually started with the company as an actor. I've always been an actor. I studied musical theatre in undergrad at the University of the Arts in Philadelphia, and then I got my masters in theatre at Emerson College.
My first Iron Crow performance was The Homo Poe Show. I actually remember with that production there was a little bit of controversy around who was listed in the program as a company member and who wasn't. I actually was not listed as a company member, so when I heard about the meeting they were having about the major changes on the board, I wasn't sure if I should attend or not, but Steve had said, "of course you should come." So I showed up for the meeting and they were talking about planning the next season and the things they wanted to do. And I actually piped up saying I had some thoughts and opinions about some things that should be considered before just diving into planning a season. Things that focused on structure and defining clarity of who we were. They said they thought it was a great idea. I was using my experience from working at Apple— I worked in their HR department for eight years— and wanted to bring that to the table for reshaping and redefining who Iron Crow was.
They were open to it. I used those skills to lead the company through a restructure. Clarifying everyone's roles and goals, and we revised the mission statement. At the end we all voted on roles and I was voted to become the executive director. That was two years ago. When Steve was making the decision to resign as the Artistic Director, the board did do a search, a few names came up and interviews were had. I said that it was something that I would love to explore in my life. It just turned out that I was the one voted into that position.
You mentioned that you revised the mission statement. How would you say the mission statement for Iron Crow Theatre has changed from what it was previously to what it is now?
Sean: Great question. It went through one revision from the time I came on board, from what it was to what it currently is. And it has since gone through another revision, which as we speak, is still pending approval from the board. The old-old-old one just spoke a lot toward the hopes and dreams of the organization. The one that we created as a group during that initial revision really put into concrete words what it is we actually do, and why we do it, and for whom. That's the general standard series of questions that a mission statement should answer. Now the new mission statement, because we're looking at it again now that I'm on board as the Artistic Director— as I have a similar but different vision for the company just because you know, I'm a different person— we've went back and forth, over lots and lots of words. And we realized that the mission statement that we created is more of a mission-vision hybrid. We really wanted to have just a clean, crisp, simple mission statement that was easy to remember and easy to communicate.
We looked to some of the other local theatres that we really respect and admire. We took into consideration Centerstage and Everyman Theatre, The Actors Theatre of Louisville, 2nd Stage in New York. We really did some research on what are the best mission statements out there. Now our mission statement, once it's approved by the board, will simply be a single sentence on what we do and where we do it.
You've recently announced the new season for Iron Crow's 2016/2017 calendar year; a big, ambitious, return to the stage after a season's hiatus. Tell us what has you so excited about this new season.
Sean: Oh my goodness! I'm so excited I'm beaming with smiles. I think this is just making history in so many ways. First, it's the biggest season we've ever done. We've created a second stage, which is adding two additional performances to our traditional three So we've got three mainstage shows, two second stage, and now we've committed to a yearly special event, which will be The Rocky Horror Show and it will launch every October. It's something I feel like we should have done sooner, Rocky Horror, it's just such a clear piece to tie into what we do at Iron Crow. Funny story, there was actually a production in the works or at least there was thought of a production in the works and we jumped on it, taking it from thought to reality. Isn't that fantastic?
So as you can see I'm really very excited about that, but I'm also very excited because this is the first season that really speaks— well, no. I shouldn't say the first season because I'm not terribly familiar with all of the seasons that came before I did. But from my current experience with the company, this season more closely reflects the stories and demographics of Baltimore as a city then I think other seasons that I've experienced previously. There are lots of stories from characters of color, from backgrounds of color, and socially not what is typically perceived as 'mainstream.' It also provides a lot of opportunities for actors of color. And that generally is read as providing opportunities to African-American, but this season really broadens those opportunities because we specifically need actors who are Asian-American or Pacific Islanders. So that's really exciting.
Also these season there are lots of opportunities for women's voices. We're really going for gender parity. It's really hard when you're producing five shows in a season to have full gender parity but we're really pushing hard to highlight strong female characters and strong female playwrights that are both bold and daring. And telling bold and daring stories.
You mentioned you're in full support of "strong voices", so how did the decision to include a musical in the season come about?
Sean: Yes! I'm a musical theatre performer. I love musicals and primarily perform musicals. I think there is immense value in musicals. I think that the medium of musicals— that form of storytelling— needs to be alive and prevalent at Iron Crow. Actually, it needs to be alive at every theatre, but especially at Iron Crow. Now, we do have theatres who do musicals all over the city. We're not trying to become a musical theatre company. That's not what we're doing. I decided that we should include a musical in our upcoming season because of the medium, because of the way in which a musical communicates a story. It's a queer concept in and of itself that somebody bursts into song to communicate their thoughts. It's queer!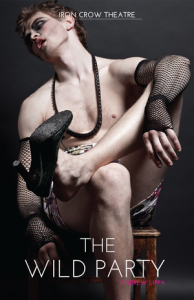 The type of musicals that we'll do must be related to our mission and to who we are. They need to be that sort of dark, untold, queer, edgy, avant-garde type musical that isn't very often produced. That's what we felt for Andrew Lippa's The Wild Party. It fit with our thematic link of 'Dark Play', it is a very dark musical. It deals with lots of very dark games that we play both in life and sex, and in relationships with ourselves and with others. It just felt like it was a great fit to be the first musical that Iron Crow produces.
How was the decision for the rest of the season made? A great many people were bouncing off the walls at your launch party about different shows that have been included for this upcoming season.
Sean: Great question. We've actually changed the structure of how the season comes together. Before, Iron Crow was more of an ensemble-based project where everybody came to the table with a recommendation for something they wanted to see in the season. It was a voting process. This time we did a bit of a hybrid. Ann (Iron Crow Director of Education and Literature Ann Turiano) was really passionate, when she and I were talking about bringing her on board, about dramatic research and dramatic literature. We created this role, Director of Education and Literature, specifically for her. As the Artistic Director, I wanted to get away from this ensemble method where everyone is bringing in an opinion and we're voting. I want the season to be guided by a specific vision and I wanted to have specific say in the direction of that vision. But I also didn't want to just go into this dark room and emerge with what I hoped would be a beautiful season after hours of agonizing over play selections.
So it became this hybrid. Ann went and did her research and she found some titles that she really fell in love with and was very passionate about. She brought Booty Candy, by Robert O'Hara, to the table. As soon as I read it, I said, "Absolutely. This has to happen." And then there were other things that I found just by looking. Edith Can Shoot Things and Hit Them, by A. Rey Pamatmat, is one that I found just by looking around. I read it and fell in love with it. And I said, "This is a non-negotiable." Then there were others that were just a conversation with everyone that the entire company read, like Zero Hour, by Madeline George, or Rocky Horror. It was a nice mix of things that Ann was passionate about, things that I was passionate about, and then things that the company really wanted to see happen. And we made all of that come together ensuring that it fit into that theme of "Dark Play."
Elaborate for us about this theme of "Dark Play." You did a wonderful job of explaining it at the season launch party but for those not lucky enough to attend the event, let's hear what exactly that means.
Sean: Sure! There's actually a quote about it in my season letter on the website. I was reading the play called Dark Play, or Stories for Boys by Carlos Murillo and in it there is a scene where a professor is speaking to her students and she says "In order to be an actor or an actress you have to engage in dark play." Then she asks if anybody knows what the definition of dark play is. Some of them take stabs and they say things like "dangerous and dark and twisted" and those are all true. But the actual definition of Dark Play, which I absolutely love because it fully articulates every show in the season, and this is a quote from the actual character— "…Dark Play is when certain players know the rules and others do not."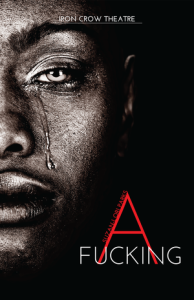 So in other words, this is a case of when certain characters know what's happening but other characters don't. For example, in The Wild Party Queenie knows exactly what she's doing by throwing this party. Burrs has no idea. He thinks it's just something to celebrate, they love hosting, and they're overdue to have one because they haven't had one in a while. The same goes for Fucking A, by Suzan-Lori Parks. If you take it from the meta-perspective in terms of those in power know absolutely the games that they're forcing others to play. When Hester is trying to bail out or buy her son, the bid keeps changing, and they keep making up lies as to why the cost has increased and Hester has no idea. She believes that this is just how things happen whereas the Bailiff knows better and is just pocketing the money. All of these shows fit with that understanding of "something here is dark", both in the sense of dangerous and twisted and black and evil or scary and risqué and sexy, but also in the sense that one player knows the rules and the others do not.
What does Dark Play mean specifically to you? When an Artistic Director brings a season together with a very specific intention behind the vision, there is often a personal meaning motivating that. Can you elaborate on what that might be?
Sean: Yeah, I absolutely can. I recently went through a breakup with a partner of mine who I was together with for four and a half years. I absolutely still love them and they are absolutely still a great, dear friend of mine. But I truly felt that what was happening in our relationship, especially toward the end of it, were absolutely games that were played with each other for survival, for the benefit of each other actually. But also there were games that were being played with ourselves that we didn't know were being played. Then I also thought there were absolutely games being played where I did not know the rules and others did.
So that's my personal connection. Once I saw the definition of Dark Play, read the quote in the play, that was what struck my heart. It got me thinking, "If this is happening to me in this context in my relationship…where else might this fall in life?" That just extrapolated to all of the other areas, venues, and domains in society of life in America where we are forced to engage in these dark games as adults where we may think we know the rules and we don't. Or where we specifically create the games where we know the rules and others don't.
What is it that you are hoping that audiences are going to take away from this new vision that Iron Crow is putting forth?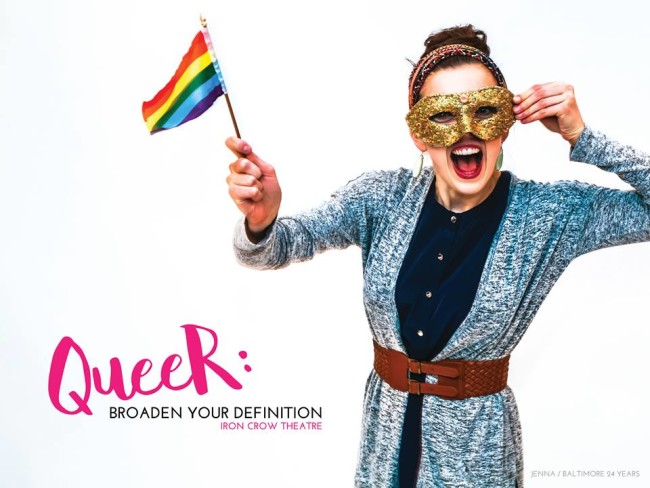 Sean: That they have a voice, that they have a place, that they are seen and heard at Iron Crow Theatre. I have constantly been told that Iron Crow Theatre is Baltimore's Gay Theatre. This is why we launched the "Broaden Your Definition" campaign and have labeled ourselves as a Queer Theatre. We're using the more all-encompassing definition of "…being renegade and unorthodox…" I really hope that people come to Iron Crow Theatre and to come to these shows not only to learn about the specific themes that we're speaking of and to be touched and learn something about themselves, their lives, or to make change— you know, all of the reasons that we do theatre in Baltimore— but I hope they come specifically with this new season? I want people to see themselves here that wouldn't normally see themselves here because of what Iron Crow may have been known for or may have been wrongly labeled as. The Wild Party is actually a heterosexual story. It is not specifically a homosexual story. So I want to broaden the audience. I want the people to realize that Baltimore is a Queer city and that Iron Crow is a Queer Theatre and so we are Baltimore's Theatre.
Is there anything else that you wanted to say about being the company's new Artistic Director, anything about the hopes and dreams you have for this season and future seasons of the company? Anything at all that we haven't already covered?
Sean: The biggest thing I think is actually related to the sustainability of Iron Crow. Half my role here is as the Artistic Director and the other half is as CEO, which was my previous role and we've just decided to merge the two roles into one to see how it goes. But that means the other side of it means that I have a perspective of and feelings on how the business side of how the theatre is actually run. There are a few things that I want to be known about Iron Crow moving forward and they are the following:
Iron Crow Theatre is a theatre of warmth and professionalism. Those are the values that anybody who engages with this theatre company will be given as a right of entry. Whatever we've been seen as in the past, that's the past. We are a theatre of warmth, and acceptance, and professionalism and we will not stand for anything less than that.
The second thing is that I hope people are starting to see Iron Crow in a different way, you know, through our marketing or through our season launch event. I hope that they see the thought and care, the love and attention, the detail and professionalism, and the creative standard that has been raised and developed and enhanced in this company that we are putting forth. That being said, it's a double-edged sword. Iron Crow Theatre last year— meaning the end of the fiscal year— received just $350 in donations. The rest was completely sustained through ticket sales, which don't get me wrong that's great because most theatres cannot be sustained through ticket sales alone and the fact that Iron Crow has done that is wonderful, but it is not a model that is able to sustain the theatre for the next five or ten years to come.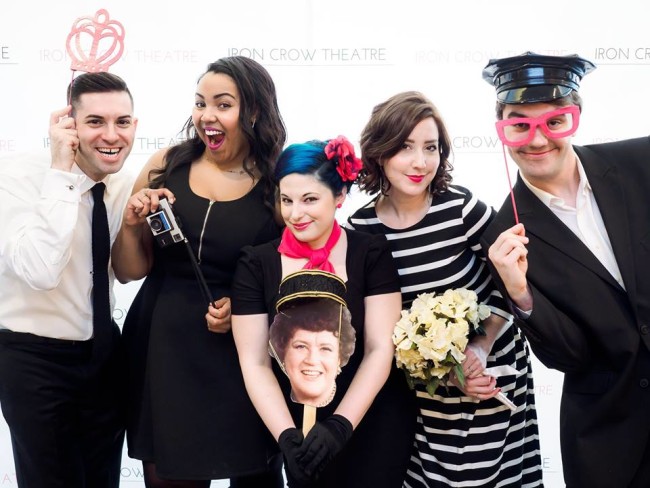 We really need the community to understand that they are buying in to support the arts. They have the choice of which theatre companies remain and which theatre companies do not by contributing both financially and emotionally and socially. The community has the ability to sustain us by sharing their experience through their Twitter account, or posting about us on their Facebook page. The community can sustain us by volunteering with us, or by making a donation to us, whatever it may be— theatres are social institutions and we are not in this alone. Otherwise we won't survive. And while we are doing things that are fancier than we've ever done, like the season announcement launch party with a champagne toast, I want that to be perceived as trying so hard to recognize and celebrate, but in no way meaning that Iron Crow has reached some sort of financial level where this just happens with unburdened ease. We're putting on the Ritz but are able to do so because of your continued financial and social support and generosity. People are going to continue to see Iron Crow grow rapidly and continually, but they have to understand that it must coincide with the involvement from the community.
This has been a wonderful and amazing and oddly miserable job, being the company's Artistic Director. I really think that this is something that I want to do for the rest of my life. I'm loving living the experience.
Iron Crow plays as a company in residence at the Baltimore Theatre Project— 45 W. Preston Street in Baltimore, MD. For ticket information call (443) 637-2769 or check out their website.
To further explore Iron Crow's 2016/2017 season: Dark Play, visit the Iron Crow Theatre website.