Unbelievable— adj. "so great or extreme as to be difficult to believe; extraordinary." Stillpointe Theatre's current production of The 25th Annual Putnam County Spelling Bee is insanely engaging, incredibly entertaining, and wildly wonderful; simply put it's unbelievable. U-N-B-E-L-I-E-V-A-B-L-E. Directed by Amanda J. Rife, this brilliantly inviting musical takes a Stillpointe twist as the company unpacks this show— with Music & Lyrics by William Finn and Book by Rachel Sheinkin— into their brand new home on Charles Street in the Station North Arts District of Baltimore. Musically Directed by Stacey Antoine, this fun-loving, feel-good show is just the thing needed to shake off the winter blues. Hilarious, performed with gusto and vigor, Stillpointe Theatre is spelling their way to triumph with the first show of their new space and it's absolutely unbelievable.
Divergent— adj. "differing from each other or from a standard." Set and Lighting Designer Ryan Haase brings a divergent perspective to the table with his extraordinary out-of-the-box thinking when it comes to his scenic aesthetic. D-I-V-E-R-G-E-N-T. Stillpointe Theatre's space is intimate, and that's politely framing just how quaint the space truly is. This challenge, however, does not stifle in the least the boundless creativity exhibited by Haase when it comes to decorating the set. With a simplistically minimalist approach, Haase finds impressive creativity and artistic integrity in his "chalked-on" drawings that fill the back wall lining of the play space. Honing in on the notion of elementary school staples, like chalk doodles and big bright white letters, Haase brings that authentic grade-school essence to his design work. Complimenting this notion with a simple string of lights draped down from above, he maximizes the feel of the stage without adding cumbersome scenery to subtract from the actual movement which needs to happen in the closely confined quarters.
Quintessence— noun. "the most perfect or typical example of a quality or class; the aspect of something regarded as the intrinsic and central constituent of its character." Costume Designer Danielle Robinette displays the quintessence of character representation in her sartorial showcase. Q-U-I-N-T-E-S-S-E-N-C-E. Finding fabric, patterns, and styles that deliberately represent the highly caricaturized characters of the show appears to be Robinette's specialty as she sets to the task of outfitting the performers in the production. From Marcy Park's perfectly groomed appearance to the more peculiar look of Leaf Coneybear, the costumes leave nothing to be desired in way of appropriateness, creativity, or attractiveness. Even Panch's patented press-legged pants are impressive in Robinette's parade of colorful couture.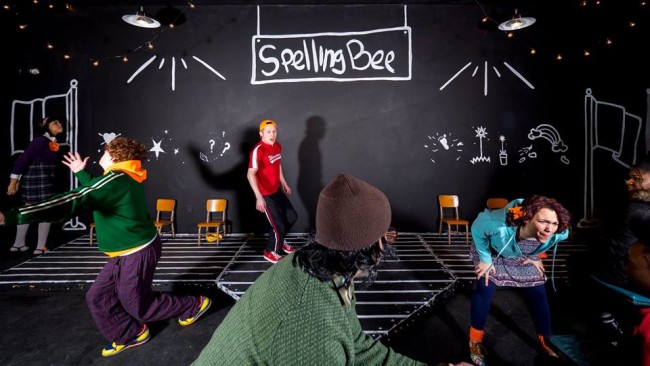 Ambitious— adj. "having or showing a strong desire and determination to succeed." Director Amanda J. Rife is nothing but ambitious when it comes to mounting this production of Spelling Bee as the first musical in Stillpointe's new home. A-M-B-I-T-I-O-U-S. Rife delivers Olympic caliber chutzpah when it comes to providing visionary guidance to the show as a whole. Working with the tight spatial constrictions the new space presents is a daunting challenge, one that Rife rises to and overcomes with vigor in this production. Serving as the show's choreographer, Rife manages to use the ensemble's vocal expressions as well as vertical ascension (up and down on their tiny and adorable little kindergarten-sized chairs) to fully articulate the chaos that comes with numbers like "Pandemonium." There is never a moment where the players feel trapped or restricted because of Rife's precision blocking and expeditious pacing.
Rife furthers her ambitions by encouraging a good deal of improvised line work, particularly with the character of Douglas Panch, and delves deeply into the notion of developing the characters in the performance with their own series of personable quirks that tie the individual actor to the student or grown-up they are playing resolutely. Choosing to guide the production in a less traditional sense, particularly with bold and daring casting choices like switching Logainne's character to be played by a man, and gender-swapping the portrayal of Panch, Rife succeeds in branding the production as her own and truly making live entertainment for the Stillpointe core audience in addition to newcomers and other theatergoers who welcome the refreshing twist to the oft-performed musical.
Balance— verb. "to make equal." Musical Director Stacey Antoine is able to balance the sound of a live micro-orchestra, veiled only by a fancy blue curtain, in an intimate space against the sparkling talent of the performers so that no one is drowned out in the process. B-A-L-A-N-C-E. Antoine has physics working against him in the space but does an impeccable job of keeping his pit under control as he plays keys throughout the production (alongside Bassist Cody Raum and Percussionist Joe Pipkin.)  Though there is a moment at the top of the second act when the music is louder than the performer, Antoine runs a tight ship and keeps the sound levels appropriate so that the audience can more thoroughly enjoy the songs as they are performed.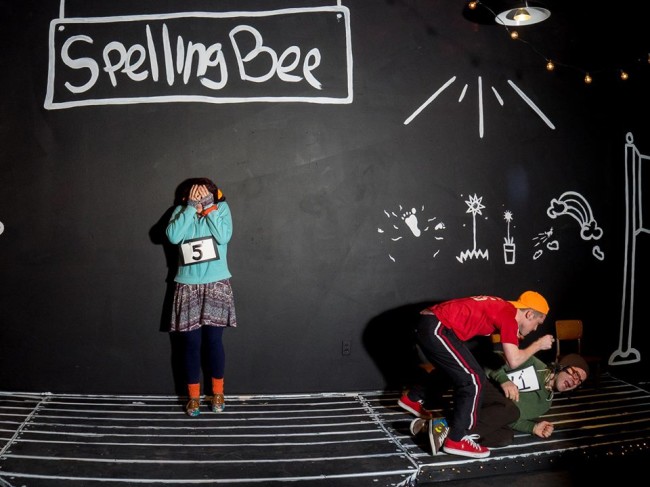 Dynamic— adj. "characterized by constant change, activity, or progress." The ensemble displays dynamic flare consistently throughout the performance as they move, groove, shake, and sing their way through this upbeat musical show. D-Y-N-A-M-I-C. Packing a powerful punch, the performers outdo themselves in their ability to embody these childish characters (yes, even our adults have moments of utter juvenile outburst) whilst maintaining the vocal integrity of intrepid professionals. Using their bodies, facial expressions— largely focused in eyeball and lip work— and other affectations such as accents and speech impediments and delivery— the group wholeheartedly tackles becoming these characters in earnest while simultaneously providing quality and mellifluous sound to the musical numbers which they sing. The depths to which they achieve their own individual peculiar spins on the character are fathomless and well worth enjoying over the course of the evening.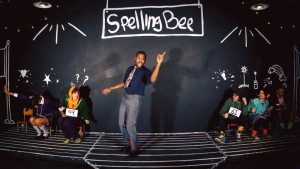 Soulful— adj. "full of or expressing great feeling or emotion." Lawrence D. Bryant IV's performance as comfort counselor Mitch Mahoney is particularly soulful, especially when he breaks down his solo "Prayer of the Comfort Counselor." S-O-U-L-F-U-L. Bryant's approach to the character is less gruff and more wholesome. Subtly addressing the fact that Mitch is serving a house-arrest sentence, there is an air of "Hollywood Hot Shot" infused into Bryant's portrayal, which makes his hug-filled departure scenes with the kids rather entertaining. Fancy footwork even comes into play during his big solo finale of the number, and be sure to keep your eyes and ears on him throughout the group numbers like "Pandemonium" for a glorious series of sights and sounds.
Exuberant— adj. "filled with or characterized by a lively energy and excitement." Zoe Kanter is most definitely exuberant when it comes to her enthrallment over the 'Bee' as Miss Rona Lisa Peretti. E-X-U-B-E-R-A-N-T. Kanter, whose voice is both bold and mellifluous (making for the perfect juxtaposition of sounds within the context of the character) is bursting at the seams with energy when it comes to her "Favorite Moments"— a three part song series split up across the show. There is an almost frightening edge to the level of excitement that her character achieves when it comes to displaying jubilation and joy over some of the more unfortunate moments for the spellers as they encounter them. Kanter, who plays exceptionally well opposite the Douglas Panch character, is lively and convivial throughout, and adds a delicate harmony to the trio "I Love You Song" late in Act II.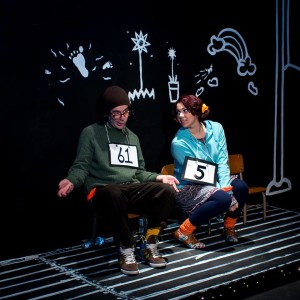 Dulcet— adj. "pleasant to the ear; melodious." Ashleigh Haddad is a delightful addition to the production with her adorably timid characterization of Olive Ostrovsky and her perfectly dulcet voice. D-U-L-C-E-T. Haddad does not shy away from volume or power in "The I Love You Song" but that does not make her delicate sound any less mellifluous when it comes to the overall portrayal of the sweet and delicate character. Peppered with the right levels of dorky, Haddad has moments too precious for proper description exchanged with William Barfee and adds priceless little laughs during her solo "My Friend the Dictionary."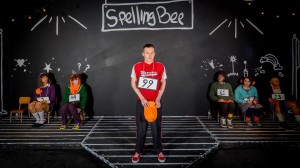 Plucky— adj. "having or showing determined courage in the face of difficulties." Corey Hennessey delivers the character of Chip Tolentino with plucky levels of spunk. P-L-U-C-K-Y. Deviating from the more traditional cocky approach to the Chip character, Hennessey softens this adolescent somewhat by making him a scrappy underdog type in both his physical mannerisms and his vocal delivery. "Unfortunate Erection" becomes an angry lament filled with verve and grit rather than a woeful satire, which is both unusual and enjoyable. Watch as he doubles his character appearance later in the second act as the dealer of pot— roast, Jesus Christ.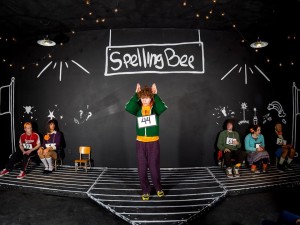 Anomalous— adj. "deviating from what is standard, normal, or expected." Jon Kevin Lazarus takes the character of Leaf Coneybear in a fancifully anomalous direction, giving him a grounded sense of depth in exchange for the aloof stupidity so often attributed to the home-schooler. A-N-O-M-A-L-O-U-S. Lazarus delves into the character's psyche to deliver an earnest statement of his upbringing, making for convivial gentility in his number "I'm not that smart" and a quirky delivery of his 'special spelling' moments. Keep an eye on his background action moments where he quietly but hilariously invests in things that only Leaf could possibly take interest in.
Spastic— adj. "relating to or affected by spasms." Darius McKeiver is the epitome of a spastic bombastic hyper child as Logainne Last-Name-Too-Long. S-P-A-S-T-I-C. McKeiver, who adapts the role with perfection as a male, takes the energetic and enthusiastic outbursts of Logainne to new heights. Totally engrossed in the notions of winning, justice, and overall hyperventilation and anxiety, McKeiver delivers intense reality to his meltdowns. With a striking voice, "Woe is Me" and other group numbers that feature McKeiver's voice are great additions to the production.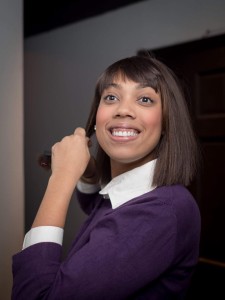 Intransigent— adj. "uncompromising and inflexible; iron-willed or resolute." Ciera Monae defies the intransigent stereotype of Marcy Park late in the show with her willful approach to freedom, despite the frosty exterior purported throughout the first act. I-N-T-R-A-N-S-I-G-E-N-T. Monae is a vocal powerhouse to be reckoned with, particularly when it comes to belting out her solos in "I Speak Six Languages" and other moments where her voice is featured in the group numbers. The flexibility of her character is rather dynamic as she goes from an unwavering ice-queen who is sharply all business to a liberated girl of indifference as the show progresses. Watch out for her vicious tongue, it bites almost as loudly as she belts out her solos.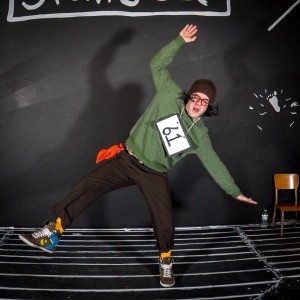 Paradoxical— adj. "having the nature of a paradox; something with two meanings that don't make sense together." Ryan Haase unearths a profound paradoxical nature in his portrayal of William Barfee, mainly the concept of a "Loser-Hipster." P-A-R-A-D-O-X-I-C-A-L. Haase's performance is astonishing, not only because it deviates from the more traditional performance of Barfee— an obnoxious nerd with a heavy affected vocalization— but because it juxtaposes two polar opposite concepts into one character. Looking like a mad-grab hipster with throw-down skills in his magic-foot-physicality, Haase still finds the pitiable 'loser-nerd' that is inherent to Barfee in his textual delivery and occasional posture slump. His voice is pure magic, however, when he delivers that intense solo "Magic Foot" because it comes from his inner Broadway-diva and adds a third layer of complexity to the character. One of the most tender moments in the production comes near the finale when Haase attempts to garner the attention of little Miss Olive Ostrovsky, keep your eye on this and many other little minutia which Haase draws attention to sublimely.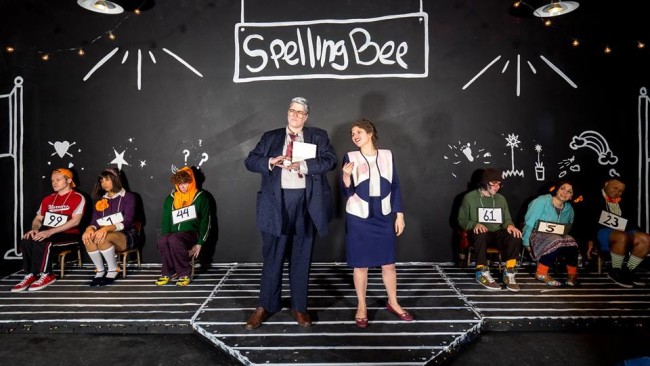 Side-Splitting— adj. "extremely amusing, causing violent laughter." Danielle Robinette as Doug Panch results in an evening of side-splitting hilarity for which there is no remedy except to roll in the aisles with great guffaws. S-I-D-E-S-P-L-I-T-T-I-N-G. Robinette is aces in the role of the Vice Principal and really owns the characterization on a level that can only be experienced because no textual description— spelled words or otherwise— would do it any sort of justice. Her ad-libs and hilarious improvisations are so outrageous they can only be referred to as uproarious. Truly the epitome of comic timing, it's the little things like casually addressing contestants in an off-handed manner as "son", or those vaguely deadpan moments of precision-delivered sarcasm that really tear-up the audience in laughable tears. Rockstarring her way through the gender-swapped role, Robinette is a hands-down show-stealer every time she speaks.
EPIC— slang. "spectacular, very impressive; awesome." Really, need there be more words for it? Yes, of course. Go purchase tickets!  
Running Time: 1 hour and 50 minutes with one intermission
The 25th Annual Putnam County Spelling Bee plays through March 18, 2016 at Stillpointe Theatre— 1825 N. Charles Street in the Station North Arts District of Baltimore, MD. Tickets are available at the door or in advance online. Reservations are recommended as seating is limited and selling quickly.