Love is in the air, all around you, and most definitely between the sheets if you're doing it right! (Or maybe bedsheets aren't your thing so you're doing it in an anti-gravity suspension chamber with strap-on tentacles— whatever floats your boat.) All that delicious erotic loving— remember the antiquarian of the insane and his die-hard followers need love too— was all wrapped up in one gooey, tentacle-covered package for a Valentine's Day at The Yellow Sign Theatre. Presented as a mid-month one-night-only extravaganza, Horatio Dark's Between the Lines took a turn for the naughty and presented Horatio Dark's Between the Sheets. Featuring some exceptionally invested SFX work by YST's resident Foley Artist Dave Marcoot (assisted by junior sound-maker Eidhnean Illuviel), the erotic broadcast was intended for mature audiences and inspired some delightfully debaucherous radio play.   
In true Horatio Dark Fashion, four scripts were presented over the course of the evening with Foley-reset pauses between the first and second script, as well as the third and fourth. A well-placed intermission between the second and third script allowed ample time for the audience to freshen up after such peculiar readings. Between the Sheets, focusing solely on enticing erotic content, brought the debut of two new writers— Jeffrey Gangwisch and Eidhnean Illuviel—  to the Horatio Dark radio program, as well as the return of series regular writers Horatio Dark himself and featured serialist John Higgins. All deeply steeped in the grotesquely gorgeous nature of erotic Sci-Fi thriller adventures, all four of the scripts were non-sequiturs featuring a myriad of regular radio personalities that are no stranger to The Yellow Sign Theatre.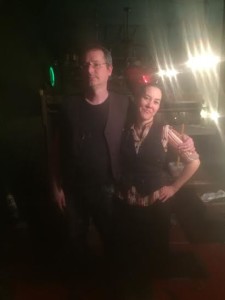 The erotic nature of the show was most fully presented in the SFX Foley work provided by Master Foley man Dave Marcoot and his assistant Eidhnean Illuviel. Everything one could imagine to appropriately intensify a naughty broadcast was present— from the surreal sucking sounds of couples in love sharing those kissy-kissy moments, to rustling sheets (and everything that happens between them)— the sound effects often stole the show and generated a great many laughs. Highlights from the Foley booth included some all-too-authentic flesh-slapping sounds, vibrating orbs, and disturbing squelching sounds that punctuated each of the scripts with precision timing. Marcoot knows his sound effects and how to make them from scratch, an even more impressive feat in this day and age when everyone relies heavily on digital infusions and internet-sourced sound.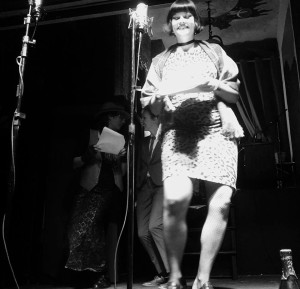 Replacing the traditional Horatio Dark Monster character (as presented by Jon Freedlander) was a sexy, naughty, seductive Phone-Sex Operator, who served as an announcer sort throughout the program, introducing each of the new scripts with a written introduction bit starting off on "The Party Line" an old phone-sex operator trope that really got the audience worked up and in the mood to experience Radiorotica." Kate!Rousse! served as the evening's sultry sinner, using a smoky voice to get each of the scripts up on their feet and even performed a few PSA-style announcements between the segments of the scripts where the usual "advertisement and truth-dollars" racket is placed.
Hearts of War by John Higgins
Creating a non-serial piece for the erotic trainwreck special broadcast, series writing regular John Higgins turned his pen to deliciously devious relationships with his script, Hearts of War. The identifiable and thoroughly ingenious hallmark of Higgins' scripts are his detailed character work, which drives the plot forward and this story was no exception. Taking place in the British air infantry during war time, Higgins crafted the story of Davy (read to the heightened epitome of foppish British feminism by Mike Jancz) and Charles (voiced with charm and a proper British accent by Craig Coletta), two soldiers who find themselves fancying one another. Marcoot's sound effects, particularly when it came to bathing in piss or the piss-cannon, are what really packed the punches of putrid comedy into the script as Higgins' writing tends to err on the side of deeply wondrous sincerity.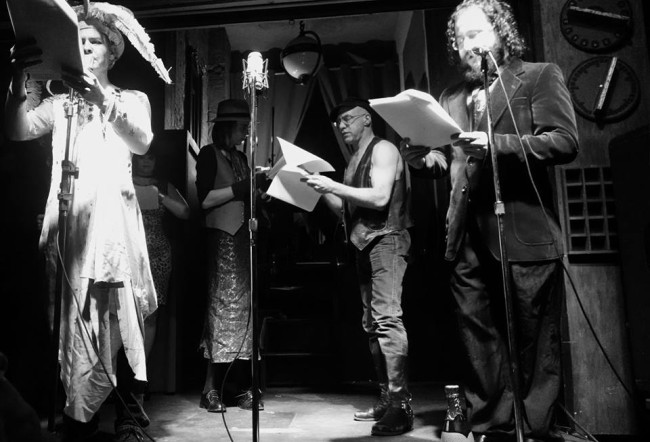 Taboo and tantalizing, Higgins explored the relationship of Charles and Davy through letters and in-person encounters, balancing the superfluous eroticism with heavy handed doses of earnest romanticism. This balance gave the script structure and well-paced flow without falling too heavily on either side of the romantic-pornographic fence. Jancz and Coletta's accents grounded the piece in its location, and their comedic timing (particularly with sticky-pages…just what were they getting up to before the broadcast started??) enhanced the experience for the audience immensely. While the show is a radio program, the frosting (dear god, we hope it's frosting) on the Hearts of War cake? Coletta and Jancz in full costume, with Jancz donning a too-fabulous-for-words diva-queen dress and Coletta wearing— well, picture an extra from Cruising and you get the idea.
Line of the script: Charles— "…Davy's one of the hardest men I've known…"
To Have and to Hold by Eidhnean Illuviel
Taking things in a much different vein from the romantic intentions of Hearts of War, and making her writer's debut for Horatio Dark, Eidhnean Illuviel pulled out the stops with her script To Have and to Hold. It wouldn't be a Yellow Sign production if there wasn't some element of Lovecraftian darkness lurking about somewhere, and Illuviel's script brought that to life with wriggling, squiggling tentacles. Who's for calamari? With series regular Rex Anderson performing as Joe, his seductive ASMR-tuned voice was perfect for the naughtier lines that were liberally lounging about in the dialogue exchanges between his character and Maggie (voiced with erotic intent by Kay-Megan Washington.)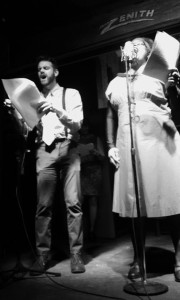 Of course excessively exciting tentacle sex can't occur by itself. The Neighbor (as enacted by Ellen C. Jenkins with perfectly gentle monotone extraterrestrial undertones) plays a large part in this alien incursion of sorts. But it's the Foley work that really ties this script together. Illuviel uses a singing bowl to create that unbalanced eerie unearthly sound of alien technology and it really sets the tone for all the peculiar things that go down once Maggie encounters The Neighbors. Between the tentacle sex and the general sex, Marcoot and Illuviel have their sound-work cut out for them, but they deliver on-point with spectacular results.
Line of the script: Maggie— "…slide yourself into my ovipositor. Like this…"
The Orb by Horatio Dark
Gratuitous erotica has never felt so filthy than when the true master of the macabre gets behind the pen and starts— writing, yes that's it. Writing. Throwing his hat into the circle-jerk ring, Horatio Dark brings us The Orb, seemingly innocuous but perhaps the most explicit of the bunch, a two-person tawdry tale of a sex-life run dry. Meet Gary (voiced to titular perfection by Jeffrey Gangwisch) and Melissa (voice with startling reactions by Emily Ward). Gary and Melissa love to make love. They love to make love to each other. But all of that fuckery has bored them to bits, at least bored Gary to bits. Until one day— dear god you just had to be there. Pure unapologetic, irredeemable, smutty deliciousness flowing forth from the pen-tip of the freaky-deaky master of the macabre himself, The Orb was the most well-received script of the evening. Horatio Dark knows his clientele well if this script is any indication.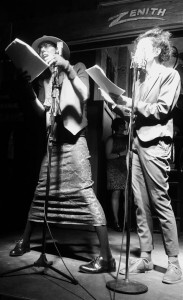 Again it's Marcoot and Illuviel's Foley work that brought the whole mess together. The sheer heightened level of explicity arising from the Foley booth was nothing short of orgasmic. Marcoot's kissy-kissy sounds (made completely by hand…and arm…and lip…) were to die for, as were a great deal of other 'questionable' sounds that surged forth in waves and just kept coming. Again, despite being a radio broadcast, watching Gangwisch's overly involved physical responses to particular moments of the script— like the unfortunate birth of the vibrating sex orb— was one of the highlights of the script. The other was Ward's insane facial expressions when responding to scenes like that.
Line of the script: Gary— "…yeah. But from an orb. That came out of my ass."
Jennifer Lawrence by Jeffrey Gangwisch
Loving doesn't get much sexier than when you involve a Hollywood celebrity. But what about four of the same Hollywood celebrity? As if tentacles and vibrating ass-birthed sex orbs weren't bizarre enough for this show, Jeffrey Gangwisch— in his radio script-writing debut— had to include clones in the sticky mixture of pleasure happening upon the Yellow Sign stage. But not just any clones, Jennifer Lawrence clones, and Jennifer Lawrence clones who futuristically studied a group of male— we're going to say apes— who seemed to have one capability in life: Group Masturbation. Anything printed further on the subject matter might require an age-restriction to read it. Gangwisch's script was by far the most futuristically far-fetched and true to the strange science fiction genre.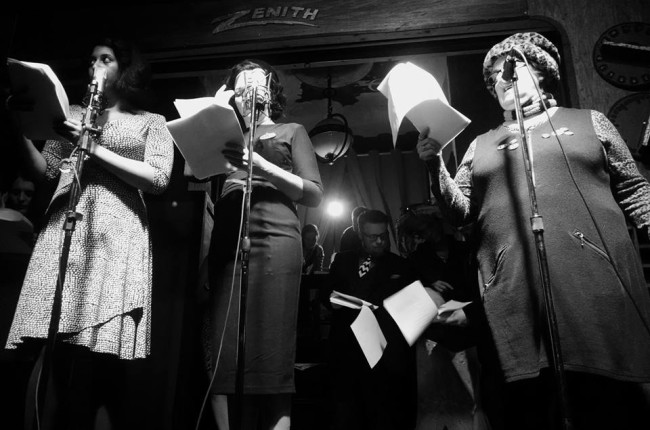 Featuring the vocal talents of Alix Tobey Southwick as Doctor Jennifer Lawrence, the monotone leader of the pack (whose lines were loaded with sexual innuendo and dead-panned into hilarity), the script encountered Miss Lawrence in a few other incarnations. Lori Travis, Allison Washington and Kate Smith-Morse added their voices to the JL collection, and a particularly impressive moment arose between Travis' Lawrence and Washington's Lawrence— with great assistance from the Foley booth SFX team of Marcoot and Illuviel. Travis' wanking gestures and facial expressions were to die for, a true scene-stealing moment in the midst of the calamity and chaos of the screaming masturbations from the "chorus of men" (contributed to by Todd Gardner, Mike Jancz, and Jon Freedlander.) All in all the stuff of sexy erotic nightmares and dreams come true.
Line of the script: Jennifer Lawrence— "…have you ever touched another Jennifer?"
Running Time: Approximately 3 hours with several breaks and pauses
In Conclusion
If you weren't pleased out of your wits, well…YST has batteries for that (batteries not included.) One could always try ringing the Party Line, where Kate!Rousse! will pick up and for just six dollars for the first minute and two dollars for every minute thereafter, pleasure is guaranteed to be had— for someone* (*note, that someone may or may not be you.) Be sure not to miss the upcoming regularly scheduled installment of Horatio Dark's Between the Lines at the end of the month.
Horatio Dark's Between the Sheets was a one-evening exclusive event occurring for Valentine's Day on February 14, 2016 at The Yellow Sign Theatre— 1726 N. Charles Street in the Station North Arts District of Baltimore. Be sure to attend the regularly scheduled Horatio Dark's Between the Lines on Monday February 29, 2016 at the same venue, starting at 7:00pm. Arrive early as seats fill up quickly.
Missed a broadcast? No problem! You can hear Horatio Dark's Between the Lines online as an uploaded podcast. Just click here.