I'm reviewing the situation; can Baltimore sustain one more community theatre that popped-up overnight? The answer is yes, as Third Wall Productions makes their inaugural production of Oliver! snap jauntily to life in the found-space stage of the Episcopal Church of the Messiah in Hamilton. Produced by Jerry Gietka (who has commemorated producing the show in loving memory of his late sister Bernie)  and Directed by Ed Higgins, with Kathryn Weaver as Musical Director, the first show of the first season is well under way for this new community organization, which is defining what it means to be a community theatre in Baltimore.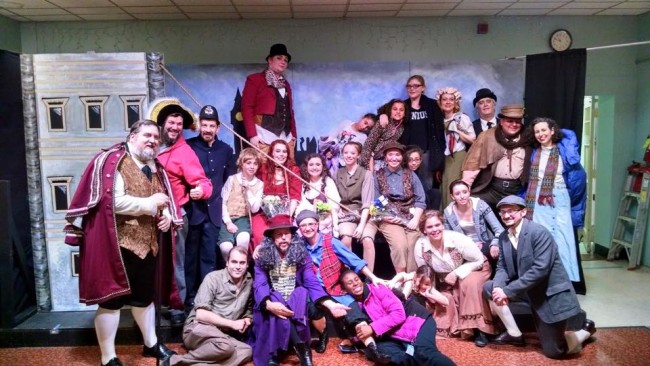 Oliver!, often mistook for a children's musical because of having so many child-aged characters, is a rather dark Dickensian musical with Music, Book, and Lyrics by Lionel Bart. The good folks at Third Wall Productions do their best to balance out the dark and ominous side of the performance with enjoyable entertainment for the whole family; they create a community effort and focus to bring the production to its feet. Popping up on the east side of the city, Third Wall Productions arrives on the scene as a dinner theatre with a few splendid options from the church's kitchen, most of which are in the Italian family style tradition.
One of the noteworthy elements of the production is how simplicity influences the design for functionality's sake without compromising the aesthetic of the overall performance. Set Designer Jordan Hollett, alongside Lighting Designer Jim Shomo and Costume Designer Mea Holloway, find little ways to spruce up the visuals without adding cumbersome scenic changes, intensive lighting cues, or costumes tha outshine the performers. Hollett's construction of the London Bridge— completely with nighttime silhouette city skyline— is a marvel, one that remains cleverly locked away behind platform flats that serve other purposes throughout the performance. Shomo brings brightly focused LEDs into the mix and uses them appropriately throughout the course of the show with startling red to flood the pub for Nancy's big Act II number, a gruesome green for when things are going sour, and other shaded effects to derive atmosphere from various scenes.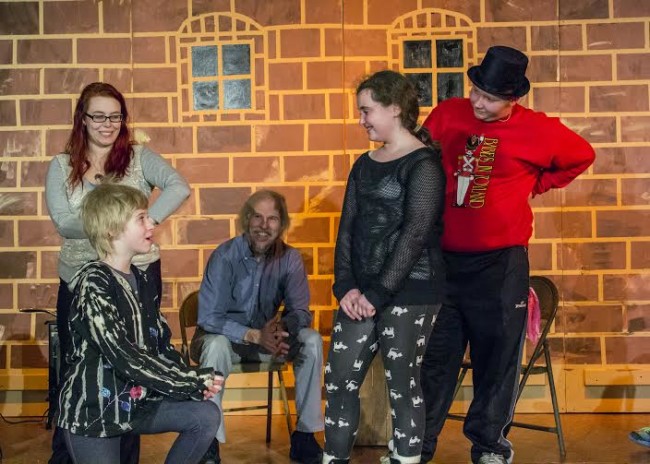 Holloway, as the show's costume designer, creates some clever couture to ground the performance in the Dickensian era in which the show is traditionally set. Simple distressed looks on the workhouse orphans, slightly trickier threads for Fagin's gang, and of course a disparity in quality between the upper class and lower class garments are all a part of Holloway's sartorial makeup. Her grungy grime-covered vagrant outfits are perfect for both Bill Sykes and Fagin, and the blushing burgundy dress she fits to her own figure adds a nice depth to the character.
Musical Director Kathryn Weaver deserves a great deal of praise for marching the live orchestrations to a proper pace, and adjusting accordingly when her eager youth performers get slightly ahead of her. Balancing a live bare-essentials orchestra pit, whose only cloaking device is a black-drop scrim, is no easy task, but one that Weaver handles with ease. A noteworthy nod from the pit's performance goes to Andrew Zile, playing a live squeezebox during "Oom-Pah-Pah" at the top of Act II.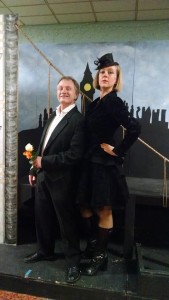 Director Ed Higgins, who finds himself slipped into the show as the well-groomed Mr. Brownlow, works again with Holloway— who proves herself to be indispensable to the production not only as the show's Costumer, but it's Choreographer and leading female role of Nancy— to chorale the many young performers during larger group numbers. The choreography Holloway puts forward is ambitious for a group featuring performers of all ages and skill-sets, but that doesn't stop her from ensuring everyone tries their best and has fun while doing it. The sense of community strength and pride is present in both Holloway and Higgins' work consistently throughout this performance, creating a wonderful opportunity for performers of all ages to try their hand at musical theatre.
With a bright voice, young Andi Rudai takes on the title role of Oliver Twist. Possessing good clear sounds for "Where is Love" and a spunky attitude throughout, Rudai does a fine job in this performance, especially when taking to the duet of "I'd Do Anything" a song sung opposite of Bet (Grace Volpe) and a secondary pairing of The Artful Dodger (William Zellhofer) and Nancy (Mea Holloway.) Volpe has a delightful little voice as well for being a young performer of just 12 years of age. Bringing a warm resonance to this duet and her duet shared with Nancy, "It's a Fine Life," there seems to be nothing these wonderful youngsters won't try.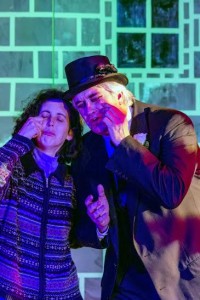 Standout performances in the ensemble include that of Kali Baklor, who does appear as a named character late in the show, but gets her dancing ferocity on-point during "Oom-Pah-Pah" opposite Nancy, and again later in the quartet of "Who Will Buy," where she's given the chance to show off her pipes. Baklor delivers vivid facial expressions consistently and is a top-notch background performer. The Sowerberrys (Nick Ruth and Deborah Steinig) as well as their miserable daughter Charlotte (Sydney Hunt) all deserve a nod as well for their outrageous and somewhat melodramatic performances during the scenes in the funeral parlor. Ruth and Steinig take "That's Your Funeral" to laughable heights with their ridiculous accents and facial expressions. Higgins' choice to cast the pair opposite one another is a good one, if for no other reason than the vertical sight gag, which only adds to the absurdity of their existence.
A grumbling Mr. Bumble (Michael Zellhofer) and a shrieking Widow Corney (Jenifer Grundy-Hollett) add due terror where necessary, and bring a bit of the old vaudeville rhetoric into play when it comes to their duet "I Shall Scream." Zellhofer's chance to shine comes late in the second act when he's all too keen to be rid of the now Mrs. Bumble, and makes a compassionate plea to do so with haste.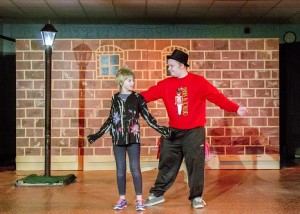 With a bloomin' burst of baritone magic, young William Zellhofer masters the art of The Artful Dodger. Delivering a chummy and quirky rendition of the slick streetwise pickpocketing progeny, Zellhofer has one of the more decadent singing voices witnessed in the production. "I'd Do Anything" and "Consider Yourself" are two fine numbers with his warm sound carrying them along like a mid-afternoon breeze at the docks. Zellhofer toes the line of cheeky and foppishly fantastic, particularly when it comes to his facial expressions during "I'd Do Anything"— "…what, fisticuffs?" becoming a moment of utter delight. Watch his fancy footwork as it puts a pep in the step of everyone else who's dancing when he's shuffling about.
Director Ed Higgins makes a bold choice when it comes to actor James Fitzpatrick. Working under Higgins' guidance, Fitzpatrick fully commits to playing Fagin in the vein of Johnny Depp's Captain Jack Sparrow, the result of which is a fully foppish, flaming fruit of an old codger swankily flouncing about through numbers like "Pick a Pocket or Two." The blacked-out teeth are a nice touch on Fitzpatrick's part, and his patter for "Reviewing the Situation" is well-paced and delivered. The overall character choice, though at first a bit off-putting, is fully committed to and really vibrant across the ragtag band of hooligans in his charge, enabling Fitzpatrick to bring a bit of depth and dimension to the character.
Mea Holloway delivers Nancy as quite the street savvy strumpet and tarty trollop traipsing her way into "Fine Life." She don't mind taking it like it turns out and gives a fine performance throughout the show. There is a ferocity with which Holloway seizes all of her musical numbers, particularly "He Needs Me" though this is tempered with an earnest emotional connection to the character's strife. Cultivating a real crass lass with her pretty little ditty, "Oom-Pah-Pah" at the top of the second act, Holloway showcases her versatility as a performer, and even holds her own against the ferocious Bill Sykes (Lance Bankerd.)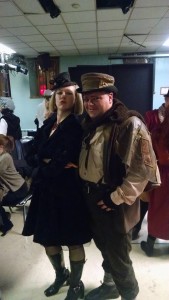 Bankerd bursts onto the scene in a smoking blast of gravel that infects his voice quite soundly. A blasting villain that is just mean enough to terrify Nancy and the others, but just reserved enough to keep from truly frightening the children that might be watching, Bankerd delivers a stellar performance as the roustabout ruffian with ruthless intent. Though only having the one song, "My Name" it's a song that is performed with unforgettable clarity, particularly when it comes to hearing that rich melodious vocal sound that Bankerd commands overlaid by crackling, sooty grit thrown in with a liberal dose of gutter-slung cockney. Listen carefully to Bankerd, Holloway, Fitzpatrick, and William Zellhofer in a chilling rendition of "It's a Fine Life (Reprise)" and their harmonies are achieved with disturbing accuracy.
You best be reviewing, your situation, because the tickets they won't last so very long. And you want to be in on the ground floor of this new company as it gets underway, support the work they are doing for the community and all of the wonderful opportunities they will be providing for the stage as the years come down the line. It's a fine life they're creating indeed!  
Running Time: 2 hours and 30 minutes with one intermission
Oliver! Plays through February 28, 2016 with Third Wall Productions at the Episcopal Church of the Messiah— 5801 Hartford Road in Baltimore's Hamilton neighborhood. Tickets are on sale now and can be purchased by calling 443-838-4064 or purchasing them online.