Fed up with that ooey-gooey Hallmark holiday? J. Geils Band hit the nail on the head with their 1980 album Love Stinks and the Twisted Knickers Burlesque troupe of Baltimore is taking it a step further by putting that notion into practice this Valentine's Day season. It was a splendid evening for everyone who has ever felt the lows of love, the blues of being involved, or the general sentiment of suckage when it comes to the all-too-romantic month of February. With house emcee Hot Todd Lincoln and a fantastic series of performances throughout the evening, Twisted Knickers gave love a sexy bad name!
There is something to be said for an emcee that knows how to work a crowd, respect his performers, and keep a show moving along. Hot Todd Lincoln is the trifecta of these working qualities throughout the evening and really keeps the audience on their toes. If you can float along with his atrocious puns (though they say the mark of an epic punster is judged by their level of horridness— the louder the groan, the better the punster) then you'll find yourself in good company as Hot Todd has the audience groaning for most of the night.
Featuring five area burlesque beauties, the show has a little something for everyone in the vein of anti-love. While the rest of the world is celebrating just how disgustingly adorable Valentine's Day is, Twisted Knickers is taking delight in how rotten it can be, while simultaneously putting a glamorously fantastical and fun spin on those feelings of woe and misery. Existing at a level above your average burlesque show, emcee host Hot Todd Lincoln even performed a ukulele solo toward the end of the first act just to give the evening an extra shot of variety. Never wanting the audience to feel like they're just voyeurs, three unsuspecting members were invited to the stage in the middle of the second act for a ball-popping extravaganza of a game.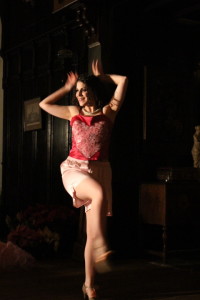 Misty Wilde made her Twisted Knickers debut in the middle of the second act of the evening's performance and what a wild debut it was. As a student of Bawdy Shop Burlesque, Misty put her learnings to the test and performed a split routine featuring two carefully constructed characters to two separate songs, with the latter half of her routine giving testament to the construct of her namesake. With vivid facial expressions that really matched her body's rhythm to the music, Misty Wilde enjoyed a great success in her first Twisted Knickers show and it can only be hoped that she will return to perform with the company again as a great addition to an already impressive troupe of burlesque dancers.
Taking the audience on a tour of the twisted, Fanny Rouge presented with decadence the way color schematics and hue-coordination could make not one but two ordinary household objects become desirable entities of sensuality. Appearing in the first act as an avocado, her sultry and amusing routine assured audiences that they would never view guacamole the same way again. Fanny Rouge's use of props is particularly impressive as she thoroughly incorporates them into her routine, really making them an extension of her bodily movements. Act II involved a walk on the wild side straight into the household jungle of potted plants. Seductive and again fully engaging with her prop, Fanny Rogue brought new imagery to conquer the idea of a girl who likes to garden.
Twisted Knickers Producing Director Tapitha Kix was the perfect performer to kick off both acts of the show. Really working the gimmick of storyline into her performance, both of Tapitha Kix' routines involved a mini-plot of heartache and heartbreak. Really showcasing her vast dancer's knowledge, the opening routine featured a plethora of styles hinting mostly at salsa and other Latin influences. But it was the second routine at the evening, featured as the kickstarter to Act II, that captured the essence of her dancer's spirit. Working with "partner" Donatello in this routine, Tapitha Kix displayed just how well her body and heart could learn the blues and her pole work was scintillatingly sensational.
Glam Gamz, glitzing up the place with her notorious femme fatale act delivered sauce, sass, seduction, and a real streak of golden glorious Hollywood in her couture. Focusing on finesse in her sartorial approach, between the floor length velvet and the enormous boa constructed of gold and black tulle, Glam Gamz knows how to work her costumes, making them a character all their own in her routines. Her opening set featured extremely intimate lighting, lowered down with candles flickering to truly set the mood and her movements played exceptionally in the sultry shadows created. Lavish looks and deeply intense facial expressions to match those deliciously decadent costumes are what set Glam Gamz apart from your everyday routine.
Rounding out the show, hailing in from the district, Reverend Valentine closed out the first and second act with her wild and racy routines that were the perfect end-caps to Tapitha Kix' opening numbers. The good reverend brought in the low-brow trash theme for the show's closer, performing to Katy Perry's "Last Friday Night" and it was a hoot. Her vivaciously animated body and facial expressions, along with the absurdly insane dedication to "skanking up" the character received whoops and hollers of pure delight as the show drew to a close. But it was her Act I closer that truly fit the bill for the show's overall theme. Arriving in a sexy Pepe Le Pew style costume, complete with clothespin on her nose, Reverend Valentine worked the crowd up with this amusing yet still titillating routine.
A great representation of burlesque thriving in Baltimore, Twisted Knickers drives home the most important message of all, "Nothing sexier than consent," and makes this a keen focal element throughout the show. A fantastic show, a great group of talented performers who bring life and new meaning to a classic performance art form, you can't go wrong with a Twisted Knickers show.  
Love Stinks! Played a one-night engagement at Church & Company located just off The Avenue in Hampden at 3647 Falls Road.
Be sure to catch the next Twisted Knickers show— Res-Erection— playing at Church & Company on March 26, 2016! Tickets will be available soon.
For more information on upcoming Twisted Knickers shows— like and follow them on Facebook
Follow Tapitha Kix here!
Follow