Beware of Hootie Pie! Or perhaps just of being a wild turkey. Of waiting too long for the blue heron? Or perhaps just beware of missing a bizarre new comedy making its community area debut at Prince George's Little Theatre this January. Brush up on your Chekhov before you go to see Vanya and Sonia and Masha and Spike for a titular and humorous evening; there is a good time of reflective musings and amusing reflections to be had even if you aren't well-versed with the depressing antics of The Cherry Orchard, The Seagull, and Uncle Vanya, but all the more so if you do have a working familiarity of them. Directed by Estelle Miller, this darkened Christopher Durang comedy is perfect for the crisp winter months as it reminds the audience to always raise up their hopes, even though it's scary.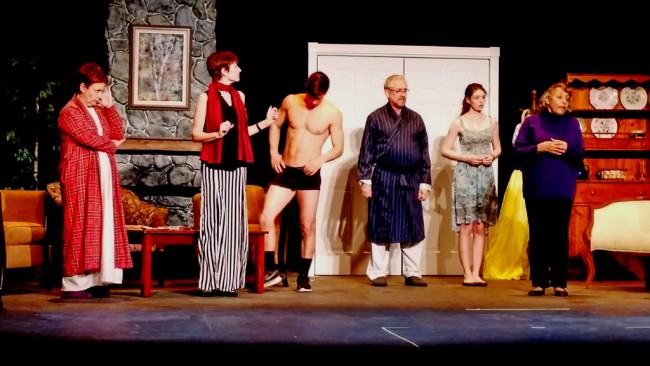 The juxtaposition of the simplistic and the detailed come gracefully into the Scenic Design, provided in tandem effort by Director Estelle Miller and Set Decorator Roy Peterson. While Miller chooses a minimalist approach, save for two corner blocks at the edge of the play space which create the illusion of a cross-sectional looking into the family home, Peterson fills out the furnishings in great detail. Peterson's hand-painted fireplace stones and elegant decorative work across the furnishings add a homey touch to the scenery, which is otherwise lacking in Miller's vision.
Costume Designer Gayle Negri follows Miller's basic approach for the production aesthetic but manages to craft a hint of whimsical elegance into the costume party costumes, particularly the dainty princess dress that appears on Nina. The compliments in the design department belong with Sound Designer Mark Bennett, who composes original music for the production. Bennett's pre-show and scenic interlude orchestrations have a warm lilting quality to their tunes, a blissful air that would seem appropriate if Chekhov had turned into an absurdist fairytale writer. Bennett grasps the over and undertones of Durang's work and explores them thoroughly with his musical selections.
Durang's work runs the potential of moving along a bit sluggishly and at first Director Estelle Miller does little to discourage this. The pacing in the first act feels slightly off, but not in any one pin-pointable location as the comic delivery is sharp, the two scenes themselves seem to roll along fluidly and the dialogue exchanges feel snappy. The second act require a bit of tightening, particularly during Vanya's rant as his momentum drags somewhat during this lengthy monologue. Miller does have a keen understanding of the show's overall blocking and keeps the character interactions feeling natural.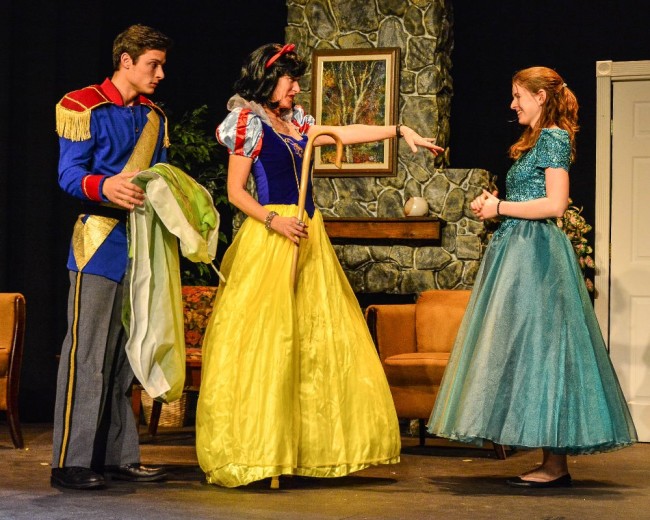 Nina (Nicole Musho) is a quirky character that crops up as a plot-assistance device that mirrors the character of the same name in Chekhov's The Seagull. Musho is an exceptional supporting performer in the production and takes a corny yet sincere approach to the caricature nature of her portrayal. Her over-the-top melodramatic theatrics during Vanya's play, occurring late in the second act, is priceless and hilarious. But Musho isn't the only scene-stealer featured in the performance. Sandra True takes on the role of Cassandra, too-invested in the character's namesake's prophecies. True is a roaring delight of comic pleasantries that come in equal parts melodrama and deadpan, both liberally sprinkled with sarcasm. Between Musho's sugary glazed ham approach to her sycophantic devotion of Masha and True's snappy one-liners that often result in uproarious laughter from the audience, the pair are a solid tag-team duo of comedic relief that eases a great deal of humor into the darkness of the show.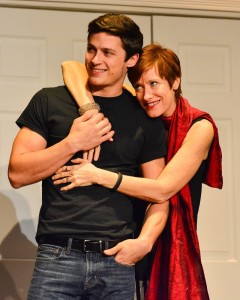 Eye candy heartthrob Spike (Josh Huff-Edsall) has everyone's attention on him when he struts around stripping off his shirt and flexing his muscles. Huff-Edsall, who could easily have been cast for his physique alone, finds a curious depth to the seemingly shallow character and lets the audience invest in the free-loving nature of the jockey stud. Huff-Edsall unearths the rich physical humor of flexing and stretching in front of Vanya, creating some highly amusing moments for the audience.
Masha (Jo Sullivan) sweeps onto the scene with a raging dramatic flair that even a tsunami couldn't dampen. Though a great many of her over-the-top theatrical gestures are repetitive, this may be an intentional choice to further exasperate the annoyance that her character brings to the family home. Sullivan masters the haughty and aloof approach to Masha without a second thought and really makes a convincing argument as an irritating sister-in-absentia. Her dismissive nature of her siblings, especially of Sonia, is quite fetching.
Scott Beadle, as the mild-mannered Vanya, finds little affectations to hint at the character's homosexuality while underscoring Vanya as the melancholy brother with realistic intentions. Though at times his performance feels a little restricted, particularly during his end-of-play ranting monologue as it could be undertaken with a much stronger energy, he does bring an unusually realistic quality to the interactions he shares with Sonia (Debbie Samek.) His rebuking nature is the epitome of childish brotherly love when it comes to his too-comfortable sister.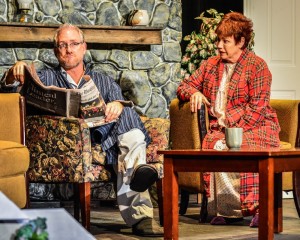 Samek becomes a shining presence in the show and the irony that her character is virtually invisible is lost on no-one. Blending flawlessly into the furniture, Samek lives out the melancholy humdrum notions that her character's life is miserable, but does so in a vibrant fashion that calls the audience to her attention. Living in the beats and breaths of her line-delivery, Samek is an impressive performer that sheds light on all of the Chekhovian references as well as the flourishing modernity of the production.
Overall a challenging comedy, but a good evening at the theatre with some quality scene stealers and main performers, Vanya and Sonia and Masha and Spike is worth investigating this winter season. Broaden your theatrical exposure with this high-end emotional comedy and take a walk on the dark side.
Running Time: Approximately 2 hours and 45 minutes with one intermission
Vanya and Sonia and Masha and Spike plays through January 23, 2016 at Prince George's Little Theatre in residence at The Bowie Playhouse— 16500 White Marsh Park Drive in Bowie, MD. For tickets call the box office at (301) 937-7458 or purchase them online.