In the mood for something sexy, thought-provoking, and fun? Then you need to get yourself down to The Colonial Players in Annapolis for their current production of Venus in Fur by David Ives, Directed by Jim Gallagher. This reviewer likes his shows to be a little fluffy with lots of comedy, some drama, and, usually, a happy ending, but there are exceptions and Venus in Fur was QUITE a PLEASANT surprise to me. Based on the 1870 novella Venus in Furs by Leopold von Sacher-Masoch (from whom, incidentally, the term "masochism" was derived), this production is top notch all around and should not be missed!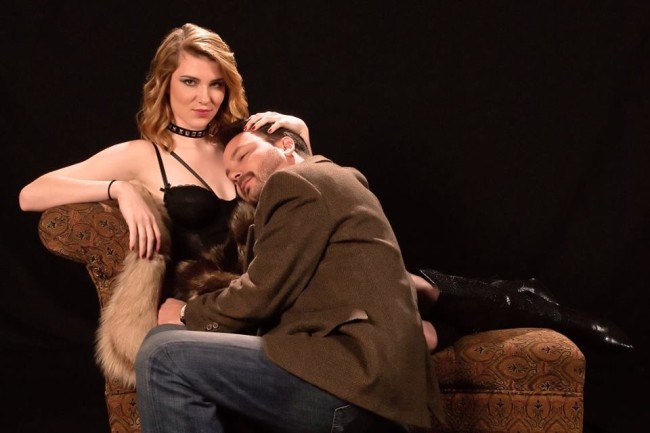 This was my first visit to The Colonial Players in the heart of Annapolis but it will certainly not be my last. From the moment I walked in, I was quite impressed by the little theatre's atmosphere and it's neat, clean lobby with a very helpful staff. They were very accommodating and offered their service with a smile. When the doors opened to a 360◦ theatre (theatre-in-the-round) with seats on all four sides of the stage and level with the audience, it ended up giving the audience a feeling of immersion that made the production all the better. Kudos to Set Designer Ricardo Seijo for cleverly using the space with minimal set pieces consisting of a desk, a radiator, some folding chairs, and the centerpiece— a chaise lounge that rounds out the simple, but smart set so that it doesn't get in the way of the action or the story.
Lighting Design by Eric Lund and Sound Design by Ben Cornwell were flawless and fit like a glove with the action. This gave the audience the feeling of being in the office with the characters while a thunderstorm raged outside and again while an actress auditioning for a part kept changing the lighting to set the mood. This production was spot on with the lights and sound, the values impressively assisting the overall quality of the show.
Along with set design, lights, and sound, I've got to mention the fabulous job Kaelynn Miller did with costumes. Though only two characters make up the cast, Miller did a bang-up job of costuming this "show within a show", if you will. The female character literally brings all the costumes with her either in her huge bag or on her body and because the costumes were so simple (but very appropriate) the actors were able to transition from one costume to the next with ease. Be prepared as the female character goes from being scantily clad to being more scantily clad and transitions from different degrees of clad-ness throughout the show.
I'd like to take a moment to talk about the script, if I may. The script was absolutely brilliant! The dialogue was very witty and Ives' script manages to invoke questions about our own wants, desires, and even fetishes. Mr. Gray, step aside with your 50 shades, Venus in Fur will satisfy that side of human nature that we don't talk about at the dinner table.
Under the brilliant direction of Jim Gallagher, the 90 minutes without an intermission flew by and kept the audience questioning, laughing, and perhaps even doing some quiet self-evaluation. Gallagher's blocking utilized the space very nicely and didn't offend anyone in the audience by keeping an actor's back to them for too long. He has managed to cast two actors who have great chemistry and has capitalized on that chemistry to create two characters who feed off each other and need each other to succeed in their objectives.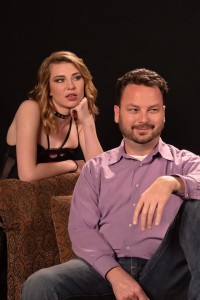 Now on the performance of Venus in Fur. The two actors— Natalie Nankervis as Vanda and Jeff Mocho as Thomas— take the audience on a journey of love, lust, and self-realization flawlessly and with ease. Both actors are strong but Natalie Nankervis is the standout with her performance as Vanda from the moment she enters the stage. She is comfortable in her character's skin and moves with ease as she switches from Vanda the actress auditioning for a role to Vanda, the seductress in the play she is auditioning for. When she does switch to the character of Vanda, the seductress, her voice is mesmerizing and smooth. That voice left me hanging on every word she said. Her outbursts were on point and I truly believed I was in the presence of Vanda. Her transition into Venus, the goddess, is equally as flawless and sensual. Though, at times, sounding a little scripted, Jeff Mocho, as Thomas does a good job holding his own against powerhouse Nankervis. He managed to switch from playwright/director Thomas to Severin, a tortured man in search of a goddess to control him, nicely and with ease.
Kudos to both these actors for taking this piece and making it their own and sincerely knowing what it's about. Their performances are to be commended and it would be wise and highly suggested to see Nankervis and Mocho in these roles before this production closes!
Running Time: 90 minutes with no intermission
Venus in Fur plays through January 23, 2016 at The Colonial Players of Annapolis— 108 East Street in historic Annapolis, MD. For tickets call the box office at (410) 268-7373 or purchase them online.