Blood is thicker than water, but it isn't bondage— an unyielding tie to our relations— it's more like a bond— a tie that connects us to one another in an unbreakable and inexplicable manner. Under the skin, we're all family, tracing our roots back to the most basic of human origins, and playwright Michael Hollinger articulates that in his touching familial drama Under the Skin. Directed by Vincent M. Lancisi, this poignant and evocative drama performs explorative theatrical surgery on the construct of human relationships when it comes to the boundaries of the body and the limits of love.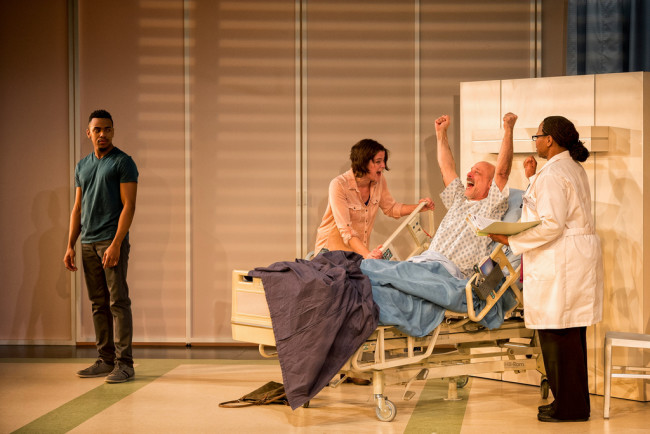 A hospital room is hardly warming or welcoming but there is something in the nature of Set Designer Brandon McNeel's fabrication that encompasses the sterility of what that sort of room ought to be while still bringing a sense of comfortable homeliness into the atmosphere. The drop-tile ceiling with harsh fluorescent lighting (compliments of Lighting Designer Jay A. Herzog) invites the antiseptic verve of hospital spaces in great detail, from the ventilation ducts to the overhead speakers aligned in an exacting pattern into each of the tiles. McNeel uses rather impressive rotation panels in the white walling of the overall set to ease transitions in and out of each scene, but it's Herzog's lighting that provides the ultimate shift. A single square of light over a well-placed piece of furniture takes the broad stage into a narrow office. This style of lighting trick, as well as shifting focus-lights, achieve moments of flashback and inner-outer meta-occurrence throughout the performance.
Sound Designer Stowe Nelson adds a fifth character element to the production with his subtle soundscape. There is a particular beat structure that playwright Michael Hollinger has written into the play, which Nelson augments and calls attention to frequently with bell-tones, many of which sound somewhere serene and yet simultaneously unearthly. Nelson's overall aural approach to the show creates a pulse of energy, particularly in the transitional music, which adds to the underlying current that moves the show forward.
While Hollinger captures the essence of conversation, conflict, and dramatic twists exceptionally well throughout his script there appears to be a slight imbalance in the way in which he includes meta-components in the work as a whole. There are moments when the characters actualize that they are characters in a play that feel out of place but this only happens in select moments— sometimes feeling ill-placed and other times feeling superfluous. This occurs most in their semi-direct addresses to the audiences and only when Hollinger attempts to use these moments to illustrate humor between them. Otherwise the subject matter is brilliantly articulated, from factual accuracy to emotional intention, and the play moves smoothly along.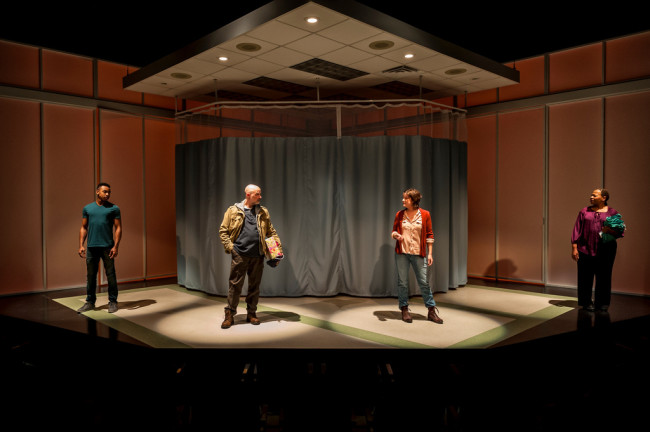 Director Vincent M. Lancisi, working with Dialect Coach Steven J. Satta takes two of the four performers in the show and transforms them into multiple characters, distinguished through the use of their foreign accents. Satta applies the sound of a native from Santo Domingo and one from Africa when the situation calls for it. These informed applications authenticates the character existence as they are experienced in Hector and Dr. Badu respectively. Lancisi navigates the peculiar blend of active in-play dramatic action and meta-external moments of characters through the fourth wall with practiced ease. The show moves swiftly, keeps the audience engaged, and is a deeply relevant emotional and familial experience.
The play's great success is accomplished by the authentic conversations and relationship dynamics portrayed with ample consistency throughout the course of the show. Alice M. Gatling comes to the fray with multiple engaging characters, whether it's her very formal and aloof portrayal of Dr. Badu or her snappy and sassy attitude-driven barista character that engages in heated passive-aggressive arguments with the Raina character every time they find themselves in the coffee shop scene. Gatling delivers a wholesome and level-headed character portrayal of Marlene, not without her own hints of humor or wise words of wisdom to unearth as the twists in the plot unfold. Grounded, and calm of mind, her Marlene portrayal is fully present and engaging in the moments where it is most needed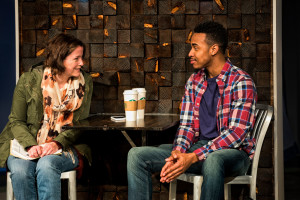 Keith L. Royal Smith, whose primary character is the son of Gatling's Marlene, is equally tranquil for the majority of his on-stage existence. There is a gentle peace that resonates in his character's presence, except for moments of heated debate and slightly superfluous rivalry of a very specific nature that occurs near the end of the performance. Smith's primary interactions occur with Raina (Megan Anderson) and its their discourse that drives a great deal of the show's rising action, particularly in the way that Smith's tranquility balances the high-strung nature of Anderson's character.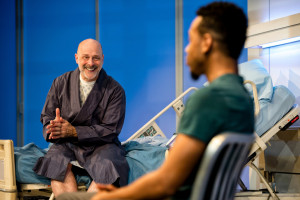 Anderson perpetuates an edgy and jittery character, fully embodying the awkward and frustrated tensions of a character that is plagued with anxiety, discomfort, and internalized emotions that have been bottled up for far too long. Her frigid interactions with Lou (Mitchell Hèbert) are the exacting epitome of an estranged relationship between father and daughter. There is a casualness with which Hèbert approaches his character that further fuels Anderson's fire, particularly in moments of heated discussion. The conversations and overall interactions between this character pairing feel particularly authentic and exist solely without artifice. Strikingly real and raw performances across the board keep the show compelling, as well as allowing the audience to focus on the bigger picture, ultimately making the drama a truly relatable one.   
Running Time: 2 hours with one intermission
Under the Skin plays through February 21, 2016 at Everyman Theatre— 315 W. Fayette Street in the West End Entertainment District of Baltimore, MD. For tickets call the box office at (410) 752-2208 or purchase them online.