I am slain! Well, I'm not slain, thankfully, lest you'd be reading ye ole review by someone else! But you will be slain— with comic calamity and gripping tragedy all rolled into one amalgamation of a stage production currently parading itself on the boards of the St. Mary's Community Center. Co-produced by Cohesion Theatre Company and Baltimore Shakespeare Factory, The Complete Deaths of William Shakespeare— a devised work written by Alice Stanley (with a little help from Old Bill of the Bard)— is stirring up quite a ruckus, a raucous ruckus that's guaranteed to whet the appetite of any true tragedy lover. Directed by Alice Stanley and Tom DeLise, the two hour's traffic that traipses its way across the stage is a two-fold treat as it pays homage to every on-stage death encountered in the Bard's lengthy canon with due reverence and respect as well as comic gags galore. Poignant, masterfully penned, and choreographed with astonishing fight scenes, The Complete Deaths of William Shakespeare will slay you in the aisles.

Enough praises cannot be lauded to Choreographers Tegan Williams and Brad Norris who are responsible for all of the intensive fighting— be it with swords, light sabers, roll sticks, or just good old-fashioned fists— that occurs throughout the performance. From the iconic Tybalt and Romeo street battle executed sharply with sturdy swords to the proper showdown between Macduff and Macbeth complete with enormous wooden shields, there is no corner of fighting left unexplored in this masterpiece crafted by Norris and Williams. Blending high-action stage combat, which involves rolling and far-flung punches, to the more intimate of simple slight-of-hand stage rough-housing, Norris and Williams' work knows no bounds and the show is a roaring success for it.
Costume Designer April Forrer keeps the couture of the show simple, that is of course with the exception of Shakespeare himself, who has risen from the grave in time for his 400th Deathiversary looking freshly bloodied and deliciously decomposed. Something's rotten in the state of Baltimore and it isn't Denmark's little prince! Forrer encourages putrid makeup for Zombie-Shakespeare's look, which really enhances the chilling effect received when he stalks about the audience wending introductory tale after tale as the show carries along through each of the tragedies and the histories, marking death like time as it comes.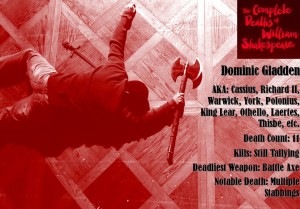 Playwright Alice Stanley, who serves as the show's Co-Director alongside Tom DeLise and one half of the show's musical duo— opposite Nick Delaney— displays a remarkable comprehension of Shakespeare and all his gory, bloody disasters. Penning the Bard as a National Geographic/PBS-special narrative force, a layer of hilarious entertainment is built into Shakespeare's work as the playwright serves as his own tragic tourguide, entreating the audience to fancy tidbit after tidbit, piling fun facts upon themselves so that there is a great deal of levity to be had amid the macabre. Stanley crafts a sharp running order, following their own mindset for what draws the audience in, rather than the chronological order in which the plays occur, and the result is fascinating— particularly as some of the bigger tragic throw-downs are strategically placed after the intermission.
Stanley, working with Co-Director Tom DeLise, charismatically toes the high-wire of balance when it comes to dispensing doses of equal parts reverence in these noble and bloody scenes, finding the honor and respect, and often the gravity of the situation, and pairing it perfectly with highly hysterical moments of hilarity. The blocking of the scenes and their more creative explorations— like playing a game of Battleship during the Hamlet and Laertes 'fight' (which Stanley has Shakespeare most ingeniously refer to as "…a few deaths right in a row after hours of monologues…") or the surprising light-saber match-up, between which two characters, we shall remain elusive on the matter— but every moment is accounted for so that the show moves swiftly along. DeLise and Stanley encourage a rowdy interactive presence between Zombie-Shakespeare and the players as well as the company and the audience. This brings the show full circle to the Baltimore Shakespeare Factory's mission statement of immersive, back-to-Bardian-basics Shakespearean theatre.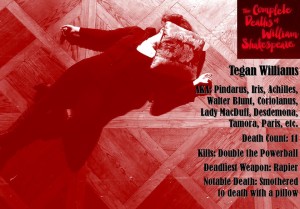 The performances are stellar across the board. Eight ensemble members delve into a world of characters switching and changing as the scenes play on, all the while mastering fight choreography that would tickle the worms presently eating all that remains of the corpses that are piling up in Stratford upon Avon. Some performers have death counts that near, if not surpass, a dozen— and watching them die in variously unique and melodramatic fashions is nothing short of fascinating to behold.
Tegan Williams, like all of the ensemble performers, showcases a great versatility in going from roguish deaths like that suffered by Coriolanus to her much more demure and terrified end as met by a pillow while playing Desdemona. Dominic Gladden undergoes similar transitions, one moment serving as the bold and noble Laertes while previously dying as the cowardly Polonius tucked away behind a curtain. Death-switches such as this pepper the production and are most impressive to behold if for no other reason because of the vast range of emotional acting showcased by these eight performers.
Melanie Glickman has animated eyes, a hallmark of each of her death scenes— the most notable perhaps being her direct stage collapse after supping poison as King John. Kathy Vary has excellent physicality, a trait which Glickman also shares, though it is much more pronounced in Vary's portrayal of characters like Richard III. Her most notable death may in fact occur during a super popular moment, though the character of Young Siward is less recognizable than her portrayal as sweet Juliet. The force is strong with Vary, as it is with Glickman, but even more so when it comes to dying on the side of the light.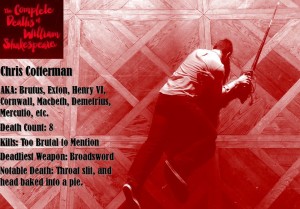 Jess Byars runs the proverbial gamut of all the queens ever, playing Cleopatra and Gertrude, in addition to the wrongfully undone Lavinia from the Bard's bloodiest tragedy. Wildly expressive in face and body, Byars gives the other performers a run for their money, especially when it comes to holding her own against her blasting father, Titus Andronicus (played by the roaring Brad Norris.) Norris is a force to contend with upon the stage, particularly as Titus, but also when performing a hilarious and yet sensually intense Tango of death opposite Teagan Williams; the moment is a brutal as it is beautiful. Both Norris and Byars have exceptional vocal control and carry their voices as if they were playing to the back of the globe, far away as it is in London.
Chris Cotterman and Zach Bapst go head to head in the tragic showdown of showdowns as Macbeth and Macduff respectively, leading into the Act I finale of the show. Their all-out battle of swords and shields is ferocious and fierce, with Bapst leading a blood-thirsty cry of triumph once the mighty tyrant is slain. Cotterman delivers the Bard's lines masterfully throughout his various character rotations, and Bapst lays heavily into the emotional turmoil of more melancholic characters like poor sweet Romeo, when he discovers that his darling Juliet lies in her tomb, dead to his eyes.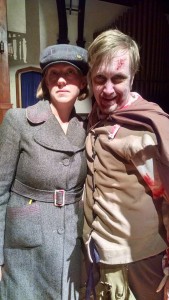 Wielding an uncanny resemblance to a vampire-zombie creature of the night, Jonas David Grey is astonishing and titular in the role of Shakespeare risen from the dead. Possessed of a madcap madness that fully articulates just how off-balance the Bard's brain is after 400 years of festering away underground as worm food, Grey is the epitome of perfection in this performance. Engaging, charming, in love with the macabre and delighted with himself, he captivates the audience while narrating the show and providing well-timed commentary that really shuffles the play through its natural cycle. Truly remarkable, Grey has a presence that is likely to startle the actual William Shakespeare out of his grave just to see what all the fuss is about.
Be sure to arrive early for the delectably macabre musical stylings of Alice Stanley and Nick Delaney, but if you can't make it early, fear not for this deadly duo picks up their instruments at intermission as well. A one-weekend engagement that's simply to die for!
Running Time: Approximately 1 hour and 50 minutes with one intermission
The Complete Deaths of William Shakespeare plays through January 17, 2015 as a co-production of the Cohesion Theatre Company and the Baltimore Shakespeare Factory at the St. Mary's Community Center— 3900 Roland Avenue in Hampden borough of Baltimore, MD. Tickets can be purchased at the door or in advance online.