Dites-moi pourquoi la vie est belle. Dites-moi pourquoi la vie est gai. Life is beautiful and life is gay because the Rogers and Hammerstein classic South Pacific has set a course for Toby's Dinner Theatre of Columbia and finally landed this 2016. Directed and Choreographed by Mark Minnick, with Musical Direction by Reenie Codelka, this heartwarming, feel-good musical is just the remedy to chase away the winter blues. With stunning talent, beautiful aesthetics, and a great deal of highly-energetic performances to keep the action on the island alive and kicking, this production is sure to warm you from the inside out all throughout the evening.
Resident Scenic Designer David A. Hopkins really layers the atmosphere of South Pacific into the theatre for this production. Jungle nets, palm trees, and all of the appropriate military camp signs flank each of the theatre's four entrances, nestling audience members in a cocoon of alluring island bliss. The roll-and-slide furnishings of Emile de Becque's Plantation Terrace are elegantly French, the detail paid to the metal work of the chairs and table as well as the marble balustrade is well worthy of praise. Doubling as the show's Lighting Designer, Hopkins furthers the atmospheric experience by using slow-twirling fan-blade-shaped gobos to mimic the notion of heavy palm fans attempting to cool the plantation terrace from the island's sweltering heat. Hopkins also deserves a nod for his mystically lit turquoise haze that floods in behind Bloody Mary when she starts singing about Bali Hai, the island that appears in a scrim projection off in the distance.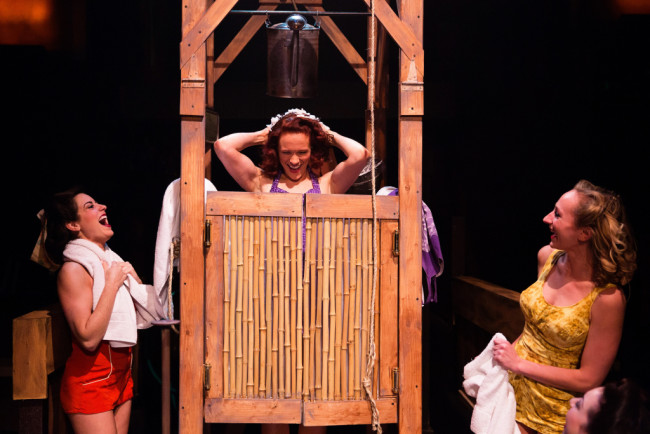 Putting his finely seasoned palette to the test, Costume Designer Lawrence B. Munsey fleshes out the colors of exotic island living and juxtaposes them resplendently against the tried and true fashions of American GI monochromatic schemes in this production. Gem and jewel tones as brilliant as the glimmering ocean waters that surround the Polynesian Islands make their appearances throughout Munsey's sartorial collection, blossoming like heavenly hibiscus in shades of turquoise, amethyst, and emerald. Fitted swimsuits of the era complete the collection for Nellie Forbush and her nurses, while the more traditional tan uniforms make their rounds for the upper ranks of the men in charge. Watch the patterns closely as Munsey brings island life to its full glory when the ensemble girls transition from nurses to natives of Bali Hai early in the production.
Director Mark Minnick finds vibrant life, which he spreads generously throughout the production, in every moment that performers are on stage. While the choreography is simplistic in its design, it is executed firmly with clean margins and a strong sense of uniformity, all while living presently in the vein of highly energetic entertainment. Working closely with Dialect Coach Jenny Male, Minnick ensures that the accents in the production fit the characters. Emile de Becque's broken English is delivered with only hints of the French overtone but carries the correct patois to feel foreign. Nellie Forbush's Little Rock drawl is delightful and never impedes her line delivery. Minnick's strong directorial leadership is effectively reflected in the way the show clips along. Ensemble numbers like "There is Nothin' Like a Dame" and "Honeybun" are entertaining, engaging the performers in the fun there is to be had in the craft.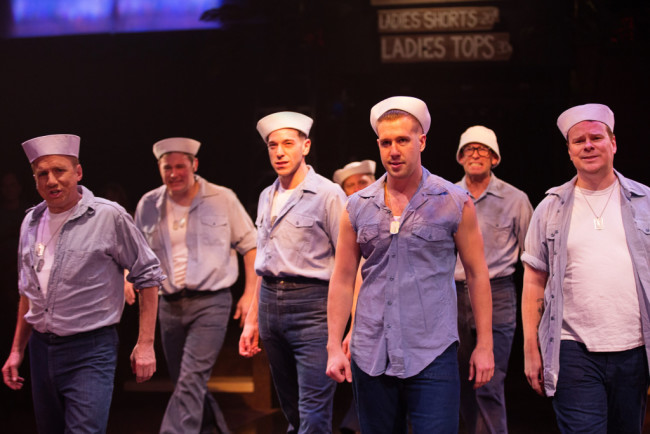 Populated with new faces and seasoned veterans, the Seabee ensemble delivers a rousing good series of shenanigans throughout the production, not the least of which is their rendition of "Bloody Mary" and There is Nothin' Like a Dame." Bursting with boisterous energy and robust richness in their vocal tone, volume, and intention, the Seabee Boys (Jeremy Scott Blaustein, Justin Calhoun, David James, David Jennings, Shawn Kettering, Darren McDonnell, and RJ Pavel) deliver feel-good funny moments again and again throughout their time on stage. McDonnell and Kettering, aptly The Professor and Stewpot, throw in comic bits here and there be it their facial expressions or silly commentary, while Blaustein, Calhoun, and Jennings provide great bursts of solo sound in heartily sung one-liners during those numbers. James, the resident shtick comedian, even gets his patented tumble-fall early on in the production and Pavel, who doubles as the doting servant Henry, plays sweetly with the charming cherubic children Ngana (at this performance Dulcie Pham) and Jerome (at this performance Aiden Levin) at the top of the show.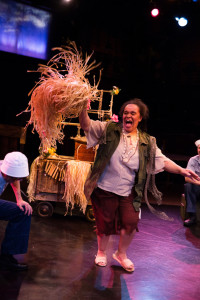 Bloody Mary (Crystal Freeman) is no stingy bastard when it comes to showcasing her talent on the stage. Enigmatically entrancing, Freeman's call of "Bali Hai" is both enticing and unsettling, truly exotic as she sings to Joe Cable about the allure of the mysterious island. Sassy and crass, Freeman is a bit like a tidal wave of feisty comedy when it comes to owning the role of Bloody Mary and fussing about with the various Seabees. Holding her own against the rigidly militaristic Cmdr. William Harbison (David Bosley-Reynolds) and Capt. George Bracket (Robert Biedermann 125), Freeman doesn't let those iron-bellied barkers give her any guff. Displaying a dynamic shift in character when it comes to Liat (played sweetly by Surasree Das), Freeman finds a great deal of happy sentiment for "Happy Talk," all the while showcasing the strength of her vocal sustains.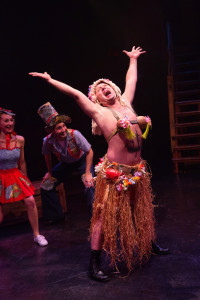 There's an insanely hilarious comic cad strutting about the island and his name is Luther Billis (Jeffrey Shankle.) Delivering cock-of-the-walk confidence in his portrayal of Billis, Shankle comes into his own as an astounding character man, with a flawlessly exceptional understanding and exacting delivery of comic timing. The biting Brooklyn-ese accent along with his hysterical facial expressions really creates moments of uproarious comic gold that ring true consistently throughout his performance. Cheeky, charming, and all-around clever, Shankle leads the Seabees in "There is Nothin' Like a Dame" with vigorous enthusiasm. Wheeling and dealing an angle every time he talks, Shankle delves deep into the comedy of the character and delivers high-class hilarity in earnest when it comes to owning his solo in "Honeybun." Words can't begin to describe the hilarity that ensues between Shankle and the rest of the cast in this scene, it simply has to be witnessed to be appreciated and enjoyed. Shankle is a true island treasure as Billis, get the picture?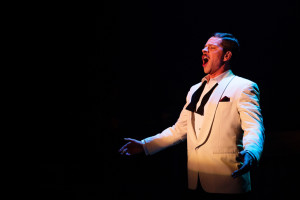 Some enchanted talent has been unearthed in Russell Rinker, making his Toby' debut as the dashing Emile de Becque. With a remarkable voice and intensely present sense of mindfulness upon the stage, Rinker delivers a phenomenal performance in the role. Carrying the pathos of Joe Cable's (Jonathan Helwig) number, "You've Got to be Carefully Taught" into his own solo, "This Nearly Was Mine", Rinker seethes with injustice and fury at the end of Cable's song, and then softens his anger into anguish with great emotional veracity as he starts his own number. His vocal range is sensational, as evidenced continually throughout the performance, but particularly with his hypnotic and stirring belt held at the end of "Finale Act I." Rinker displays a vastly diverse ability on the stage, having fun with "Encore: I'm Gonna Wash That Man" and making adorably little quippy remarks of flirtation with Nellie Forbush (Teresa Dansky) throughout their initial encounters.
The iconic number "Some Enchanted Evening" delivers Rinker's strikingly mellifluous voice like tropical island oil melting into the ear. The only thing more enchantingly intoxicating than Rinker's voice in this solo is watching the mesmerized responses to his singing dance across Dansky's awestruck face. When the pair eases into "Twin Soliloquies" their voices nestle into one another with sublime perfection. These love-struck instances between the pair are enhanced tenfold by the moments of freeze-frame emotion Minnick captures in his blocking and beat structure; his subtle yet firmly guided directorial expertise pauses a scene just so for an instant allowing an emotional bond to be captured in a breath, like a flashbulb of pathos preserved eternally in that beat. The continual build of chemistry between Rinker and Dansky is the epitome of a Rogers and Hammerstein romantic affair, culminating multiple times in heavenly duets like "This Is How It Feels" and various Reprises of "Some Enchanted Evening" and "A Wonderful Guy."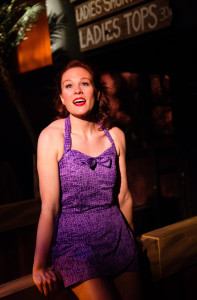 Refreshing as a balmy breeze blowing across the stage from Bali Hai, Teresa Dansky exudes the golden era of Broadway sound with her rendition of "Cock-Eyed Optimist." Swept up in the utter ecstasy of love, Dansky delivers stars in her eyes, fireworks in her heart, and jubilation that jumps right out of her throat as she swoons her way through every clichéd lyric in "A Wonderful Guy." Remarkable in all assets of the performance, her contagious enthusiasm for "I'm Gonna Wash that Man Right Out of my Hair" gets the dancer girls (the gooey-eyed and gigglingly glorious Erica Clare, Amanda Kaplan, Julia Lancione, and Mackenzie Newbury) to have a swinging good time during the number while she owns the song with energetic enthusiasm. Dansky provides heartfelt emotional connections in every moment on stage, especially those where her "knucklehead-Nellie" personality makes a quick change into a torn and deeply sorrowed moment of sadness and confusion. This is most clearly articulated during her solo "Reprise: Some Enchanted Evening." Gripping and thrilling, Dansky does not disappoint in the role of Nellie Forbush.
Toby's Dinner Theatre is calling, can you hear it? Come to me…come to me…it's saying, because you don't want to miss the ship as it sets sail for Bali Hai and all of the extraordinary enchantments that are just waiting to be experienced with South Pacific.  
Running Time: 2 hours and 30 minutes with one intermission
South Pacific plays through March 20, 2016 at Toby's the Dinner Theatre of Columbia— 5900 Symphony Woods Road in Columbia, MD. For tickets please call (301) 596-6161 or purchase them online.